Vacutainer Market Outlook
The global vacutainer market is projected to surge at a noteworthy CAGR of more than 7% from 2021 to 2031, with high demand for vacutainers meant for venous blood collection shaping market growth.
The medical equipment manufacturing industry has been progressing at a rapid pace over the past several decades. Major growth has been observed in North America and Asia Pacific. Vacutainers account for almost one percent of global medical equipment sales. Apart from needles & syringes and non-vacuum-based blood collection tubes used in blood extraction, vacutainers also have a significant market share.
At present, vacutainers hold almost one-third share of the demand for blood collection tubes for biopsy, and this is expected to grow owing to their advantageous features over non-vacuum-based tubes. Research laboratories have used vacutainers for liquid biopsy for decades. These are also widely used in various biochemical studies such as enzyme level estimation, serum uric acid, serum electrolytes estimation, etc.
The foremost objective of the report by Fact.MR on the market for vacutainers is to pitch insights on the purchase growth scenario, demand generators, and development strategies in this space. The report provides a taxonomy elaborating on key market segments. The report also outlines visionary insights on market dynamics, including the drivers, restraints, opportunities, trends, and pricing analysis, along with key success factors. Demand trends have been tracked in 20+ high-growth countries, pointing towards countries in East Asia, Europe, and North America holding bulk of the market share.
Know thy Competitors
Competitive landscape highlights only certain players
Complete list available upon request
Historical Trends Vs. Future Market Projections
Historically, from 2016 to 2020, use of vacutainers increased at around 6.9% CAGR, and the key factor assisting this growth was their advantages over traditional blood collection systems, including the needle & syringe method. For instance, vacutainers draw blood into the tubes at a constant and safer speed, in turn, reducing the risk of hemolysis.
Each tube is filled in advance with the appropriate amount of additive, reducing the prevalence of inaccurate dilution. However, the vacutainer system is most effective when multiple samples are required.
Vacutainers give an advantage to phlebotomists by protecting them from exposure to blood-borne pathogens. Other than that, laboratory testing and analysis results produced by using vacutainers are very reliable.
The market is forecasted to expand at the CAGR of more than 7% over the coming 10 years. Prime factors influencing growth are rising chronic diseases due to growing geriatric population and increase in liquid biopsy analysis for non-invasive diagnostic applications.
Also, with advancements in technology, demand is expected to rise due to the ability of these devices to prolong the shelf life of collected specimen and provide more reliable results.
What are the Key Opportunities for Vacutainer Manufacturers?
Growing prevalence of cancer and other chronic diseases and global surge in the geriatric population are boosting demand for several products and services pertaining to the healthcare industry. This includes growing demand for blood testing procedures, which is fuelling growth of the blood collection tubes market, including vacutainers.
Increasing demand for liquid biopsy tests across the world to screen for changes or abnormalities in blood tissues caused by diseases and growing number of anatomic pathological end users will boost market growth. Upsurge in the number of cancer patients to almost 19.3 million by the end of 2020 has resulted in rise in the demand for biopsy tests in hospitals and other healthcare centers, which is further expected to fuel demand for blood collection tubes, globally.
According to the World Health Organization (WHO), the number of blood units donated every year is nearly 120 million. However, due to low access to safe blood, global demand for blood units is often not fulfilled on time. Pre-donation screening of blood donors helps in the identification of possible transfusion transmissible infections (TTIs).
Blood is collected from the donor only if he/she is found fit for blood donation. The whole process includes the use of blood collection systems such as vacutainers, in turn, opening the doors for global vacutainer manufacturers.
More Insights, Lesser Cost (-50% off)
Insights on import/export production,
pricing analysis, and more – Only @ Fact.MR
Which Region Offers Larger Opportunity for Sales of Vacutainers?
North America accounts for approximately 50% of the global sales value of vacutainers. The region is expected to offer over US$ 1.3 Bn absolute dollar opportunity from 2021 to 2031. The reason for such high market share is growing demand for blood sampling due to rising chronic diseases such as HIV and AIDS.
Other than this, demand for vacutainers is also growing with increasing funding in life science research in North American countries. Growing disputes between China and other Asia Pacific countries such as Australia, the Philippines, etc., are likely to impact vacutainer sales to some extent.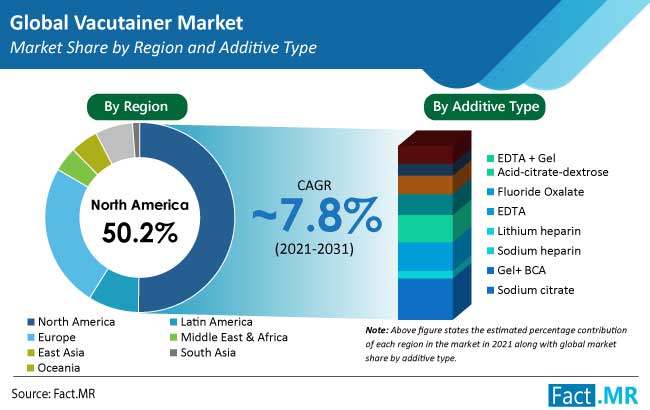 Country-wise Analysis
What Makes the United States a Hub for Vacutainer Demand?
An estimated 6.8 million people in the U.S. donate blood every year to accumulate 13.6 million units of whole blood and red blood cells. Rising number of COVID patients has also forced blood centers throughout North America to take measures ensuring blood donation in a safer manner, both, for blood donors and recipients. This involves pre-screening of blood, enabling the use of blood collection tubes on a large scale.
Furthermore, the market for vacutainers in the country is driven by initiatives taken up through various health programs and government-funded schemes such as Medicare and Medicaid. Such schemes spread awareness and allow citizens to access the best medical treatment facilities with less burden of expenditure.
The U.S. has had a well-established medical equipment manufacturing industry since decades. One of the top two players providing vacutainers – Becton, Dickinson and Company – is headquartered in United States. The company holds around 7% of global vacutainer revenue.
The U.S. also has efficient distributor networks, which aids manufacturers in exporting their products overseas. The U.S. currently holds a share of over 60% of the North American market, and is expected to see sales value of nearly US$ 1.7 Bn by 2031, with its market expected to expand at a CAGR of nearly 9% over the forecast period.
How Does Growth of Germany's Healthcare Industry Assist Vacutainer Demand Rise?
The most promising sector in Europe, especially Germany, favouring growth in sales of vacutainers is the medical equipment manufacturing industry. Most manufacturing companies in the region, including Medtronic PLC (Covidien), Sarstedt AG & Co., KG, Greiner Bio-One International GmbH, FL MEDICAL s.r.l. Unipersonale, VITREX Medical A/S, and Kalstein France are heavily investing in R&D to create more durable and result-oriented vacutainer tubes with increased shelf life.
For instance, Medtronic PLC's wide product portfolio helps it treat 70 health conditions, serving 72 million people every year.
In August, 2020, Greiner Bio-One and Haematologic Technologies announced a collaboration providing complete development and manufacturing of customized blood collection tubes for IVD and clinical diagnostic device developers.
These key strategies are enabling European countries to swell their vacutainer market share, globally. Absolute dollar opportunity in Germany is expected to be close to US$ 153 million over the forecast period, with the market expanding at a CAGR of close to 8% through 2031.
What are the Factors Aiding Demand Growth of Vacutainers in India?
India held around 48% share of South Asian vacutainer sales in 2020, and has experienced stable growth in recent times. The country has strong vacutainer demand, evidenced by the establishment of big companies such as Narang Medical Limited and CML Biotech (P) Ltd.
The global COVID-19 pandemic has drastically impacted South Asian countries and forced them to scale up their laboratory testing capacities. To anchor COVID diagnosis in India, the government established 92 Virus Research & Diagnostic Laboratories (VRDLs) by the end of March, enabling the use of blood collection tubes for blood sampling.
The vacutainer market in India is anticipated to expand at a CAGR of close to 10% during the forecast period, with absolute dollar opportunity for the country expected to be US$ 115 Mn from 2021 to 2031.
Don't Need a Global Report?
Save 40% on Country & Region specific reports
Category-wise Insights
Why are Serum Separator and Lithium Heparin Tubes Most Used?
Serum separator tubes (also identified as SST-Gold Top) contain a clot activator and serum gel separator primarily used for numerous chemistry, serology, and immunology tests. While lithium heparin tubes (also identified as Light Green Top) comprise lithium heparin and gel separators used for the collection of heparinized plasma for routine chemistry tests. Frequent use of these tubes in various specimen tests makes them the most demanded vacutainers by additive.
Why is Demand for Vacutainers for Venous Blood Collection Higher than for Capillary Blood Collection?
Demand for tubes varies due to differences in hemoglobin and hematocrit values and in platelet count. Venous blood collection is a diagnostic procedure that removes blood samples for laboratory analysis by using imaging guidance to insert a catheter into a specific vein. On the other hand, capillary blood collection is done by pricking the skin, with more chances of scarring and skin invasions. This difference is creating higher demand for venous blood collection vacutainers.
Which Material is More Preferred for Manufacturing Vacutainers?
Plastic (PET) vacutainers are mostly preferred in daily laboratory tests, as they are not only less expensive but also safer than glass tubes, with low prevalence to breakage. However, using plastic (PET) tubes can be problematic in case of analytes in therapeutic drug monitoring, where plastic tubes can influence the measured concentrations or stabilities of several drugs.
How Has COVID-19 Boosted Sales of Vacutainers?
COVID-19 compelled governments across the world to divert their capital from infrastructural projects to healthcare facilities. In turn, huge demand for blood collection and testing has been observed, which has consequently increased demand for vacutainers. Owing to this, the global market generated a revenue of around US$ 2.1 Bn in the year 2020, which was 11.4% higher as compared to that generated in 2019.
What are the Factors Affecting the Prices of Vacutainers?
Surge in prices of raw materials, including tube caps, medical butyl rubber, glass tubes, additives, labels, and separation gels has had an influential impact on the prices of vacutainers. Additives plays a huge role in deciding the cost of manufacturing a vacutainer (with additives). Currently, several manufacturers are focusing on using plastic (PET) material in place of glass. Both materials have their own significance in specimen testing.
Other than this, manufacturers are spending heavily on R&D to develop advanced vacutainers with less needle penetration. Manufacturers perform an array of tests to certify products before dispatching them from the warehouse. This further adds to the cost of production. Storing and transportation at a particular temperature is another additional cost borne by suppliers/distributors.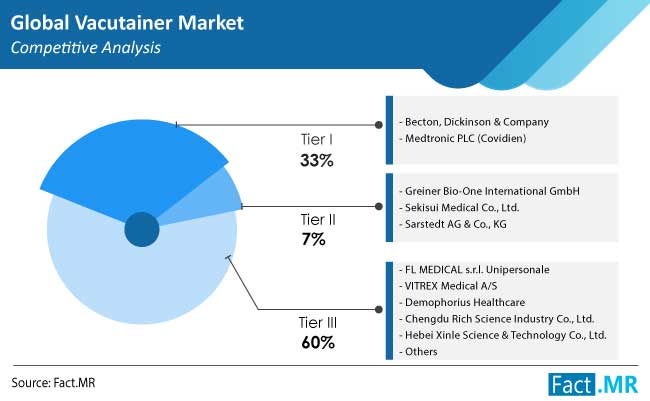 Competitive Landscape
Majority of the companies discussed in the report have focused on establishing subsidiaries in developing regions. Strategies include product launches, collaborations with key players, partnerships, acquisitions, and strengthening of regional and global distribution networks. Some of the key development are:
In February 2020, Becton, Dickinson, and Company announced a long-term strategic partnership with Babson Diagnostics to bring laboratory-quality, small-volume blood collection to retail pharmacies.
In August 2020, Greiner Bio-One collaborated with Haematologic Technologies to provide complete development and manufacturing of customized blood collection tubes for IVD and clinical diagnostic device developers.
In December 2019, Medtronic PLC and ChristianaCare collaborated to improve patient outcomes and reduce the cost of care in Delaware. The five-year agreement will focus on developing and deploying value-based healthcare initiatives with shared financial accountability.
Similarly, recent developments related to companies manufacturing vacutainers have been tracked by the team at Fact.MR, which is available in the full report.
Report Scope
Attribute

Details

Forecast Period

2021-2031

Historical Data Available for

2016-2020

Market Analysis

US$ Mn for Value

Key Regions Covered

North America
Latin America
Europe
MEA
East Asia
South Asia
Oceania

Key Countries Covered

United States
Canada
Brazil
Mexico
Colombia Germany
U.K.
France
Spain
Italy
South Africa
GCC Countries
Turkey
China
Japan
South Korea
India
Indonesia
Malaysia
Singapore
Australia & New Zealand

Key Segments Covered

Additive
Application
Buyer
Material
Region

Key Companies Profiled

Becton, Dickinson and Company
Terumo Medical Corporation (TMC)
Greiner Bio-One International GmbH
Sekisui Medical Co., Ltd.
FL MEDICAL s.r.l. Unipersonale
VITREX Medical A/S
Sarstedt AG & Co., KG
Demophorius Healthcare
Chengdu Rich Science Industry Co., Ltd.
Hebei Xinle Science & Technology Co., Ltd.
CML Biotech (P) Ltd.
Medtronic PLC (Covidien)
Narang Medical Limited
Kalstein France
Zhejiang Gongdong Medical Technology Co., Ltd.

Other Stakeholders Analysed

Tenko Medical System Corp.
Liuyang Sanli Medical Technology Development Co., Ltd
Zhejiang Hongyu Medical Commodity Co. Ltd
3M Company
Siemens Healthineers AG
GABA Therwil GmbH
Stryker Corporation
Baxter International
Medline Industries, Inc.
Boston Scientific Corporation
Guangzhou Improve Medical Instruments Co., Ltd
InterVacTechnology
VacuSEL
Ayset Tibbi Urunler Ve Plast Tekselektr Gida Tem Madd Ins Mut San As
PLASTI LAB SARL
Key Questions Answered in Report
What is the expected growth rate for vacutainers by 2031?

By value, Fact.MR has projected a CAGR of over 7% for vacutainers sales during 2021-2031. In terms of volume, demand is expected to increase at around 7.5% CAGR over the same period.

Which region is expected to experience the highest growth?

As per Fact.MR's projections, North American and European countries would experience the highest growth rate. Also, the markets in East Asia and South Asia are expected to experience high CAGRs.

Who are the prominent manufacturers of vacutainers?

Prominent companies manufacturing vacutainers include Becton, Dickinson and Company, Medtronic PLC (Covidien), Terumo Medical Corporation (TMC), Greiner Bio-One International GmbH, Sekisui Medical Co., Ltd., FL MEDICAL s.r.l. Unipersonale, VITREX Medical A/S, Sarstedt AG & Co., KG, Demophorius Healthcare, Chengdu Rich Science Industry Co., Ltd., Hebei Xinle Science & Technology Co., Ltd., and CML Biotech (P) Ltd.
Key Market Segments Covered
By Additive

Vacutainers Without/No Additives
Vacutainers With Additives

Sodium Citrate
Gel+ BCA
Sodium Heparin
Lithium Heparin
EDTA Tubes
Fluoride Oxalate
Acid-citrate-dextrose
EDTA + Gel

By Application

Vacutainers for Venous Blood Collection
Vacutainers for Capillary Blood Collection

By Buyer Type

Vacutainers Used by Research Laboratories
Vacutainers Used by Hospitals and Clinics
Vacutainers Used by Diagnostic Chains

By Material

Plastic (PET) Vacutainers
Glass Vacutainers

By Region

North America
Latin America
Europe
MEA
East Asia
South Asia
Oceania