Low Concentration CBD Gummies to Yield 90% of Overall Market Revenue: Fact.MR
Published : 27 Jul 2021 Industry: Food & Beverage
The global CBD gummies market is poised to acquire stellar gains, expanding at a CAGR of 28% from 2021 to 2031, according to a recently published report by Fact.MR. Growth is being accelerated by extensive campaigns to legalise commercial and recreational usage of cannabis.
From 2016 to 2020, the market accrued massive gains, registering an expansion rate of 25% CAGR throughout the historical period. CBD gummies are poised to witness credible uptake across the healthcare industry, amid purported reports of it being an effective remedy to insomnia.
CBD gummies are also becoming increasingly popular as an alternative to traditional analgesics such as ibuprofen, aspirin, and others. Additionally, it possesses significant anti-anxiety and anti-depressant properties. In certain studies, CBD is known to increase neurogenesis in critical areas of the brain associated with anxiety and depression.
Key takeaways from the Market Study
By concentration, demand for low concentration CBD gummies to generate 90% revenue
Demand for high concentration CBD gummies expanding at a fast pace
Consumers likely to favour online CBD gummies purchases, accounting for over 3 out of 5 sales
Fast track regulatory approvals accelerating uptake across the U.S market
Asia to contribute around 2 out of 5 sales of CBD gummies through 2031
"The healthcare sector is one of the biggest drivers in the CBD gummies market. CBD products, such as gummies, are becoming increasingly popular as an alternative to traditional analgesics such as ibuprofen, aspirin, and others due to its analgesic qualities." – says the Fact.MR analyst.
Competitive Landscape
Canonical businesses dominate the CBD gummies industry. To get a competitive advantage, most market businesses are concentrating their efforts on gaining certifications from international organisations such as Possession of Certificate of Analysis (COA).
Verma Farms is one of those companies that have chosen to focus on a particular industry in order to become experts in that market. While their product selection isn't extensive, it's enough to get them on our list. In reality, they exclusively advertise as a CBD gummies company.
Hemp Bombs is yet another company based in the United States. This company ensures that all of their plant material is acquired from within the United States. Hemp Bombs strives to provide as much information on CBD to all of its customers as possible. This is why they have a number of articles on their website about their products and their benefits.
More Insights on the CBD Gummies Market Report
Fact.MR, in its new report, offers an unbiased analysis of the global electrical steel market, analysing historical demand from 2016-2020 and forecast statistics for 2021–2031.
The study reveals growth projections on the electrical steel market on the basis of concentration (high and low/concentrated) and distribution channel (online and offline) across seven regions (North America, Latin America, Europe, East Asia, South Asia, Oceania and Middle East & Africa).
Fact.MR's Domain Knowledge in Food & Beverages
Our food and beverages consulting team guides organizations at each step of their business strategy by helping you understand how the latest influencers account for operational and strategic transformation in the food and beverages sector. Our expertise in recognizing the challenges and trends impacting the global food and beverages industry provides indispensable insights and support – encasing a strategic perspective that helps you identify critical issues and devise appropriate solutions.
For more information, refer to our market research report or contact the PR author.
Santosh Kumar
Fact.MR
Sr. Consultant – Food and Beverages
E-mail: santosh@factmr.co
- Request for
More Information

-
CBD Gummies Market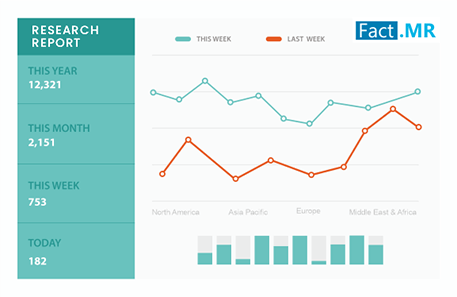 Trends like Vegan and Gluten-Free CBD Gummies to Spur CBD Gummies Market Growth during 2021-2031