Combine Harvesters Market to Grow Steadily with Heightened Uptake in Agriculture Sector
Worldwide, the agriculture sector contributes a significant proportion to the GDP of any country. Also, the various governments of developed as well as developing economies are focused on improving operations in the agricultural landscape. For that certain schemes are to be offered by them like loans, subsidies, and credit schemes to support farmers in acquiring agricultural equipment. Agricultural mechanization becomes a key trend to increase cropping intensity, where combine harvesters remain frontrunners.
Combined harvesters are being used in the agriculture sector to perform major operations like reaping, threshing, and winnowing in a single process. Moreover, based on power type, 300-450 HP combine harvesters are expected to attract a large consumer base owing to its better price to performance ratio along with a lower level of maintenance. Owing to these factors, Fact.MR opines that 300-450 HP segment will contribute 30% of the revenue share by 2026 end, thus propelling global combine harvesters market to reach a valuation of US$ 18 Bn by the end of the forecast period.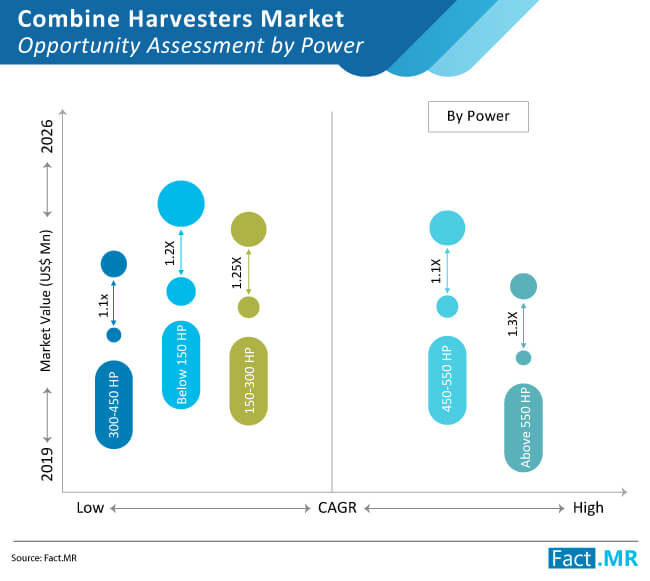 To get cutting-edge insights on the combine harvesters market, request for a report sample here
Growth in Agriculture Equipment Industry to Lead to Higher Demand Growth
There has been a persistent increase in the adoption of agricultural equipment with a view to ensuring a greater return on investment (RoI). This also creates a more sustainable business structure for farmers. However, the adoption of agricultural equipment including combine harvesters still remains unsatisfactory in several regions around the globe, particularly in developing countries owing to its exorbitant price tag. To address these issues, governments in these countries are introducing policies that are directed towards providing farmers with better access to modern agricultural equipment. Furthermore, the agricultural sector is growing rapidly. On the same scale, farmers are using modern technologies to perform harvesting operations within a smaller interval of time. This has further impacted the overall crop output, in turn leading to higher farm incomes. According to Fact.MR, 250-350 bu and more than 350 bu grain tank sizes were nearly the same in 2018. However, it is estimated that by the end of the forecast period, 250-350 bu segment will lead in the combine harvesters market by capturing US$ 8 Bn in the global revenues.
North America to Occupy Half of Global Revenues
As the global demand for combine harvesters grew by a single-digit percent per year, developed countries such as the US registered a countable combine harvesters market revenue shares in the global landscape. In the last few years, in the US and Canada, extensive training programs have been implemented for farmers to educate them to adopt agriculture equipment, which has further strengthened the combine harvesters market. Mid-horsepower range combine harvesters are witnessing considerable growth in adoption as North American farmers continue to cultivate small pieces of agricultural lands. Within the next decade, North America's combine harvesters market is foreseen to exhibit revolutionized adoption of self-driving combine harvesters. Advanced sensors and GPS-enabled technologies will be equipped with combine harvesters to promote their unmanned operability. On the back of the aforementioned factors, Fact.MR reveals that North America will contribute half of the global revenue shares and the trend will continue over the forecast period.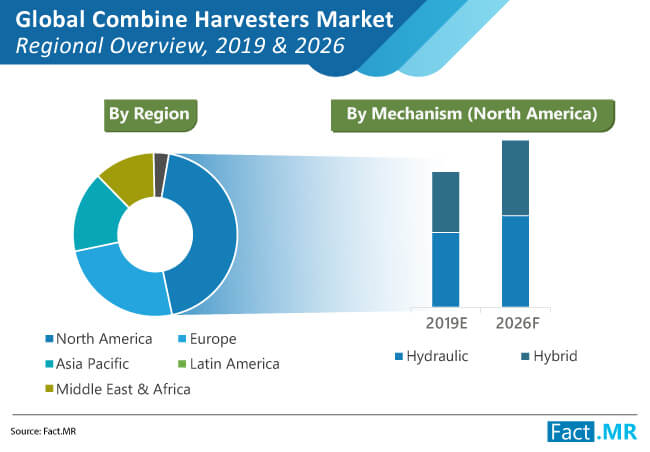 To get intuitive insights on regional overview of combine harvesters market, ask an analyst here
Renowned Players are Adopting Novel Strategies to Attract a Large Consumer Base
The existence of numerous large and mid-sized companies has led to a fragmented market structure. The market players are continuously seeking opportunities for refining their production techniques and enhancing efficiency & innovation. Several market players are adopting novel strategies for installing new production plants. Additionally, prominent players are eyeing the acquisition of smaller players that possess technological innovation but less resources, to spur production capacity and expand their product portfolio.
Vendor operations are likely to face significant risks on the back of intense market competition and rapid technological transformations. Key competitors in the global combine harvesters market includes Caterpillar, Deere & Company, Tractors, and Farm Equipment Limited, Kubota Corporation, AGCO Corporation, Claas KGaA GmbH, New Holland, Mahindra and Mahindra, Escorts Limited, Bobcat (a Doosan company), Case IH, KIOTI Tractor (subsidiary of Daedong Industrial Company, Ltd.), Yanmar America Corporation, JCB, and MASSEY FERGUSO.
Combine Harvesters Market - Scope of the Report
Fact.MR recently published a market study on the global market for combine harvesters. The study provides detailed assessment on the key market dynamics, including drivers, trends, opportunities, restraints, and detailed information about the combine harvesters market structure. The market study presents exclusive information about how the combine harvesters market will grow during the forecast period of 2019-2026.
Key indicators of market growth, which include Year-on-Year (Y-o-Y) growth of the market, value chain, supply chain analysis, and Compounded Annual Growth Rate (CAGR) are explained in Fact. MR's study in a comprehensive manner. This information can help readers understand the quantitative growth prospects of the combine harvesters market in the forecast period.
The study is relevant for stakeholders in the combine harvesters market, including manufacturers, suppliers, distributors, and investors, and can help them in developing appropriate strategies to grow in the market. Stakeholders in the combine harvesters market, investors, industry experts, researchers, and journalists, as well as business researchers can leverage the information and data presented in the Fact.MR study.
The study also includes statistics as well as facts related to macro as well as microeconomic factors that are impacting developments in the combine harvesters market. It also offers actionable insights based on future trends in the combine harvesters market. Furthermore, small businesses and new entrants in the combine harvesters market too can make use of the information presented in this study, based on which, they can make appropriate business decisions in order to gain momentum in the market.
Key Segments of Combine Harvesters Market
Fact.MR's study on the combine harvesters market offers information divided into four important segments - power, mechanism, grain tank size, and regional analysis. This report offers comprehensive data and information about important market dynamics and growth parameters associated with these categories.
| | | | |
| --- | --- | --- | --- |
| Power | Mechanism | Grain Tank Size | Region |
| Below 150 HP | Hydraulic | Less Than 250 bu | North America |
| 150-300 HP | Hybrid | 250-350 bu | Latin America |
| 300-450 HP | | More Than 350 bu | Europe |
| 450-550 HP | | | Japan |
| Above 550 HP | | | APEJ |
| | | | MEA |
Key Questions Answered in Fact.MRs Combine Harvesters Market Report
Which regions will continue to remain the most profitable regional markets for combine harvesters market players?
Which factors will induce a change in the demand for combine harvesters during the assessment period?
How will changing trends impact the combine harvesters market?
How can market players capture the low-hanging opportunities in the combine harvesters market in developed regions?
Which companies are leading the combine harvesters market?
What are the winning strategies of stakeholders in the combine harvesters market to upscale their position in this landscape?
Combine Harvesters Market: Research Methodology
In Fact.MR's study, a unique research methodology is utilized to conduct extensive research on the growth of the combine harvesters market, and reach conclusions on future growth parameters of the market. This research methodology is a combination of primary and secondary research, which helps analysts ensure the accuracy and reliability of conclusions.
Secondary resources referred to analysts during the production of the combine harvesters market study include statistics from governmental organizations, trade journals, white papers, and internal and external proprietary databases. Analysts have interviewed senior managers, product portfolio managers, CEOs, VPs, marketing/product managers, and market intelligence managers, who have contributed to the development of this report as a primary resource.
Fact.MR offers custom research services that help clients to get specific research solutions
We are committed towards customer satisfaction and quality service.
---
Our Clients

Combine Harvesters Market Forecast, Trend Analysis & Competition Tracking - Global Market Insights 2019 to 2026