Polyisobutylene (PIB) Market
Polyisobutylene (PIB) Market By Product (Conventional, Highly Reactive), By Molecular Weight (High, Medium, Low) By End Use (Automotive, Industrial, Food, Other End Uses) & Region - Global Market Insights 2023-2033
Analysis of Polyisobutylene (PIB) Market Covering 30+ Countries Including Analysis of US, Canada, UK, Germany, France, Nordics, GCC countries, Japan, Korea and many more
Polyisobutylene (PIB) Market Outlook (2023-2033)
The global polyisobutylene (PIB) market is estimated to evolve at a CAGR of 5.6% and hit a valuation of US$ 4 billion by 2033, up from US$ 2.3 billion in 2023.
Polyisobutylene (PIB) or polyisobutene (C4H8)n is a transparent, synthetic hydrocarbon elastomer made by isobutylene polymerization. Polyisobutylene is a crucial raw material used in the production of a wide variety of products, such as lubricants, tires, adhesives, fuels, sealants, and others.
Polyisobutylene is a versatile material with numerous uses due to its thermal stability, superior flexibility, ozone resistance, oxidation resistance, and impermeability properties. It is also weather-resistant, which increases its demand in the manufacture of construction sealants, hosepipes, pharmaceutical stoppers, and other mechanical products. Polyisobutylene is well-known for its features, such as electrical insulation, and is impermeable to water vapor and gases, making it an excellent choice for sealants in photovoltaic system panels.
This elastomer is widely used in the adhesive and sealant industry to seal and protect electrical wirings, seal joints, and safeguard body cavities from moisture. Polyisobutylene is employed in hot-melt and pressure-sensitive adhesive systems due to its flexibility, tackiness, and low cohesive strength, primarily in PSAs (pressure sensitive adhesives) and hot-melt adhesives.
Automobile is another important end use industry for polyisobutylene.
Roughly 60% of the rubber manufactured in the world is used to make tires.
Polyisobutylene is a synthetic rubber with distinct chemical and physical features. Its gas impermeability and flexibility at low temperatures and moisture make it the perfect material for tubeless tire manufacture.
Moreover, polyisobutylene is largely utilized in the automobile industry to make inner tubes and tires. It is utilized in the inner tubes of car tires, bus tires, airplane tires, and truck tires. Aside from tires, it is employed in this industry in the form fuel additives, lubricants, sealants, and adhesives.
Polyisobutylene is also used to make rubber hoses, mats, and seals. The automobile industry is experiencing an increase in demand for commercial and passenger vehicles for public and private transportation due to the increased population migration to urban regions. Furthermore, the booming e-Commerce and logistics industry is driving the demand for commercial vehicles.
Polyisobutylene is used as an additive in engine fuel to prevent deposits of sludge, soot, and other deposit precursors from accumulating on engine parts. This aspect is predicted to boost the demand for lubricants, thus supporting the growth of polyisobutylene as a lubricant additive during the forecast period.
Report Attributes

Details

Polyisobutylene Market Size (2023)

US$ 2.3 Billion

Projected Market Value (2033)

US$ 4 Billion

Global Market Growth Rate (2023-2033)

5.6% CAGR

Asia Pacific Market Growth Rate (2023-2033)

4.8% CAGR

High Molecular Weight Segment Share (2022)

65%

Key Companies Profiled

BASF SE
Kothari Petrochemicals
Chevron Oronite Company LLC
Zhejiang Shunda New Material Co., Ltd
Daelim Industrial. Co. Ltd
Shandong Hongrui New Material Technology Co., Ltd
INEOS Group
ENEOS Corporation
TPC Group Inc
Lubrizol Corporation
Why is the Global Polyisobutylene Market Likely to Grow at a Fast Pace?
"Strong PIB Usage in Construction Industry"
Polyisobutylene is increasingly being utilized in the construction industry as a sealant for damp proofing, rubber roof repair, and roof membrane repair and maintenance, particularly around the edges of walls. It is critical to have the roof membranes repaired since several fixtures, such as air conditioner vents, plumbing, and pipe joints can cause the roof panels to become loose.
Polyisobutylene is favored in the construction industry due to its resistance to alkalis, oxidation, and acid solutions. It does not react with oxidizing agents such as dichromate, chloride, or potassium permanganate. PIB's elastic characteristics can be maintained at temperatures as low as -67°F.
Polyisobutylene is commonly used in the construction industry to make anticorrosion coatings, sealing, mastics, glues, and pastes. The expanding construction industry in the Middle East and Africa, Latin America, and Asia Pacific is propelling the market for polyisobutylene.
Know thy Competitors
Competitive landscape highlights only certain players
Complete list available upon request
Which Can Negatively Impact the Sales of Polyisobutylene?
"Mounting Concerns Over Polyisobutylene Spill"
Polyisobutylene is a non-biodegradable product that can harm the environment. Polyisobutylene is utilized as a lubricant in automobiles, ships, trucks, and other automobiles to increase engine performance. The use of polyisobutylene in engine components can result in discharges and leakage. When spilled by a leak or an accident, polyisobutylene becomes very sticky in the presence of water.
The growing use of polyisobutylene in engine components may raise worries about polyisobutylene spills into the ocean. In 2015, hundreds of birds died in the English Channel. The polyisobutylene spill, which was used on ships to improve engine performance, had an impact on these birds.
In the sea, polyisobutylene forms a potent adhesive, covering the birds and inhibiting their movement and capacity to feed. Furthermore, a great number of species were washed ashore on beaches near England's south coast after being covered in a sticky substance. These incidents prompted the RSPB (Royal Society for the Protection of Birds) to express concerns about the use of polyisobutylene in the oceans.
These aspects can negatively impact the sales growth of polyisobutylene.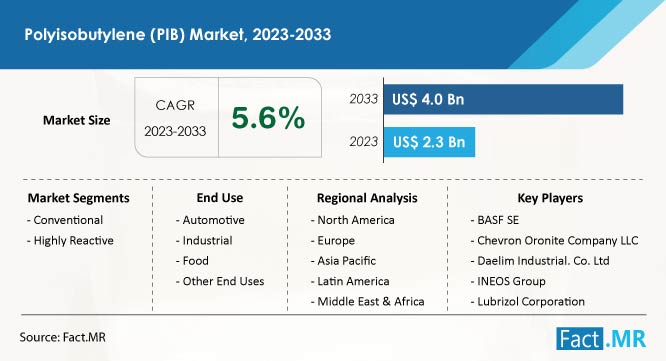 Country-wise Insights
Which Countries are Pushing the Asia Pacific Market to New Heights?
Demand for polyisobutylene in Asia Pacific is likely to expand at a CAGR of 4.8% from 2023 to 2033. Asia Pacific is expected to dominate the worldwide polyisobutene market during the forecast period.
In Asia Pacific, demand for PIB is mainly fueled by high demand from major industries such as construction, automotive, aerospace, and cosmetics in growing economies. Major tire producers in Asia Pacific are producing tubeless tires for quick replacement. Furthermore, the growing trend of transitioning toward electric vehicles is predicted to fuel demand for tubeless tires to reduce maintenance and drag. This is projected to increase the demand for polyisobutylene.
Japan and South Korea are boosting the market growth in Asia Pacific.
What Makes the United States the Largest Contributor to the North American Market?
The North American market is expected to expand rapidly due to the increasing use of polyisobutylene in numerous end-user industries such as marine, automotive, and packaging.
The United States is the largest contributor to the North American market due to increasing infrastructure development in the country.
What is the Demand Outlook for PIB in Germany?
Germany is one of the major markets for polyisobutylene in Europe. The thriving automobile industry in Germany is driving up demand for polyisobutylene.
Polyisobutylene-based butyl rubber is increasingly being used in the development of automobile parts such as hosepipes, gaskets, and window strips due to its higher thermal stability, flexibility, and oxidation resistance.
Category-wise Insights
Why is High Molecular Weight Polyisobutylene Exhibiting High Demand?
High molecular weight polyisobutylene captured 65% of the global PIB market in 2022. The high molecular weight PIB is a solid rubber-like substance that appears as a clear non-drying synthetic polyisobutylene polymer with an ultra-high viscosity and molecular weight. The product is suitable for synthetic polymers such as polyethylene, polypropylene, natural rubbers, waxes, and resins.
Furthermore, the high molecular weight polyisobutylene retains good elastic and robust characteristics. These characteristics make it a popular choice for stretch films, lubricants, adhesives, sealants, industrial, transportation, and food applications.
Demand for medium molecular weight polyisobutylene is also increasing. Due to its tackiness and plasticizing characteristics, medium molecular weight polyisobutylene is utilized in adhesives. Moreover, medium molecular weight PIB is utilized for food and beverage packaging due to its hydrophobic stability, adhesive nature, antibacterial performance, and food safety status.
What Makes Highly Reactive PIB Commonly Preferred Over Conventional PIB?
Demand for highly reactive polyisobutylene (HR-PIB) is growing due to the high viscosity and aptitude of this type of polyisobutylene to offer great results in lubricant thickening. Furthermore, due to the placement of double bonds in the terminal position of the molecule, highly reactive PIB is relatively more reactive than conventional PIB.
Furthermore, the beneficial qualities of highly reactive polyisobutylene, such as moisture resistance, high degree elongation, and superior adhesive properties to a variety of substrates, making it ideal for the production of sealants. As a result, highly reactive polyisobutylene is in higher demand than conventional polyisobutylene.
More Insights, Lesser Cost (-50% off)
Insights on import/export production,
pricing analysis, and more – Only @ Fact.MR
Competitive Landscape
The worldwide market is highly consolidated with a few major players holding most of the share. Key players in the PIB market are investing heavily in research and development activities, especially to develop environmentally friendly products.
In September 2021, Braskem and CHEMETRY invested USD 18 million to establish a plant in Alagoas, Brazil, to manufacture EDC and caustic soda to fulfil domestic demand.
BASF India joined BASF Performance Polyimides India in August 2021 to establish a single company for the development of all of its products in India. This merger aided the company in strengthening its position and improving access to key markets and industries.
BASF SE introduced its polyisobutylene product, OPPANOL C, in the North American market in February 2021. OPPANOL C is manufactured as one-inch chips in order to save product development time and manufacturing procedures for customers by enabling simpler and faster processing.
Daelim Industrial, a South Korean firm, signed a deal with Lubrizol, a US-based company, in 2021 to deliver its PIB production technology. The technology can be used to produce a variety of PIB, ranging from highly reactive to conventional PIBs.
Competitive Analysis
Players in the market are constantly developing improved analytical solutions as well as extending their product offerings. Some of the key players operating in polyisobutene market include BASF SE, Daelim Co. Ltd., TPC Group, INEOS Group, Kothari Petrochemicals, Lubrizol Corporation, ExxonMobil Corporation, and Lanxess AG.
Some of the recent developments of key Polyisobutene providers are as follows:
In August 2021, to better promote their brand in the Polyisobutene market, Chevron Oronite, a subsidiary of Chevron Corporation, sponsored and displayed Polyisobutene, dispersants, PIBSA, and other goods at the Specialty & Agro Chemicals America conference.
In March 2021, the Pollution Control Board granted the right to Kothari Petrochemicals to operate for expansion. This consent from the government will enhance the production capacity of Polyisobutene. They are now India's leading manufacturer of high-quality Polyisobutene.
In January 2019, Saudi Aramco and Total Energies mutually agreed to collaborate with Daelim Co. Ltd. to develop a modern Polyisobutene plant, which is expected to commence their production in 2024. Owing to the facility's location in Saudi Arabia, Daelim Co. Ltd. will be able to serve its clients throughout the Middle East, as well as the markets in Europe and Asia.
In 2019, Lubrizol Corporation, alongside Daelim Industrial constructed a new Polyisobutene unit at Deer Park, Texas. As part of the company's previously stated 10-year phased investment strategy, Lubrizol is continuing to update its additive infrastructure with the construction of this facility. Lubrizol's global capabilities will be upgraded and enhanced as part of the strategy.
Similarly, recent developments related to companies Polyisobutene Market have been tracked by the team at Fact.MR, which are available in the full report.
Key Segments of PIB Industry Research
By Product :

Conventional
Highly Reactive

By Molecular Weight :

By End Use :

Automotive
Industrial
Food
Other End Uses

By Region :

North America
Latin America
Europe
APAC
MEA
- FAQs -
High molecular weight polyisobutylene captured 65% share of the global market in 2022.
The global polyisobutylene market is valued at US$ 2.3 billion in 2023.
The global PIB market is projected to reach US$ 4 billion by 2033.
Worldwide demand for polyisobutylene is anticipated to increase at a CAGR of 5.6% through 2033.
The Asia Pacific PIB market is set to increase at a CAGR of 4.8% during the forecast period.
BASF SE, Kothari Petrochemicals, Chevron Oronite Company LLC, Zhejiang Shunda New Material Co., Ltd, Daelim Industrial. Co. Ltd, Shandong Hongrui New Material Technology Co., Ltd, INEOS Group, ENEOS Corporation, TPC Group Inc, and Lubrizol Corporation are