Clinical Trial Management Systems Market
Clinical Trial Management Systems By Mode of Deployment (Cloud-based, Web-based, On-premise), By Component (Hardware, Software, Services), By Product Type (Enterprise-based, Site-based), By End User, By Region - Global Insights 2022-2032
FACT832MR
Feb-2022

List of Tables : 68

List of Figures : 285

250 Pages
Global Clinical Trial Management Systems Industry Outlook (2022-2032)
The global clinical trial management systems market is projected to garner a valuation of around US$ 1.3 Bn in 2022.
| | |
| --- | --- |
| Attributes | Details |
| Clinical Trial Management Systems Market Size (2022) | US$ 1.3 Bn |
| Market Forecasted Value (2032) | US$ 4.6 Bn |
| Global Growth Rate (2022-2032) | 13.6% CAGR |
| Market Share of Top 5 Companies | 15% - 20% |
Deployment of clinical trial management systems are slated to accelerate at a high CAGR of 13.6% to top US$ 4.6 Bn by 2032. Demand for web-based clinical trial management systems is expected to witness expansion at a CAGR of 13.9%.
The global healthcare IT market was valued at around US$ 210 Bn in 2020, in which, clinical trial management (CTM) systems held a market share of 0.5%. Increasing investments by biotechnology and pharmaceutical companies coupled with funding from government is endorsing research activities. This factor is anticipated to boost growth of the market for clinical trial management systems 3.6x by 2032.
Technical advancements have also boosted demand for clinical trial management systems, as per Fact.MR, a market research and competitive intelligence provider. For instance, the AMC (Asan Medical Center) in Seoul, South Korea established a new system that is adept to dealing data of clinical trial images from group to extraction. This is likely to be a major revolution in CTM systems, as this could make clinical trials more efficient and faster than ever before.
Avail customized purchase options for your needs
Revenue Analysis of Clinical Trial Management Systems from 2017 to 2021 Compared to Demand Outlook for 2022 to 2032
North America is a lucrative region in the global market owing to the increasing demand for clinical trial management system in the U.S., which is anticipated to expand at a CAGR of 13% through 2032.
South Asia & Oceania achieved a market value of around US$ 185 Mn in 2021 owing to high rate of technology adoption.
East Asia and Europe made remarkable contributions to the development of clinical trial management systems, and accounted for nearly 17% and 26% market share in 2021, respectively.
How are End Users Shaping Clinical Trial Management System Demand?
Pharmaceutical Companies and Hospitals to Make Notable Investments in Clinical Trial
End users have often a misplaced, exaggerated notion about the security apparatus of clinical trial management systems. Pharmaceutical companies and hospitals make notable investments in handling clinical trials. Data produced post-clinical trials is crucial, and demand for CTMS is expected to surge for ease of information management.
Although vendors have made investments for the betterment of the security apparatus of web-based cloud security models, a concerted effort from all stakeholders is necessary if web-based clinical trial systems are to experience further penetration. Pharmaceutical and clinical research organizations (CROs) are key shareholders in the market.
An Adaptive Approach to Modern-day Research Needs
What's the Future of Clinical Trial Management System Software?
On-Going Advancements in Clinical Trial Management Systems can boost the Industry
Considering the slew of advantages that clinical trial management systems have over traditional systems, the future belongs to software in the component segment of clinical trial management systems. Advancement in clinical trial management systems has been undergoing since recently, and software based now account for a majority share in the market.
The software segment holds a market share of nearly 83% and is likely to experience a growth rate of 13.9% CAGR through 2032.
Country-wise Analysis
What Factors are Driving Revenue from Clinical Trial Management Systems in the U.S.?
Investment in R&D to Grow the Market in North America
The U.S. is likely to dominate the North America clinical trial management systems market with an estimated market share of more than 85% in 2022. Steady growth of pharmaceutical companies, clinical research organizations, and healthcare organizations, coupled with surge in investments in technical innovation, is supporting growth of the U.S. market.
The growing investment in R&D is expected to augment the regional market. As per Pharmaceutical Research and Manufacturers of America, in 2018, the biopharmaceutical industry invested nearly USD 102 billion in R&D. Furthermore, the growing number of studies and clinical trials can boost the market in the coming time. Overall, North America will likely contribute 33% of the revenue pie.
Why is Germany a Lucrative Pocket for Clinical Trial Management Systems in Europe?
Increasing Development of Pharmaceutical Drugs to Boost Market in Germany
The Germany market is estimated for a valuation of more than US$ 60 Mn in 2022. Factors such as increasing investments in research & development with rise in demand for the development of drugs are sustaining the growth of the market.
As healthcare infrastructure in Germany is robust and open to any technological abruption, the market for clinical trial management systems in the country is set to grow at high pace.
The robust healthcare and accurate information offered by the clinical trial management system is projected to augment the market size in Europe. Further, the growing medical research towards rare disease and multiple orphan drugs is another important cause that can aid to develop the regional market.
Increasing initiatives by the government of various countries have encouraged the small, medium, and large players to develop orphan drug development. Also, the orphan drug hold significant lucrative market opportunities to the established pharmaceutical players.
Why is East-Asia Expected to hold Significant Market Opportunities?
Increasing Investment by Government to Develop Clinical Trial Market
The market in East Asia valued at US$ 240 Mn in 2021. The region is expected to hold significant market opportunities owing to the growing investment by the governments of various countries for the advancement of clinical trials.
Further, lesser stringent rules in the region as compared to developed nations is projected to be another potent cause that can strengthen the market. Also, low operating cost and increasing number of pharmaceutical companies in the region can additionally burgeon the regional market size.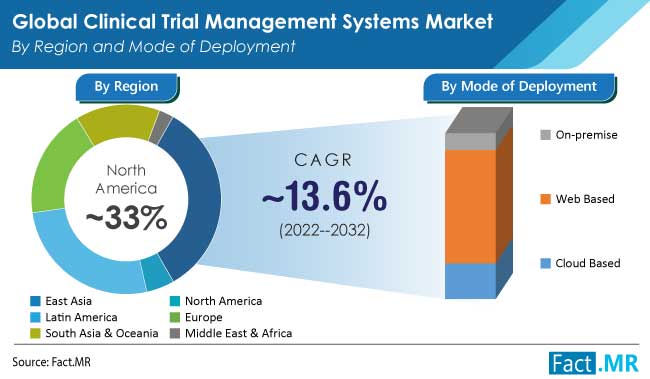 Category Wise Insights
How is Growing Adoption of Web-based Mode of Deployment Impacting Clinical Trial Management System Sales?
Real Time Access to Information to Boost the Segment
Demand for web-based clinical trial management systems has witnessed a remarkable increase in the last five years. Real-time access to information and quick analysis of results are likely to boost the demand for the same. Further, the virtual storage option has proven to be economical to the pharmaceuticals and biotechnology companies.
The web-based clinical trial management systems accounted for about 68% of the market revenue share in 2020. The flexibility, affordability, and advanced technology make web-based clinical trial management the preferred deployment model for end users; however, challenges persist. This leads the web-based mode of deployment to be valued at US$ 3.2 Mn by the end of forecast period. Preference for web-based clinical trial management systems is likely to continue during the assessment period as well. The transition to web-based clinical trial management also gives end users the tools to centralize computational and research tools.
However, the clinical trial industry faces reluctance owing to issues such as privacy and data security. Availability of cloud-based products and platforms that can utilize big data technology to optimize the cost of clinical trial management systems can reduce some level of uncertainty.
Interested to Procure The Data
Impact of COVID-19 on Market
Due to the COVID-19 pandemic, medical practices are under massive pressure; suppliers across the globe have been stunned by the increasing and large number of patients. Rise of this outbreak has led to financial restraints on pharma companies across numerous countries.
In this regard, clinical trial management systems have proven to be very supportive, as they allow academic & industrial researchers to observe patients by using digitally connected platforms to evaluate and organize clinical data for regulatory proposals.
The COVID-19 outbreak has also amplified the need for social distancing among patients and physicians, which has driven demand for digital solutions and remote patient monitoring for clinical research analysis and data gathering. Many key players in the market have launched COVID-19-associated features into their existing systems, which are being made available for free of cost to users.
Competitive Landscape
Majority of companies are focused on expansions, investments, acquisitions, delivery, portfolio expansion, and brand development. Key players also have a strong position in the global market with a large set of customers, which springs them with an edge over their competitors in the market.
Moreover, developers also participate comprehensively in campaigns of advertising to surge their visibility in the field. Major players are fluctuating their focus toward platforms with smart services to allow patients to operate their products remotely.
In October 2021, Parexel, a leading global clinical research organization and Kyoto University Hospital announced a strategic alliance focused on offering better opportunities for clinical research and providing efficient methods of supporting clinical studies.
In November 2020, a tripartite collaboration was announced between Parexel, Synexa Life Sciences, globally renowned for biomarker and bio analytical science and Drawbridge Health, a healthcare technology company reinventing the blood draw experience. The collaboration focused on delivering comprehensive solutions for COVID-19 clinical serology testing.
In December 2020, Oracle Corporation and Cerner Corporation announced an agreement for Oracle to acquire Cerner an all-cash tender offer for approximately USD 28.3 Bn in equity value. Cerner is globally renowned provider of digital information systems used within healthcare centers and systems to allow medical experts to provide revamped services to patients and communities.
Key Segments Covered in Clinical Trial Management System Industry Survey
By Mode of Deployment :

Cloud-based Clinical Trial Management Systems
Web-based Clinical Trial Management Systems
On-premise Clinical Trial Management Systems

By Component :

Clinical Trial Management System Hardware
Clinical Trial Management System Services
Clinical Trial Management System Software

By Product Type :

Enterprise-based Clinical Trial Management Systems
Site-based Clinical Trial Management Systems

By End User :

Pharmaceuticals
Clinical Research Organizations (CROs)
Healthcare Providers