Cooling Fabrics Market
Cooling Fabrics Market Analysis By Material (Synthetic, Natural), By Textile Type (Woven, Non-woven, Knitted), By Technology (Moisture-wicking, Phase Change Materials (PCM), Evaporative Cooling, Thermo-regulating Coatings), By Application (Sports Apparel, Protective Wearing, Lifestyle, Medical Textiles, Home Textiles) and By Region – Global Market Insights 2023 to 2033
Analysis of Cooling Fabrics Market Covering 30+ Countries Including Analysis of US, Canada, UK, Germany, France, Nordics, GCC countries, Japan, Korea and many more
Cooling Fabrics Market Outlook (2023 to 2033)
The global cooling fabrics market stands at a value of US$ 2.71 billion in 2023 and is projected to reach US$ 6.2 billion by 2033-end, expanding at a noteworthy CAGR of 8.5% over the next ten years (2023 to 2033). Cooling fabrics encompass substances like gel, polymer, or phase change materials (PCMs) that modify their insulating characteristics based on environmental cues.
These textiles operate by absorbing heat and moisture, subsequently releasing them into the surroundings. This process significantly enhances the breathability and ventilation of clothing.
Cooling fabrics play a pivotal role in regulating body temperature during physical activities, contributing to enhanced comfort and well-being even in hot conditions. Furthermore, owing to their impressive thermal conductivity and tactile attributes, cooling fabrics find widespread application in the production of sports apparel on a global scale.
Natural cooling fabrics offer a blend of comfort, performance, and sustainability. By harnessing the inherent properties of natural materials, these fabrics cater to the growing demand for clothing that keeps individuals comfortable while aligning with environmentally conscious choices. Synthetic cooling fabrics have emerged as cutting-edge solutions in the textile industry, blending advanced materials and technology to deliver enhanced comfort and performance. These fabrics leverage synthetic fibers engineered to promote effective heat dissipation and moisture management.
Cooling sheet fabrics have revolutionized the experience of rest and sleep, offering a rejuvenating escape from the discomfort of overheating during the night. Conductive textiles combine advanced materials and design to regulate body temperature, optimize moisture management, and create relaxation.
Outdoor cooling fabrics have become a game-changer for those seeking comfort and relief during their outdoor adventures. These specialized textiles combine innovative materials and designs to combat the challenges posed by heat and sun exposure. Athletes and fitness enthusiasts benefit from the cooling and moisture-wicking properties of these fabrics, optimizing performance by preventing heat-related fatigue.
In March 2022, Coolcore LLC announced the launch of its new cooling fabric technology called "Coolcore Omni-Freeze." This technology utilizes a unique cross-section fiber design that enhances the cooling effect when exposed to sweat or moisture, providing improved comfort and temperature regulation for sportswear and outdoor apparel.
Report Attributes
Details
Cooling Fabrics Market Size (2022)
US$ 2.5 Billion
Estimated Market Value (2023)
US$ 2.71 Billion
Forecasted Market Value (2033)
US$ 6.2 Billion
Global Market Growth Rate (2023 to 2033)
8.5% CAGR
China Market Growth Rate (2023 to 2033)
4.4% CAGR
Natural Cooling Fabrics Growth Rate (2023 to 2033)
6% CAGR
Synthetic Cooling Fabrics Growth Rate (2023 to 2033)
4.6% CAGR
Moisture-wicking Cooling Fabrics Growth Rate (2023 to 2033)
8.6% CAGR
North America Market Share (2023)
38%
Leading Regional Market
North America
Key Companies Profiled

Nike Inc.
Adidas AG
Coolcore LLC
Ventex Inc.
Invista
Polartec
NILIT Ltd.
Nan Ya Plastics Corporation
Asahi Kasei Corporation
Don't Need a Global Report?
save 40%! on Country & Region specific reports
What is Causing Gradual Rise in the Adoption of Cooling Fabrics across Industries?
"Advancements in Cooling Fabric Technologies Facilitating Efficient Heat Dissipation"
The market is expected to grow significantly in the coming years as a result of technological advancements and consumers' growing awareness of the benefits of cooling fabrics. Over the forecast period, an increase in research and development activities, coupled with evolving consumer inclinations, is anticipated to drive the growth of cooling fabrics. Self-cooling fabrics utilize advanced technologies to dissipate heat and uphold a pleasant temperature.
In the textile industry, self-cooling fabrics have emerged as a groundbreaking remedy for the perennial issue of maintaining comfort across diverse temperatures. Employing cutting-edge technologies, these fabrics provide wearers with a distinctive and adaptable heat-responsive experience, negating the need for external cooling mechanisms.
Benefits of Self-Cooling Fabrics
Enhanced Comfort: Self-cooling fabrics offer a new level of comfort by actively managing temperature and preventing overheating. This feature is particularly valuable in environments with high heat or humidity.
Energy Efficiency: These fabrics reduce the need for external cooling systems, contributing to energy conservation and decreasing reliance on air conditioning.
Regulated Body Temperature: Self-cooling fabrics facilitate natural thermoregulation, minimizing discomfort and creating a balanced microclimate between the fabric and the wearer's skin.
"Rising Integration of Cooling Fabrics into Upholstery to Elevate Living Space Comfort"
Cooling fabrics have transcended their traditional boundaries and found a new home in the world of textiles, offering a refreshing twist to home decor. These textiles, designed to provide enhanced comfort and regulate temperature, have seamlessly integrated into home textiles, revolutionizing the way we experience our living spaces.
Cool upholstery fabrics stand out due to their distinctive characteristics that cater to both comfort and style. Cool upholstery fabrics offer a fusion of style, comfort, and sustainability.
More Insights, Lesser Cost (-50% off)
Insights on import/export production,
pricing analysis, and more – Only @ Fact.MR
Benefits of Cool Upholstery Fabrics
Enhanced Comfort: Cool upholstery fabrics offer an elevated level of comfort, ensuring that the seating surface remains comfortable even during extended periods of use.
Versatility: From classic to contemporary, these fabrics are available in a range of designs and colors, making them versatile choices that complement various interior styles.
Longevity: High-quality cool upholstery fabrics are designed to withstand regular use, maintaining their comfort and appearance over time.
The ability of cooling fabrics to regulate temperature and enhance comfort while elevating interior aesthetics has positioned them as a preferred choice for modern living. As the intersection of design and functionality becomes increasingly important, cool upholstery fabrics provide a solution that caters to both form and comfort, making them a cornerstone of contemporary interior design.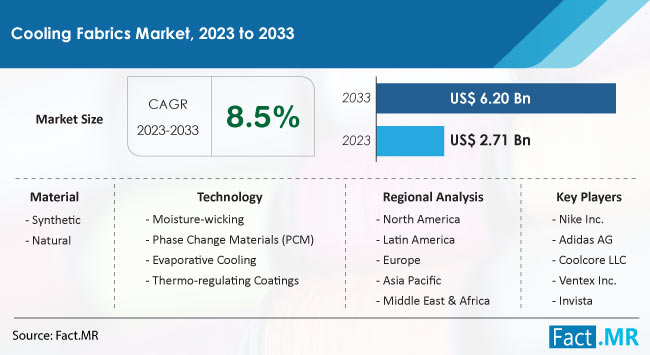 What Obstacles Do Manufacturers of Cooling Fabrics Encounter?
"High Cost of Fabric Production and Limited Variety Compared to Traditional Textiles"
Challenges in Cooling Fabrics Market
Cost Implications: The cost of producing cooling fabrics, often due to advanced materials and technologies, can be higher compared to traditional fabrics. This cost factor might deter some consumers from adopting cooling fabric-enhanced products.
Consumer Awareness: Despite growing awareness, some potential consumers might not fully understand the benefits and applications of cooling fabrics. Manufacturers need to invest in educating the market to foster wider adoption.
Limited Variety: While cooling fabrics have wide applications, the variety of available options can still be limited in comparison to traditional textiles. This restricts customization and specific design preferences.
Durability and Maintenance: Maintaining the cooling properties of these fabrics over prolonged use and through multiple wash cycles can pose a challenge. Manufacturers need to ensure that durability isn't compromised.
Opportunities within Constraints
Affordability Innovation: Overcoming cost challenges through innovative manufacturing processes and materials can make cooling fabrics more accessible to a broader consumer base.
Awareness Initiatives: Manufacturers can leverage education campaigns to inform consumers about the benefits and mechanisms of cooling fabrics, fostering a deeper understanding and appreciation.
Diverse Applications: Expanding the variety of products that incorporate cooling fabrics, from sportswear to home textiles, presents an opportunity to address different consumer needs.
Research and Development: Advancements in textile technology can lead to more durable and easily maintained cooling fabrics, increasing their appeal and lifespan.
Know thy Competitors
Competitive landscape highlights only certain players
Complete list available upon request
Country-wise Insights
What Factors are Contributing to Rising Demand for Cooling Fabrics in the United States?
"Increasing Industrial and Military Application of Energy-efficient Cooling Fabrics"
North America asserts its dominance in the cooling fabrics market, commanding a significant market share of 38% in 2023. Increased R&D efforts for the creation of premium cooling textiles have led to market growth in the United States. Rising demand for sports equipment as a result of an increase in sports and fitness activities in the nation is anticipated to fuel market revenue development.
Firms that serve athletes, fitness buffs, and outdoor enthusiasts are increasingly employing materials that regulate body temperature, such as technical fabrics with built-in cooling. The growing use of the product in medical equipment cooling and defense industries is boosting market revenue in the country.
Rising industrial and military use of cooling fabrics is expected to drive market expansion over the forecast period. This growth can be ascribed to intensive research and development efforts made to provide high-tech cooling wearables that not only offer comfort to the wearer but also help save energy.
What Opportunities are on the Horizon for Cooling Fabric Manufacturers in China?
"Increasing Investments in Production of Premium Cooling Fabrics"
From 2023 to 2033, the Chinese market is expected to expand at a CAGR of 4.4%. Due to changing lifestyles and a rise in consumers' disposable income, demand for garments made of cooling fabrics is poised to increase significantly over the forecast period in China. Major companies in the market are investing in the production of premium cooling fabrics to offer a wide range of cooling textiles for various end-use industries.
The trend toward fitness and health consciousness, along with government backing, is anticipated to contribute to market growth in the Asia Pacific region. Expansion of product applications and relocation of manufacturing operations to developing countries such as China are the two factors projected to drive demand for cooling fabrics.
Category-wise Insights
Will There Be Widespread Adoption of Natural Cooling Fabrics?
"Breathability and Efficient Moisture Management of Natural Cooling Fabrics"
From 2023 to 2033, demand for natural cooling fabrics is expected to advance at a 6% CAGR. Natural cooling fabrics leverage the inherent properties of various natural materials to achieve their cooling effects. Materials like cotton, linen, and bamboo have natural moisture-wicking properties. They efficiently absorb moisture, such as sweat, from the body and allow it to evaporate, enhancing comfort by preventing dampness and improving ventilation.
Certain plant-derived fibers, like hemp, possess exceptional thermal comfort materials. They can absorb excess heat from the body and disperse it, thus contributing to maintaining a comfortable body temperature. The unique microstructure of cool cotton fabric contributes to enhanced airflow between fibers, facilitating better ventilation and breathability. This prevents heat and moisture buildup, which is particularly advantageous in warm conditions.
Benefits of Natural Cooling Fabrics
Comfort: The natural properties of these fabrics create a comfortable and refreshing wearing experience. They keep the body dry by efficiently managing moisture and allowing heat to escape, reducing the risk of discomfort and irritation.
Thermoregulation: Natural cooling fabrics aid in regulating body temperature, particularly during physical activities. This property is essential for athletes and individuals engaged in active lifestyles.
Sustainability: Natural fabrics are often biodegradable, renewable, and produced with fewer synthetic chemicals. This aligns with the growing consumer preference for eco-friendly and sustainable textiles.
What's Leading to Extensive Usage of Cooling Fabrics in Moisture-wicking Applications?
"Increasing Adoption of Moisture-wicking Cooling Fabrics for Enhanced Athletic Performance"
Sales of moisture-wicking cooling fabrics are forecasted to rise at a CAGR of 8.6% through 2033. The fusion of cooling fabrics and moisture-wicking technology has heralded a new era in textile innovation. This dynamic combination not only addresses the need for comfort but also caters to the demands of active lifestyles.
The symbiotic relationship between cooling fabrics and moisture-wicking technology has been described below, exploring how their collaboration is reshaping the landscape of performance wear. Cooling fabrics and moisture-wicking technology complement each other through their distinctive mechanisms.
Benefits of the Moisture-Wicking Technology
Enhanced Comfort: The amalgamation of cooling properties and moisture-wicking capabilities offers a comprehensive solution to combating discomfort caused by heat and perspiration. This results in a drier, more comfortable experience during physical activities.
Regulated Body Temperature: Cooling fabrics work in synergy with moisture-wicking textiles to keep the body's temperature in check. This is particularly beneficial during intense workouts or in hot environments.
Extended Performance: Athletes and active individuals benefit from clothing that not only wicks away moisture but also provides a cooling effect, thus promoting endurance and prolonging peak performance.
Competitive Landscape
The cooling fabrics market has gained momentum as technology advances and consumer demand for comfort-driven textiles rises. This article delves into the competitive landscape of the cooling fabrics market, exploring key players, strategies, and factors shaping the industry's growth trajectory. Competitors broaden their product portfolios by offering cooling fabrics for various applications such as sportswear, casual wear, bedding, and medical textiles.
In April 2022, Columbia Sportswear Company announced the expansion of capabilities at its Robards, Kentucky (US) distribution center. The company has invested approx. US$ 4 million in the facility.
In October 2021, Ahlstrom-Munksjo introduced a new range of cooling fabrics called 'Fiber+', aimed at the automotive industry. These fabrics provide effective thermal management by reducing heat buildup in automotive interiors, enhancing passenger comfort and energy efficiency.
Key Segments of Cooling Fabrics Industry Research
By Material :

By Textile Type :

By Technology :

Moisture-wicking
Phase Change Materials (PCMs)
Evaporative Cooling
Thermo-regulating Coatings

By Application :

Sports Apparel
Protective Wearing
Lifestyle
Medical Textiles
Home Textiles

By Region :

North America
Latin America
Europe
Asia Pacific
Middle East & Africa
- FAQs -
The global cooling fabrics market is valued at US$ 2.71 billion in 2023.
Worldwide sales of cooling fabrics are set to increase at a CAGR of 8.5% from 2023 to 2033.
Global sales of cooling fabrics are projected to reach US$ 6.2 billion by 2033.
Demand for natural cooling fabrics is forecasted to increase at a CAGR of 6% through 2033.
The market in China is set to expand at a CAGR of 4.4% through 2033.
Sales of synthetic cooling fabrics are projected to rise at 4.6% CAGR through 2033.
North America accounts for a market share of 38% in 2023.