Electrical Houses Market
Electrical Houses Market Analysis By Type (Mobile Substations, Fixed E-Houses), By Voltage Type (Medium Voltage, Low Voltage), By Application (Industrial, Utilities) & Region – Global Market Insights 2023 to 2033
Analysis of Electrical House Market Covering 30+ Countries Including Analysis of US, Canada, UK, Germany, France, Nordics, GCC countries, Japan, Korea and many more
Electrical Houses Market Outlook (2023 to 2033)
According to the latest research study by Fact.MR, the global electrical houses market is expected to increase from a valuation of US$ 1.3 billion in 2023 to US$ 2.6 billion by 2033-end. This is because worldwide demand for electrical houses is predicted to rise at a CAGR of 7.2% from 2023 to 2033.
Electrical houses, sometimes referred to as e-houses or powerhouses, are portable power substations that provide electricity for projects that are typically situated in outlying or specialized regions. They are networks of electrically integrated portable circuits. Electrical houses are growing in popularity as they are seen as a one-stop shop for industrial activities and lower operational and capital expenses, enhancing productivity.
An electrical house is a prefabricated mobile enclosure that includes a variety of electrical and electronic components, such as medium- and low-voltage switchgear, digital electronic systems, gearbox devices, and other auxiliary equipment. It is used for power supply and gearbox in several end-use sectors, including the manufacturing of metals, locomotives, chemicals, oil & gas, and aerospace. It is routinely connected to significant loads in both small- and large-scale projects to drastically minimize energy costs and required cable size.
The global shift towards renewable energy sources, such as wind and solar power, is accelerating. Medium-voltage electrical houses play a vital role in integrating renewable energy systems into the electrical grid, facilitating the distribution and transmission of clean energy to end-users.
Building an entire power supply framework for short-term projects is not always practical. Project owners rely on electrical houses for solutions to provide electricity and power for temporary projects. Because of its mobility, the entire installation and relocation process for the electrical house is easy and affordable. E-houses can also be placed close to large loads to cut down on the size and length of power and control connections.
Increased industrial, commercial, and farming activities all contribute to market growth while using a significant quantity of electricity. Additionally, the expansion of smart power grid deployment and the construction of renewable energy plants are contributing to the rise in market revenue. However, in emerging economies, supportive government policies for in-house manufacturing offer an extensive range of options for sector participants.
Report Attributes
Details

Electrical Houses Market Size (2023)

US$ 1.3 Billion

Projected Market Value (2033)

US$ 2.6 Billion

Global Market Growth Rate (2023 to 2033)

7.2% CAGR

Market Share of Mobile Substations (2023)

75%

Germany Market Growth Rate (2023 to 2033)

5.3% CAGR

China Market Growth Rate (2023 to 2033)

7.5% CAGR

United States Market Size (2023)

US$ 210 Million

Canada Market Growth Rate (2023 to 2033)

5.5% CAGR

Key Companies Profiled

ABB Ltd.
Eaton
StarFlite Systems
Matelec Group
Becker Mining Systems AG
CG Power
EKOS Group
Delta Star
Becker Mining Systems AG
Schneider Electric SE
Siemens AG
Powergear Limited
Powell Industries Inc.
Aktif Group
Don't Need a Global Report?
save 40%! on Country & Region specific reports
What are the Growth Opportunities for Electrical House Manufacturers?
"Increasing Rate of Digitalization in Electrical Houses"
Digitization of electrical houses refers to the integration of advanced digital technologies and smart systems into the design, operation, and management of these modular enclosures. This transformation aims to enhance electrical safety products, catering to the evolving needs of modern industries.
By leveraging digital technologies such as IoT, data analytics, and intelligent control systems, these houses become more efficient, reliable, and safer. The benefits of digitization include enhanced monitoring, predictive maintenance, energy efficiency, and remote management, empowering industries to meet the demands of a modern and interconnected world while driving sustainable practices and reducing operational costs.
The energy business has already seen substantial progress thanks to the ongoing digital transformation, which offers many opportunities. The impact of digitalization on electrical distribution is intended to improve operations and boost flexibility across the entire power value chain, from generation to customer relationship management. Installing digital switchgear already considerably contributes to improving operating efficiency by reducing the switchgear footprint in the substation room and managing energy for switchgear operation properly.
The width of medium-voltage switchgear with 30 panels at 11 kV can be reduced by roughly 7%, and the switchgear uses around 300 MWh less energy overall.
"Surging Usage of SF6-free Alternatives in Electrical Houses to Reduce Environmental Effects"
Sulfur Hexafluoride (SF6) has been commonly used as an insulating gas in electrical houses and switchgear due to its excellent electrical insulation properties. However, SF6 is a potent greenhouse gas with a high global warming potential (GWP), and its use has raised environmental concerns. As a result, there is a growing need to explore alternative insulating gases to replace SF6 in electrical houses.
Several options are being considered to address the environmental impact and ensure the long-term sustainability of electrical infrastructure.
ABB has been looking for substitutes with similar arc interruption and insulation capabilities to SF6 in recent years that have a reduced environmental impact. The world's first gas-insulated switchgear (GIS) pilot installation using a new gas mixture was recently put into service in Switzerland as a result of this mission being completed.
The replacement of SF6 in electrical houses is an essential step toward mitigating the environmental impact of the power industry. Various alternatives offer promising solutions to maintain reliable and sustainable electrical infrastructure. As the industry continues to innovate and address challenges, the transition to eco-friendly alternatives is expected to become more widespread, contributing to a greener and more environmentally responsible future.
Which are the Barriers Hurting Demand Growth for Electrical Houses?
"High Maintenance Cost and Shortage of Technical Expertise"
Several factors are hampering the demand for electrical houses in the market. These challenges and limitations have an impact on the adoption and growth of electrical houses in various industries. Here are some key factors hindering the demand:
High Initial Investments: Electrical houses typically require a significant upfront investment due to their pre-engineered and modular nature. The initial cost of purchasing and installing electrical houses can be a deterrent for some companies, especially those with budget constraints or small-scale operations.
Limited Customization Options: Since electrical houses come pre-engineered, customization options can be limited. Industries with specific and unique requirements can find it challenging to adapt standard electrical houses to their needs. This lack of flexibility might lead some companies to opt for traditional on-site construction for more tailored solutions.
Maintenance and Repairs: High maintenance costs of electrical houses are hampering market growth. Although electrical houses are designed for easy maintenance, some companies can have concerns about the servicing and repairs of pre-fabricated equipment. The lack of skilled technicians & spare parts might pose challenges in some areas.
More Insights, Lesser Cost (-50% off)
Insights on import/export production,
pricing analysis, and more – Only @ Fact.MR
What are the Key Strategies Start-ups Should Adopt to Drive Their Market Stance?
"New Companies Should Focus on Introducing Innovative and Cutting-Edge Designs for Electrical Houses"
Digital technologies enable start-ups to access global markets more easily. New companies should emphasize the eco-friendly and sustainable aspects of electrical houses. To cater to specific customer needs, start-ups can offer customization options.
Start-ups should focus on introducing innovative and cutting-edge designs for electrical houses. They can introduce modular and smart solutions, incorporating advanced technologies such as IoT, data analytics, and automation to enhance the performance and efficiency of their products.
Entering and establishing roots in the electrical houses market requires a combination of innovation, market focus, customer-centricity, and strategic partnerships. By offering unique and value-driven solutions, building a strong brand, and providing exceptional customer experiences, start-ups can gain a competitive edge and pave the way for long-term success in the industry.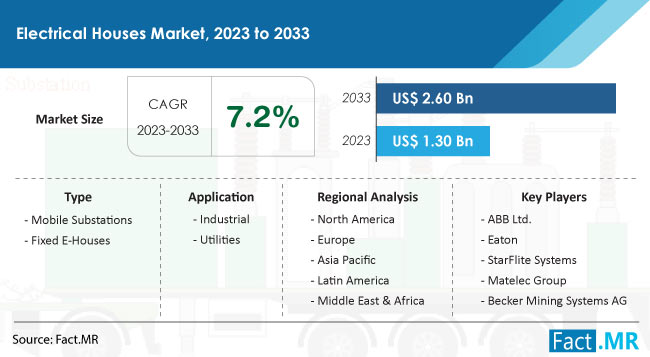 Country-wise Insights
Why is the United States an Opportune Market for Electrical House Providers?
"Presence of Well-established Industrial Sector & Infrastructure Projects"
The electrical houses market in the United States is valued at US$ 210 million in 2023.
Huge demand for power in data centers, metal extraction operations, and other applications is driving market expansion in the United States. Increasing investments in energy storage systems contribute to market growth.
Presence of well-established industrial sector & infrastructure projects is driving the demand for electrical houses in the United States. A focus on modernizing power distribution systems and improving energy efficiency supports the adoption of pre-fabricated electrical houses.
What is Boosting Electrical House Demand in Germany?
"Rise in Government Initiatives for Upgradation of Basic Amenities"
Demand for electrical houses in Germany is set to rise at a CAGR of 5.3% through 2033.
Market expansion in Germany is driven by the growing demand from the mining and metal industries and a rise in government initiatives for the upgradation of basic amenities. The market is expanding due to rising utility demand and an increase in oil and gas exploration activities. The increasing focus on clean energy and sustainability is likely to drive the demand for electrical houses.
Will China Continue its Dominance in the Electrical Houses Space?
"Rapid Increase in Development of Manufacturing Facilities"
The electrical houses market in China is projected to expand at a CAGR of 7.5% over the next ten years.
Rapid industrialization and urbanization led to a surge in demand for electricity and power distribution solutions. Increasing expenditures on mobile electrical systems and rising demand for temporary power solutions are fueling industry growth in China. Market growth is attributed to the sudden increase in manufacturing facilities that use e-houses for power supply.
Know thy Competitors
Competitive landscape highlights only certain players
Complete list available upon request
Category-wise Insights
Which Type of Electrical House Has Gained Immense Popularity?
"Mobile Substations Widely Preferred Due to Their Flexibility Quotient"
Based on type, the market is divided into mobile substations and fixed e-houses.
In 2023, mobile substations account for 75% of the global electrical houses market.
Mobile substations can be relocated and redeployed to different locations as needed. They offer flexibility in power distribution, allowing industries to adapt to changing operational needs or to support temporary projects, events, or construction sites. They are designed to integrate seamlessly with existing power systems and networks.
In densely populated areas or locations with limited space for infrastructure development, mobile substations provide a compact and space-saving solution. They can be placed in areas where traditional substations are not feasible. Mobile substations can be utilized to swiftly restore power during outages caused by storms or other natural disasters, as well as to supply additional power when permanent facilities are not functioning.
With advancements in modular construction and smart grid technologies, mobile substations are becoming more efficient, reliable, and capable of handling a wide range of power distribution requirements. They can be utilized as backup power for the upkeep of existing equipment. Due to rising oil and gas drilling and exploration activities, e-houses are increasingly being used as a source of power.
Competitive Landscape
According to recent research by Fact.MR, a market research and competitive intelligence provider, leading companies are mostly concentrating on improving their services by incorporating cutting-edge features and technologies. They are focusing on quality control, product standards, new developments, and supply chain management. Several market players are putting out unique ideas for industrial units to save energy while doing additional tasks, creating a highly competitive market environment.
For instance :
In 2021, WEG and Vale announced a partnership for the production of e-houses in Minas Gerais. A contract was signed by the two businesses for the supply of solar e-houses for the Sol do Cerrado Project, one of Brazil's major photovoltaic power plants.
Key Segments of Electrical Houses Industry Research
By Type :

Mobile Substations
Fixed E-Houses

By Voltage Type :

Medium Voltage
Low Voltage

By Application :

By Region :

North America
Europe
Asia Pacific
Latin America
Middle East & Africa
- FAQs -
The global electrical houses market is valued at US$ 1.3 billion in 2023.
Worldwide demand for electrical houses is estimated to reach a market value of US$ 2.6 billion by 2033.
The global market is predicted to expand at a CAGR of 7.2% through 2033.
The market in Germany is predicted to increase at a CAGR of 5.3% over the decade.
The market for electrical houses in Japan is set to rise at a CAGR of 5% from 2023 to 2033.