Glue Laminated Timber Market
Glue Laminated Timber Market Analysis By Type (Premium Grade, Framing Grade, Industrial Grade, Architectural Grade), By Shape (Straight, Curved, Custom), By Application (Residential, Commercial, Industrial) & Region – Global Market Insights 2023 to 2033
Analysis of Glue Laminated Timber Market Covering 30+ Countries Including Analysis of US, Canada, UK, Germany, France, Nordics, GCC countries, Japan, Korea and many more
Glue Laminated Timber Market Outlook (2023 to 2033)
As per a new industry analysis by Fact.MR, the valuation of the global glue laminated timber market stands at US$ 8 billion for 2023 and is estimated to increase to US$ 13 billion by 2033, expanding at a CAGR of 5% over the forecast period (2023 to 2033).
Glue laminated timber, also known as glulam, is usually created by stacking many wood lams or boards and joining them with a strong, moisture-resistant adhesive. It is a kind of lightweight, structurally built wood product with a load-bearing capability that is comparable to steel.
High-quality dimension lumber is used to construct glue laminated timber, which is then bonded together so that the grain of every lamination runs perpendicular to the direction of the finished product's length. It is renowned for both its attractive appearance and toughness.
A heavy wood-frame structure is another name for glued laminated timber construction. Due to their large sections, glue laminated timber products have fire-resistant materials to avoid unwanted fire, as opposed to light timber frames made of dimension lumber with small sections and various types of plank.
Demand for glue laminated timber products is increasing rapidly as a result of the booming residential construction industry. This sector mostly consists of remodeling, repair, and new residential construction.
Development of wood as a low-cost and environmentally friendly substitute for steel and concrete has resulted in a dramatic increase in demand for glue laminated timber in recent years. Market growth is fueled by the increasing acceptability of glue laminated timber because of its greater strength, ease of construction, and low maintenance requirements.
Rising use of glue-laminated timber in numerous industries is driving market demand. It is an easily accessible, environmentally friendly material that allows for shape and size flexibility. As a result, it has uses in a variety of fields, including architecture, industrial building, and home framing.
The market is anticipated to benefit from many growth opportunities, such as the expansion of the construction industry and an increase in homes made from glue laminated timber. The demand for wood-based residential buildings is also predicted to rise throughout the projection period due to their aesthetic appeal and adaptability in terms of design.
Report Attributes
Details

Glue Laminated Timber Market Size (2023)

US$ 8 Billion

Projected Market Value (2033)

US$ 13 Billion

Global Market Growth Rate (2023 to 2033)

5% CAGR

Market Share of Premium-grade Glue Laminated Timber (2023)

40%

China Market Growth Rate (2023 to 2033)

7.5% CAGR

Germany Market Growth Rate (2023 to 2033)

3% CAGR

United States Market Size (2023)

US$ 2 Billion

Canada Market Growth Rate (2023 to 2033)

4.5% CAGR

Key Companies Profiled

Structural Wood Systems
Boise Cascade
Ledinek
Buckland Timber
Siniat
Saint-Gobain
Swedish Wood
Stora Enso Oyj
Calvert Co. Inc.
Pfeifer Group
Canfor Corp.
Setra Group AB
Don't Need a Global Report?
save 40%! on Country & Region specific reports
What are the Key Drivers Behind the Soaring Demand for Glue Laminated Timber?
"Rapidly Increasing Demand for Durable Wood Flooring"
A significant factor driving the expansion of the market is the rising demand for durable wood flooring. Glue-laminated timber has improved in terms of appearance, quality, and available woods and finishes, making it a desirable alternative for durable flooring. For decking, plastic composites are also utilized. Despite being less expensive, plastic composites are produced by emitting dangerous substances. Additionally, these composites are not heat- and fire-resistant, which restricts their widespread use.
Softwood and hardwood products are used to create glue-laminated timber. Therefore, in the majority of applications, these timber materials offer sustainable and environmentally beneficial alternatives to conventional wood and laminate flooring. In addition to having characteristics that are similar to natural wood and improvements, glue laminated timber has a longer lifespan and a higher load-bearing capability than other wood products (solid wood) of the same size.
Special resins that comply with strict regulatory standards specified by numerous government organizations for safety and efficacy are used in the production of glue-laminated timber. This is because glue-laminated timber products' mechanical qualities are more homogeneous and predictable since production processes minimize wood defects.
"Continuous Advancements in Architecture and Interior Designs"
Development of the global market is primarily reliant on advancements in architecture and interior design. Due to the exceptional qualities of glue laminated timber, it is used in a wide range of construction-related applications. Additionally, it is the most premium material used in interior design.
There is a growing emphasis on sustainability and environmentally friendly practices in architecture and interior design. Glue laminated timber, as a renewable and eco-friendly material, aligns perfectly with these design trends. Its use in construction projects helps reduce the carbon footprint and promotes sustainable building practices.
Architects and interior designers are increasingly incorporating biophilic design principles into their projects. The biophilic design focuses on bringing nature into the built environment to enhance well-being and productivity. The natural appearance of glue laminated timber, with its visible wood grain, complements the biophilic design, creating a connection to nature indoors.
Advancements in construction technology have facilitated hybrid construction methods, where glulam is combined with other materials such as steel and concrete. This combination allows designers to leverage the best properties of each material and optimize the structural and aesthetic aspects of a building.
What Can Stifle the Sales Growth of Glue Laminated Timber?
"High Initial Cost and Easy Availability of Substitutes"
Several factors are hampering the demand for glue laminated timber. These challenges have been affecting market expansion. Some of the key reasons include:
Cost Considerations: Glue laminated timber can be relatively more expensive than traditional building materials such as concrete, steel, or solid timber. The higher initial costs of glulam can deter some builders and developers from choosing it as the primary construction material, especially in cost-sensitive projects.
Lack of Awareness: Despite the benefits of glue laminated timber, there is still limited awareness and understanding of its advantages among construction professionals, architects, and the general public. A lack of awareness can lead to a preference for conventional building materials.
Competition from Other Engineered Wood Products: The proliferation of alternatives such as cross-laminated timber and laminated veneer lumber is a significant barrier to market growth.
Regulatory Hurdles: Building codes and regulations cannot be entirely supportive or well-adapted to the use of newer and innovative materials such as glue laminated timber. Compliance with existing codes or obtaining necessary approvals can be time-consuming and add complexity to projects.
More Insights, Lesser Cost (-50% off)
Insights on import/export production,
pricing analysis, and more – Only @ Fact.MR
How can Start-ups Gain Ground in the Glue Laminated Timber Landscape?
"New Manufacturers Should Focus on Sustainability, Customer Focus, and Well-Defined Brand Identity"
SmartLam is a pioneer in cross-laminated timber manufacturing in the United States and has also ventured into the production of glue laminated timber. They have played a crucial role in promoting mass timber construction in the country.
Binderholz is a European company that has been making strides in the mass timber industry. They have extensive experience in producing glue laminated timber.
By following such established companies manufacturing glue-laminated timber, start-ups can make a mark and compete effectively. By combining innovation, niche targeting, sustainability, customer focus, and a well-defined brand identity, new entrants can make a positive impact, attract attention from industry stakeholders, and establish themselves as formidable competitors alongside established players.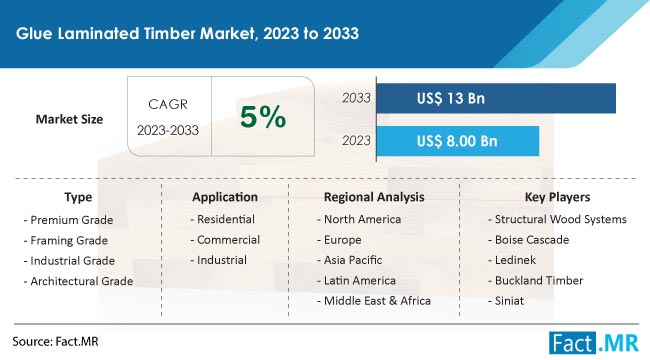 Country-wise Insights
What is the Growth Outlook for Glue Laminated Timber in the United States?
"Key Market Due to Presence of Advanced Timber Processing Industry"
The glue laminated timber market in the United States is valued at US$ 2 billion in 2023.
The United States is one of the major consumers of glue laminated timber, owing to its advanced timber processing industry and increasing focus on sustainable building practices. Growing usage of glue laminated timber in railway bridges, and engineered wood for home construction, highways, and pedestrian areas are expected to have a beneficial impact on market growth in the United States.
Will Germany be a Lucrative Market for Glue Laminated Timber Producers?
"Favorable Government Initiatives Promoting Green Construction and Renewable Materials"
Sales of glue laminated timber in Germany are set to rise at a CAGR of 3% from 2023 to 2033.
Strong acceptability and expanding consumption of wood as a building material is stimulating market revenue in Germany. The market is driven by the growing preference for adhesive laminated building materials. Government initiatives promoting green construction and renewable materials have further boosted the demand for glulam in various construction applications. Increasing disposable income and the presence of top manufacturers have created numerous attractive chances for the glue-laminated timber market.
Why is China an Opportune Space for Glue Laminated Timber Suppliers?
"Rapid Growth of Construction Sector in the Country"
The market in China is predicted to expand at a CAGR of 7.5% through 2033.
China has witnessed a growing interest in glulam, driven by increasing urbanization. Market growth in China is attributed to the rapid growth of the construction sector and a rise in the inclination of manufacturers to relocate production facilities. The easy accessibility of raw materials and rising consumer desire for chic and opulent apartments are the key factors supporting market expansion.
Know thy Competitors
Competitive landscape highlights only certain players
Complete list available upon request
Category-wise Insights
Why are Sales of Premium-grade Glue Laminated Timber Gaining Traction?
"Premium-grade Glue Laminated Timber Most Sought After Due to its Structural Integrity & Environmental Sustainability"
Based on type, the market is divided into premium grade, framing grade, industrial grade, and architectural grade.
In 2023, premium-grade glue laminated timber accounts for 40% share of global revenue.
Premium-grade glue laminated timber is manufactured using high-quality, carefully selected timber and advanced adhesive technologies. This results in a product with exceptional structural strength, making it a preferred choice for applications requiring high load-bearing capacities, such as long-span beams and heavy-load structures.
The refined appearance and natural beauty of the wood add aesthetic value to buildings and architectural structures, making glue laminated timber an attractive option for projects that prioritize design excellence. The selection of top-grade lumber, stringent gluing processes, and careful inspection ensure that the final product meets the industry standards, assuring architects, engineers, and developers.
With growing emphasis on green construction and sustainable practices, the use of premium-grade glue laminated timber aligns with environmental goals, making it a preferred choice for environmentally conscious projects. It offers excellent design flexibility, allowing architects and designers to create innovative and unique structures. Its ability to be shaped into various curves and forms offers versatility in architectural expression, enabling the realization of visionary designs.
Competitive Landscape
According to Fact.MR, a market research and competitive intelligence provider, architecture trends, technology breakthroughs, and environmental concerns all influence the market. The industry is expanding because of the desire for environmentally friendly building materials as well as the necessity for adaptable and aesthetically beautiful designs.
Market participants are continuously spending on R&D to improve the performance and sturdiness of glue-laminated wood, creating new opportunities for its application in a variety of building projects. They are focusing on product standards, quality control, partnerships, and supply chain management to increase their revenue.
For instance :
In 2019, at its facility in Burgbernheim, Binderholz finished the construction of its new cross-laminated timber mill. The timber giant's annual output capacity has expanded dramatically as a result.
Key Segments of Glue Laminated Timber Industry Research
By Type :

Premium Grade
Framing Grade
Industrial Grade
Architectural Grade

By Shape :

By Application :

Residential
Commercial
Industrial

By Region :

North America
Europe
Asia Pacific
Latin America
Middle East & Africa
- FAQs -
The global glue laminated timber market stands at a value of US$ 8 billion in 2023.
By 2033, demand for glue laminated timber is set to reach a market valuation of US$ 13 billion.
The market for glue laminated timber is projected to expand at a CAGR of 5% through 2033.
The market in Japan is set to rise at a CAGR of 3% from 2023 to 2033.
Structural Wood Systems, Boise Cascade, and Ledinek are prominent glue laminated timber manufacturers.