NFC Chip Market
NFC Chip Market Analysis By Product Type (Auxiliary, Non-Auxiliary), By Storage Capacity (Up to 64 Bytes, 65 to 168 Bytes, 169 to 180 Bytes, 181 to 540 Bytes, Above 540 Bytes), By Application (Smartphones, Laptops & Notebooks, Smart Cards, Televisions, Point-of-Sale Systems, Medical Devices, Vehicles, Smart Wearables), By End-use Industry & By Region - Global Market Insights 2023-2033
Analysis of NFC Chip Market Covering 30+ Countries Including Analysis of US, Canada, UK, Germany, France, Nordics, GCC countries, Japan, Korea and many more
NFC Chip Market Outlook (2023 to 2033)
The global NFC chip market is valued at US$ 1.9 billion in 2023 and is forecasted to surge at a CAGR of 15% to reach a market size of US$ 7.6 billion by the end of 2033.
Near field communication (NFC) is a short-range wireless technology that enables devices to communicate with each other when they are brought close together, typically within a few centimetres. NFC technology is based on RFID (Radio Frequency Identification) technology and operates at 13.56 MHz frequency.
An NFC chip is a small integrated circuit that allows a device to communicate wirelessly with other devices that support NFC technology. It can be embedded in various devices, such as smartphones, tablets, smartwatches, and even credit cards.
NFC technology enables a wide range of applications, including contactless payments, data transfer, access control, and many more. For example, one can use a smartphone with an NFC chip to make a payment by simply tapping it against an NFC-enabled payment application or terminal. Similarly, one can use NFC to transfer files between devices, pair Bluetooth devices, or even unlock doors or access secure areas. Overall, NFC chip technology has the potential to simplify and enhance the way to interact with devices and objects in daily life.
NFC chip technology is further segmented into auxiliary and non-auxiliary NFC products. NFC antennas, tags, and readers are some of the types of non-auxiliary NFC products.
Non-auxiliary NFC products are those that are not secondary or complementary to another device or product, but rather standalone products that use NFC technology as their primary function. These products are designed to take advantage of the unique capabilities of NFC technology to provide new and innovative solutions.
One example of non-auxiliary NFC products is NFC tags. These small, passive devices can be attached to objects or surfaces and programmed with information. An NFC-enabled smartphone can read data from an NFC tag when it is brought close to the tag. Applications for NFC tags include inventory tracking, access control, and interactive marketing.
Near field communication is supported by smartphones and other mobile devices. NFC card chips are user-friendly and secure. NFC is used in contactless payment methods and e-ticketing. Retailers in the personal care industry can enhance the pre-sale, during-sale, and post-sale experiences of their customers by utilizing radio frequency identification (RFID) and NFC technologies. The expanded application of analytics and these technologies allow for a deeper comprehension of customer behaviour.
NFC-enabled systems such as contactless ticketing solutions are being deployed more often in the retail sector and the market for public transit services. The expense of providing tickets and maintaining the infrastructure for ticketing is decreased by the use of NFC in e-ticketing.
Report Attributes

Details

NFC Chip Market Size (2023E)

US$ 1.9 Billion

Forecasted Market Value (2033F)

US$ 7.6 Billion

Global Market Growth Rate (2023 to 2033)

15% CAGR

Leading Regional Market

North America

Key Companies Profiled

Broadcom Inc.
HID Global
Intel Corporation
Infineon Technologies AG
Marvell Technology, Inc.
MediaTek Inc.
Nordic Semiconductor
NXP Semiconductors N.V.
Qualcomm Technologies, Inc.
Renesas Electronics Corporation
Samsung Electronics Co., Ltd.
Sony Corporation
STMicroelectronics N.V.
Texas Instruments Incorporated
Don't Need a Global Report?
save 40%! on Country & Region specific reports
Which Factors are Expected to Drive the Sales of NFC Chips Over the Coming Years?
"Mobile Devices at Forefront of Data Transfer with NFC-enabled POS Systems"
Over the next ten years, the tech sector of mobile commerce is going to experience tremendous growth. NFC technology enables smartphone owners to complete online transactions. Additionally, with the introduction of NFC-enabled point-of-sale (POS) systems, mobile devices have become vital gadgets for data transfer. To create applications that let users conduct commercial transactions, some financial institutions are working with mobile application developers.
Over the next 10 years, NFC tags and readers are anticipated to become more widely used, which can be attributable to the increasing demand coming from the payments and access control sectors. The technique that combines near field communication with the SD card has reduced the infrastructure costs for the manufacturers, boosting the growth of the market for NFC chips. Sim cards' ability to make cashless payments and provide a better user experience is anticipated to boost the demand for NFC-based mobile wallets during the forecast period
"Wearable Tech Taking Center Stage with NFC Capabilities for Payments & Access"
Smart wearables and Internet of Things (IoT) devices are growing in popularity due to advancements in NFC-based digital transactions. A wearable device's NFC capabilities enable payments at retail establishments, access to public transportation, and office building entry.
SECORA Connect, from Infineon's brand portfolio, is a response to the growing appeal of smart wearables and IoT gadgets. It is a solution made to be integrated into intelligent wearables to deliver wireless secure payment, public ticketing transportation, and other services using near field communication chip technology.
"NFC Technology - Modern Solution to Synthetic Identity Fraud"
Using NFC to stop fake identity fraud is a current trend in the market. Hacking into devices has become simpler because of continuous technological enhancements. Several studies indicate that synthetic identity fraud is the type of financial fraud that is expanding the fastest.
Near field communication technology, which enables users to confirm identities more rapidly, securely, and consistently, is the most modern technique for preventing synthetic identity fraud. Airports employ this technology as a component of their border control process in place of physical passport inspections. Travellers' images can be captured, and their e-Passports can be scanned, after which the two are compared to ensure they match.
Users can get their biographical information from the ID chip with just a selfie and an NFC-enabled ID document. Because NFC technology can precisely and securely acquire data and biometric details from an ID, hackers would not be able to replicate their data because it would conflict with their selected ID and image.
What Challenges Do Producers of NFC Chip Products Face?
"Rise of Alternative Technologies - Digital Cash, Digital Wallets, and More"
Alternative technologies such as digital cash, digital wallet, and others are fiercely competing with NFC. Additionally, card firms and device producers are some of the fierce rivals of NFC. Since it can turn practically all Android-based smartphones into credit card readers, the Square attachment competes with NFC-enabled devices.
A smartphone's accessory jack can be used to connect the Square device to the phone, which handles the transaction, turning it into a credit card reader. Therefore, in the coming 10 years, it is anticipated that these issues are likely to restrain the growth of the NFC chip market.
"High Cost and Compatibility Issues Limiting NFC Technology Reach"
High implementation and maintenance costs for NFC-enabled infrastructure are also significant challenges. NFC technology requires merchants to invest in new payment terminals and hardware, which can be costly. This has limited its adoption, especially in regions with limited resources or those that are still developing.
Fragmented standards and compatibility issues between different NFC-enabled devices and systems are also hampering the growth of the NFC chip market. NFC-enabled accessories and systems from different manufacturers may not be compatible, making it challenging to develop a standardized payment system that is widely accepted.
More Insights, Lesser Cost (-50% off)
Insights on import/export production,
pricing analysis, and more – Only @ Fact.MR
Which Key Tactic is Expected to Benefit New Market Entrants in This Space?
"Innovation is Key: Developing Unique NFC Chip Products for Unmet Customer Needs"
New players could focus on developing innovative and differentiated NFC chip products that address unmet customer needs or offer superior performance or features compared to existing products. Additionally, new entrants could seek to enter the market by partnering with established players or targeting niche fields that are not well-served by existing players.
For example, new players could focus on developing NFC chip products specifically for the healthcare, logistics, or transportation industries, which have unique requirements and may not be well-served by existing NFC chip solutions.
Ultimately, the success of a new entrant in the NFC chip market depends on various factors, including the quality and differentiation of their products, the ability to effectively market and sell their products, and to effectively compete with established players in the market.
For O2O mobile services, Allink, a top Korean start-up, offers a B2B NFC tag-based data transfer solution. It is a white-label product made to enable data transfer between every smartphone or tablet with an independent NFC tag. Allink offers a specification-free (open-format) and integration-free environment while utilizing reasonably priced NFC Tags. As a result, Allink enables all mobile services, including those for the iPhone, to offer NFC-based services.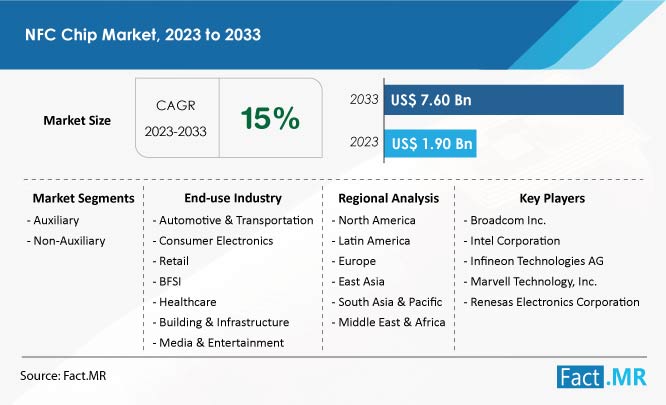 Country-wise Analysis
Why is NFC Chip Demand Set to Skyrocket in the United States?
"Next-Level Authentication: Identiv & MintID Introduce Tamper-Proof NFC Labels"
Demand for NFC chips in the United States is predicted to develop rapidly throughout the forecast period due to growing operational activities by major market participants in the country.
Identiv, Inc. announced in 2020 that its collaboration with MintID is expected to develop, the first gold and silver bullion in the globe to be safeguarded by near field communication and linked to the Internet of Things (IoT), which will be made available soon.
Consumers have previously faced the ambiguity of whether the precious metal objects they own are genuinely real. Identiv and MintID created a tamper-proof, AES-128-bit encrypted NFC label that customers of MintID can place at the source to instantly validate their investments with the MintID iOS and Android mobile apps.
The purpose of MintID is to prevent the counterfeiting of precious metals. The company has developed a comprehensive system for authenticating high-end products, such as actual gold bars and coins composed of precious metals.
How is Germany Leading the Way in the Use of NFC Technology in Europe?
"NFC Technology Making Strides in German Banking and Healthcare Sectors"
Germany is a leading NFC chip market in the European region. NCF technology is having a beneficial use in the banking and healthcare sector of Germany.
75 million of the 100 million bank cards are developed with NFC chips, according to the German Banking Industry Committee.
Germany has three separate health cards, all of which are centered on the latest generation of technology known as generation 2.1, and IDEMIA is the first and only supplier to offer them. By including NFC capabilities, these smart cards are improving the effectiveness and appeal of healthcare communication for all users, including both patients and members of the medical community, and are enabling IDEMIA to play a significant role in promoting the digitalization of healthcare in Germany.
Is the System in China Going the Contactless Payments Way?
"Combination of Fintech and NFC Technology Benefitting China's Banking Ecosystem"
China is one of the leading marketplaces in the Asia Pacific region. This can be due to rapid digital advancements in the banking sector.
Contactless payments are made possible by the Fintech sector's integration of NFC into smartphone apps. Customers can use their smartphones or smartwatches to make payments without ever touching a POS system. The required amount is automatically deducted from the client's bank account when the gadget is positioned within 4 inches of the reader.
The Central Bank Digital Currency (CBDC) can now be used to make offline payments from an Android NFC smart chip device such as a smartphone even when it is shut off due to a feature that the People's Bank of China (PBOC) has introduced to its digital yuan payment app.
Once the 'tap to pay' function of the app has been enabled, users can set a limit on the number and amount of digital yuan transactions that can be performed via their mobile device when the battery is low or there is no access to the internet. In the past, PBOC has experimented with NFC wristbands, hard wallets, and offline NFC smartphone payments.
Know thy Competitors
Competitive landscape highlights only certain players
Complete list available upon request
Category-wise Analysis
How is NFC Technology Disrupting Automobile & Infrastructure Industries?
"NFC Chips - Safest Choice for Infotainment and Security"
Over the decade, the automotive and infrastructure sectors are projected to expand quickly, boosting the demand for NFC chips. The rise of the automotive and infrastructure industries is being facilitated by the increasing integration of various linked technologies and cutting-edge infotainment & security features.
Compared to other comparable technologies such as Bluetooth and Wi-Fi, communication via NFC chips is thought to be the safest. As a result, NFC chips are being employed more often in security devices in these sectors.
It is predicted that the growing adoption of wireless charging technology and NFC-enabled vehicle diagnostic systems is likely to drive the sales of NFC chips during the projected period. NFC chips are essential to cars' quick and simple device pairing and effective fleet management.
Digital key management solutions simplify and lower the expense of handling physical keys. When the phone's battery runs out, express cards with power reserves that support NFC can help start a vehicle. Furthermore, ad hoc automobile sharing with relatives and friends is possible due to NFC.
Competitive Landscape
Some of the leading companies in the NFC chips market are Marvell Technology, Inc., NXP Semiconductors N.V., MediaTek Inc., Nordic Semiconductor, and Qualcomm Technologies, Inc. NFC chip market players are employing various strategies to gain a competitive edge and expand their market share.
According to Fact.MR, a market research and competitive intelligence provider, several key players in the NFC chip market are constantly developing and launching new products to meet the growing demand for NFC technology. These new products often feature advanced security, better performance, and lower power consumption.
NTAG 22x DNA, a new generation of NFC tags with tamper-detection and condition-monitoring functions on a single chip, was introduced by NXP Semiconductors in May 2022.
Key Segments Covered in NFC Chip Industry Research
By Product Type :

By Storage Capacity :

Up to 64 Bytes
65 to 168 Bytes
169 to 180 Bytes
181 to 540 Bytes
Above 540 Bytes

By Application :

Smartphones
Laptops & Notebooks
Smart Cards
Televisions
Point-of-Sale Systems
Medical Devices
Vehicles
Smart Wearables

By End-use Industry :

Automotive & Transportation
Consumer Electronics
Retail
BFSI
Healthcare
Building & Infrastructure
Media & Entertainment

By Region :

North America
Latin America
Europe
East Asia
South Asia & Oceania
MEA
- FAQs -
The global NFC chip market is valued at US$ 1.9 billion in 2023.
Sales of NFC chips are predicted to reach US$ 7.6 billion by 2033.
Demand for NFC chips is expected to increase at a CAGR of 15% from 2023 to 2033.
Leading market players are NXP Semiconductors N.V., MediaTek Inc., and Nordic Semiconductor.
North America is expected to be a leading market for NFC chip producers.