Photovoltaics Market
Photovoltaics Market Analysis By Component (Modules, Inverters, Balance of Systems (BOS)), By Material (Silicon, Compounds), By Installation Type (Ground-mounted, Building-integrated Photovoltaics (BIPV), Floating PV), By Application (Commercial, Residential, Industrial, Utilities) and By Region – Global Market Insights 2023 to 2033
Analysis of Photovoltaics Market Covering 30+ Countries Including Analysis of US, Canada, UK, Germany, France, Nordics, GCC countries, Japan, Korea and many more
Photovoltaics Market Outlook (2023 to 2033)
The global photovoltaics market is valued at US$ 90 billion in 2023 and is projected to expand at a CAGR of 6% to reach US$ 155 billion by 2033-end.
Photovoltaic electricity is used to power a variety of electrical equipment, including parking meters, solar lighting, charging points, and solar energy systems on solar buses and automobiles to power automobile motors. Photovoltaic electricity is frequently utilized in sun dryers to fast-dry crops in agricultural sectors, as well as in the aerospace and defense industries to power satellites in space.
Growing use of photovoltaic technology in a variety of applications drives up demand for photovoltaic devices, prompting manufacturers to deliver cutting-edge innovations to the photovoltaics market.
Atomic-level transfer of light into electricity is known as the photovoltaic (PV) effect. Some materials exhibit the photoelectric effect, which causes them to soak up photons of light and release electrons. The photovoltaic gadget is mostly used to convert sunlight into electricity. A PV cell, commonly known as a nanocomposite solar cell, is a nonmechanical device that converts sunlight directly into energy. A solar panel is made up of many PV cells, and the current and voltage of the solar panel are determined by the combined output of these PV cells.
Rising global need for renewable energy, increasing residential usage of photovoltaic systems, and technological advancements in solar cells are some of the important drivers driving photovoltaics market revenue development. Government initiatives and increased investment in photovoltaics are anticipated to fuel market revenue growth.
Building integrated photovoltaics (BIPV) depicts the notion of using PV to replace the typical structure envelop, such as windows, walls, and roofs. Perovskite solar cells are efficient and can be processed at low temperatures. Perovskite can function as both a light harvester and a hole or electron transporter. The working principle of such devices is still mostly unknown.
For example, SC SOLAR, a China-based photovoltaic business, introduced cluster-type evaporating tools for perovskite solar cells in June 2022, which have an obvious cost advantage over traditional solar cells and are increasing in commercial value. As a result, an increasing number of companies are sponsoring the advancement of perovskite solar cells.
Report Attributes
Details

Photovoltaics Market Size (2022)

US$ 85 Billion

Estimated Market Value (2023)

US$ 90 Billion

Forecasted Market Value (2033)

US$ 155 Billion

Global Market Growth Rate (2023 to 2033)

6% CAGR

Inverter Component Segment Growth Rate (2023 to 2033)

5% CAGR

China Market Growth Rate (2023 to 2033)

10% CAGR

Canada Market Growth Rate (2023 to 2033)

5% CAGR

Key Regional Market

North America

Key Companies Profiled

GCL System Integration
Suntech Power Co.
Sharp Corporation
Canadian Solar Inc.
JA Solar Holdings
Trina Solar Co. Ltd.
Acciona, S.A.
Tata Power Solar Systems Limited
Risen Energy Co., Ltd.
SunPower Corporation
Why is Demand for Photovoltaics Increasing Steadily?
"Rise in Solar Power Investments and Decreasing Cost of Energy Storage"
Rapid adoption of high-capacity solar projects and governments' focus on energy-efficient systems are expected to fuel market growth throughout the projected period. Additionally, ambitious targets for sustainable energy usage are supporting the expansion of the market during this time. Increasing concerns about carbon emissions and the ongoing shift towards renewable energy sources are driving market growth. Furthermore, the decreasing costs of energy storage enhance their energy security.
Continuous research and development in photovoltaic technology have led to improvements in solar panel efficiency and performance. Breakthroughs in manufacturing processes have contributed to increased energy output and reduced costs, making solar energy a more viable option.
Don't Need a Global Report?
save 40%! on Country & Region specific reports
What are the Primary Challenges Affecting the Demand for Photovoltaics?
"High Initial Investments and Technical Challenges Associated with Integration of Solar Energy into Existing Grids"
While the cost of solar panels has decreased over the years, the initial investment required for setting up a photovoltaic system can still be relatively high. This can deter some potential customers or businesses from adopting solar energy.
Solar energy is intermittent, depending on the availability of sunlight. Without efficient and cost-effective energy storage solutions, excess energy generated during peak hours may go to waste, and during low sunlight periods, alternative energy sources are required to meet the rising demand.
Integrating solar energy into existing electricity grids can pose technical challenges. Managing and balancing variable renewable energy sources like solar with traditional power sources require upgrades and investments in grid infrastructure.
"Uncertain Policies Governing Solar Energy Generation and Lack of Incentives"
Uncertain policies, lack of incentives, and complicated permission processes can hinder market growth.
In some regions, conventional fossil fuel-based energy sources are cheaper or subsidized. This is changing with time, as solar energy becomes more cost-competitive, but it remains a restraint in some areas.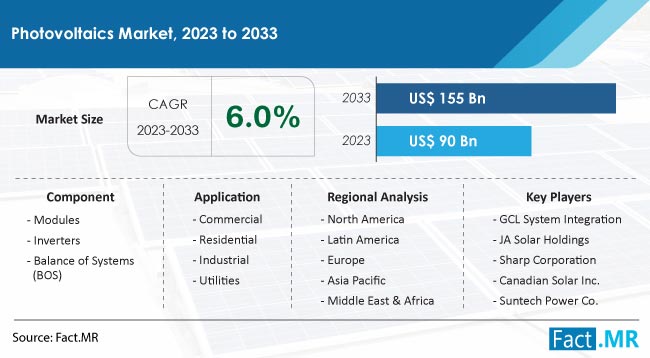 Country-wise Insights
What Makes the United States a Lucrative Market for Photovoltaic Technology Providers?
"Growing Environmental Awareness and Supportive Government Policies Boosting Adoption of Solar Energy"
Various federal, state, and local government incentives and policies have supported the adoption of solar energy in the United States. These include the Investment Tax Credit (ITC), which provides a tax credit for solar installations, and various renewable portfolio standards that require utilities to obtain a certain percentage of their energy from renewable sources.
Awareness among consumers and businesses about the importance of environmental sustainability and the need to reduce greenhouse gas emissions is growing. This has driven interest in clean energy solutions like photovoltaics. The United States has been keen on reducing its dependence on imported fossil fuels, and solar energy has played a role in enhancing energy independence and security.
How is Demand for Photovoltaics Evolving in China?
"High Demand for Photovoltaics Driven by Technological Advancements in PV Technology and Manufacturing Processes"
China's government has actively supported the development and deployment of solar energy through a range of policies and incentives. These include feed-in tariffs, subsidies, tax benefits, and other measures to encourage investment in the solar sector.
The country has set ambitious renewable energy targets as part of its efforts to combat air pollution, reduce carbon emissions, and transition to a more sustainable energy economy. These targets have provided a strong impetus for the expansion of the photovoltaics market.
Chinese solar companies have made significant advancements in PV technology and manufacturing processes. The country has become a global leader in solar panel production, benefiting from economies of scale and cost efficiencies. Chinese solar manufacturers have been active in exporting their products to international markets, contributing to the global growth of the PV industry.
More Insights, Lesser Cost (-50% off)
Insights on import/export production,
pricing analysis, and more – Only @ Fact.MR
Category-wise Insights
Why Do Silicon-based Photovoltaics Account for Higher Sales?
"High Efficiency, Reliability, and Low Manufacturing Cost of Silicon-based Photovoltaics"
The worldwide PV market has been dominated by crystalline silicon photovoltaic technology due to its numerous advantages, such as high efficiency, reliability, and relatively low manufacturing costs.
Among customers, crystalline silicon solar panels, especially monocrystalline and polycrystalline varieties, are in high demand. Polycrystalline silicon panels are composed of multiple crystals, while monocrystalline silicon panels consist of a single crystal structure. Regardless of the type, both use silicon as a semiconductor material to convert sunlight into electrical energy.
Continuous advancements in crystalline silicon technology have been the driving force behind the rapid growth of the solar PV market worldwide. These innovations have led to significant improvements in panel efficiency, cost reductions in production, and overall performance enhancement. Solar PV systems based on crystalline silicon panels have become more affordable and accessible to a broader client base, encompassing residential, commercial, and utility-scale installations.
Why are Photovoltaics Extensively Used in Inverters?
"Photovoltaics Enabling Efficient Conversion of Solar Energy into Electricity through Maximum Power Point Tracking (MPPT)"
Inverters play a crucial role in photovoltaic (PV) systems by converting the direct current (DC) generated by solar panels into alternating current (AC) electricity, which is suitable for use in homes, businesses, and the electricity grid. Inverters are a critical component of PV systems, as they ensure that the electricity generated by the solar panels can be efficiently used or fed back into the grid.
Inverters incorporate MPPT technology, which optimizes the energy output from the solar panels. MPPT ensures that the solar panels operate at their maximum power point, taking into account varying sunlight conditions, shading, and temperature fluctuations, thereby maximizing energy production.
MPPT technology facilitates the connection of PV systems to an electricity grid. In grid-tied systems, surplus electricity generated by the solar panels can be fed back into the grid, earning credits or payments through net metering programs. Many modern inverters come with built-in monitoring capabilities, allowing users to track the performance of their PV systems in real time. This information helps identify any issues and ensures optimal system performance.
Competitive Landscape
Companies are investing heavily in research and development to improve solar cell efficiency, reduce manufacturing costs, and enhance overall system performance. Technological advancements can significantly impact a company's competitiveness in the market.
The competitive landscape is also influenced by government policies and incentives that encourage or support the adoption of solar energy. Favorable policies can create a more conducive environment for companies operating in the photovoltaics market.
Sonnedix, a worldwide autonomous solar power producer, increased its capacity for operation in Italy by 8.2 MW in July 2020 by purchasing two portfolios.
European Energy, a Danish-based producer of solar parks, planned to build a 128.5 MW solar park nearby Helsingborg in southern Sweden in November 2022. The facility is projected to generate 175 GWh of power per year. After the project is completed in 2023, production is expected to commence in 2024.
Know thy Competitors
Competitive landscape highlights only certain players
Complete list available upon request
Key Segments of Photovoltaics Industry Research
By Component :

Modules
Inverters
Balance Of Systems (BOS)

By Material :

By Installation Type :

Ground-mounted
Building-integrated Photovoltaics (BIPV)
Floating PV

By Application :

Commercial
Residential
Industrial
Utilities

By Region :

North America
Latin America
Europe
Asia Pacific
Middle East & Africa
- FAQs -
The global photovoltaics market stands at a value of US$ 90 billion in 2023.
Worldwide demand for photovoltaics is set to increase at a CAGR of 6% from 2023 to 2033.
Global sales of photovoltaics are set to reach US$ 155 billion by 2033.
JA Solar Holdings, Suntech Power, and Canadian Solar are prominent photovoltaic technology providers.
North America accounts for a leading share of the global photovoltaics market.