Surge Arrester Market
Surge Arrester Market Analysis By Type (Porcelain, Polymeric), By Class (Station, Intermediate, Distribution), By Voltage Level (High, Medium, Low), By Application (Industrial, Commercial, Residential) & By Region - Global Market Insights 2023 to 2033
Analysis of Surge Arrester Market Covering 30+ Countries Including Analysis of US, Canada, UK, Germany, France, Nordics, GCC countries, Japan, Korea and many more
Surge Arrester Market Outlook (2023 to 2033)
The global surge arrester market is estimated at US$ 2.01 billion in 2023 and is projected to reach US$ 3.26 billion by 2033, expanding at a CAGR of 5% between 2023 and 2033.
A surge arrester, also referred to as a lightning arrester or surge suppressor, is an electrical device designed to protect sensitive electrical equipment and systems from voltage spikes and surges caused by lightning strikes or other transient voltage events.
Surge arresters are typically installed at the entry point of electrical systems or directly at the equipment, which is to be protected. They consist of one or more metal oxide varistors (MOV) or gas discharge tubes that can conduct large waves of current when the voltage exceeds a certain threshold. By shunting the surge current away from the sensitive components, they limit the voltage applied to the protected equipment and prevent damage.
Increasing need for electronics in day-to-day life is becoming more and more essential in both households and industries, which is directly raising the need for protecting sensitive equipment from voltage spikes and surges. Computers, servers, telecommunications equipment, medical devices, and industrial control systems are some of the devices, which highly need surge arresters to control power spikes.
Porcelain and polymeric are two types of surge arrester devices. Polymeric surge arresters represent cutting-edge technology, featuring a combination of rubber casing and metal oxide varistor discs securely held together by a sturdy strength member. The integration of rubber housing in the polymer design brings about a remarkable improvement in hydrophobicity and equipment protection.
Polymer surge arresters not only offer exceptional mechanical durability but also provide easy handling during transportation and installation. Moreover, polymer lightning arresters bring the added advantage of space-saving benefits and reduced weight when compared to alternative options. Polymer surge arresters are quickly becoming the favoured option for high-voltage applications over conventional porcelain systems due to their exceptional performance and compatibility.
The compact design of polymeric surge arresters takes up less space compared to traditional porcelain systems. This space-saving characteristic is crucial in electrical protection applications with limited available space or crowded electrical panels. Thus, all these factors are boosting the demand for polymer lightning arrester systems.
Report Attributes
Details

Surge Arrester Market Size (2023E)

US$ 2.01 Billion

Forecasted Market Value (2033F)

US$ 3.26 Billion

Global Market Growth Rate (2023 to 2033)

5% CAGR

Leading Regional Market

North America

Emerging Regional Market

Asia Pacific

Key Companies Profiled

Eaton
Mitsubishi Electric
Toshiba
Hubbell
Legrand
Meidensha
Tripp Lite
ABB Ltd
CG Power and Industrial Solutions Ltd
General Electric Company
Siemens AG
Schneider Electric SE
Don't Need a Global Report?
save 40%! on Country & Region specific reports
What's Leading to the Demand Growth for Surge Arresters?
"Effective Stabilizing Features of Surge Arrester Materials in Various Electrification Projects"
Surge arresters play a crucial role in ensuring the reliable and safe operation of transmission and distribution (T&D) networks. These networks form the backbone of the electricity supply chain, facilitating the efficient transfer of electrical power from generation sources to end users. The rising global electricity demand is creating the need for overvoltage protective devices to protect the valuable electrical equipment within these networks from voltage surges and transient disturbances.
One of the primary drivers of the surge arrester technology industry is the growing investments in T&D networks across the globe. Respective governments and utilities around the world are recognizing the importance of upgrading and expanding their existing electrical infrastructure to meet the growing electricity demand and ensure grid stability. Modernizing T&D networks is essential to deliver electricity more efficiently, reduce transmission losses, and enhance overall system resilience.
Countries such as China and India are witnessing rapid industrialization and urbanization, leading to a rise in electrification projects. The expansion of electricity access to remote areas and the ongoing development of new industries necessitate robust electrical systems that can withstand voltage fluctuations and lightning strikes. High-voltage lightning arresters are becoming integral components in protecting these newly installed electrical assets, ensuring their longevity and continuous operation.
Integration of renewable energy sources such as solar and wind power, into the grid is also driving the need for T&D network expansions and improvements in various regions, including the United States, Europe, and other developed countries. Renewable energy projects require reliable and efficient transmission systems to transport the electricity generated from renewable sources to consumption centers. Solar surge arresters are vital in safeguarding this critical infrastructure from transient events and ensuring a seamless integration of renewable energy into the existing grids.
Ever-increasing occurrence of extreme weather events due to climate change is also emphasizing the significance of surge arresters for electrical safety. Thunderstorms, hurricanes, and other natural disasters can cause a substantial voltage increase that may lead to equipment damage and power outages. Surge arresters act as the first line of defense, diverting excessive energy away from sensitive electrical components and preventing costly breakdowns. Thus, as the world is moving toward a more electrified and sustainable future, the surge arrester market is expected to grow at a healthy pace.
How are Sales of Surge Arresters Being Negatively Affected?
"Availability of Alternatives Such as Active Surge Suppression Systems"
Advancements in technology result in the development of alternative surge protection solutions that can compete with traditional surge arresters. If these alternative technologies offer similar or improved performance at lower costs, it could impact the demand for traditional surge arresters.
Active surge suppression systems use active electronic components to monitor and actively manage electrical surges. These systems can dynamically adjust their response based on the surge conditions, providing optimized overvoltage protection. Active surge suppression systems can be adaptive and self-healing, offering enhanced protection and reducing the risk of equipment damage. Thus, the presence of alternatives is hampering the growth of surge arrester manufacturers to some extent.
More Insights, Lesser Cost (-50% off)
Insights on import/export production,
pricing analysis, and more – Only @ Fact.MR
How are Start-ups Strategizing in the Market for Surge Arresters?
"Production of Surge Arresters with New Designs & Sustainable Materials"
New companies are continuously working on innovations and designs to gain a competitive edge in the market. They are focusing on improvements in surge protection performance, faster response times, enhanced durability, and integration with smart grid technologies.
Incorporating environment-friendly materials and manufacturing processes attracts environment-conscious customers. Products with lower environmental impacts such as recyclable materials and reduced energy consumption during manufacturing aid the surge arrester demand.
New surge arrestor manufacturers are addressing underserved niches and tailoring new cost-effective surge arrester products to cater to their unique requirements, which include specific industries, geographic regions, and advanced transient voltage surge suppressors (TVSS) and specialized applications where existing solutions might not be optimal.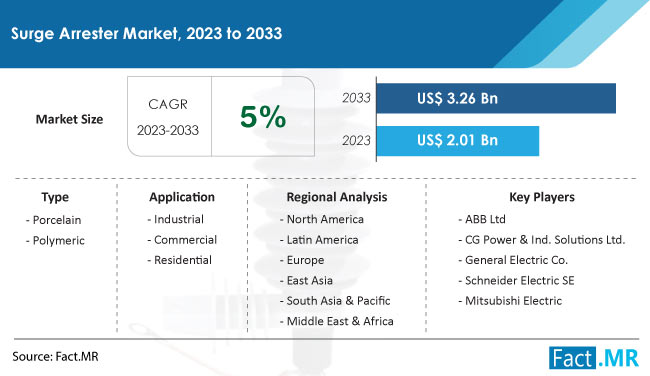 Country-wise Analysis
Why is Demand for Surge Arresters Increasing in the United States Construction Sector?
"Importance of Surge Arresters in Smart Homes in the Country"
Sales of surge arresters in the United States are growing rapidly. The increasing reliance on electronic devices and sensitive equipment across various industries such as telecommunications, energy, and manufacturing is increasing the demand for robust surge protection solutions.
The American construction sector is experiencing a growing trend of smart homes. The smart home ecosystem highly relies on several smart electrical appliances, which run on high power.
Growing awareness of potential damages caused by power surges is laying a greater emphasis on residential surge protection solutions. Homeowners are recognizing the importance of safeguarding their appliances and electronics, leading to a rise in the adoption of surge arrester products.
Why are Sales of Surge Arresters Rising Rapidly in Germany?
"Focus on Renewable Energy & Higher Adoption of Lighting Arrester Systems"
In Germany, demand for surge arresters is evolving in tandem with the country's strong emphasis on renewable energy sources and advanced industrial automation. As the energy landscape is shifting toward renewables, the integration of solar panels and wind turbines into the power grid is necessitating robust surge protection to ensure grid stability. This is increasing the demand for high-performance surge arresters capable of withstanding the unique challenges posed by renewable energy systems.
Germany's position as an industrial powerhouse is leading to a growing requirement for surge protection in manufacturing and automation processes. The Industry 4.0 initiative, which is aimed at advancing industrial automation and digitalization is driving the adoption of surge protection devices that can safeguard sophisticated machinery and data networks.
Why is Japan an Important Market for Suppliers of Surge Arresters?
"Vulnerability to Natural Disasters Resulting in Higher Use of Surge Arresters"
Several technological innovations and disaster preparedness initiatives are increasing the consumption of power surge arresters in Japan. The country's vulnerability to natural disasters such as earthquakes and typhoons is underscoring the critical importance of surge protection in safeguarding infrastructure and electronic systems. This is leading to the focus on highly reliable surge arresters capable of withstanding extreme environmental conditions.
Japan's continuous technological advancements are also increasing the integration of surge protection into smart city infrastructure and electric vehicle charging networks. As the country is moving toward greater sustainability and urban development, surge arresters are playing a vital role in maintaining the resilience and longevity of these cutting-edge systems, thereby augmenting surge arrester market growth in the country.
In September 2021, Toshiba Energy Systems & Solutions Corporation declared its intention to nearly triple the existing production capacity of polymer-encased surge arresters by April 2022. These surge arresters, produced by Toshiba ESS, are specifically engineered to protect power transmission and distribution infrastructure and machinery. This includes critical assets such as substations, power plants, and transmission lines, shielding them from the adverse impacts of overvoltage incidents triggered by lightning strikes. It is also important to note that Toshiba ESS holds the responsibility for the operation of circuit breakers at the Hamakawasaki Operations facility situated in Japan.
Know thy Competitors
Competitive landscape highlights only certain players
Complete list available upon request
Category-wise Analysis
Which Sector Widely Utilizes Surge Arresters?
"Role of Surge Arresters in Stabilizing Power Fluctuations in Industrial Units"
According to Fact.MR, a market research and competitive intelligence provider, the industrial sector is experiencing higher demand for surge arresters among other end users. This is due to the growing adoption of automation, encompassing intricate machinery, precision control systems, and delicate electronic apparatus in industrial manufacturing units.
These industrial automation setups are highly susceptible to voltage spikes, which can lead to equipment glitches, operational disruptions, and low production output, increasing the necessity for surge arresters. By serving as a vital protective shield for industrial automation infrastructure, surge arrester devices play a pivotal role in guaranteeing seamless operations and preserving valuable equipment. Thus, rapid industrialization across the globe is facilitating the adoption of surge arresters.
Competitive Landscape
Expanding the range of surge protection solutions to cover different voltage levels, industries, and applications is aiding top companies in the surge arrester technology market to attract a wider customer spectrum and earn more market shares.
Developing innovative surge arrester products with advanced features, improved performance, and compatibility with various applications is also boosting the revenue growth of key market players.
In July 2021, General Electric (GE) successfully clinched a supply agreement with GSI Helmholtzzentrum für Schwerionenforschung, a renowned research institution that manages an ion accelerator complex situated in Darmstadt, Germany. Within the framework of this contract, GE is furnishing the research facility with its cutting-edge LV8 platform, encompassing a diverse array of elements including power transformers, medium voltage switchgear, surge arresters, and various other components.
Key Segments of Surge Arrester Industry Research
By Type :

By Class :

Station
Intermediate
Distribution

By Voltage Level :

By Application :

Industrial
Commercial
Residential

By Region :

North America
Latin America
Europe
East Asia
South Asia & Oceania
MEA
- FAQs -
The global surge arrester market is valued at US$ 2.01 billion in 2023.
By the end of 2033, worldwide sales of surge arresters are estimated to reach US$ 3.26 billion.
Demand for surge arresters is predicted to rise at a CAGR of 5% from 2023 to 2033.
High risk of natural disasters is primarily stimulating the use of surge arresters in Japan.
ABB Ltd, General Electric Company, and Siemens AG are some of the top manufacturers of surge arresters.