Tamper-proof Fasteners Market Outlook (2022-2032)
The global tamper-proof fasteners market is estimated at US$ 2.14 billion in 2022 and is forecast to reach a market valuation of US$ 3.95 billion by 2032, expanding at a noteworthy CAGR of 6.3% between 2022 and 2032.
North America leads the global market for tamper-proof fasteners holding 34.5% market share in 2022.
Report Attributes

Details

Tamper-proof Fasteners Market Size (2021A)

US$ 2.06 Billion

Estimated Market Value (2022E)

US$ 2.14 Billion

Forecasted Market Value (2032F)

US$ 3.95 Billion

Global Market Growth Rate (2022-2032)

6.3% CAGR

Europe Market Share (2021)

~29.3%

South Asia & Oceania Market Growth Rate (2022-2032)

~5.7% CAGR

U.S. Market Growth Rate (2022-2032)

~7% CAGR

Market Share of Top 5 Companies

~22.1%

Key Companies Profiled

Anzor Fasteners
Bryce Fasteners
Electronics Fasteners
Elgin Fastener Group
Extreme Bolt & Fastener
GHS Fasteners
Hafren Fasteners
Insight Security
KD FASTENERS, INC.
Klein Tools
LISI Group
Loss Prevention Fasteners
MCP fixings
Mudge Fasteners
Ocean State Stainless, Inc.
Parker Fasteners
PCC Fasteners
RS Pro
Security Fasteners UK
Sentinel Group
Tamperproof
Tamper-Pruf Screws, Inc.,
Tanner Bolt
Trifast
Zoro UK
Don't Need a Global Report?
Save 40% on Country & Region specific reports
Sales Analysis of Tamper-proof Fasteners (2017-2021) Vs. Market Forecast Outlook (2022-2032)
Tamper-proof fasteners, also termed tamper-resistant fasteners, are screws, nuts, and bolts that are recognized by their distinctive drive style. Unconventional drive styles exist in a variety of shapes and sizes but they all have one thing in common: making it difficult (if not impossible) to install or remove without the appropriate tamper-resistant screw bits or drivers.
Tamperproof screws & nuts are utilized in various end-use industries such as industrial & manufacturing, aerospace & defense, automotive, electrical & electronics, IT & telecom, and public facilities, and to name a few.
For instance, in the automotive sector, tamperproof screws, nuts, and bolts are important for preventing the theft of onboard computers, wheels, airbags, stereo systems, and other costly equipment. By employing tamper-proof fasteners & bits, the construction sector can prevent the theft and damage of signs, architectural metal, electronics, gates, machinery, equipment, tools, and more.
Tamper-resistant screws save thousands of dollars every year by protecting from tampering, unauthorized entry, vandalism, theft, and a variety of other situations; hence, they are also called vandal-proof screws. Numerous applications across end-use industries are propelling the demand for tamper-proof fasteners.
Tamper-proof bolts and nuts come in different types and sizes. Tamper-proof screw manufacturers are offering a huge array of standard tamper-evident fasteners as well as tailoring their products to the needs of end users by providing unique styles that can be accessed only through specially designed tamper-proof screwdrivers to ensure the maximum security.
Sales of tamper-proof screws can also be categorized by the security level they provide; for instance, entry-level security includes 2-hole, pin hexagon tamper-resistant screws, while kinmar, tri groove, shear, and customized socket heads are considered as maximum security tamper-proof screws.
Growing industry-specific applications are expected to propel the demand for tamper-proof fasteners & bits over the coming years.
Short Term (2022 Q2 to 2025): Increasing need of asset security and unauthorized access prevention expected to drive demand for anti-tamper fasteners.
Medium Term (2025-2028): Innovation in head styles, materials, and wide range of dimensional availability leading to a more secure fastener, projected drive demand for tamper-proof fasteners across end-use industries.
Long Term (2028-2032): As the world is integrating smart technology to meet the needs of the future where accelerated output is necessary, the need for securing such technologies & equipment is growing parallel. Improved technical specifications and lifecycle will have a long-term positive impact on the demand for tamper-proof fasteners from various application sectors.
From 2017 to 2021, the global tamper-proof fasteners market registered a CAGR of 0.4%, and according to Fact.MR, a market research and competitive intelligence provider, the market is projected to witness growth at 6.3% CAGR through 2032.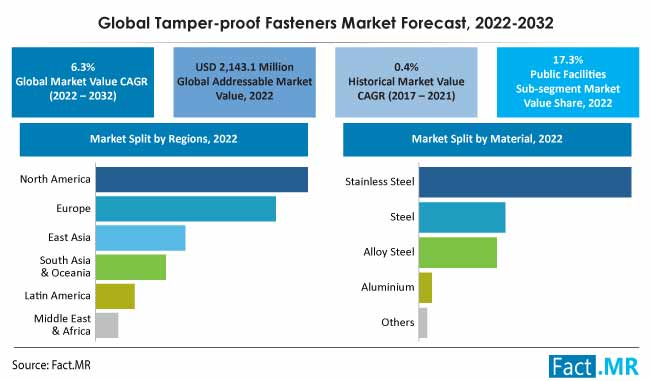 More Insights, Lesser Cost (-50% off)
Insights on import/export production,
pricing analysis, and more – Only @ Fact.MR
Why is the Popularity of Tamper-proof Fasteners Increasing Rapidly?
"Emerging Necessity of Customized Security Solutions"
The world has changed dramatically in recent decades, influencing how we work, socialize, spend our leisure time, and even commute from A to B. With these breakthroughs come a new set of threats and risks from which we must protect ourselves and others.
The public space is vulnerable to theft, vandalism, and intervention while industries are concerned about unauthorized manipulation in a variety of assets.
Tamper-evident fasteners are now being used for several application areas, ranging from protecting license plates to preventing access to the working parts of mobile phones, laptops, and other gadgets. Design teams are incorporating unique patented head styles and drive recesses as well as material alloys to withstand extreme conditions.
For instance, fasteners made from A4-70 stainless steel do not degrade if they come in contact with other chemicals or salt water. Such materials with high tensile strength and excellent corrosion resistance are perfect to withstand extreme conditions in the marine, medical, and chemical sectors.
Increased need of asset security from various application sectors is expected to drive the market growth of tamper-proof fasteners.
Know thy Competitors
Competitive landscape highlights only certain players
Complete list available upon request
How is Market Expansion Being Hindered to Some Extent?
"Utilization of Cheaper Alternatives over Expensive Tamper-proof Fasteners"
Tamper-proof fasteners require material that has properties such as hardness, toughness, strength, etc. Rising prices of raw materials. Leading to increased pricing of tamper-evident fasteners, can affect the overall demand for tamperproof screws & nuts.
In addition, tamper-resistant screws demand specifically designed unique drivers, which are considerably expensive and increase the overall utilization cost of tamper-resistant fasteners. Tamper-proof fastener manufacturers need to reduce the cost associated with raw materials and drivers to increase sales of tamper-proof screws.
Use of welding and other alternatives such as adhesives can hamper the demand growth of tamper-proof fasteners and bits, as both of the former are cheaper processes and can be used in end applications where high-end security is not required, such as park benches for example.
Standard riveting can also be used in various applications due to its cheap availability.
Country-wise Insights
Why is Product Demand in the U.S. Higher Than the Global Average?
The U.S. tamper-proof fasteners market accounts for the largest market share of over 85% in North America in 2022 and is projected to expand at the rate of 7% during the assessment period.
This high growth is attributed to several factors such as growth in industries owing to advancements in technologies, favourable government initiatives related to public places, and rising demand for tamper-proof fasteners & bits from businesses across self-service & automation, and IT & telecom, as well as manufacturing industries.
How is the China Tamper-proof Fasteners Market Evolving?
China holds 66.2% market share in the East Asia tamper-proof fasteners market in 2022 and is projected to rise at 6.7% CAGR during the forecast years of 2022-2032.
Due to the massive growth of end-use sectors in China, such as industrial & manufacturing, infrastructure, aerospace & defense, IT & Telecom, etc., sales of tamper-proof bolts and nuts are expected to only increase over the coming years.
Tamper-resistant fastener manufacturers in China are mainly operating through e-Commerce platforms and have a strong presence across the Asia Pacific region.
Category-wise Insights
Which Type of Tamper-proof Fastener Accounts for Highest Usage?
The tamper-proof fasteners market is segmented into product type, i.e., screws & bolts and nuts.
Tamper-resistant bolts & screws dominate the market with 71.2% of the overall market share in 2022. The segment is projected to rise at 5.9% CAGR during the assessment period owing to factors such as head type, drive style, material, and scope of these fasteners being suitable for several end-use applications.
Tamper-resistant nuts, also known as tamper-proof nuts, are used in applications requiring high security. For instance, the shear nut is a high-security permanent fastener; once installed, the shear nut leaves a tamper-resistant cone while the hexagon part shears off at a predetermined torque.
Global sales of tamper-resistant nuts are expected to increase at a CAGR of 5.1% over the decade.
Which End-use Sectors Should Market Players Target?
Under the end-user segment, tamper-proof fasteners find application in several industries, including industrial & manufacturing, aerospace & defense, automotive, electricals & electronics, IT & telecom, construction & utilities, oil & gas, self-service & automation, public facilities, energy & power, and others.
Amongst them, public facilities dominate the market with 17.3% market share. In public facilities, tamper-proof fasteners are utilized in park benches, schools, museums, waste bins, safety rails, buses, trains, and other various assets to protect them from theft or vandalism.
Apart from this, tamper-proof fasteners find wide usage in the electricals & electronics industry, which holds 13.5% market share and is projected to expand at 7.3% CAGR during 2022-2032.
Electrical and electronics applications require a high level of security and prevention of unauthorized access; hence, demand for tamper-proof fasteners is expected to increase steadily in this industry.
Competitive Landscape
The tamper-proof fasteners market is developing rapidly as a result of advancements made by the industry's main players. Prominent players in the market are focusing on multiple drive/key combinations to provide higher levels of security in tamper-proof fasteners.
Companies are continuously introducing unique patented drives to enhance security against thieves and vandals looking for an easy target. Market leaders are investing in the research & development of material science to enhance the application-specific security of tamper-proof fasteners with different combinations of material alloys and platings.
For instance :
In October 2020, TR Fastenings launched a new innovative series of 5-Lobe Pin Fasteners made of corrosion-resistant A4-70 stainless steel for specific applications in the health and marine sectors.
In Feb 2021, Tanner Bolt & Nut Inc. of Brooklyn reached a deal with Parker Fasteners of Buckeye, AZ, to become its official master distributor in the U.S. for its Lock-Out® high-security screw.
In May 2022, Mudge Fasteners showcased its offerings to prevent electric vehicle chargers from theft and damage in public areas, which included tamper-proof sheet metal screws, penta head lag screws, security self-drilling screws, lock-out drive machine screws, and others made of corrosion-resistant materials and case-hardened alloys.
Segmentation of Tamper-proof Fasteners Industry Research
Tamper-proof Fasteners Market by Material :

Steel Tamper-proof Fasteners
Alloy Steel Tamper-proof Fasteners
Stainless Steel Tamper-proof Fasteners
Aluminium Tamper-proof Fasteners
Others

Tamper-proof Fasteners Market by Product Type :

Screws & Bolts

Flat Head
Oval Head
Pentagonal Head
Round Head
Hexagonal head
Socket head
No Head

Nuts

Hexagonal
Tri-groove
Kinmar Groove
Hole Groove
Others

Tamper-proof Fasteners Market by Sales Channel :

Online Sales

Company-owned Platforms
e-Commerce Platforms

Offline Sales

Modern Trade Channel / DIY Stores
Hardware / Specialty Stores
Others

Tamper-proof Fasteners Market by End-use Industry :

Industrial & Manufacturing
Aerospace & Defense
Automotive
Electricals & Electronics
IT & Telecom
Construction & Utilities
Oil & Gas
Self Service & Automation
Public Facilities
Energy & Power
Others

Tamper-proof Fasteners Market by Region :

North America
Latin America
Europe
East Asia
South Asia & Oceania
Middle East & Africa