Emerging Growth Frontiers in the Global Coatings Industry
Published : 06 Jul 2021 Industry: Chemical & Materials
Introduction
Over the years, demand for coatings has inclined significantly across numerous industrial applications.
From automotive to industrial goods, and food processing to aerospace, the list is exhaustive.
Coating applications may be both decorative and functional--with the latter acquiring more prominence. Functional coatings are applied to enhance surface properties of any substrate, including adhesion, corrosion resistance, wettability or wear resistance.
Recent years have seen extensive applications of paints & coatings across the industrial manufacturing sector. A wide array of materials are deployed in producing industrial coatings.
These primarily comprise polyurethane, epoxy, alkyds, zinc, acrylic and polysiloxanes. Besides industrial manufacturing, uptake of coatings is equally high across the automotive industry.
As ownership of vehicles increase, OEMs are scrambling to incorporate high-grade coatings to improve longevity of automobiles.
Furthermore, applications abound across offshore structures, ranging from pipelines to ship hulls and superstructures, inner-hull tanks in fuel tankers, underwater pipes, oil rigs and other critical infrastructure.
The primary objective of applying coatings on these structures is to prevent loss due to corrosion. As per the National Association of Corrosion Engineers (NACE), the world lost US$ 2.5 trillion, or 3.4% of global GDP in 2013, and advocated that by using available corrosion practices, savings ranging from 15-35% could be realized (between US$ 375 and US$ 875 billion) annually.
The global construction industry is a key consumer of various types of coatings. Protective coatings and sealants are applied to several surfaces to enhance appearance, scratch resistance, corrosion and adhesion.
Uptake is of especially high importance in the residential constructional sector, as rapid urbanization has impelled demand for protective coatings for housing infrastructure.
A broad range of solvent-based, resin-based and pigment-based protective coatings are extensively used in the construction infrastructure sector.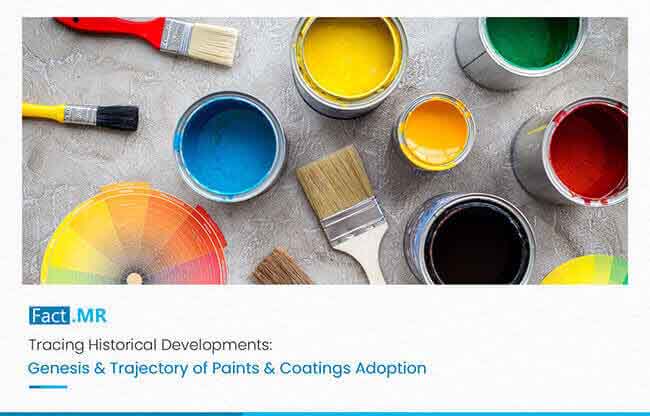 Tracing Historical Developments: Genesis & Trajectory of Paints & Coatings Adoption
Paints and coatings have come a long way in the history of mankind--evolving from the primitive colors discovered across cave walls in human prehistory to the contemporary idea of acting as protective barriers between environmental forces and critical infrastructure.
Modern-day paints and coatings consist of countless compounds uniquely formulated to fulfil varied requirements of multiple applications.
Earliest evidence of paints can be found about 30,000 years ago, when cave dwellers incorporated crude paints to leave behind graphic representations of their lives which decorate ancient rock dwellings to this day.
The global paints & coatings industry started appearing in the limelight since the 18th century, when the Industrial Revolution swept the Western Hemisphere.
Rising importance of including machines as an effective alternative to manual labor for increasing productivity in factories boded well for the paints & coatings industry, especially in North America.
The first recorded paint mill in America was established by Thomas Child in 1700 in Boston, Massachusetts. A 150 years later, in 1867, D.R. Averill of Ohio patented the first prepared 'ready mixed' paints in the United States.
Beginning in the mid-late 1800s, paint factories began emerging across key industrial clusters across the country. While mechanization streamlined the manufacturing process, making it accessible to a group of less specialized entrepreneurs.
Since the weight of prepared paint made it expensive to transport, a decentralized structure of small manufacturers in discrete markets dominated the industry until the mid-1900s.
Since the 20th century, numerous assembly lines exploited the ever flourishing paints & coatings industry- from automotive to consumer electronics.
While these were significant developments, the history of contemporary coatings received significant stimulus, with the advent of optical coatings. The history of modern optical coating can be traced back to the first half of the 20th century, with the advent of high vacuum technology, an important precursor for thin film deposition.
In 1934, Gerhard Bauer deposited films of alkali halides, noting their low reflection on quartz substrates. The following year, Alexander Smakula introduced this discovery into the production of Zeiss-Jena.
While less than perfectly dense, these films were sufficient enough for most optical instruments- from cameras to photocopiers.
The next major breakthrough manifested in the form of powder coatings. This process was developed in the 1940s and early 1950s. Initially, organic polymers, referred to as macromolecules, were flame-sprayed in a powder form onto metallic bases.
Germany scientist Dr. Erwin Gemmer developed and later on patented a fluidized-bed process for thermosetting powder coatings, starting in the 1950s. Since 1958, almost all powder coatings are processed using fluidized-bed applications.
Powder coatings garnered further momentum in the 1960s and 1970s, with the advent of the growing ecology movement, or environmentalism, and interest in new application techniques.
Furthermore, the electrostatic spray process was developed in the 1960s, wherein powder particles are charged and then sprayed onto grounded material. The introduction of powder coatings and electrostatic spraying ushered in an era of environmentally-friendly, convenient and affordable coating approaches for multiple industries.
Continued interest in human and environmental safety, as well as conformance with stringent environmental regulations have all contributed significantly to the expansion of powder coatings.
A major advantage is that these coatings do not release any kind of volatile organic compounds (VOCs) into the atmosphere, unlike solvent-based paints & coatings.
Growing Importance of Sustainable Coatings and Paints
As explored above, sales of sustainable and environmentally-friendly coatings & paints are acquiring massive momentum since the beginning of the 21st century.
With core end use industries such as automotive and industrial goods manufacturing embracing environmental conservation directives, coating suppliers are experimenting with new formulations and product lines to cater to this important trend.
A prime example is the transition towards water-borne coatings from solvent-borne ones. Water-borne paints are composed of 80% water and emit lesser concentration of VOCs.
This is especially significant, given the fact that majority of VOCs are emitted during the manufacturing phase, and more specifically during the painting process, which is responsible for 95% of emissions from a vehicle's entire life cycle.
Despite containing lesser amount of solvents, water-borne coatings are a better choice for the environment. Additionally, other benefits such as reduced wastage and easy-to-blend are also adding to the surging popularity of such paints and coatings.
This nudge towards sustainability entails that coating suppliers and manufacturers need to innovate. Innovation would not only help them survive tough competition, but also assist them in adopting a value-enhancing approach towards potential customers, thus enhancing brand image.
For instance, DSM Corporation is continuously developing new formulae, especially from resin and other bio-renewable material. In December 2020, the company introduced a new range of plant-based resins in its Decovery category, made of plant based acrylic, using 60% renewable raw materials.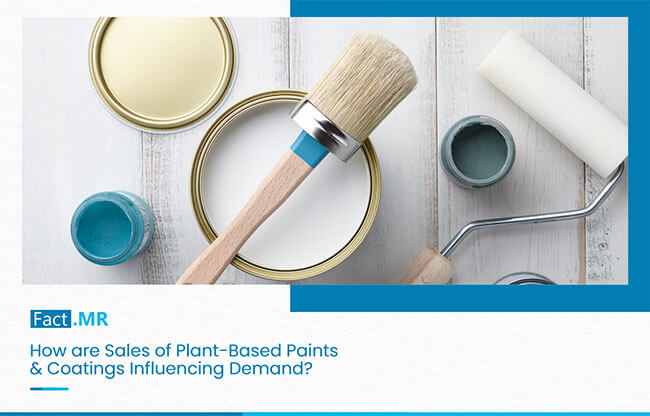 How are Sales of Plant-Based Paints & Coatings Influencing Demand?
Plant-based materials have been used for coatings dating back several years, which swiftly fell out of favor amid high availability of synthetic alternatives, owing to their enhanced performance.
However, oils such as soya and linseed are still used in coatings in limited amounts. Contemporary developments are increasingly emphasizing on bio-based substitutes for synthetic acrylic latexes and polyols for urethane coatings, with alternatives based on renewable feedstocks.
Development of bio-based polyols is yet another significant milestone with regard to natural coatings deployment. These polyols are largely used in two part urethane coatings for industrial use.
They are generally produced via modifying naturally occurring vegetable oils with hydroxyl functionality, and are formulated into coatings which fulfil the functions of imparting protecting as done by synthetic ones. Additionally, they are used in the manufacturing of polyurethane dispersions, serving as primary binders for high-performance waterborne coatings sans an added cross-linker.
Apeel Sciences, a pioneer in food grade coatings, has generated an edible coatings market comprising of plant-based materials, applicable to the surface of fresh fruits and vegetables to reduce spoilage and extend shelf life.
In addition to reducing wastage, the company helps optimize harvesting to help further ripening and provide enhanced taste. Apeel's coatings contribute significantly to the global circular economy by reducing waste in two crucial economic sectors: single-use plastic packaging and food produce.
Increased Foray into Plant-Based Feedstock Coatings Becoming Evident
Development of plant-based feedstock coatings is grabbing major eyeballs across the global landscape.
A number of coatings manufacturers are directing their resources towards this endeavor, and is likely to yield substantial opportunities for growth in the forthcoming decade.
Green polymer manufacturer ECOAT has currently embarked on a project to develop new bio-based coating materials from highly available, low valorized biomass such as tomatoes, legumes and sunflowers.
The overall objective is to select, extract and functionalize molecules such as protein, polysaccharides and cutin and apply these coatings to two different substrates- cellulosic and plant-based.
On a similar plane, French manufacturer Roquette introduced its line of isosorbide plant-based feedstock coatings in November 2020. Isosorbide is a plant starch-derived bicyclic diol with rich functionality for a range of applications in packaging, coating, adhesives, sealants and elastomers (CASE) and automotive sectors. It offers better resistance to UV rays, to abrasion, scratching and impact. Additionally, it offers enhanced adhesion and improved properties for water-based formulations.
Reliance on Nanomaterials & Nanoparticles becoming Mainstream
Incorporation of nanoparticles & nanomaterials into coatings is emerging as an effective alternative to traditional approaches. Nanoparticles exhibit far greater efficiency in preventing corrosion, as well as enhancing mechanical properties of existing surface coatings. Techniques such as electroless plating, electroplating, silane and chemical conversion coating are fast grabbing attention.
Nanomaterials possess an enlarged surface area, meaning that a greater proportion of the material is in contact with the substrate, resulting in greater reactivity. Numerous application areas are emerging for nanoparticles based coatings, such as prevention, reversal or restoration of dental caries and other innovative dental applications. Most of them exhibit antimicrobial effects, preventing further deterioration.
Likewise, in November 2020, researchers in the U.S and Israel have crafted 3D superconducting nanostructures by combining DNA with niobium and silicon.
This breakthrough are expected to prove useful in designing signal amplifiers, enhancing speed and accuracy of quantum computers and ultrasensitive magnetic field sensors for medical geophysics applications.
Additionally, work is also in progress for developing photocatalytic coatings with antiviral properties to be deployed across key infrastructure such as elevators, doors and furniture.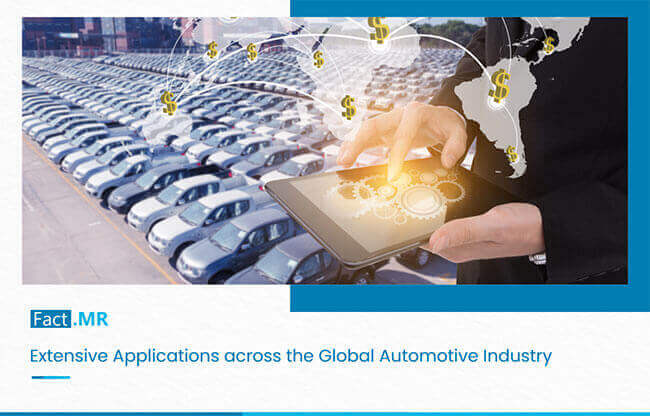 Extensive Applications across the Global Automotive Industry
Demand for automotive paints and coatings is witnessing a sharp incline, spurred by increasing compliance requirements imposed by governments worldwide.
Stringent fuel emissions regulations related to manufacturing processes, which require using low VOC emitting material to reduce carbon footprint is prompting major advancements in automotive coatings technology.
Furthermore, prominent manufacturers are leveraging virtual interfaces to provide seamless production techniques to major producers and suppliers.
For instance, BASF Automotive Solutions in 2020 launched its Virtual Car platform. From engineering plastics and coatings to cathode materials, fuels and lubricants, this interactive tool assists clients to innovate and drive the mobility industry forward.
With Virtual Car, automotive OEMs, engineers, designers and developers can explore, by specific materials or material properties, across vehicle segments, by different powertrains or by industry topic to determine which solutions will best address their needs.
How is the Cosmos Providing a Growth Platform for Surface Coatings?
The Age of Discovery dawned a new era in the quest for satiating human curiosity- with space travel emerging as one of the more path-breaking endeavors. Consequently, prolific developments have occurred with respect to designing equipment and vehicles such as spacesuits, satellites, communication systems and space vehicles.
All these application areas have generated high demand for surface coatings to provide protection against hostile conditions of the universe.
More fuel is being added to the fire, with the introduction of 5G communication technologies across key countries, which requires extensive satellite infrastructure. Recently, in 2020, IT business and consultant company CGI announced the construction of an engineering hub scheduled to be completed by 2021.
Backed by over £3 million (US$ 4 million) of government investment, the facility is scheduled to provide a testing facility exhibiting the benefits of hybrid 5G and satellite communications networks.
Hence, deploying such satellites in extreme temperatures ranging from -170 to 500o C, the external surfaces require thermal and cryogenic barriers, which will stimulate demand for high-grade coatings in the future.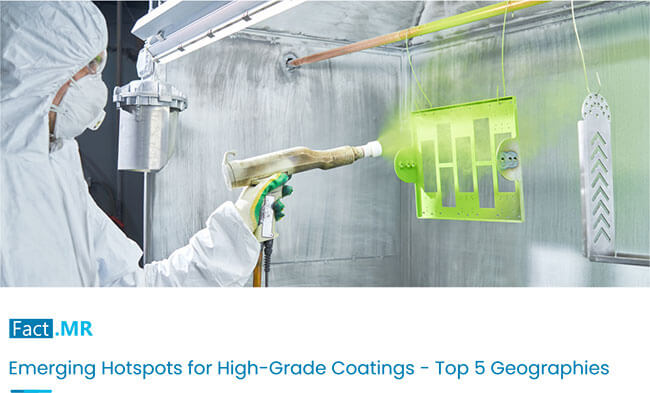 Emerging Hotspots for High-Grade Coatings- Top 5 Geographies
U.S to Capture High Share across Architectural & Space Equipment Coatings
The market for paints & coatings across the U.S is expected to grow significantly in the forthcoming decade, being valued at above US$ 20 billion in 2019. Increasing commercial and residential construction activities and burgeoning space research are acting as key growth levers.
Sales of architectural & decorative coatings are expected to remain especially strong, with nearly 3 out of 5 sales anticipated in the long-run.
Some major construction projects include the California High Speed Rail (US$ 77 billion), Sound Transit 3 (US$ 54 billion) and the Las Vegas Convention Center People Mover Project (US$ 52.5 billion) to name a few.
Also, the National Aeronautics and Space Administration (NASA) is likely to kick start its final phase of the Artemis space program, preparing for human exploration of Mars. Consequently, high-grade thermal coatings for the required space gear is bound to increase.
India Experiencing High Growth in the Textile Coatings Industry
Suppliers of high-grade paints & coatings in India are expected to find widespread growth prospects in the country's domestic textile industry.
Such high sales are naturally spurring sales of high grade textile coatings to provide greater resilience and durability.
Sarex Chemicals, a prominent Indian textile auxiliaries & chemical coatings player, offers such coatings as SARAGUARD-500, SARAGUARD-FL and ZOROGUARD-ZP which impart antimicrobial properties.
High Promise for Powder Coatings Growth across China
Scramble for high-quality infrastructure and intensive investments in the automotive industry are pivoting sales of powder coatings across the Chinese landscape.
Additionally, investments in oil & gas, marine and construction industries is also bolstering prospects.
In January 2017, AkzoNobel officially inaugurated its €11 million (US$ 13 million) powder coatings facility in Chengdu, western China.
The site was built with the objective of meeting growing demand for the automotive, construction, furniture and IT industries. Besides, several regional manufacturers operate within the Chinese landscape.
How is the EV Revolution Nudging Coatings Sales in Germany?
As Germany's ambitious goal of becoming the global hegemon in electric mobility strengthens, sales of EVs are surging impressively, generating demand for high-grade coatings for various accessories. The country aims to put 6 million electrically powered vehicles on its roads by 2030.
Consequently, a plethora of regional and global EV coatings manufacturers are establishing firm footing across the market.
Some major players include Safinah Group, Parker Lord, BASF SE, Axalta Coating Systems GmbH and Elanta Europe GmbH among others.
What Growth Prospects abound for the U.K. Coatings Market?
In the U.K, demand for high-grade coatings and paints is likely to remain strong across the domestic construction industry.
According to the Office of National Statistics, monthly construction output surged by 5.8% in March 2021, with both new work (6.7%) and maintenance operations (4.4%) increasing.
Consequently, numerous construction coatings manufacturers have successfully penetrated the regional landscape.
In June 2021, construction solutions company Fosroc launched the NITOPROOF 725, for a wide range of waterproofing and roof applications.
The product has been formulated to achieve best in class fire rating for roofs along with UV resistance, color stability and anti-mold growth all available via one component packaging.
COVID-19- A Pandora's Box or Truckload of Opportunities?
The COVID-19 pandemic is testimony to our poor preparedness in terms of our response to such massive outbreak, despite precedents set by regional epidemics such as SARS, MERS and Ebola. Simultaneously, it also opened up immense opportunities across several industries, including the coatings market.
While antimicrobial coatings have been in use since years, providing active protection against microorganisms in the applied film state, the recent outbreak has compelled manufacturers to incorporate more robust filtering solutions, paving way for several future technological advancements.
Prominent manufacturers, including Ford Motor Co., are investigating such coatings into their assembly lines, while start-ups such as HeiQ are introducing new antimicrobial coatings for application across textiles.
In June 2020, Keronite was awarded the InnovateUK grant to develop antiviral surface coatings for light alloys. The grant initially opened in April through a £40 million fundraiser for innovative businesses launching new technologies during the pandemic crisis. The project seeks to destroy airborne pathogens through advanced material sciences solutions.
Earlier, in April 2020, Nano Graphene Inc., under its GrapheneCA brand name, launched Dr. Nano, an anti-bacterial coating, which is also suitable for filtering out different viruses, including the novel coronavirus strain, to render the environment pollutant free.
In November 2020, Zonitise launched its antimicrobial surface coating that constantly eliminates harmful pathogens, including TGEV Coronavirus, a model virus for SARS-CoV-2, for up to 12 months upon application.
Based on the existing scenario, it is unlikely that the pandemic crisis is anticipated to completely die out, with several mutations of the virus taking place across several regions.
Consequently, countries are speeding up their vaccination drives to cope with this ever growing threat, while manufacturers across several industries are incorporating highly advanced antimicrobial coatings to prevent possible spread.
In February 2021, scientists at the University of Cambridge are working with an antiviral coating technology called DioX, believing it could protect face mask users by killing the coronavirus in as little as an hour. The coating breaches its protective outer membrane, or envelope, and is expected to work any new variant which may come into existence.
Similarly, astronauts aboard the International Space Station (ISS) are conducting experiments with an antimicrobial surface coating designed to fight spread of bacteria and viruses.
Developed by the University of Queensland and Boeing as a joint research project to inhibit viral agents, the technology has the potential to inhibit the novel coronavirus. The technology has already been tested aboard Boeing's ecoDemonstrator as part of its Confident Travel Initiative. Such widespread developments are opening up significant growth avenues for the coatings market during the pandemic.
Strict Regulations Regarding VOC Emissions
The global coatings industry is one of the most heavily regulated industries. Elevated concerns about volatile organic compounds (VOC) emission is compelling manufacturers to comply with stringent environmental regulations, such as the U.S Environmental Protection Agency's National Emission Standards for Hazardous Air Pollutants (NESHAP), New Source Performance Standards (NSPS) and Alternative Control Techniques (ACT).
Furthermore, the National Volatile Organic Compound Emission Standards, Section 183 (e) of the Clean Air Act urges coatings and aerosols manufacturers to reduce emissions by around 17,130 tons, prompting usage of more eco-friendly material. This is resulting in limited market shares for inorganic coatings.
Heightening Raw Materials Cost Amid Perceived Shortages
Unanticipated demand surge across key regional markets such as Asia combined with production uncertainties across Western Europe and North America has caused a substantial increase in raw material costs, leading to tightening supplies and rising shortages.
According to the British Coatings Federation, a strong coatings demand amidst unaccounted capacity shortages, 100% surge in oil prices, global shortage of shipping containers and additional non-tariff costs according to new U.K customs agreements are some key factors impacting raw materials for coatings prices, leading to restrained production.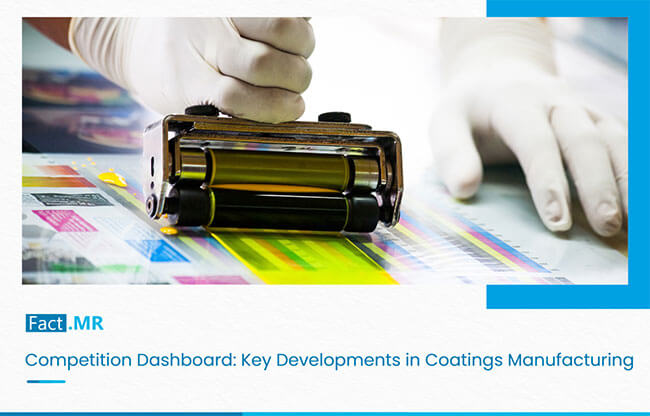 Competition Dashboard: Key Developments in Coatings Manufacturing
Coatmaster AG Acquires CoatChecker GmbH
In June 2021, coatmaster AG, a leading thickness measurement technology firm, announced the acquisition of CoatChecker GmbH, a specialist in non-destructive measurement of sealing layers. This acquisition combines technological achievements of both companies into a single portfolio, driving future innovation.
The global coatings industry is valued at around €100 billion annually and can potentially make savings of some 30% in coating materials through enhanced process control featuring coatmaster's Advanced Thermal Optics (ATO) technology. As well as savings in coating materials, greater personnel efficiency will result, rejects and warranty claims will be reduced and CO2 emissions lowered.
Archroma announces Distribution Agreement with Van Horn, Metz & Company
Global sustainable specialty chemicals leader Archroma announced a distribution agreement with specialty raw material distributor Van Horn, Metz & Company for supplying its Mowlith® emulsions across the U.S. Mowlith® are well established emulsions for providing adhesion, hardness and elongation to wood and metal coatings, concrete and industrial parts.
Through this agreement, the latter will premiere Core Shell, a new technology based on Mowlith® which will be accessible to North American customers for the first time. Core Shell has been designed by Archroma's experts in Indonesia, combining soft and hard polymer particles to create relatively hard yet flexible coatings with enhanced scratch and dirt resistance.
Digital Breakthrough for Evonik and Partners
Evonik Industries, Biesterfeld Spezialchemie and CheMondis recently announced a collaboration agreement, permitting the former two companies to extend their portfolio of Chemical Additives in the European market. CheMondis' marketplace structure provides both parties an opportunity to establish an additional online channel supporting their existing distribution network.
Based on the customer's location and requested volumes, they will be serviced by either Evonik directly or by Biesterfeld Spezialchemie. After this collaboration, more than 160 product from Evonik & Biesterfeld are now available on CheMondis' online platform, providing an opportunity for future market expansion.
AkzoNobel to Seal Revolutionary Food Packaging Coatings Breakthrough
Recently, a major breakthrough has been discovered by coatings manufacturer AkzoNobel, in conjunction with the Dutch Advanced Research Center Chemical Building Blocks Consortium (ARC CBBC) and the University of Twente and BASF, in terms of developing sustainable food packaging solutions.
These solutions employ a range of packaging material except aluminum, consisting of recyclable coatings which would replace conventional metallized packaging. This would be specifically used for products such as crisps and coffee. A process has now been devised which involves the smart combination of two water-soluble polymers (polyelectrolytes), resulting in all the functionality being delivered by one recyclable layer.
Fact.MR's Coverage on the Coatings Landscape
How is Green Technology Spurring Coating Additives Demand?
Mounting environmental concerns are compelling coating additive manufacturers to comply with stringent regulations, thus inclining demand for eco-friendly additives. Fact.MR's forecasts coating additives demand to surpass US$ 9 Bn by 2029, with water-based coatings yielding 60% of the revenue.
In forthcoming years, use of green coatings is expected to be most popular within the automotive industry, amid rising demand for reducing VOC emissions, as part of the broader objective of reducing the global carbon footprint.
Positive Sales Outlook on Bio-based Coating Solvents
Fact.MR's projections conclude that sales of bio-based coating solvents registered volume growth worth 1.5x in 2018.
These solvents are expected to incline significantly in the near future. In the EU alone, bio-based solvents hold less than 13% of overall coating solvents sales.
Significant developments have occurred with respect to bio-based coatings. In 2019, Elevance Renewable Sciences Inc. signed a single supply agreement with Stahl to commercialize new coatings and polyurethane dispersions, a new class of bio-based materials.
Why are Titanium Dioxide Coating Pigments in High Demand?
Titanium dioxide coating pigments are garnering major attention, attributed to its exceptionally high refractive index. Another advantage of these coatings is their resistance to discoloration under UV light in exposed applications.
According to Fact.MR, sales of titanium dioxide coatings surged by almost 154,000 tons in 2018 over 2017, representing a twofold increase.
Prospects further heightened with the introduction of titanium dioxide antimicrobial coatings for doorknobs, faucet handles and bed rails in 2019, and is still being explore for further development.
F&B Generating Tailwinds for Packaging Coatings Growth
Demand for packaging coatings is anticipated to reach US$ 3.1 Bn by 2021-end, experiencing a Y-o-Y growth of 3.6%. Historically, the market expanded at approximately 6% CAGR from 2016 to 2020.
The food packaging segment is anticipated to remain the primary application area, expected to surpass US$ 450 Bn by 2031. Preference is especially evident for bio-based coatings, composed of starch, chitosan, cellulose, lipids and other proteins.
Confectionery Products Driving Enhanced Fillers and Coatings Uptake
According to Fact.MR, increasing consumption of confectionery products is spurring sales of fillers and coatings. Recent innovations are paving way for future market expansion.
Recently, Syntegon unveiled its GKF 60 lab-scale capsule filling machine in June 2021.The new automated process development (APD) tool is also available for the GKF 60 to determine the optimum parameters for filling and automatically adjust them during the filling process.
In addition, each dosing station can be optionally equipped with a gravimetric 100 percent weighing system for each component dosed.
What are the Growth Prospects for Powder Coating Booths?
Powder coating booths are important equipment used in a variety of industrial applications. The primary function of powder coating booths is to contain the coating operation to prevent over sprayed powder from spreading into other workstations.
Amongst its various advantages, powder coating is a clean process which allows exhaust air to be retained, preventing wastage. Demand for powder coating booths is mainly influenced by the steadily growing demand for powder coatings. High labor cost savings, enhanced operational and environmental efficiency are other benefits of using powder coating booths.
What is Driving Growth of the Paint and Coating Stripper Market?
The global paint and coating stripper market is projected to witness significant growth over the forecast period, due to their increasing demand for various applications such as vehicle maintenance, building renovation, and industrial repair, among others.
Demand is expected to increase in the automotive industry. Growth is likely to be most prominent countries such as the U.S., Germany, India, Japan and China. This is expected to be one of the major driving factors for the growth of the global paint and coating stripper market.
Which are the most Prospective Growth Spaces for Liquid-applied Roof Coatings?
North America is expected to remain the majority shareholder in the global liquid-applied roof coatings landscape. Increasing demand for insulated roofing to incur energy savings and increasing efficiency is majorly pivoting sales across the region, particularly the U.S.
Growth prospects are also expected to soar across the Asia Pacific, with countries such as India, China, Japan and South Korea expected to remain the vanguard of total regional demand. Increasing commercialization and implementation of construction activities is stimulating demand across the aforementioned countries.
Faux Finish Coatings Demand to Receive Stimulus from Architecture Industry
Fact.MR expects sales of faux finish coatings to expand at a CAGR of over 6% across the forecast period ranging from 2021 to 2031. Growth is impelled by expanding architecture, building, and construction industries, with manufacturers on good grounds to increase their sales footprint.
Faux finish coatings are widely used as decorative paint finishes that imitate the appearance of various materials such as marble, stone, wood, and others. With the rise in requirement for embellishing the interiors of buildings and furniture, faux finish coating manufacturers are expected to witness higher sales and gain more profit over the coming years.
Stain Resistant Coatings Uptake High across Textile Industry
According to Fact.MR, the global stain resistant coatings market is projected to expand at close to 7% CAGR through 2031. Stain resistant coatings are extensively used in the textiles industry owing to their ability to resist staining or change in original pigmentation, opaqueness, and appearance of textile materials due to staining agents.
Presently, water-based stain resistant coatings witness the highest demand in terms of technology, and is expected to remain in the limelight throughout the forecast period.
- Request for
More Information

-
Coating Materials for Energy Sector Market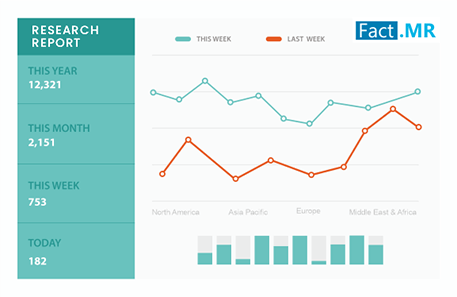 Coating Materials For Energy Sector Market Size, Share & Trends Analysis Report By Material Type (Dry Film Lubricant Coating, EFP Coating), By Technology (HVOF Coatings, Flame Spray Coatings, Electric Arc Coatings), By End Use, By Region - Global Review 2021 To 2031