An Irresistible Temptation of Coffee Aroma
Published : 12 Oct 2021 Industry: Food & Beverage
Whether clutching a travel mug en-route to work or pausing in between back-to-back Monday morning meetings, it's tough to imagine a day devoid of hot coffee. As the caffeine perks you up, there's something unbelievably sedating about sipping this steaming cup of joy. But is drinking coffee good for you?
Absolutely! The right amount of coffee can do wonders for anyone seeking to transition towards consuming healthier halos. Experts estimate that people consume around 2.25 billion cups of coffee per day. Leading to which, the coffee market has flourished impressively in recent years.
Introduction of exotic flavours, well-conditioned ingredients and improved functionalities are boding well for cold-brew coffees demand to a great extent. Latest trends of coffee beer is also gaining momentum in modern world. A conscientious consumer, craving new flavours while simultaneously seeking natural and clean-label beverages, is perhaps the best fit for the ever widening coffee market.
As ready-to-drink (RTD) beverages penetrate the global market for beverages, prominent manufacturers have been compelled to present their best latte. Cold brew coffee is a popular choice among consumers, attributed to its smoother texture and less acidic flavor compared to regular coffee, while its high caffeine levels appeal to younger generations.
Come the 2020 global lockdown and it was time for the trend of Dalgona coffee, taking the internet world by storm. This brew rapidly became an overnight sensation, as social media influencers capitalized on consumers' trends of sampling various beverages.
Owing to governments' lucrative incentives for promotion of cash crop farming, global coffee sales are likely to recuperate in foreseeable future. Fact.MR projects that the global coffee market will witness a moderate growth in the near future.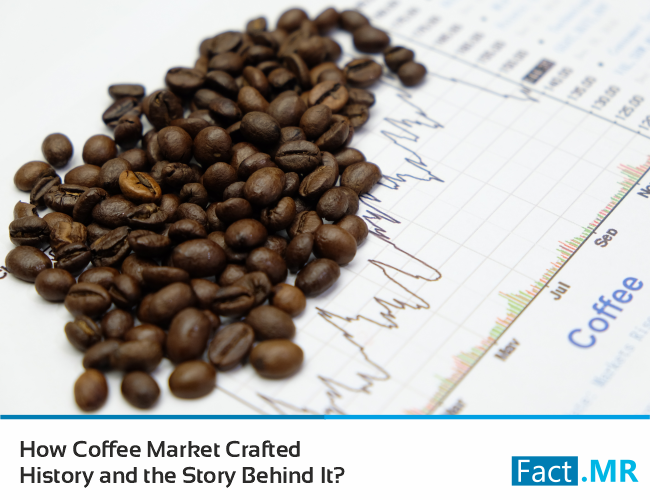 How Coffee Market Crafted History and the Story Behind It?
The earliest origins of coffee can be traced back centuries to the ancient coffee forests on the Ethiopian plateau in Africa, with the goat herder Kaldi first discovering the potential of these beans which imbued in his goats an energy so powerful that they didn't sleep at night.
The abbot of the local monastery made a drink with those beans, discovering its ability to enhance alertness through the long hours of evening prayers. The knowledge of these energizing beans began to spread which led to coffee cultivation and first trade began on the Arabian Peninsula.
Upon reaching Italy in the 17th century, the beverage was subjected to severe backlash- with the controversy peaking so that Pope Clement VIII himself tasted it before making a decision, and found the drink so satisfying that the approval was given immediately. Since then, coffee began to replace the common breakfast drink beverages of the time: beer and wine. This is also considered as precursor to the modern office coffee service.
By the mid-17th century, there were over 300 coffee houses in London, many of which attracted like-minded patrons, including merchants, shippers, brokers and artists. Up until 1989, the coffee market was regulated by a series of International Coffee Agreements which were intended to manage supply and maintain price stability. This system subsequently collapsed, and since 1990, the industry has been subject to the free market forces of supply and demand.
How to Forge a Healthy Relationship with Coffee?
When people contemplate of coffee, they usually think of its ability to provide an energy boost. However, according to some research, it can also offer some other important health benefits, such as a lower risk of liver cancer, type 2 diabetes, and heart failure. This, in turn has boosted the coffee market in recent years.
Coffee contains a number of useful nutrients, including riboflavin (vitamin B-2), niacin (vitamin B-3), magnesium, potassium, and various phenolic compounds, or antioxidants. Some experts suggest that these and other ingredients in coffee can benefit the human body in various ways.
As per the latest findings of Fact.MR, it was concluded that people who consumed 4 to 6 cups of either caffeinated or decaffeinated coffee each day seemed to have a lower risk of metabolic syndrome, including type 2 diabetes. People who consumed reasonable amounts of coffee regularly had an 11% lower risk of heart failure than those who did not.
Coffee- A Health Enthusiasts Paradise?
While the primary thought associated with coffee consumption is an energy boost, research has documented various other important health benefits. Coffee is known to lower liver cancer risks, type 2 diabetes, and heart failure. Additionally, coffee contains other useful nutrients, including riboflavin (vitamin B-2), niacin (vitamin B-3), magnesium, potassium, and various phenolic compounds, or antioxidants.
People who consumed reasonable amounts of coffee regularly had an 11% lower risk of heart failure. Consumption of 3 to 5 standard cups of coffee daily has been consistently associated with a reduced risk of several chronic diseases.
Coffee- The Key to Athletes Sports Success?
Given the documented benefits of coffee consumption, the beverage has been instrumental in enhancing daily productivity of individuals, enhancing workplace productive and building endurance. The International Society of Sports Nutrition (ISSN) advocates that caffeine is an effective ergogenic aid, when consumed in doses of 0.9-2.7 mg per pound (2-6 mg per kg) of body weight, equivalent to around 135–405 mg for a 150-pound (68-kg) person.
However, the average gym-goer will possibly benefit from consuming the lower end of this suggested caffeine intake. Furthermore, the National Library of Medicine posits that caffeine ingestion improves maximal voluntary contraction (MVC) strength and muscular endurance. The effect on strength appears exclusively in the knee extensors, and the effect on muscular endurance appears only detectable with open end point tests.
The Kaffe Bueno and PINC collaboration started about a year ago with the testing of the upcycling of ground coffee waste from the Paulig's Vuosaari roastery. This by-product is now discovering applications of coffee in production of nutraceuticals and functional foods.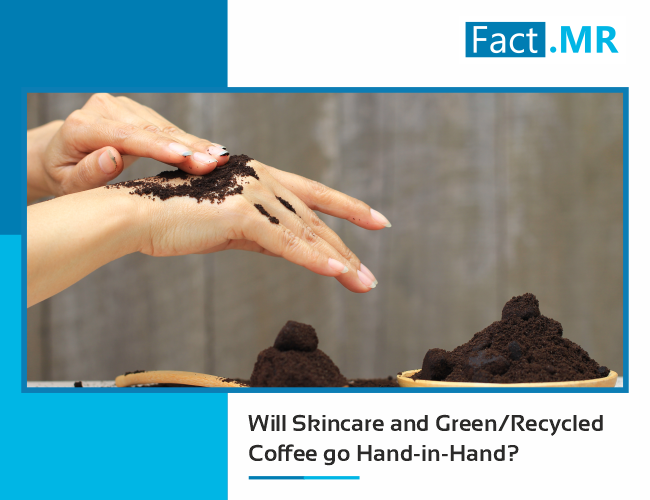 Will Skincare and Green/Recycled Coffee go Hand-in-Hand?
Skin and hair benefits of the lipid fraction of coffee is already known in the cosmetic industry. However, in a move that taps into ongoing interest in ingredients made of recycled or waste materials, Kaffe Bueno- A Copenhagen-based biotech start-up- has launched its new Recycled Coffee Oil. According to the company, the beneficial compound inside remains completely after brewing a cup of coffee, except for the water soluble, caffeine. This offers an opportunity for these compounds to be reclaimed from waste coffee.
Spent coffee grounds (SCG), which are the residue obtained from the treatment of coffee with hot water or steam. Thus, in turn surge the applications of coffee in production of cosmetics , due to the high content in lipids. The cosmetic products might be a suitable application for these types of residues because the barrier properties of the stratum corneum (SC) are largely dependent on the intactness of the lipid lamellae that surrounds the corneocytes
Green coffee is the latest fad ingredient in skin care products manufacturing, holding a whole list of benefits which tends to wear off after roasting. Due to its high biological activity and ability to penetrate the skin barrier, coffee is extensively used in the cosmetic industry.
With documented instances of coffee-based skincare products protecting cells against UV radiation and also stimulation of hair growth through inhibition of the 5-α-reductase activity, several Ayurveda based and organic skincare brands are using it to manufacture a whole range of products developed around green coffee including anti-ageing cream, hulk green coffee body scrub and body wash.
How Medicinal Significance of Coffee is stimulating the End-use Industry?
The coffee oil and seed residue have the same chemical profile. Both of them contain phenolic compounds such as caffeine and chlorogenic acid, along with esters (5 monoacyl and 3 diacyl) of quinic acid and trans-cinnamic acid. Thus, coffee residues have massive potential to be used as a biologically active compound or as a resource for manufacturing food supplements, pharmaceutical/nutraceutical products. Medicinal Significance of coffee on human body serves:
You could live longer.
According to a recent study conducted by the Johns Hopkins University, it was found that coffee drinkers are less likely to die from some of the leading causes of death in women.
Glucose Processing Gets Easier.
That's the theory behind studies that found that people who drink more coffee are less likely to get type 2 diabetes.
Drinking one to two cups of coffee a day may help ward off heart failure, when a weakened heart has difficulty pumping enough blood to the body.
Your liver will thank you.
Both regular and decaf coffee seem to have a protective effect on your liver. Research shows that coffee drinkers are more likely to have liver enzyme levels within a healthy range than people who don't drink coffee.
Strong DNA:
Dark roast coffee decreases breakage in DNA strands, which occur naturally but can lead to cancer or tumors if not repaired by your cells.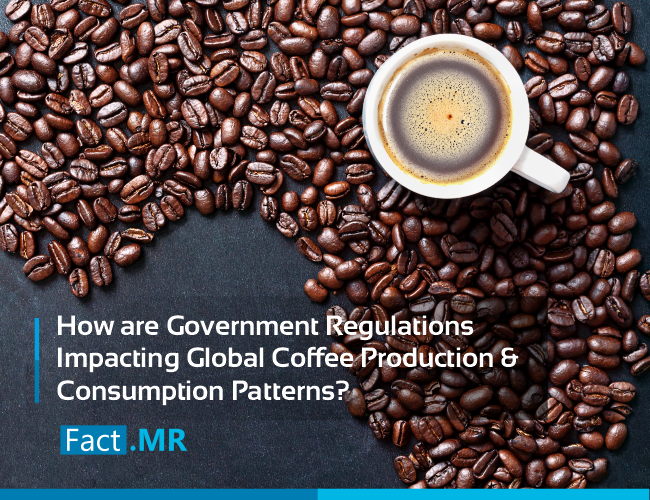 How are Government Regulations Impacting Global Coffee Production & Consumption Patterns?
Governments worldwide of most coffee producing countries have been implementing favorable regulations on coffee marketing, given its importance as a source of foreign exchange and revenue. Furthermore, international coffee agreements maintain relatively high and stable prices, strengthening economic growth and enhancing development of international trade and co-operation.
Habitual coffee drinkers in Europe are increasing by the minute, with European cultural influences boosting the consumption of coffee-based beverages across the globe. Towards the end of 2022, the coffee market in Europe is expected to surpass US$ 6 Bn.
Besides, ample availability of raw coffee beans, government-backed initiatives promoting the farming of cash crops such as coffee, and a vast consumer base will continue to keep countries in the Asia-Pacific at the forefront of global coffee market expansion.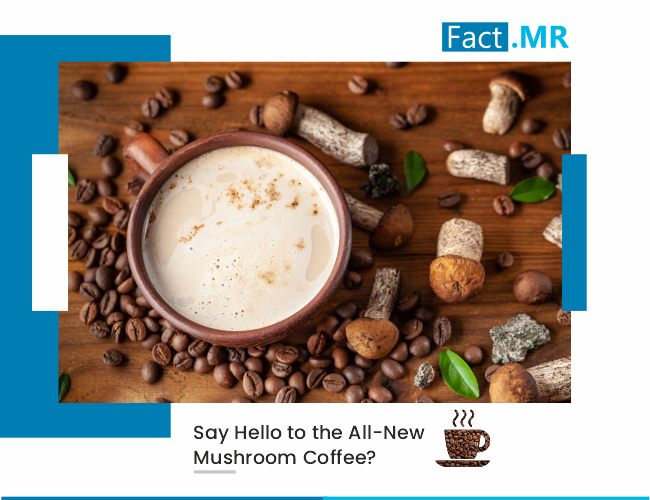 Say Hello to the All-New Mushroom Coffee?
The latest trends of mushroom coffee are boding well for the global coffee industry in general. Being packed with impressive health benefits, several new players have emerged within the coffee sphere. The introduction of mushroom coffee products for the health-conscious consumers fuelled the alternative trend of coffee beans. Despite being in a fledgling stage, future prospects are expected to widen, as awareness about the same increases.
The growing Robusta mushroom coffee demand revolves around the addition of several vitamins which are incorporated with the addition of mushroom coffee powder extracts. Liberica mushroom coffee have been used in medicine for a long time and recent research have shown mushroom containing the highest dietary source of antioxidants, glutathione and ergothioneine, which help protect the body from the kind of harm that can eventually lead to chronic diseases like cancer. The emerging demand for instant coffee and effective packaging technology has surged the sales of mushroom coffee Sachets and packets.
Owing to extensive benefits of mushroom coffee with Chaga, the consumers experience better sleep, reduced stress and boosted immune system. In turn, the global coffee sales of arabica mushroom coffee and will soar which is supported by numerous health benefits.
One study also tested the effects of a Cordyceps-containing mushroom blend on exercise performance in younger adults, consequently furthering sales of mushroom coffee with Cordyceps. Top producers of mushroom products are eyeballing the positive trade scenario for mushroom, coupled with initiation of cultivation of mushroom varieties across major producing countries /regions. The trend of instant mushroom coffee is not new, but following a historical trail since Finnish people used chaga mushroom, as a coffee substitute during World War II.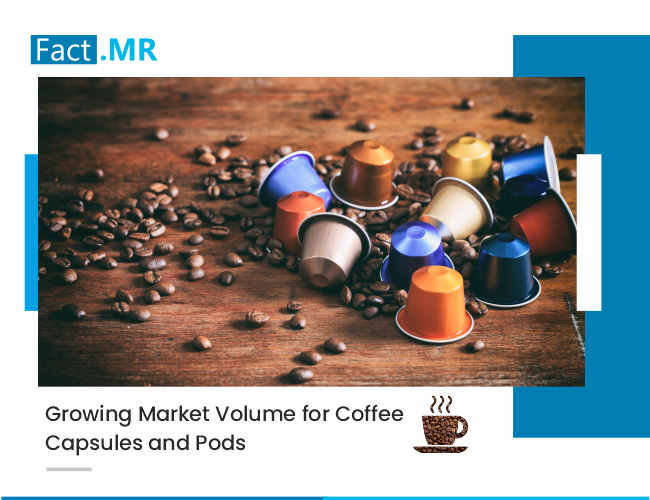 Growing Market Volume for Coffee Capsules and Pods:
Additionally, coffee capsules and pods are also gaining high traction with the growing demand for instant coffee products. The coffee capsules are vacuum packed to safeguard them from external moisture and humidity which may result in the spoiling of the flavor of the coffee.
Expansion in the number of coffee consumers in recent years and relatively high per capita consumption of coffee among the young consumer groups have propelled the global coffee capsules and pods market. Furthermore, online sales of coffee capsules and pods has added a new dimension to the coffee market.
Top coffee capsules and pods manufacturers are finding innovative ways to extract the true flavors of coffee and different formulations. Also, to serve the purpose of rewarding consumer's yearning to get their favourite kind of coffee in lesser time, they are concentrating on latest innovations in coffee capsules and pods. The single-serve coffee made possible by pods and convenience to users, results in a sharp rise in demand for coffee capsules and pods, which eventually drives the coffee capsules and pods market.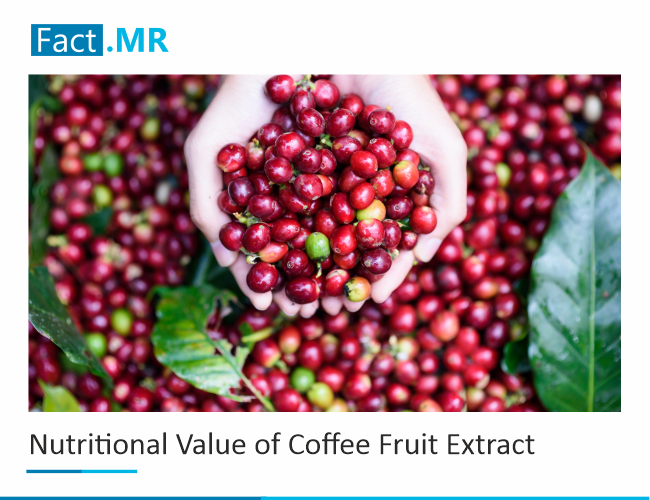 Nutritional Value of Coffee Fruit Extract:
The coffee fruit extract is a natural brain-boosting supplement. Recently researchers have revealed that coffee fruit extract serves many health benefits to the human body such as reducing anxiety, faster learning (as brain enhancing compound), constrains brain aging, and more. Considering plentiful health benefits such as anxiety reduction, faster learning, the demand for coffee fruit extract is soaring at a fast-pace worldwide.
Furthermore, the increasing sports activities bolstered the demand of coffee fruit extract in sport health supplements as Athletes are concentrating on clean-label fitness diet. Additionally, due to its application in pharmaceutical industry as an antioxidant agent and brain booster, the demand for organic coffee fruit extract is likely to gain massive adhesion in forthcoming years.
Based on packaging type, demand of tetra packaging for coffee fruit extract is increasing as an ideal choice by prominent players. The manufacturers are introducing a new form of coffee fruit extract for food industry. Eventually increasing the sales of bottled coffee fruit extract with emerging trend of Iced coffee.
The growth in health-conscious consumers continues to drive the demand for a wide variety of decaffeinated beverages. Owing to effective transportation and easy-to-mix traits, the demand of coffee fruit extract powder is snowballing immensely. Likewise, powdered fruit extract is exported in big containers. In order to protect it from moisture content, bulk packaging for coffee fruit extract is adopted. Key innovations in food packaging sector have spearheaded the sales of conventional coffee fruit extract in countries like U.S and China.
Changing lifestyle and emerging trend of ready-to-eat beverage is also swelling the liquid coffee fruit extract demand internationally.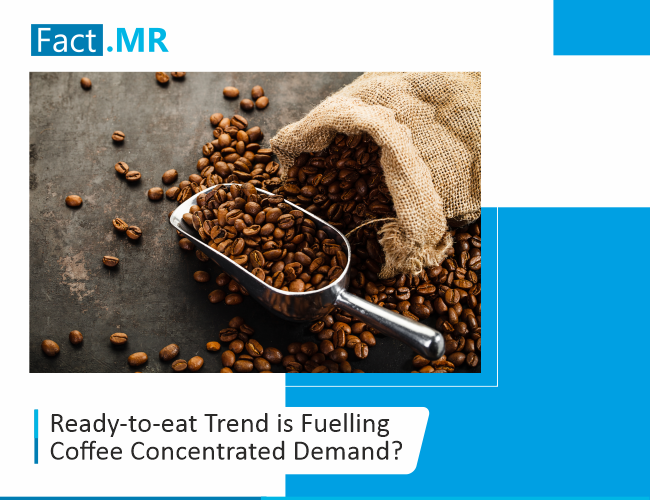 Ready-to-eat Trend is Fuelling Coffee Concentrated Demand?
The increasing popularity of ready-to-drink products is increasing the demand for coffee concentrates in the market. The high paced lifestyles of consumers are shifting the choice of people from traditional coffee to the concentrate form. The use of instant coffee in homes and offices is likely to create opportunities for the coffee concentrate market.
The expansion of a number of multinational and foreign retail brands, and providing consumers with products at an ease are driving the sales of Arabica coffee concentrates as well as soaring flavored coffee concentrates demand.
Furthermore, the increasing number of hotels, restaurants, cafés, coffee chain outlets, and others is also boosting the demand for coffee concentrates in the foodservice industry. Emerging trend of Instant coffee among youth population especially teenagers is fuelling the cold brew coffee concentrate demand in western countries.
Growing concern for fitness and for enhancing work alertness, the black coffee concentrate market has gained new grounds in recent years. Caffeine appears to boost metabolic rate by increasing how quickly your body burns fat. However, Decaffeinated coffee are attributed to high antioxidant content and other active substances which has surged the Decaffeinated coffee concentrate sales in developed countries.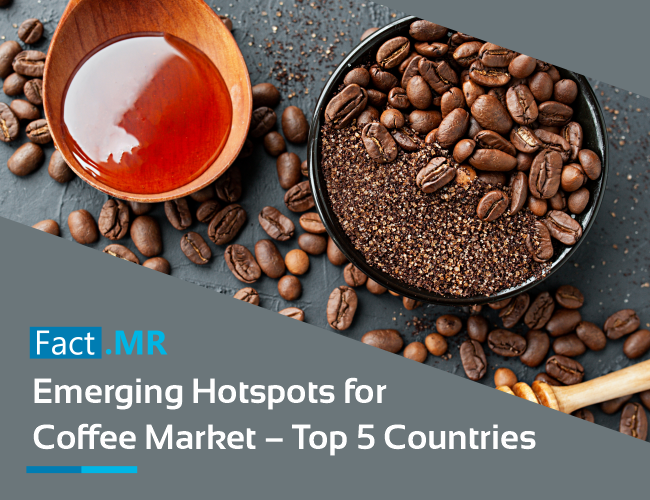 Emerging Hotspots for Coffee Market – Top 5 Countries
U.S. to Witness Augmented Coffee Demand?
Studies have documented that 85% of the U.S population consumes at least one caffeinated beverage every day. This means daily caffeine intake from all beverages was 165 ± 1 mg for all ages combined. Caffeine intake was highest in consumers aged 50–64 years.
Recent research by International Agency for Research on Cancer concluded that there is sufficient evidence to classify coffee as carcinogenic- and that coffee consumption is actually associated with risk of certain cancers. Hence, the market for coffee witnessed impressive sales in the U.S in the past decade.
As per the U.S Department of Agriculture, the country imports the second?largest amount of coffee beans and is forecast down 300,000 bags to 24.2 million. Also, the Department of Health and Human Services say that upto 5 cups of coffee per day can be a part of a healthy lifestyle which boosted the consumption among working professional who are concerned due to their busy lifestyle and long working hours.
Besides, the growing millennial population along with mounting demand of specialty coffee, cumulative sales of specialty coffee shops, and the launch of leading café chains in emerging economies are some of the other factors increasing the growth of this coffee market.
Brazil to Hold its Own Against Recessionary Pressures in Coffee Production
Brazil is the world's largest producer of coffee since the last 150 years, currently producing nearly 35-40% of all grades of coffee. Production for Marketing Year (MY) 2021/22 (July-June) stood at 56.3 million 60-kg bags, a significant decrease of 19 percent compared to last year's revised record output of 69.9 million bags.
Adverse weather conditions lowered yields as drought and high temperatures in major coffee growing regions affected blossoming as well as fruit setting and development. Coffee exports for MY 2021/22 are projected at 35.22 million bags, a sharp drop of nearly 10 million bags from all-time record exports of 45.03 million bags in MY 2020/21, due to expected lower product availability.
Increased coffee consumption in the Brazilian households has offset the losses in "out of home" consumption with the temporary and intermittent closure of Brazilian coffee shops, hotels, bars and restaurants imposed by the COVID-19 pandemic.
Additionally, there were also reports that many growers pruned their trees at above?average rates in response to last year's record crop, thus lowering yields. The Robusta harvest is forecast to continue expanding to reach a record 21.3 million bags, up 1.1 million. Good rainfall volumes aided fruit development in the major producing states of Espirito Santo, Rondonia, and Bahia.
Captivated Blend of Fresh Robusta Coffee of Vietnam:
Vietnam has emerged as the second largest coffee-producing and -exporting country in the world. Currently, the average annual output exceeds 25 million 60-kg bags. Spearheaded by a supportive government policy, an efficient environment has been created for development of coffee sector. Robusta accounts for over 95% of total output. With the trending higher prices for last 12 months, farmers are motivated to boost yields by incurring irrigation costs.
Coffee beans from Vietnam smells different and unique! Even if demand for Robusta coffee is the main reason why Vietnam is famous for, current trends and quality improvements are projected to address Vietnam as a trade leader in the future. In 2018, Vietnam exported more than 3.5 billion worth of coffee by value, it eventually boosted the country's economy. Robusta coffee beans are the most popularly grown coffee variety in Vietnam due to cheaper rates.
Domestic and international coffee producing enterprises are likely to invest more in processing of roasted and ground coffee to boost up export. The export turnover is projected to surpass US$ 6 billion by 2030, according to the Ministry of industry and trade.
How the Black Clouds of Covid-19 Flooded Coffee Farms?
The unprecedented occurrence of the COVID-19 pandemic has spooked the demand and supply chains of coffee industry awfully. Prominent coffee producing countries witnessed significant disruptions owing to high volatile prices and reduced coffee consumption.
While the international market suffered economic recession, the global coffee trade witnessed shortfall in sales. With the imposition of a global lockdown, the progressive wheels of the global economy decelerated.
During H1 of 2019, coffee prices experienced multiple spikes and high instability. However, income of farmers dropped nearly 63% farmers and 38% reduction in generation of alternative income was witnessed worldwide.
The pandemic comprised of definitive closure of many farms due to delay or postponement of orders by consumer countries which consequently made a dreadful impact on the entire local coffee-based economy in Indonesia. Based on data from Ministry of Agriculture 2018, the Indonesia production touched 674.6 metric tons which increased to 753.9 metric tons in 2020.
As per the reports of the International Coffee Organization (ICO), in recent years, the world's coffee production has seen several changes post-pandemic. Currently, the total global coffee output is at around 170 million bags, top ten exporters account for more than 90% of total output.
Coffee growers employing large numbers of foreign migrant workers are more likely to be affected by labour shortages than small holders primarily relying on family. Mechanization is prospective to have a mitigating effect, but is not widespread.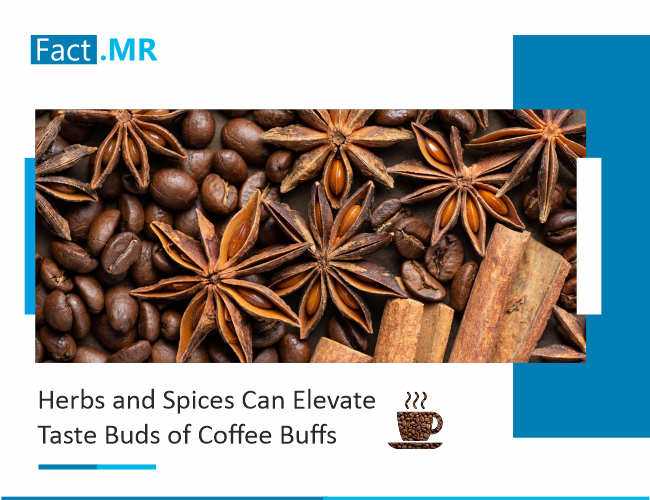 Herbs and Spices Can Elevate Taste Buds of Coffee Buffs
While exploring trendy Chicago coffee shops, some of the drinks that were sampled featured culinary herbs and spices. These offered a taste of elusive yet unique flavours that aren't often associated with coffee, yet the pairings were pleasing to the palate.
At the Wormhole Coffee, a latte which featured fresh ginger and curry sauce and another that comprised dark chocolate and peanut butter flavors are offered. Dark Matter Coffee served up a maple-sage latte while Ipsento 606 offered a basil-mint-mocha-cardamom-rose latte as well as the café's namesake drink, which features cayenne, honey and coconut milk.
The admiration of such drinks makes it evident that consumers continue to seek out new tastes and experiences, even in classic coffee. To produce herbal and spice flavors on a larger scale, flavoured syrups can elevate taste while saving steps for baristas.
Dive into a Deep Valley of Myriad Coffee Varietals:
What if you can stay healthy just by drinking a cup of coffee- that's what a consumer wants today. Coffee, long considered more a vice than a superfood, is getting in on the trend. For instance, on-tap drink options at Fairgrounds Craft Coffee & Tea included rishi tea, matcha latte, kombucha and cold brew. The café also served lattes and teas containing beet, matcha, coconut milk and jasmine.
Somewhere else, it was observed, fresh herbs and spices in juices and elixirs, blurring the lines between coffee and other beverage trends. At Juice Rx, a local juice bar and restaurant served traditional bottled juices and elixirs alongside coffee drinks, such as one made from cold brew coffee, almond milk, coconut milk, red maca and dates.
How are Different Grades of Coffee Boosting Demand?
Coffee is the second most traded tropical commodity (in value) in the world after oil. Moreover, the market for coffee is assured, sustainable and the demand for good quality coffee is soaring.
In July 2021, exports of Arabica coffee totalled 82.63 million bags compared to 78.89 million bags last year backed by widening application of coffee oil in manufacturing of ancient medicines to cure diseases including neurological and metabolic disorder
The global sales of arabica coffee are likely to surpass US$ 14 billion. It is less susceptible to pests and disease, thus, needs less fungicides and pesticides than Arabica. Robusta coffee is a beverage with well-documented health benefits and can be easily integrated with other crops on farm.
The major coffee producer and exporter throughout the world are Brazil (35%), Vietnam (15%), Indonesia (8%), Columbia (6%), India (4%), Ethiopia (4%), Honduras (4%), Costa Rica (1%) and others (23%).
Additionally, with the presence of considerable amount of fatty acids, end use industries such as cosmetic and nutraceutical have benefitted from the oil produced from green coffee.
Towards the end of 2021, the APEJ region will emerge as the largest coffee market, procuring an estimated value of US$ 12.36 Bn. Europe and North America will also be lucrative regions for expansion of the coffee market, collectively contributing to nearly 1/3rd share on global revenues.
Top 4 Coffee Brands across the Globe
Starbucks Turns to Technology to Create More Personalised Brew Experience:
Starbucks has collaborated with Microsoft to transform the customer's experience of Starbucks coffee. When we walk into a Starbucks store anywhere in the world and we encounter a similar sight: coffee beans grinding, espresso shots being pulled and customers talking to baristas while their coffee order is hand-crafted. The technology has been recently adopted: in May 2019.
The coffee making process may look like a simple everyday scene, but it is carefully orchestrated to serve Starbucks' more than 100 million weekly customers. With the help of Microsoft, Starbucks is creating an even more personal, seamless customer experience in its stores by implementing advanced technologies, ranging from cloud computing to blockchain.
This will help consumers get relevant recommendations based on a machine learning technology on the Starbucks App. Within the app, customers receive tailor-made order suggestions generated via a reinforcement learning platform that is built and hosted in Microsoft Azure.
Dunkin Donuts in Spotlight with Extra Charged Coffee:
Coffee innovation is brewing at Dunkin'. The restaurant chain is adding an extra caffeinated brew to its line-up as well as two new hot coffees. Dunkin' is delivering an extra dose of caffeine with its new Extra Charged Coffee, featuring 20% more caffeine than Dunkin's classic hot and iced coffee.
The additional caffeine is derived from green coffee extract, meaning the caffeine is extracted from the coffee bean itself before it goes through the roasting process. The beverage may be ordered hot or iced.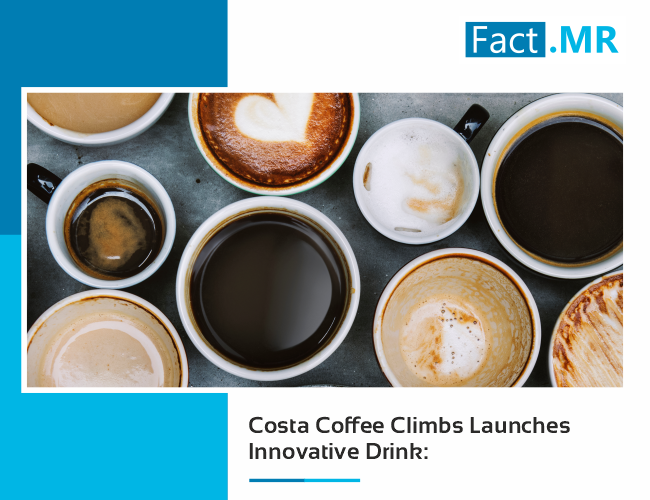 Costa Coffee Climbs Launches Innovative Drink:
With the launch of limited-edition Latte+ drinks range, the coffee brand is looking forward to swap to dairy alternatives. Putting a twist on a classic latte the Latte+ range includes three drinks that not only are vegan friendly but are deliciously flavoured and contain dairy-alternative option, but also includes added sources of either vitamin B12 and Zinc or protein.
Handcrafted in store the Latte+ range the first of its kind for the coffee shop brand. The Caramel Oat Latte+, the Vanilla Coconut Latte+, the Hazelnut Almond Latte+ are suitable for those who are following plant-based diet. These drinks are available in stores since January 2021 across the world.
McDonald's India Experimented with Turmeric Latte:
In order to connect with Indian tradition and significance of turmeric in Indian food, fast food chain McDonald's India (West and South) started selling two new "immunity" building beverages turmeric latte as part of its McCafé menu.
The beverage drink has rolled out in McDonald's restaurants in West and South India from October this year. Consumers have naturally progressed toward buying products that are packed with perceived benefits in the aftermath of the pandemic. As a result, demand for immunity boosters and food and beverages with natural ingredients are in high demand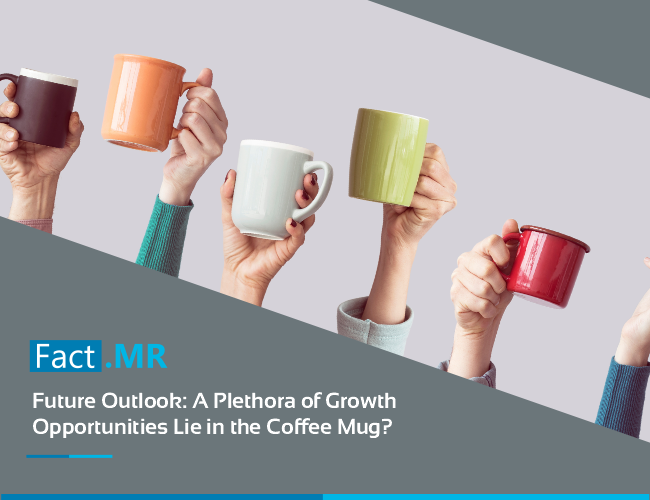 Future Outlook: A Plethora of Growth Opportunities Lie in the Coffee Mug?
Is the Era for Coffee Substitutes Finally Dawning Upon Us?
Based on prevailing trends, it is apparent that the coffee market is taking over major innovations in brewing beverage world. Exotic flavours and innovative tastes are elevating the global demand for coffee market. Growing popularity of mushroom coffee products and health benefits of coffee substitutes are souring demand for coffee substitutes, putting the industry on a positive expansion trajectory across the forthcoming decade.
Top coffee substitute manufacturers are consistently adding new ingredients to manufacture gluten-free coffee substitutes. These products such as organic coffee substitutes are mostly favourable to people who are addicted or allergic to caffeine. Additionally, after several rounds of retail price increases this year, India's coffee companies are now adding more chicory - a coffee substitute - and cheaper beans in their blends. Since chicory prices are 10 times cheaper than coffee, thus manufacturers are protecting margins and keep the brew affordable for price-sensitive consumers. Thereby, driving the sales of coffee substitutes worldwide. Natural coffee substitutes are among the most preferred alternatives.
According to the National Library of Medicine, among cultivated mushrooms, Ganoderma Lucidum (Lingzhi) is unique in that its pharmaceutical rather than nutritional value is paramount. The specific applications and attributed health benefits of lingzhi include control of blood glucose levels, modulation of the immune system, hepatoprotection, bacteriostasis, and more.
How is the Coffee Beer Market Acquiring Traction?
Coffee beer is gaining high traction across the globe. It provides the infusion of beer and brewed coffee together to offer a variety of drinks to the customers worldwide.
Coffee brand Dare is offering Aussies more options for their daily drinks with the launch of its new Sparkling Cold Brew coffee. Made from 100% Columbian cold brew coffee using purified water and lightly carbonated, the drink is zero sugar, dairy-free and contains five calories per can. However, sales of Metal Can Packaging for Coffee Beer is also heaving simultaneously. Coffee beer is generally marketed based on 3 age groups. For instance, Coffee Beer for Below 35 years of age, Coffee Beer for 36 – 54 years of age and coffee beer for 55 years and above.
According to Dare, the combination of coffee and sparkling soft drink will bring new experiences to consumers and offer an afternoon pick-me-up for people who love to discover new coffee recipes.
Top producers of coffee beer like Carlsberg group and Samuel Adams are finding lucrative growth opportunities in MEA and Africa regions. As demand of coffee beer along with sales of infused nitro coffee beer in these regions are gaining new grounds. However, the growing popularity of these beverages are fuelling sales of metal can packaging for coffee beer.
- Request for
More Information

-
Coffee Market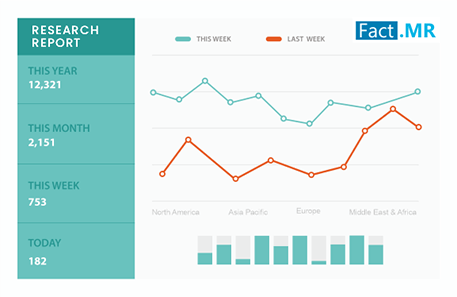 Coffee Market Analysis, By Grade (Arabica, Robusta, Specialty) & By Sales Channel (Supermarkets/Hypermarkets, E-commerce, Coffee Houses, Traditional Grocery Stores) & By Application, By Region - Global Forecast 2017-2022