Laminated Veneer Lumber (LVL) Market
Laminated Veneer Lumber (LVL) Market Analysis By Product Type (Cross Bended LVL, Laminated Strand Lumber), By Application (Headers, Beams, Rim Boards, Truck-bed Decking), By End-use Industry (Construction, Automotive, Marine, Manufacturing Industries), & By Region - Global Market Insights 2023 to 2033
Analysis of Laminated Veneer Lumber (LVL) Market Covering 30+ Countries Including Analysis of US, Canada, UK, Germany, France, Nordics, GCC countries, Japan, Korea and many more
Laminated Veneer Lumber (LVL) Market Outlook (2023 to 2033)
The global laminated veneer lumber (LVL) market currently stands at US$ 3.75 billion and is predicted to increase at a CAGR of 5% from 2023 to 2033. As per this latest Fact.MR research, worldwide demand for laminated veneer lumber is projected to reach a market value of US$ 6.11 billion by 2033.
Laminated veneer lumber (LVL) is a type of engineered wood product that is commonly used in construction and building applications. It is created by bonding thin wood veneers together using adhesive glues and then compressing them under heat and pressure. The resulting product is a robust and adaptable material that can replace solid wood in many structural and architectural applications.
LVL is known for its high strength-to-weight ratio, making it suitable for load-bearing applications such as beams, headers, and columns in both residential and commercial construction. Laminated veneer lumber is engineered to maintain uniform properties and reduce the natural variations found in solid timber, resulting in a higher level of dependable structural performance. It is often made from fast-growing and renewable wood species, which can help in reducing the demand for old-grown forests. Cross bended LVL and laminated strand lumber are some of the types of laminated veneer lumber.
Cross banded LVL, also referred to as cross bended LVL, is a widely popular type of laminated veneer lumber. It is highly demanded in the construction industry due to its high strength. The controlled manufacturing process of cross banded LVL ensures consistent and predictable mechanical properties. This predictability allows for accurate design calculations and reliable structural performance, reducing the risk of over-engineering or underperformance in construction projects.
Cross bended LVL is available in various sizes and lengths, making it easy to handle and install. Construction processes are simplified and on-site waste and labour costs are reduced due to its uniformity and consistent dimensions.
Report Attributes
Details

Laminated Veneer Lumber (LVL) Market Size (2023E)

US$ 3.75 Billion

Forecasted Market Value (2033F)

US$ 6.11 Billion

Global Market Growth Rate (2023 to 2033)

5% CAGR

Leading Regional Market

North America

Emerging Regional Market

Asia Pacific

Key Companies Profiled

Weyerhaeuser Company
Sunrise Plywood
MJB Wood Group
Modern Lumber Technology Ltd.
Boise Cascade
Roseburg Forest Products
Louisiana-Pacific Corporation.
A&M Flooring
ALAMCO Wood Products, LLC
D.R. Johnson Wood Innovations
Eagle Plywood Specialties
FraserWood Industries Ltd.
Georgia-Pacific Wood Products LLC
Hardel Mutual Plywood Corporation
Havwoods
Huber Engineered Woods LLC
Natron Wood Products
Nordic Homeworx LLC
Pacific Woodtech Corporation
Patrick Industries, Inc.
Plywood Co., Ltd
Scotch Plywood Company, Inc.
Sound Wood Products, Inc.
Don't Need a Global Report?
save 40%! on Country & Region specific reports
Why are Laminated Veneer Lumber Products Gaining Traction Globally?
"LVL Construction Material Seen as Sustainable for Building Modern Structures"
LVL production is emerging as a sustainable and environment-friendly solution in the construction field, aligning seamlessly with the global shift toward sustainable practices and green building initiatives. This engineered wood product is gaining significant traction as a viable alternative to conventional construction materials such as steel and concrete, primarily due to its eco-friendly attributes and impressive structural properties.
One of the most compelling aspects of LVL is its utilization of timber, a renewable and biodegradable resource. Timber is derived from trees, which can be grown, harvested, and replanted, ensuring a continuous cycle of regrowth and sustainability. This stands in stark contrast to materials such as steel and concrete, which require substantial energy consumption and finite natural resources for their production.
As concerns about deforestation and carbon emissions are increasing, this type of timber engineering is offering a more responsible and conscientious approach to sustainable building material selection.
"Modern Manufacturing Technologies Enhancing Laminated Timber Product Quality"
Continuous advancements in manufacturing processes are enhancing the quality and reliability of structural wood products such as laminated veneer boards, laminated veneer lumber beams, and more, cementing their position as a preferred construction material. Advancements in bonding techniques, precision manufacturing, and quality control are collectively making LVL a consistent, durable, and reliable choice for a wide range of construction applications.
One of the key factors driving LVL manufacturing is the advancement of bonding techniques. The process of creating LVL involves adhering multiple layers of wood veneers together with high-performance adhesives.
Over time, researchers and engineers have developed innovative adhesive formulations that offer superior strength, durability, and resistance to environmental factors such as moisture and temperature fluctuations. These improved bonding agents ensure that the layers of wood remain securely affixed to one another, resulting in a more robust and reliable final product.
Advancements in manufacturing equipment and technology are also enabling greater precision and consistency in the production of structural laminated veneer lumber. Computer-controlled machinery and automated processes are integrated to ensure that each layer of veneer is placed precisely, minimizing variations in thickness, alignment, and structural integrity. Thus, all such advancements in manufacturing techniques are boosting LVL market players' share.
What's Restricting Revenue Growth of Laminated Veneer Lumber Manufacturers?
"Steel & Concrete More Widely Used Construction Materials"
Wood-based composites are remarkable innovations in the construction materials landscape, offering a multitude of benefits that cater to modern construction needs. These products find are still finding competition from their traditional heavyweights such as steel and concrete.
Steel and concrete have been the backbone of construction for decades, synonymous with strength, durability, and versatility. Their long-standing use in various structural and architectural applications has ingrained them as the default choice for builders and architects. This historical familiarity and trust is hindering the popularity of LVL to some extent.
Engineered wood products beyond LVL such as glued-laminated timber (glulam) and cross-laminated timber (CLT) are also gaining significant attention. These substitute offerings can also hamper the growth of the LVL industry to some extent.
"High Investments Associated with LVL Products Limiting Their Application in Small Budget Constructions"
Upfront investment associated with laminated veneer lumber (LVL) products, spanning manufacturing and installation, exceeds that of conventional materials. This high overall cost troubles builders and developers, particularly those with stringent budget limitations, from opting for LVL in their construction projects.
More Insights, Lesser Cost (-50% off)
Insights on import/export production,
pricing analysis, and more – Only @ Fact.MR
What are the Strategies Adopted by New Companies to Gain Higher Profits?
"Collaborations and Introduction of Innovative LVL Products by Newcomers"
Sustainability has become a central theme in the construction industry. New manufacturers emphasize eco-friendly and renewable aspects of LVL, positioning it as an environmentally responsible alternative to traditional materials. This can attract environmentally conscious customers and projects that focus on green building practices.
Innovative product designs and applications can also set new market players apart. Developing new forms of LVL such as curved or textured variants can attract architects and designers seeking unique solutions. Customizable sizes and shapes can address specific project requirements, making LVL a preferred choice for unconventional designs.
Partnering with well-known architects and designers can help new companies expand their market reach for LVL applications. Utilizing existing distribution networks can also make LVL products more accessible to a wider range of customers.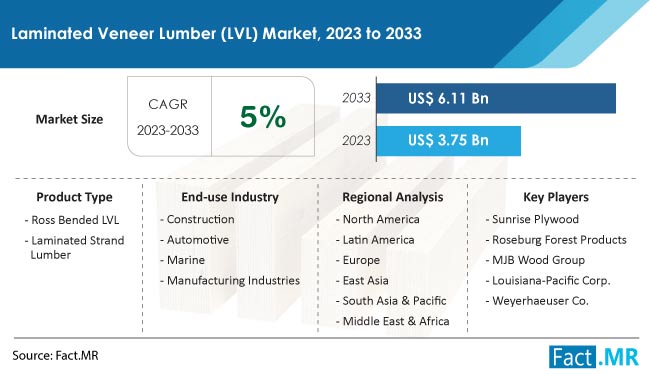 Country-wise Analysis
Why are LVL Products Popular in the United States?
"Rising Shift towards Sustainable Structures Driving Use of LVL Products"
According to this industry analysis by Fact.MR, a market research and competitive intelligence provider, the United States is witnessing a robust increase in the demand for laminated veneer lumber products, propelled by a surge in the desire for environmentally conscious and sustainable construction materials.
Structural wood offerings such as plywood and laminated veneer lumber (LVL) are gaining notable traction due to their exceptional structural prowess of being renewable sources. This surge aligns significantly with the increasing preference for ecologically sound construction practices, driving the market in the construction sector.
Why is Demand for Laminated Veneer Lumber Products Increasing in Germany?
"Germany's Crazy for Wooden Décor Embracing LVL with Innovations"
The German LVL market is growing at a healthy pace due to the high use of wooden composites in furniture and home décor. Germany's LVL market also presents a unique blend of traditional craftsmanship and technological innovation.
Germany's commitment to energy-efficient and environmentally friendly buildings aligns with LVL's attributes. LVL's dimensional stability and versatility is making it a favoured choice for intricate designs and renovations in historic structures, combining modern efficiency with cultural preservation and a popular choice among architects, contractors, and end users.
Which Aspect is Fueling the Sales of LVL Products in Japan?
"Innovative LVL Products Enhancing Japanese Modern Structures"
In Japan, laminated veneer lumber product manufacturers are combining traditional and innovative designs influenced by seismic safety and space efficiency. The country's high risk of earthquakes is leading to the construction of earthquake-resistant structures. LVL's consistent performance and uniformity are making it a popular choice for such structures.
The evolution of LVL products in Japan is linked with traditional aesthetics and contemporary engineering. LVL is valued not only for its structural capabilities but also for creating open and airy interiors that connect with nature.
Know thy Competitors
Competitive landscape highlights only certain players
Complete list available upon request
Category-wise Analysis
Why are LVL Products Widely Used in Residential Structures?
"Rising Use of Laminated Veneer Lumber in Manufacturing Durable Furniture"
Laminated veneer lumber products find widespread application in residential structures due to their features such as sustainability and durability. These products boast a multitude of advantages generating an appealing choice for builders, homeowners, and developers. Laminated veneer lumber serves diverse roles within the residential sector including furniture, flooring, roofing, doors, staircases, and more.
Rapidly growing urbanization sweeping across various regions globally is also significantly increasing the utilization of laminated veneer lumber commodities. In regions such as North America and Europe, where wooden construction is popular, laminated veneer lumber products are gaining momentum due to properties such as lightweight, durability, and affordability.
Laminated veneer lumber products often present a more budget-friendly alternative compared to traditional solid wood counterparts. Produced from amalgamated wood fibers, particles, or veneers, these products are adept at optimizing wood resources while minimizing waste during production. This inherent efficiency in manufacturing is contributing to the cost-effectiveness of laminated veneer lumber, further enhancing its appeal when compared to select solid wood alternatives.
Competitive Landscape
Key LVL manufacturers are actively expanding their market reach by entering new geographical regions and tapping into emerging markets with growing construction demands. This expansion strategy is allowing them to capitalize on the increasing adoption of LVL in various parts of the world.
Many leading laminated veneer lumber suppliers are also focusing on sustainability to meet the rising demand for eco-friendly construction materials. By promoting the use of responsibly sourced wood and emphasizing the environmental benefits of LVL, they are attracting environmentally conscious consumers and gaining a competitive edge.
In December 2022, Boise Cascade completed the acquisition of 45 acres of land in Walterboro, South Carolina, and an additional 34-acre parcel in Hondo, Texas. This move led to the expansion of its distribution facilities into two untapped local markets.
Key Segments of LVL Industry Research
By Product Type :

Cross Bended LVL
Laminated Strand Lumber

By Application :

Headers
Beams
Rim Boards
Truck-bed Decking

By End-use Industry :

Construction
Automotive
Marine
Manufacturing Industries

By Region :

North America
Latin America
Europe
East Asia
South Asia & Oceania
MEA
- FAQs -
The global laminated veneer lumber market is estimated at US$ 3.75 billion in 2023.
The market for laminated veneer lumber is predicted to reach US$ 6.11 billion by 2033.
Sales of laminated veneer lumber products are predicted to rise at a CAGR of 5% from 2023 to 2033.
Weyerhaeuser Company, Sunrise Plywood, MJB Wood Group, and Boise Cascade are some of the key players in this market.
North America is a leading regional market for laminated veneer lumber products, with Asia Pacific set to emerge as a lucrative market over the coming years.