Baseball Shoes Market
Baseball Shoes Market Analysis By Product Type (Metal Cleats, Molded Plastic Cleats, Turf/Trainer Cleats, Interchangeable Cleats), By Design Style (Low Height, 3/4 Height), By Sales Channel (Independent Sports Outlets, Franchised Sports Outlets, Modern Trade Channels, Direct-to-Customer Brand Outlets, Direct-to-Customer Online Channels, Direct-to-Customer Institutional Channels, Third-party Online Channels) & By Region - Global Market Insights 2023 to 2033
Analysis of Baseball Shoes Market Covering 30+ Countries Including Analysis of US, Canada, UK, Germany, France, Nordics, GCC countries, Japan, Korea and many more
Baseball Shoes Market Outlook (2023 to 2033)
The global baseball shoes market has reached a valuation of US$ 3.17 billion in 2023 and is projected to climb to US$ 7.17 billion by 2033. According to Fact.MR's latest analysis, worldwide sales of baseball shoes are forecasted to increase at a high-value CAGR of 8.5% from 2023 to 2033.
Baseball shoes, also known as baseball cleats or spikes, are designed to provide athletes with the necessary traction and support required for optimal performance on the baseball field. Baseball is played not only at the professional level but also at youth, high school, and college levels. This aspect is primarily driving the demand for baseball shoes.
Advancements in shoe technology are transforming the baseball footwear market landscape. Modern baseball shoes enhance the performance of the players by providing benefits such as superior traction, comfort, and durability. Innovative features such as the use of lightweight materials, responsive cushioning, and advanced cleat patterns are making modern baseball shoes highly sought after by sports players.
Metal cleats, molded plastic cleats, turf/trainer cleats, and interchangeable cleats are some of the types of baseball shoes. Metal cleats are gaining traction in various sports, including baseball, soccer, and football. These cleats are characterized by metal spikes or studs on the sole, as opposed to molded or rubber cleats.
One of the primary reasons for the widespread popularity of metal cleats is their superior traction and grip. Several research studies have consistently demonstrated that metal spikes can penetrate grass, turf, or soil more effectively than rubber or molded cleats. This enhanced grip is particularly crucial in sports where quick changes in direction, acceleration, and deceleration are essential, such as baseball, soccer, and football.
Metal cleats tend to be more durable and long-lasting compared to their rubber or plastic counterparts. The metal spikes are less prone to wear and tear, making them a cost-effective choice for athletes who rely on their cleats for multiple seasons. This durability contributes to the popularity of metal cleats, especially among serious athletes who are looking for a long-term investment.
Nike is a global leader in the sports footwear industry and is well-known for its innovative sports shoe designs. It has a strong presence in the baseball and soccer shoe markets and is consistently producing metal cleats with advanced technologies.
Report Attributes
Details
Baseball Shoes Market Size (2023E)
US$ 3.17 Billion
Forecasted Market Value (2033F)
US$ 7.17 Billion
Global Market Growth Rate (2023 to 2033)
8.5% CAGR
Leading Regional Market
North America
Key Companies Profiled

Under Armour
Nike
Adidas
Mizuno Corporation
New Balance Inc.
Easton Sports, Inc.
Skechers
ASICS Corporation
3N2 LLC
Puma
Don't Need a Global Report?
save 40%! on Country & Region specific reports
What's Driving Sales of Baseball Shoes?
"Increasing Popularity of Baseball among Youth in Countries Outside North America"
Rising popularity of youth in baseball and other sports such as volleyball and football is driving the sales of baseball shoes. Youth leagues, school programs, and community organizations are witnessing an increased enrollment in baseball sports.
Baseball has consistently held a special place in the hearts of sports enthusiasts. The popularity of baseball is increasing across various regions of the globe, with increasing participation at various levels, from grassroots youth leagues to elite professional competitions.
Beyond the youth level, amateur and school-level baseball leagues offer competitions for players of varying skill levels. These leagues serve as platforms for aspiring athletes to explore their talents and showcase their skills. These players often need specialized footwear that not only enhances their performance but also offers durability to withstand the rigors of regular play. This is further boosting the demand for reliable and high-quality baseball cleats.
Professional baseball, represented by Major League Baseball (MLB) in the United States, holds a special place in the hearts of fans. Also, the visibility and popularity of professional baseball leagues, including MLB and Japan's Nippon Professional Baseball (NPB, is serving as a driving force behind the growth of the baseball shoes market.
"Advancements in Baseball Shoe Technology Enhancing Performance and Comfort"
Baseball shoes are witnessing a remarkable transformation over the years, due to advancements in shoe technology. These innovations are not only increasing the performance levels of athletes but also capturing the attention of consumers.
One of the most prominent advancements in baseball shoe technology is the integration of lightweight materials. Traditional cleats are often bulky and heavy, compromising agility and speed on the field. However, modern baseball shoes are manufactured using cutting-edge materials such as synthetic leather, engineered mesh, and lightweight composites to reduce the overall shoe weight without compromising on durability. Ongoing research and development efforts are leading to the creation of feather-light baseball cleats that allow players to move with agility and swiftness.
Comfort and impact absorption are also important components in sports footwear, and baseball is no exception. Innovative cushioning systems, such as responsive foam midsoles and strategically placed padding, are also being incorporated into baseball cleats. These technologies are not only enhancing the user's comfort but are also helping reduce the risk of injuries caused by repetitive movements and impact during play.
Several leading baseball shoe manufacturers are investing in extensive research initiatives to develop cleat patterns that optimize traction and grip on different playing surfaces. Improved baseball cleats are expected to feature multi-directional and variable-length studs, providing athletes with superior grip in various conditions, whether it is the grassy outfield, muddy infield, or artificial turf. All such factors are expected to boost baseball shoe sales during the next 10 years.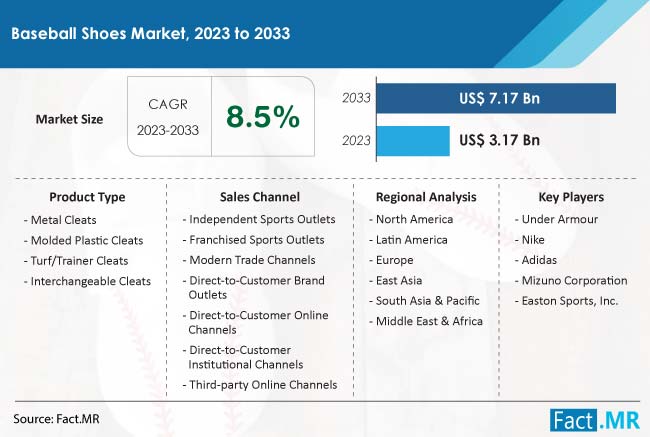 What is Hindering the Revenue Growth of Manufacturers of Baseball Shoes?
"Widespread Availability of Counterfeit Baseball Shoes"
The baseball shoe producers are thriving on innovation, competition, and brand reputation, but they are also facing a significant threat from counterfeit or imitation baseball shoes because they not only erode market integrity but also impact consumers, genuine brands, and the industry as a whole.
Counterfeit baseball shoes often mimic the logos, designs, and branding elements of genuine brands, leading consumers to believe they are purchasing authentic products. This deception hampers the goodwill of reputable brands that have invested heavily in product quality, innovation, and athlete endorsements. As consumers unknowingly purchase counterfeit baseball shoes and experience subpar performance or durability, they may attribute their negative experiences to genuine brands. Overall, imitation baseball shoes are a significant threat to the profits are well as goodwill of leading baseball shoe producers.
More Insights, Lesser Cost (-50% off)
Insights on import/export production,
pricing analysis, and more – Only @ Fact.MR
How are Start-ups Competing in the Baseball Shoes Industry?
"Focus on Competitive Pricing and Customization of Baseball Shoes"
Newcomers entering the baseball shoe trade may face strong competition from established brands, but they can employ various strategies to earn more and carve out a niche for themselves. Focusing on unique features or innovations in baseball shoe design can help new companies mark their presence. For example, creating cleats with a distinct technology or performance-enhancing feature can set a newcomer apart from competitors.
Identifying underserved niches can create potential growth opportunities for new entrants. For instance, producing specialized cleats may attract players with specific needs. Customization can create a unique selling proposition and foster a sense of ownership among buyers
Newcomers can offer competitive pricing to attract price-sensitive customers or young participants. Newcomers can gain a foothold in the market by providing value-for-money options without compromising on quality.
Country-wise Analysis
As per this industry analysis by Fact.MR, a market research and competitive intelligence provider, the factors driving the sales of baseball shoes in the United States, Germany, and Japan are influenced by a combination of cultural affinity for the sport, presence of professional leagues, youth development programs, and more. Fact.MR provides detailed information for manufacturers and retailers aiming to succeed in these countries in its latest report.
Why is the United States a Key Market for Baseball Shoes?
"High Baseball Participation in Prestigious Baseball Leagues"
The United States has a traditional baseball culture, with millions of participants across various age groups and levels. This extensive participation is fueling the demand for specialized baseball gear including shoes.
Presence of prestigious professional baseball leagues such as MLB and the American Association of Professional Baseball is generating immense enthusiasm among fans. Several fans try to mimic their favorite players and seek to emulate their gear such as baseball shoes, thus, all such factors are boosting baseball shoe sales growth.
What is Augmenting Demand for Baseball Shoes in Germany?
"Emerging Baseball Culture and Active Participation in International Baseball"
Although traditionally associated with soccer, the popularity of baseball is gaining traction in Germany. A growing number of clubs, leagues, and enthusiasts are creating burgeoning opportunities for baseball shoe producers.
Germany is home to one of Europe's largest baseball communities, with approximately 30,000 active players. Germany is also participating in international baseball actively. Around 44 German-born players have played in Major League Baseball from 1933 to 1999.
Why are Baseball Shoe Suppliers Generating Substantial Revenue in Japan?
"Popular Presence of Professional Baseball Leagues"
Baseball holds immense cultural significance in Japan, with a deeply rooted passion for the sport. This cultural connection drives consistent demand for baseball shoes, both for players and fans.
Japan boasts professional baseball leagues such as Nippon Professional Baseball (NPB), featuring legendary players. The popularity of NPB fosters an environment where fans aspire to wear the same shoes as their baseball heroes.
Know thy Competitors
Competitive landscape highlights only certain players
Complete list available upon request
Category-wise Analysis
Independent as well as franchised sports outlets, modern trade channels, direct-to-customer brand outlets, direct-to-customer online channels, direct-to-customer institutional channels, and third-party online channels are some of the channels used for the distribution of baseball shoes.
Independent sports outlets excel as prime sales channels for baseball shoes due to their diverse product range, specialized expertise, targeted customer base, and personalized services. Buy Fact.MR's detailed report for key insights of all sales channels.
Why Do Independent Sports Stores Serve as the Primary Distribution Channel?
"Enhanced Product Visibility in Sports Stores Leading to Wide Choice of Baseball Shoes"
Independent sports outlets dominate the global baseball shoes industry, holding a major share. Manufacturers are consistently striving to enhance the visibility of their products on store shelves, with a particular focus on sports stores. Consequently, a broader range of baseball shoe options is now readily accessible in independent sports stores. Furthermore, these independent retailers offer customers a wider selection of shoe varieties, discounts, and the advantage of immediate gratification, all contributing to the growth of the baseball shoes market.
Competitive Landscape
Leading producers of baseball shoes are investing heavily in research and development activities to introduce innovative baseball shoe designs and technologies. This includes lightweight materials, advanced cushioning systems, customizable options, and performance-enhancing cleat patterns. This move is helping key market players earn more and expand their market reach.
Under Armour is known for its commitment to producing high-performance sports gear. In the baseball shoes sector, it offers cleats designed for comfort and durability. The Under Armour Harper series, endorsed by Bryce Harper, is a notable product line gaining the attention of several baseball players.
Key Segments of Baseball Shoes Industry Research
By Product Type :

Metal Cleats
Molded Plastic Cleats
Turf/Trainer Cleats
Interchangeable Cleats

By Design Style :

By Sales Channel :

Independent Sports Outlets
Franchised Sports Outlets
Modern Trade Channels
Direct-to-Customer Brand Outlets
Direct-to-Customer Online Channels
Direct-to-Customer Institutional Channels
Third-party Online Channels

By Region :

North America
Latin America
Europe
East Asia
South Asia & Oceania
MEA
- FAQs -
The global baseball shoes market stands at US$ 3.17 billion in 2023.
Worldwide sales of baseball shoes are projected to reach US$ 7.17 billion by 2033.
The market for baseball shoes is set to expand at a CAGR of 8.5% from 2023 to 2033.
Under Armour, Nike, and Adidas are some of the leading producers of baseball shoes.
The United States and Japan account for high shares of the global market due to their traditional baseball culture.
Baseball cleats are made from synthetic leather and are designed to assist players in gaining traction when batting or throwing.