Major Leagues Baseball is deemed as the second most popular sport In the U.S, as per the survey carried out by The Harris Poll. The popularity of baseball has further been gaining significant traction in Europe, supported by an exceptional performance of Netherlands in the 2013 World Baseball Classic League. Introduction of many new baseball tournaments, emerging trend, has been fuelling participation in baseball. These tournaments, which aim at enhancing the popularity of baseball globally, are in turn creating huge demand for baseball apparel. With the number of participants increasing in the sport at various levels, baseball has become one of the lucrative platforms for sales of custom-printed apparel, and this trend is expected to prevail in the foreseeable future. Current technological innovations in the market aim at enhancement of apparel performance and player comfort, along with an ability to make a robust style statement. Among noteworthy material and fabric innovations in baseball apparel is incorporation of the smart nanotechnology-based fabrics, which are capable of trapping and suspending moisture for keeping the player dry.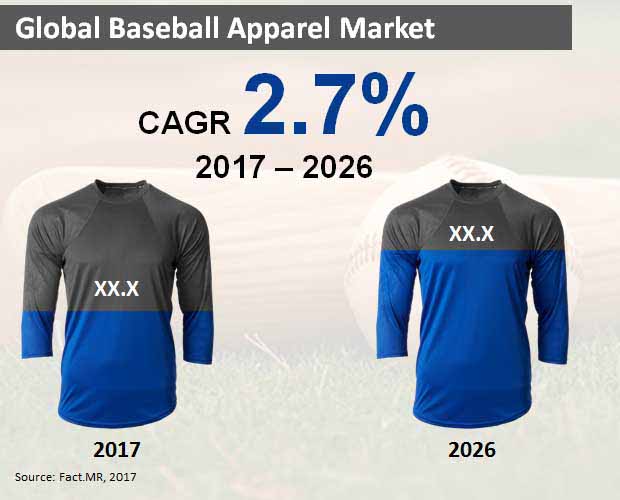 A recently published report of Fact.MR has envisaged a CAGR of 2.7% for the global baseball apparel market during the forecast period 2017 to 2026. Sales of baseball apparel around the world are estimated to exceed US$ 500 Mn in revenues by 2026-end.
Market Taxonomy
| | | | |
| --- | --- | --- | --- |
| Region | Product Type | Sales Channel | Buyer Type |
| North America | Shirt | Independent Sports Outlet | Individual |
| Latin America | Pant | Franchised Sports Outlet | Institutional |
| Europe | Sliding Shorts | Modern Trade Channels | Promotional |
| Japan | Caps & belts | Direct to Customer Brand Outlet | |
| APEJ | Other | Direct to Customer Online Channel | |
| MEA | | Direct to Customer Institutional Channel | |
| | | Third Party Online Channel | |
(Additional information, including cross-sectional data and country-wise analysis & forecast is available in the report)
North America will Remain Dominant in Global Baseball Apparel Market
In North America, participation rate in baseball is witnessing a significant upsurge in light of options available to youth in the selection of baseball as their profession. Numerous individuals in the region have showcased huge interest in the sport since the recent past, thereby stoking demand for baseball apparel. The report slates North America to remain the fast-expanding and the most remunerative market for baseball apparel.
The escalating wages of baseball players coupled with surging popularity of this sport have enabled larger spending on the baseball apparel. Shirt will remain the leading revenue contributor to the baseball apparel market, on the back of various advancements in fabrics and customization options in designs.
Modern trade channels and third party online channels enable baseball players to select from a wide variety of apparel brands, along with the provision of discounts on several brands. These two sales channel are anticipated to spearhead the baseball apparel market globally, in terms of revenues.
Based on buyer type, individual buyers will continue to account for the largest market revenue share, followed by institutional buyers. Promotional buyers are expected to hold a very small revenue share of the market during the forecast period.
Competition Tracking
A few major players hold dominance in global market for baseball apparel. Although there are only few major vendors, the market's nature is highly fragmented owing to the occupancy of many local & regional vendors. Competition in the global baseball apparel market will intensify, thereby driving manufacturers to make product advancements in the foreseeable future. Prominent players identified by the report who are sustaining expansion of global baseball apparel market include Nike, SSK, Nokona, Wilson (Amer Sports), Mizuno, Under Armour, Zett, Louisville Slugger, Rawlings (Jarden), and Easton.
Note: The insights mentioned here are of the respective analysts, and do not reflect the position of Fact.MR
Growth of the global baseball apparel market is expected to remain influenced by the innovations in fabric material, and introduction of new tournaments. Additionally, various development programs are being undertaken by the MLB for increasing the rate of participation in the sport, which in turn will fuel demand for baseball apparel in the upcoming years. The report, compiled by Fact.MR, provides in-depth analysis of the global baseball apparel market for the forecast period 2017-2026, and offers key insights about future market direction.
Scope
The scope of Fact.MR's report is to analyze the global baseball apparel market for the forecast period 2017-2026 and provide readers an unbiased and accurate analysis. Manufacturers, stakeholders, and suppliers of baseball apparel in the global sports industry can benefit from the analysis offered in this report. This report offers a comprehensive analysis, which can be of interest to leading trade magazines and sports journals.
Summary
The report commences with a brief information of the global baseball apparel market. This executive summary sets the tone for the rest of the report, providing users the scope of the report. The executive summary includes important facts and statistics on the global baseball apparel market.
Overview
The next section offers an overview of the baseball apparel market. This comprises an introduction to the market, along with a standard definition of the product – baseball apparel. In this section, market value and year-over-year growth is offered to the readers. Year-over-year growth provides readers with a broader view of growth patterns over the forecast period.
The report's succeeding section focuses on drivers, restraints and key trends from macroeconomic, demand, and supply perspectives. Impact analysis of weighted average model-based growth drivers is contained in the report for better provision of decision-making insights to clients.
In order to offer readers with up-to-date information about the latest advancements in the global baseball apparel market, the report provides updates about market opportunities, which can benefit leading manufacturers of baseball apparel. With continuous evolution of the sports industry, keeping a record of latest developments and trends is fundamental for baseball apparel manufacturers to formulate key business strategies. Detailed insights about raw material sourcing, supply chain, pricing analysis, list of distributors, and cost structure are provided in this section.
Considering wide scope of the global market for baseball apparel, and to provide in-depth insights, Fact.MR's report offers segment-wise analysis and forecast. The global baseball apparel market has been categorized on the basis of product type, sales channel, buyer type, and region. This segmentation analysis is comprehensive, along with a detailed country-wise forecast provided on all parameters.
The report's last section comprises of the global baseball apparel market competitive landscape, to provide readers with the dashboard view of company analysis and market players. This competitive intelligence is based on the providers' categories across value chain, and their presence in the global baseball apparel market.
Research Methodology
Fact.MR is committed to offer unbiased and independent market research solutions to its clients. Each market report of Fact.MR is compiled after months of exhaustive research. We bank on a mix of tried-and-tested and innovative research methodologies to offer the most comprehensive and accurate information. Our main sources of research include,
Primary research
Secondary research
Trade research
Focused interviews
Social media analysis
Fact.MR offers custom research services that help clients to get specific research solutions
We are committed towards customer satisfaction and quality service.
---
Our Clients

Baseball Apparel Market Forecast, Trend Analysis & Competition Tracking - Global Market insights 2017 to 2026