Agricultural Sprayers Market
Agricultural Sprayers Market Analysis By Product Type (Handheld, Self-propelled, Tractor-mounted, Trailed, Aerial), By Capacity (Ultra-low Volume, Low Volume, High Volume), By Power Source (Battery-operated, Fuel-operated, Manual, Solar, Electric), By Nozzle Type (Hydraulic Nozzles, Gaseous Nozzles, Centrifugal Nozzles, Thermal Nozzles), By Usage (Field Sprayers, Orchard Sprayers, Gardening Sprayers) & By Region - Global Market Insights 2023 to 2033
Analysis of Agricultural Sprayers Market Covering 30+ Countries Including Analysis of US, Canada, UK, Germany, France, Nordics, GCC countries, Japan, Korea and many more
Agricultural Sprayers Market Outlook (2023 to 2033)
The global market for agricultural sprayers has reached a value of US$ 2.14 billion in 2023. Fact.MR predicts the market to climb to a size of US$ 3.84 billion by 2033, expanding at a CAGR of 6% over the next ten years.
Agricultural sprayers are an essential component of modern farming practices, used for the application of various substances such as pesticides, herbicides, fungicides, fertilizers, and growth regulators to crops. These sprayers are designed to improve plant health, protect crops from pests and diseases, and enhance the overall yield and quality of agricultural produce. They play a crucial role in ensuring the success and productivity of agricultural operations.
Handheld, self-propelled, tractor-mounted, trailed, and aerial are some of the common types of agricultural sprayers. Self-propelled agricultural sprayers are highly demanded by end users due to their advanced features. Sales of self-propelled agricultural sprayers are predicted to expand at a CAGR of 6.5% over the next 10 years. Self-propelled sprayers offer significant advantages in terms of efficiency and saving time. They are equipped with advanced technologies and features such as modified nozzle designs, automated boom controls, and variable rate application capabilities. These features allow farmers to cover large fields quickly and accurately, reducing the time required for spraying operations. By minimizing the time spent on spraying, farmers can focus on other essential tasks, increasing overall productivity.
The ability of self-propelled sprayers to apply chemicals precisely and evenly helps in reducing waste, optimizing chemical use, and minimizing the risk of over-spraying or under-spraying, resulting in better crop protection and increased profitability.
The Agricultural Technology National Institute (INTA) reports that contractors possess 65% of the self-propelled sprayers used to apply 85% of the pesticides in the United States.
Demand for self-propelled agricultural sprayers is also booming due to their ability to efficiently cover large areas of farmland. The availability of self-propelled sprayer models with suitable tank capacities is expected to enhance farmers' ability to navigate tight operating schedules and handle demanding field conditions during different crop stages. These advancements are anticipated to generate favorable growth opportunities for the producers of agricultural sprayers over the forecast period.
Report Attributes
Details

Agricultural Sprayers Market Size (2023E)

US$ 2.14 Billion

Forecasted Market Value (2033F)

US$ 3.84 Billion

Global Market Growth Rate (2023 to 2033)

6% CAGR

United Kingdom Market Value (2033F)

US$ 122.86 Million

United States Market Value (2033F)

US$ 779.45 Million

Brazil Market Growth Rate (2023 to 2033)

4.7% CAGR

China Market Growth Rate (2023 to 2033)

6.7% CAGR

India Market Growth Rate (2023 to 2033)

9% CAGR

Key Companies Profiled

Amazone H. Dreyer GmbH & Co. KG
AGCO Corporation
Bucher Industries AG
Buhler Industries Inc. (Rostselmash)
CNH Industrial N.V.
Deere and Company
EXEL Industries
Jacto Inc.
KUBOTA Corporation
Mahindra and Mahindra Limited
STIHL
Yamaha Motor Co., Ltd.
Crystal Crop Protection Limited
Househam Sprayers Limited
John Rhodes AS Limited
Boston Crop Sprayers Limited
Avison Sprayers
ASPEE India
Taizhou Sunny Crop Machinery Co., Ltd.
Zhejiang Ousen Machinery Co. Ltd.
Foggers India Pvt. Ltd.
Don't Need a Global Report?
save 40%! on Country & Region specific reports
Why is Usage of Agricultural Sprayers Increasing at a Fast Pace?
"Agricultural Sprayer-Crucial Farming Equipment"
Agricultural sprayers play a crucial role in enhancing farm efficiency and increasing crop productivity. Farmers and agricultural enterprises allocate their time, finances, and resources to achieving farming objectives and maximizing crop yields.
The period between planting to harvesting is a critical phase in crop production. To safeguard young crops against weed growth, pests, and insect infestations, farmers use various chemical solutions. Agricultural sprayers have emerged as essential tools for effectively applying these chemicals.
Spraying is a frequent and vital activity in agriculture, involving the application of herbicides, fungicides, and insecticides. Farmers are increasingly transitioning from conventional spraying techniques to modern spraying methods and innovative agrochemicals. This shift, along with the rising demand for liquid-based agrochemicals, is expected to drive the need for agricultural sprayers over the coming 10 years. Moreover, the global rise in the popularity of turf sprayers, portable power sprayers, air-assisted sprayers, and unmanned aerial vehicle (UAV) sprayers is boosting growth in the agricultural sprayers market.
"Introduction of Technologically Advanced Driverless Agricultural Sprayers"
Agricultural sprayer market players are witnessing healthy growth opportunities globally due to the emergence of various technologies such as drones and driverless sprayers. Drones, equipped with advanced sensors such as accelerometers, global positioning system (GPS) modules, powerful processors, and digital radios offer valuable information to farmers.
They assist in pest and disease scouting and enable mid-field weed identification. Moreover, the integration of GPS and geographic information system (GIS) technologies simplifies yield mapping and allows farmers to work in challenging weather conditions such as rain, fog, and dust.
To meet the increasing demand for technology-driven solutions, certain companies, including ASPEE and GUSS, are actively investing in research and development efforts to enhance their product offerings. These investments aim to introduce advanced agricultural sprayers over the coming 10 years.
"Shift towards Sustainable Agricultural Devices & Equipment for Long-term Financial Benefits"
Electric and battery-powered agricultural sprayers are innovative and sustainable alternatives to traditional agricultural sprayers. These sprayers utilize electric motors and batteries to power the spraying mechanism, offering numerous advantages in terms of efficiency, environmental impact, and operational flexibility.
Battery-powered and electric sprayers are highly efficient due to their precise control mechanisms. They allow farmers to adjust the spray volume, droplet size, and spray pattern according to specific crop requirements, resulting in improved targeting and reduced waste. This level of precision helps optimize the use of pesticides, fertilizers, and other agrochemicals, leading to better crop protection and increased yield potential.
While the initial investment for electric and battery-powered sprayers may be higher, they offer long-term cost savings. These sprayers have lower maintenance requirements as they lack complex fuel systems, oil changes, and spark plugs.
What are the Challenges Faced by Manufacturers of Agricultural Sprayers in Underdeveloped & Developing Regions?
"Price Barrier & Knowledge Gap Restraining Sales of Agricultural Sprayers"
Rapid pace of technological advancements poses both opportunities and challenges for agricultural sprayer producers. While innovative technologies such as precision agriculture, automation, and sensor-based systems enhance sprayer efficiency and effectiveness, keeping up with these advancements and incorporating them into sprayer designs can be a challenge.
Along with this, high prices of technologically advanced agricultural sprayers are expected to hamper product demand. The majority of farmers from developing countries find it difficult to invest in advanced agricultural equipment.
Over the next decade, sales of agricultural sprayers are likely to face hindrances to some extent in underdeveloped economies due to the lack of knowledge among farmers regarding the use of technological equipment and limited capital availability.
More Insights, Lesser Cost (-50% off)
Insights on import/export production,
pricing analysis, and more – Only @ Fact.MR
Which Strategies are Adopted by New Companies to Get a Foothold in the Market?
"Offering Affordable & Cost-effective Advanced Agricultural Sprayers to Majority of Farmers"
To earn a steady position in the agricultural sprayers market, newcomers are producing cost-effective advanced agricultural sprayers. Some farmers across the globe are not able to buy technologically advanced agricultural sprayers due to their tight financial budgets. Also, in developing regions, some farmers are unaware of agricultural sprayers and the latest farming technologies. New manufacturers of agricultural sprayers should focus on basic awareness of sprayers and their usage.
Developing a strong brand presence through targeted marketing and promotion efforts helps start-up companies to achieve a steady market position. New entrants should also utilize online platforms, social media, industry publications, and trade shows to create awareness about their products. These tactics may help new producers of agricultural sprayers to capture the attention of potential customers.
Rantizo, established in 2018, offers drone spraying services for agricultural applications. It provides a platform for farmers to schedule and manage aerial spraying operations using its fleet of agricultural drones.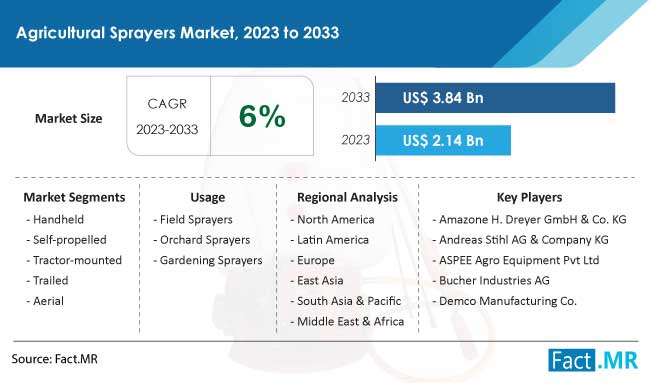 Country-wise Analysis
Why are Sales of Agricultural Sprayers Increasing Rapidly in India?
"Supportive Initiatives by Several Financial & Agricultural Institutes"
Sales of agricultural sprayers in India are predicted to expand at a CAGR of 9% from 2023 to 2033, reaching a valuation of US$ 879.28 million by the end of the forecast period. This is due to the growing demand for agricultural products, the widespread adoption of modern agricultural equipment, and the significant presence of producers and suppliers of agricultural equipment.
Growing support from both government and private organizations to farmers and agricultural equipment manufacturers is positively influencing sales of agricultural sprayers in the country.
In India, agricultural institutions such as the Indian Council of Agricultural Research are actively providing financial support in the form of incentives to start-ups involved in the development of robotic sprayers and self-operated drones. These innovative technologies aim to protect and restore plantations from diseases and pests.
Several banks are also offering loans and subsidies to farmers for the procurement of agricultural devices and equipment. This financial assistance is also fueling sales of agricultural sprayers in India.
Why is Demand for Agricultural Sprayers Increasing in the United States?
"Declining Arable Land Driving Need for Advanced Agricultural Sprayers"
Demand for agricultural sprayers in the United States is anticipated to increase at a CAGR of 6.2% over the forecast period. This can be due to the increasing popularity of driverless sprayers, the availability of technologically innovative and advanced farm equipment, and evolving farming methods.
An additional factor that is anticipated to boost agricultural sprayer sales in the United States during the forecast period is the decrease in arable land across the country.
According to the United States Department of Agriculture (USDA), the total number of farms in the country has reduced from 2.20 million in 2007 to 2.02 million in 2020.
With diminishing arable land and growing demand for food products, farmers are turning to advanced agricultural equipment such as sprayers to enhance crop performance and combat threats posed by pests and insecticides. This trend will continue to drive significant demand for agricultural sprayers over the next decade.
The presence of prominent agricultural sprayer manufacturers such as AGCO Corporation and Deere and Company is also benefitting the agricultural sprayer sales growth in the country. These leading companies are focused on developing customer-centric solutions with advanced features. Moreover, the increasing demand for orchard sprayers and the rising adoption of unmanned aerial vehicles (UAVs) for chemical spraying is predicted to have a positive impact on the growth of the market in the United States during the projected period.
Will the United Kingdom Be a Prosperous Market for Suppliers of Agricultural Sprayers?
"Swiftly Growing Farming Activities Propelling Demand for Agricultural Sprayers"
Agricultural sprayer sales in the United Kingdom are projected to reach US$ 122.86 million By 2033. This is due to the rapidly increasing farming activities. The adoption of new technologies and farm robotics is also gaining traction in the agrarian areas of the United Kingdom.
Farmers in the country are focusing on land mergers for high productivity. Thus, they are actively seeking agricultural sprayers with larger capacities, which can effectively reduce the time required for tank refills.
Know thy Competitors
Competitive landscape highlights only certain players
Complete list available upon request
Category-wise Analysis
Why is Demand for Field Sprayers So High?
"Rising Need for Effective Agricultural Techniques Bolstering Field Sprayer Sales"
According to Fact.MR, a market research and competitive intelligence provider, sales of field sprayers are likely to rise at a CAGR of 6.8% from 2023 to 2033.
Field sprayers are essential tools in agriculture for the effective application of pesticides, herbicides, and fertilizers. They allow farmers to efficiently and evenly distribute chemicals on crops, thereby improving crop health and yield. They also help control pests and diseases that can significantly impact crop production. By providing targeted and timely application of insecticides and fungicides, sprayers help to protect crops from damage and minimize losses.
Another factor driving the demand for field sprayers is the increasing adoption of precision agriculture techniques. These sprayers are often equipped with advanced technologies such as GPS, sensors, and automated systems, allowing for precise and efficient application of agrochemicals. Precision agriculture helps optimize resource utilization, reduce chemical wastage, and minimize environmental impact.
Competitive Landscape
Leading agricultural sprayer companies are adopting several organic and inorganic marketing tactics to gain profits. Prominent market players are expanding their product portfolios to meet a wide range of customer needs. This includes offering sprayers of different sizes, capacities, and functionalities to accommodate various farming operations. By providing a comprehensive product range, companies are expected to capture a larger market share and cater to diverse customer requirements.
DJI introduced the AGRAS T40 in October 2022. It has a cutting-edge coaxial twin-rotor architecture that enables it to handle a spread load of 50 kg (70 L) and a spray load of 40 kg.
Key Segments of Agricultural Sprayers Industry Research
By Product Type :

Handheld
Self-propelled
Tractor-mounted
Trailed
Aerial

By Capacity :

Ultra-low Volume
Low Volume
High Volume

By Power Source :

Battery-operated
Fuel-operated
Manual
Solar
Electric

By Nozzle Type :

Hydraulic Nozzles
Gaseous Nozzles
Centrifugal Nozzles
Thermal Nozzles

By Usage :

Field Sprayers
Orchard Sprayers
Gardening Sprayers

By Region :

North America
Latin America
Europe
East Asia
South Asia & Oceania
MEA
- FAQs -
The global agricultural sprayers market is valued at US$ 2.14 billion in 2023.
Sales of agricultural sprayers are predicted to increase at a CAGR of 6% from 2023 to 2033.
Worldwide sales of agricultural sprayers are projected to reach US$ 3.84 billion by 2033.
Increasing at a CAGR of 6.5%, self-propelled agricultural sprayers are highly sought after due to their advanced features.
Sales of agricultural sprayers in the U.S. are expected to reach US$ 779.45 million by 2033.