Fibrosarcoma is cancer, which is a part of larger collection of cancers known as sarcomas. Fibrosarcoma is generally treated with the help of chemotherapy. Meanwhile, some fibrosarcoma is not treatable with chemotherapy, especially in the case where cancer has spread to the parts like liver. In order to treat such type of cancers, researchers are focusing on developing targeted therapies. These targeted therapies attempt to capitalize on the biological characteristic of a cancer cell to eradicate the tumor. This is the factor that will make targeted therapy more effective than the traditional treatments. There are two important reasons for the development of targeted therapy. One is that it targets only cancer cells and kills it, while normal cells can spread. Second is that it provides effective treatment with minimum side-effects. Pharmaceutical companies are also focusing on research and development of drugs that can be effective in the treatment of fibrosarcoma and other types of sarcomas.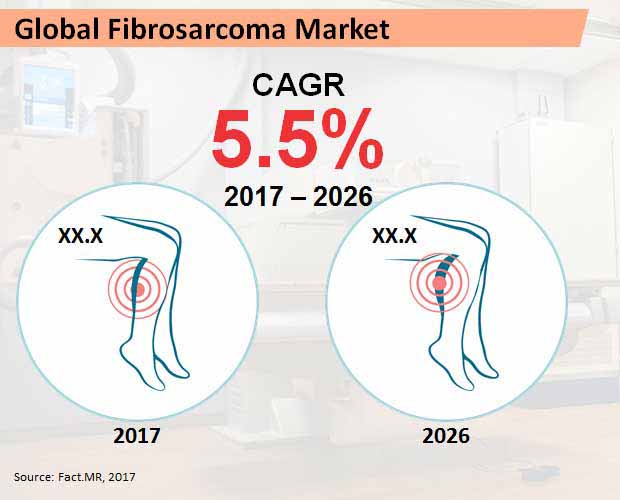 As per the new report by Fact.MR, the global fibrosarcoma market is likely to witness steady growth between 2017 and 2026. The market is estimated to reach US$ 442.4 million revenue by 2026 end. Owing to the increasing prevalence of cancer, the use of cancer treatment drugs along with the radiotherapy and chemotherapy is witnessing a significant growth. However, increasing use of radiotherapy to treat various cancers is resulting in the fibrosarcoma. This is leading to the growth in the research activities to find out an effective way to treat cancer.
Market Taxonomy
| | | |
| --- | --- | --- |
| Treatment Type | End User | Distribution Channel |
| Chemotherapy | Hospitals | Hospital Pharmacy |
| Radiation Therapy | Clinics | Retail Pharmacy |
| Surgery | Specialized Cancer Treatment Centers | E-Commerce |
| Other Therapy | Other End Users | Other Distribution Formats |
(Additional information, including cross-sectional data and country-wise analysis & forecast is available in the report)
Chemotherapy to Emerge as the Highly Preferred Treatment Type
Among various treatment types such as radiation therapy, surgery, and others, chemotherapy is likely to emerge as the highly preferred treatment for fibrosarcoma. Chemotherapy is estimated to surpass US$ 100 million by 2026 end. A chemotherapy is done before surgery in case if the cancer is large but has not spread. This helps in reducing fibrosarcoma and also helps in avoiding much surgery.
Hospitals to Gain Maximum Revenue Share
Hospitals are likely to witness the highest growth between 2017 and 2026. Hospitals are estimated to gain nearly two-fifth of the revenue share by 2017 end. Hospitals are also estimated to create an incremental opportunity of nearly US$ 100 million between 2017 and 2026. Increasing investment by governments in various countries towards the development of healthcare infrastructure is contributing towards the significant growth of the hospitals with technically advanced treatments.
Hospital Pharmacy to Emerge as One of the Largest Distributors
Hospital pharmacy is likely to be one of the largest distribution channels in the global fibrosarcoma market during 2017-2026. Hospital pharmacy is projected to bring in nearly US$ 200 million revenue towards 2026 end. Hospital pharmacy in many countries is emerging as the biggest distributors of the drugs used in treating cancer. Moreover, availability of various drugs and government support are also resulting in the growth of the hospital pharmacy as a distribution channel.
Competition Tracking
The report offers information on the key companies that are likely to play an active role in the expansion of global fibrosarcoma market through 2026, which include Cadila Pharmaceuticals Limited, Celon Laboratories Limited, Bristol-Myers Squibb Company, Dr. Reddy's Laboratories Limited, Sun Pharmaceutical Industries Limited, Novartis AG, Baxter International Inc., Eli Lilly and Company, Pfizer Inc., and Johnson & Johnson.
Note: The insights mentioned here are of the respective analysts, and do not reflect the position of Fact.M
Fibrosarcoma is a type of tumor derived from fibrous connective tissue. It originates in fibrous tissue of bone and invades long or flat bones. Currently, there are very few ways to treat fibrosarcoma. However, research is being done to find out the best treatment for fibrosarcoma without any complications. Also, the research is ongoing for the treatment for fibrosarcoma that don't respond to radiotherapy or chemotherapy. This Fact.MR report analyzes the expansion of global fibrosarcoma market till date, and provides key insights on the growth of the market during the forecast period, 2017-2026.
Scope
The scope of Fact.MR's report is to analyze the global fibrosarcoma market for the forecast period 2017-2026 and provide readers an unbiased and accurate analysis. Medical device manufacturers, research institutes, and raw material suppliers in the global fibrosarcoma market can benefit from the analysis offered in this report. This report offers a comprehensive analysis, which can be of interest to leading trade magazines and medical journals pertaining to fibrosarcoma.
Summary
The report commences with a brief information of the global fibrosarcoma market. This executive summary sets the tone for the rest of the report, providing users the scope of the report. The executive summary includes important facts and statistics on the global fibrosarcoma market.
Overview
The next section offers an overview of the global fibrosarcoma market. This comprises an introduction to the market, along with a standard definition of the product – fibrosarcoma. In this section, market value and year-over-year growth is offered to the readers. Year-over-year growth provides readers with a broader view of growth patterns over the forecast period.
The report's succeeding section focuses on drivers, restraints and key trends from macroeconomic, demand, and supply perspectives. Impact analysis of weighted average model-based growth drivers is contained in the report for better provision of decision-making insights to clients.
In order to offer readers with up-to-date information about the latest advancements in the global fibrosarcoma market, the report provides updates about market opportunities, which can benefit leading manufacturers of fibrosarcoma. With continuous evolution of the healthcare sector, keeping a record of latest developments and trends is fundamental for fibrosarcoma manufacturers to formulate key business strategies. Detailed insights about raw material sourcing, supply chain, regulatory approvals, pricing analysis, list of distributors, and cost structure are provided in this section.
Considering the wide scope of the global fibrosarcoma market, the report by Fact.MR offers an in-depth and segment-wise analysis and forecast. The global fibrosarcoma market is segmented into treatment type, end user, distribution channel, and region. The segment-wise analysis also provides detailed country-wise forecast by considering all the key parameters of the global fibrosarcoma market.
The report's last section comprises of the global fibrosarcoma market competitive landscape, to provide readers with the dashboard view of company analysis and market players. This competitive intelligence is based on the providers' categories across value chain, and their presence in the global fibrosarcoma market.
Research Methodology
Fact.MR is committed to offer unbiased and independent market research solutions to its clients. Each market report of Fact.MR is compiled after months of exhaustive research. We bank on a mix of tried-and-tested and innovative research methodologies to offer the most comprehensive and accurate information. Our main sources of research include,
Primary research
Secondary research
Trade research
Focused interviews
Social media analysis
Fact.MR offers custom research services that help clients to get specific research solutions
We are committed towards customer satisfaction and quality service.
---
Our Clients

Fibrosarcoma Market Forecast, Trend Analysis & Competition Tracking - Global Market insights 2017 to 2026