Electron Microscopes Market Outlook (2023-2033)
Worldwide sales of electron microscopes are forecasted to rise at a CAGR of 7.2% from 2023 to 2033. As such, the global electron microscopes market is set to increase in value from US$ 3 billion in 2023 to US$ 6 billion by the end of 2033. Demand for scanning electron microscopes is expected to surge at a CAGR of 8% over the forecast period due to the growing need to study external morphology.
Various educational institutions are increasingly witnessing high demand for nanotechnology and electron microscopy to offer enhanced quality of learning. Rise in the adoption of electron microscopes for conducting research and manufacturing processes is further expected to positively impact market growth.
Due to the rising demand for advanced and magnified image output of objects up to several nanometers, the global market for electron microscopes is expanding at a brisk pace. An electron microscope produces a significantly more enlarged and detailed output than an optical microscope. These microscopes use an electron-optical lens to produce an image of an object with a magnification of up to 10,000,000X on a shorter wavelength.
The collection of data on bacteria, cells, biopsy samples, and other objects is an effective use of an electron microscope. The market has expanded due to its use in the healthcare sector. Other devices, including those for material research, data storage, and biology and life science also employ electron microscopes.
The need for microscopes that allow end users to observe a magnified version of the cells and other materials under inspection has expanded due to an increase in biological and biotechnological research. Furthermore, producers have chosen transmission electron microscopes as a result of an increase in demand for microscopes with advanced technology.
Advanced production of automobile and automotive parts has led to a rise in demand for equipment that allows a magnified and detailed view of the images. As the need to capture detailed images of the sheet metals used for the production of vehicles arise, manufacturers are increasingly shifting their focus from conventional microscopes to electron microscopes. Accurate details of the materials used during the production of automotive products are expected to enhance the production process significantly.
In addition, the adoption of electron microscopes also provides access to three-dimensional images in various industries. Access to detailed images enables manufacturers to opt for appropriate manufacturing materials to ensure the stability and robustness of the products. The huge demand for electron microscopes in the automotive industry is expected to impact the growth of the global market positively.
The advantages of electron microscopy compared to other analytical methods such as bulk spectroscopy or electrical testing have given rise to new revenue-generating prospects for the market. Due to their descriptive character and capacity to present visuals of materials that are closely related to their composition, structure, and morphology, they are also well-suited for detecting spatial heterogeneities. In the development of complex software for the industrial sector and the fabrication of semiconductors, this is crucial.
The electron microscopes market will see new growth opportunities thanks to a surge in the demand for ultra-high-resolution imaging across industry sectors, including medical sciences, new energy, and the environment.
Report Attributes

Details

Electron Microscopes Market Size (2023)

US$ 3 Billion

Projected Market Value (2033)

US$ 6 Billion

Global Market Growth Rate (2023-2033)

7.2% CAGR

Market Share of Scanning Electron Microscopes

50%

Key Companies Profiled

JEOL Ltd.
Hitachi
Carl Zeiss AG
TESCAN
COXEM
Agilent Technologies
Unisoku Co. Ltd.
Thermo Fisher Scientific.
Delong America Inc. 
Know thy Competitors
Competitive landscape highlights only certain players
Complete list available upon request
Which Market Factors are Driving Demand for Electron Microscopes?
"Increasing Need for Technologically Advanced Magnification Equipment"
The market is expanding due to a variety of applications and a rising demand for technologically advanced magnification equipment. Devices for magnification and visualization are essential to the microscopy sector.
Demand for electron microscopes would increase due to technological advancements in capabilities such as faster processing and efficient sample preparation methods over the coming years. Demand from a variety of application segments will be fueled by the integration of recent innovations with display modalities to enhance high-definition and 3-dimensional visuals.
A cutting-edge tool for identifying cancer cells was recently created by the California NanoSystems Institute by fusing a microscope and artificial intelligence (AI). This device is touted as being more effective than the other commercially available methods.
"Growing Need for Root-cause Failure Analysis"
One of the major reasons influencing the growth of the electron microscope market is the increasing demand for root-cause failure analysis. The complexity of producing integrated circuits (ICs) and printed circuit boards has increased as a result of technological advancements in the global semiconductor market and embedded systems (PCBs). To enable high-end applications, chip and board manufacturers and designers are creating high-density solutions.
Finding the main reason why a product fails enables businesses to fix the problems found and increase production and efficiency. In the 3D building of biological structures such as proteins and viruses as well as in the industrial and automotive industries, root-cause failure analysis is applied. These uses are anticipated to remain in demand, which will raise the need for scanning probe microscopes.
The need for conducting biological and biotechnological research has led to increasing demand for microscopes that allow end users to view a magnified version of the cells and other elements under examination. In addition, the high demand for microscopes equipped with enhanced technology has led manufacturers to opt for transmission electron microscopes (TEM).
What are the Challenges Faced by Electron Microscope Providers?
"High Production Costs and Lack of Skilled Professionals"
Modern telescopes are expensive, complex pieces of equipment that must be operated by skilled experts. A person using a modern microscope might need to be knowledgeable in surface physics and related areas. The process can be hampered by a lack of skilled staff, which puts the microscopes at risk for accidents.
The main issues limiting the expansion of the electron microscope market are high production costs and high excise tariffs. Customs duties on electron microscopes are just one example of the hefty taxes and import duties that many governments impose. Because of this, the final product's price goes up.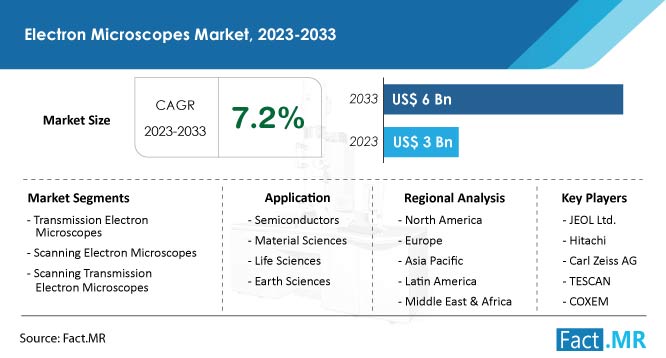 How Can New Companies Increase their Revenue Share?
"New Entrants Should Focus on R&D initiatives to Offer Advanced Products"
Aspiring market players are focusing on R&D initiatives and mergers and alliances for product innovations.
A proprietary platform created by a Vancouver start-up Gandeeva Therapeutics characterizes protein-drug interactions at the atomic level using cutting-edge technologies from the fields of biochemistry, structural biology, imaging, and machine learning. This platform aims to offer new perspectives on the therapeutic targeting of protein function. Gandeeva Therapeutics raised US$ 40 million in a series A funding program to enhance the development of machine learning and cryo-EM as drug discovery tools.
More Insights, Lesser Cost (-50% off)
Insights on import/export production,
pricing analysis, and more – Only @ Fact.MR
What Makes North America a Leading Regional Market for Electron Microscope Suppliers?
"Rapid Integration of Advanced Technology in Electron Microscopes in North America"
North America currently holds the highest market share due to the widespread use of cutting-edge technology, better health insurance, and rising demand for electron microscopes that provide high-quality imaging and magnification.
Country-wise Insights
How is the Market for Electron Microscopes Progressing in South Korea?
"High Usage of Microscopes in Life Sciences"
Rapid expansion of the medical tourism industry, growing R&D expenditures, the accessibility to low-cost components and labor for manufacturing, the high usage of microscopes in life sciences, and the establishment of research centers are boosting market expansion in South Korea.
Why are Sales of Electron Microscopes High in Germany?
"Accessibility of Best Healthcare Facilities in Germany"
Market growth in Germany is attributed to the presence of numerous industries, the accessibility of the best healthcare facilities, and the top electron microscope producers.
It is anticipated that demand for electron microscopes would increase due to the booming manufacturing and electronic product industries, as well as the expansion of healthcare institutions.
How is Japan Aiding Market Growth in Asia Pacific?
"Increasing Investments in R&D by Top Companies in Japan"
The rising need for root-cause failure analysis, the significant investments in R&D by leading companies, and the rapidly expanding healthcare infrastructure are the factors driving market value in Japan. The need for electron microscopes in Japan is also predicted to increase due to the thriving R&D sector.
Will the U.S. Continue to Lead Demand for Electron Microscopes?
"High Presence of Academic & Research Institutions in the U.S."
The innovation system heavily relies on research-based activities in the pharmaceutical and biotechnology sectors, and this is anticipated to increase demand for scanning electron microscopes in the U.S. over the projected period.
The presence of academic and research institutions and the substantial volume of clinical trials conducted are driving market expansion in the U.S.
Category-wise Insights
Why Do Scanning Electron Microscopes Account for Most Revenue Generation?
"Scanning Electron Microscopes More Preferred Owing to Their High Magnification"
Based on product, the market is classified into transmission electron microscopes, scanning electron microscopes, and scanning transmission electron microscopes. Scanning electron microscopes hold around 50% of the global market. Because they offer a 3D image, SEMs help observes the size and shape of specimens.
Expanding applications in chemistry and material sciences are boosting the sales of scanning electron microscopes. They are increasingly used as research tools in end-use sectors due to their high magnification and high resolution. Market growth is boosted by the growing usage of SEMs in various disciplines of research and chemical analysis.
Which Application Accounts for High Demand for Electron Microscopes?
"Electron Microscopes Widely Used to Inspect Semiconductors throughout Manufacturing Process"
Based on application, the market is divided into semiconductors, material sciences, life sciences, and earth sciences.
Currently, semiconductors account for 40% share of the global market. The semiconductor industries widely use electron microscopes to inspect semiconductors throughout the manufacturing process and investigate IC failure and circuit edits. The microscope offers a 3D view of any specimen, allowing for rapid measurement of any semiconductor sample.
The demand for electron microscopes is anticipated to grow since the inspection of semiconductor components is necessary to provide the highest quality electric goods.
Competitive Landscape
Key players in the electron microscopes market are forming alliances and working together to demonstrate their technical ability. Based on precise images, manufacturers may select the best materials for production, assuring the stability and durability of the final product.
Top manufacturers are increasingly opting for microscopes that offer microanalysis techniques. A surge in demand to conduct microanalysis of the elements to improve the scope of research is further expected to drive market growth.
For instance :
In 2020, ZEISS and RIKEN Innovation signed a partnership agreement. The collaboration aims to advance bioengineering technologies and transform the healthcare system.
Key Segments of Electron Microscopes Industry Research
By Product :

Transmission
Scanning
Scanning Transmission

By Application :

Semiconductors
Material Sciences
Life Sciences
Earth Sciences

By Region :

North America
Europe
Asia Pacific
Latin America
Middle East & Africa