Ambulance Cots Market
Ambulance Cots Market Analysis Report By Product (Emergency Cots, Transport Cots), By Technology (Manual Cots, Pneumatic Cots, Electric Cots), By End User (EMS Service Providers, Hospitals, Ambulatory Service Centers, Other Facilities), By Region - Global Market Insights 2019-2029
FACT4166MR
Mar-2022

List of Tables : 52

List of Figures : 72

170 Pages
Introduction
Ambulance cots are stretchers/apparatus that are used to carry patients requiring medical care. As the name suggest, these cots are generally used in ambulances for carrying patients for emergency as well as non-emergency cases. They are also known as ambulance trolleys, manual ambulance cots, pneumatic ambulance cots, or electric ambulance cots.
Increasing awareness and adoption of ambulance services; rising healthcare spending; and an increase in the aging population are some factors that are expected to increase the revenue of the ambulance cots market globally. The manual cots contribute maximum share in the ambulance cots market, and will continue to do so.
Launch of several ambulance services in regions, such as Pakistan, China, and India, further exert traction on the adoption of ambulance cots. Expansion in APAC and local manufacturing of ambulance cots in the region remain the key to growth of the ambulance cots market in the APAC region. On the one hand, North America is a highly matured ambulance cots market that possesses expertise and resources, and is expected to be prominent in the global ambulance cots market.
Avail customized purchase options for your needs
Efforts to Meet the Demands for Sufficient Ambulance and Professionals Offer Significant Growth Opportunity for Ambulance Cots Manufacturers
The number of ambulances in regions, such as APAC, does not meet the WHO standards. Insufficient ambulances along with the lack of ambulance personnel offers opportunity for the growth of ambulance cots market considering the growing efforts made by public and private players to meet the demands.
Several factors could also offer significant growth opportunities, especially in favorable conditions such as government investment to increase awareness, launch and adoption of private EMS services, and funding for increasing the number of ambulances (public & private) to meet the demand.
For an instance, in Australia, the budget in 2017 added 50 new relief paramedics to the existing NSW ambulance services. Thus APAC region is expected to witness a high growth rate for ambulance cots market, through the forecast period.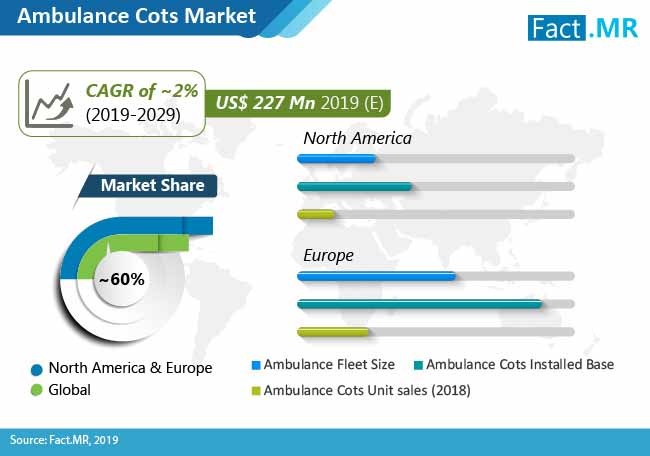 High Cost for Emergency Services Hampering the Use of Ambulance Services
Manufacturers of ambulances have to adhere to the stringent regulations, resulting in the high cost of the ambulance. Furthermore, with the added cost of essential equipment and paramedics, the cost of an ambulance ride is very high.
For instance, in America, NSW ambulances cost AUD$ 372; plus AUD$ 3.35/km; capped at AUD$ 6095; Victorian ambulance offers a standard cost of AUD$ 1204; Western Australians face a flat fee of AUD$ 949.
The high cost of ambulance service might hamper the adoption of ambulance services, especially in regions with low reimbursement. This, in turn, might hinder the growth of the ambulance cot market to some extent during the forecast period.
An Adaptive Approach to Modern-day Research Needs
Cardiovascular Emergencies and Ageing Population is Leveraging the Use of Ambulance Services
The ageing population is rising across the world. According to World Bank population over 65 years in China has increased from 9.7% in 2015 to 10.1% in 2016. Diseases such as cancer, diabetes, osteoporosis, dementia, COPD and many others are strongly associated with old age that offer opportunity for growth of emergency services.
It has been noted that a majority of ambulance dispatches are addressed to patients of 65 years and older. With the increasing aging population, there is a trend of increased use of emergency services that include the use of ambulances. This trend favors the growth of the ambulance cots market.
One of the most common causes of ambulance calls is cardiovascular disease-related emergencies, such as a heart attack. It is also the number one cause of deaths across the globe. In the U.S., about 600,000 people die due to heart diseases every year.
The proportion of the population living with heart failure in China, Japan, Malaysia, and Singapore was estimated to be about 1.3%, 1%, 6.7%, and 4.5%, respectively, in 2015. Insufficient physical activity, tobacco smoking, increased blood glucose, and ageing population, are some of the factors that trigger the number of cardiovascular diseases. Increase in the number of cardiovascular cases consequently drives the use of ambulances and support the growth of the ambulance cots market globally.
Asia Pacific Region Showing a Significant Growth for the Ambulance Cots Market
There is an increased use of ambulance in the Asia Pacific region. According to various studies conducted in the region, about a little more than 50% of ambulance calls were non-emergency in 2017, in the region. Furthermore, in regions such as Japan, ambulance service is free. This increases the demand for ambulance services in the region.
A number of ambulance services are available in the Asia Pacific region that include both government and private providers. Furthermore, unauthorized ambulance services are also working to meet the increasing demand and insufficient ambulance services. Another important trend in the region is the rising ageing population.
Many studies conducted in Asia Pacific indicate that a majority of ambulance dispatches were to address with patients 65 years and older. Thus, large patient pool in the region is expected to strongly support the rapid growth of the ambulance cots market.
Interested to Procure The Data
Increasing Number of Ambulance Services to Boost the Demand for Ambulance Cots
Although, ambulance services are offered by the public sector in most countries, private ambulance service providers are also prominent. With the development and increasing adoption of air ambulance in emerging countries such as India, Brazil and Saudi Arabia, the scope for private air ambulance players is increasing.
In the U.S., private ambulance services have lowest rates for an ambulance ride, this increases the adoption of ambulance services thereby promoting the growth of the ambulance cots market. Apart from the low cost, private ambulance services in the European region receives a boost from National Health Services (NHS) which spends about $ 100,000,000 a year to private ambulances to supplement their services.
Increasing number of private ambulance service providers are also seen in Latin America. This region is expected to witness a trend of increasing adoption of air ambulance services that in turn will favor the growth of electric and pneumatic ambulance cots.
Rising Awareness about Emergency Services – A Key Growth Promoter
The awareness regarding emergency services is mandatory among the general public for the success of EMS service. For instance, a study conducted on a small sample of Indian population resulted that about 73.0% of participants are aware of 108 ambulance services in the country, however are not aware of other local providers of EMS.
In Australia, NSW Ambulance conducts a number of campaigns to create awareness about ambulances and when they can be used. The rising awareness among general public increases the use of ambulance services resulting in growing fleet sizes to meet the needs.
For instance, NSW ambulance service in Australia and Edhi in Pakistan have increased their fleet size in 2017 to meet the growing demand for ambulance services. Thus, the ambulance service market is driven by the growing awareness of the general public, which in turn is a driving factor for the growth of the ambulance cots market.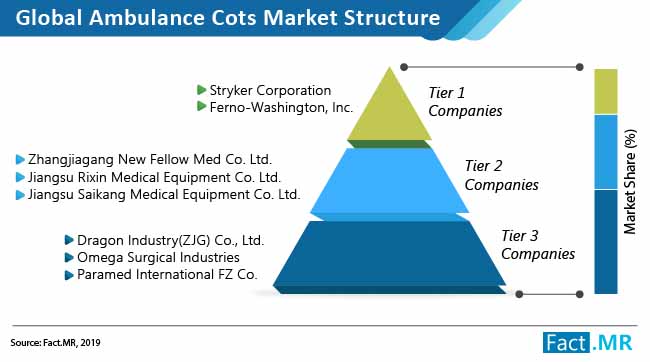 Rising Medical Tourism to Drive the Demand for Ambulance Cots
Medical tourism is a growing sector in Brazil, India, Thailand, Singapore, and others. Some of the key factors for the growth of medical tourism in these regions are high-quality facilities, English-speaking medical professionals, cost-effectiveness, and tourist attraction.
India, Thailand, and Singapore together attract about 80% of the global medical tourism market, of which Thailand takes the largest share. In India, the number of tourist arrived for medical care in 2014, 2015, and 2016 were, 1,84,298, 2,33,918 and 4,27,014, respectively, which directly indicates the growth of this sector in India.
The increasing medical tourism is expected to increase the growth of emergency medicine services including the use of private and public ambulances, ambulatory surgical centers, and others. Thus, the boost received by medical tourism on the emergency service industry is likely to favor the growth of the ambulance cots market.
Improvements in Healthcare Sector to Boost Healthcare Spending Favoring the Market Growth
Significant investments in healthcare by government across the world have resulted in more paramedics and ambulances to respond to time-critical emergencies. Government spending on healthcare is one of the driving factors for the growth of the healthcare industry worldwide. According to the OECD data, the U.S. spent about 17.2% of GDP for healthcare.
Similarly, the healthcare spending as a percentage of GDP in Australia increased from 9.4% in 2015 to 9.6% in 2016. With improvements in the healthcare sector in recent years a number of new ambulance services are being launched. For instance, motorbike ambulance services were launched in Delhi (India) and Mumbai (India) in 2017 and 2018, respectively.
Similarly, St. John Ambulance in Australia added 5 ambulances to expand its fleet at Casuarina Ambulance Station. With growing fleets of ambulance, the ambulance cots market will flourish during the forecast period, especially in developing nations.
Key Segments of the Ambulance cots Market
Fact.MR's study on the ambulance cots market offers information divided into four important segments—product, technology, end user, and region. This report offers comprehensive data and information about the important market dynamics and growth parameters associated with these categories.
Product

Emergency Cots
Transport Cots

Technology

Manual Cots
Pneumatic Cots
Electric Cots

End User

EMS Service Providers
Hospitals
Ambulatory Service Centers
Other Facilities

Region

North America
Latin America
Europe
South Asia
East Asia
Oceania
MEA
- FAQs -
The ambulance cots market is expected to reach us$ 223 mn 
The ambulance cots market are zhangjiagang new fellow med co. Ltd., jiangsu rixin medical equipment co. Ltd., jiangsu saikang medical equipment co. Ltd., dragon industry (zjg) co., ltd., omega surgical industries, 
Need an Exclusive Report for your Unique Requirement?
- Our Clients -