Ambulance Stretcher Market
Ambulance Stretcher Market Analysis By Product Type (Transport Stretchers, Emergency Stretchers), By Technology (Manual, Electric-powered, Pneumatic), By End User (Clinics/Hospitals, EMS Service Providers, Ambulatory Services Centers) and By Region – Global Market Report (2024 to 2034)
Analysis of Ambulance Stretcher Market Covering 30+ Countries Including Analysis of US, Canada, UK, Germany, France, Nordics, GCC countries, Japan, Korea and many more
Ambulance Stretcher Market Outlook (2024 to 2034)
The global ambulance stretcher market size is estimated at US$ 254.2 million in 2024. The market is projected to expand slowly at a CAGR of 0.7% to reach US$ 273.4 million by the end of 2034. Market progress is a result of demographic shifts, developments in healthcare technology, and rising need for efficient emergency medical services.
The market is a dynamic and critical component of the healthcare ecosystem, ensuring patient safety and efficiency during medical emergencies. Ambulance stretchers, also known as gurneys or medical ambulance cots, have progressed from basic manual models to technologically complex, multifunctional machines over the years. As the world grapples with an expanding aging population, the need for emergency medical services and technological innovations grows substantially.
Ambulance stretchers are important because they can bridge the vital gap between initial patient contact and complete medical care. These stretchers are more than simply tools; they are lifelines that connect first responders, paramedics, and healthcare professionals to patients in need. Their design, functionality, and technology have developed over time to match the ever-increasing complexity of modern healthcare systems.
Significant Market Growth Drivers
Environment-friendly stretcher designs are becoming popular with an emphasis on decreasing waste and carbon footprint.
Incorporation of telemedicine capabilities into ambulance stretchers is gaining popularity. This enables real-time remote consultations with healthcare professionals while in transportation, enhancing care quality.
Smaller, lighter stretchers are emerging to meet the increased demand for mobility in both urban and rural settings, which is complementing overall ambulance stretcher growth.
Following the COVID-19 pandemic, stretcher manufacturers have been emphasizing improved infection control methods, such as materials that are simple to clean and disinfect.
Report Attributes
Details
Ambulance Stretcher Market Size (2023A)
US$ 252.43 Million
Estimated Market Value (2024E)
US$ 254.2 Million
Forecasted Market Value (2034F)
US$ 273.4 Million
Global Market Growth Rate (2024 to 2034)
0.7% CAGR
North America Market Share (2034F)
34.7%
Emergency Stretchers Segment Share (2024E)
58.6%
Electric-powered Stretchers Segment Share (2024E)
31.3%
Key Companies Profiled

Stryker Corporation
Ferno-Washington Inc.
Narang Medical Limited
Fu Shun Hsing Technology Co. Ltd.
Hill-Rom Services Inc. (Baxter)
Medline Industries, Inc.
Zhangjiagang New Fellow Med Co., Ltd.
ROYAX
MAC Medical, Inc.
Dragon Industry (ZJC) Co. Ltd.
Arjo
GF Health Product Inc.
Jiangsu Rixin Medical Equipment Co. Ltd.
Omega Surgical Industries
Don't Need a Global Report?
save 40%! on Country & Region specific reports
Why are Ambulance Stretchers So Important?
"Consistent Focus on Patient Safety and Comfort"
Modern ambulance stretchers are built with patient comfort in mind, with padded surfaces, ergonomic posture, and shock-absorption devices to reduce discomfort and potential harm caused by vibrations while in transit. These elements of design play an essential role in lowering patient stress and pain, especially in emergencies. Features such as restraint systems and secure fastening choices ensure the safety of the patient while in transit, lowering the chance of injuries or problems. As healthcare facilities and ambulance services continue to prioritize patient safety and comfort, demand for stretcher solutions that provide these benefits is projected to be a major driver of market expansion.
"Increasing Demand for Emergency Medical Services"
Ambulance services are more important than ever in a world marked by accidents, natural catastrophes, and unexpected health emergencies. The growing number of traffic accidents, urbanization, and population density all contribute to the demand for effective emergency medical transportation. Stretchers have become essential equipment in assuring the safe and effective transport of patients to healthcare institutions as a result of this evolution.
Healthcare challenges posed by events such as the COVID-19 pandemic have highlighted the importance of well-equipped ambulances capable of transporting infectious illness patients safely.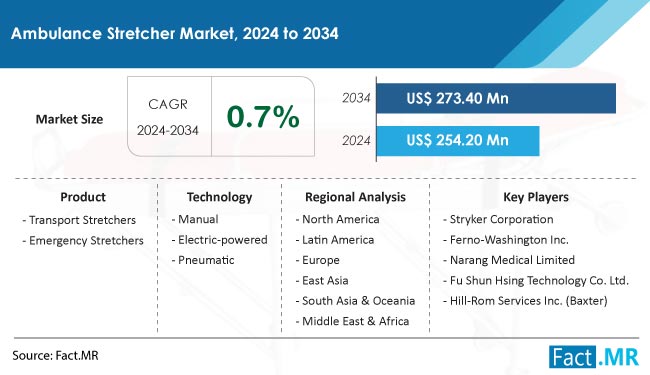 What are the Issues Faced by Ambulance Stretcher Manufacturers?
"Complexity of Ambulance Stretcher Design and High Maintenance and Operational Expenses"
Complexity and intricacy of modern stretcher models demand frequent maintenance to ensure appropriate operation and adherence to safety standards. This maintenance includes routine inspections, repairs, and service, all of which can be time-consuming and expensive.
Healthcare workers, such as paramedics and ambulance technicians, must get specialized training to efficiently operate and maintain the sophisticated features of complex stretchers. These training programs necessitate time and financial investments, as well as continual education to keep up with new stretcher technology. This places a financial strain on healthcare facilities and service providers. In the case of wear and tear or unforeseen breakdowns, healthcare institutions must maintain spare parts on hand or access a dependable supply chain, both of which necessitate financial resources.
Any downtime in the repair of stretchers may jeopardize the effectiveness of emergency medical services, affecting patient care and potentially leading to harmful repercussions. Another operational issue that contributes to ongoing expenditures is ensuring the sanitation and sterilization of stretchers between patient uses. Furthermore, tracking and monitoring the status and condition of stretchers in real time may necessitate the implementation of specific software or systems, which adds to operating costs.
More Insights, Lesser Cost (-50% off)
Insights on import/export production,
pricing analysis, and more – Only @ Fact.MR
What Strategies are New Companies Using to Break into the Global Market?
"Focus on Innovation and Integration of Advanced Monitoring Systems"
Start-ups should concentrate on creating distinctive, value-added features that distinguish their innovative solutions from established competitors. Integration of advanced monitoring systems, ergonomic design, or bespoke versions catering to specific patient demographics are examples of this.
Offering high-quality, low-cost stretcher solutions may help companies break into markets where money is tight. Start-ups can give economical yet dependable stretcher choices to cost-conscious healthcare organizations by improving production processes, procuring materials efficiently, and lowering operational overhead.
It is critical to have strong relationships and distribution networks. Collaboration with healthcare institutions, ambulance services, and distributors can help to increase market reach and brand recognition. Adhering to high safety and quality standards promotes industry reputation and trust. Certification and compliance not only enable market access but also help the firm establish itself as a trustworthy stretcher provider.
Country-wise Insights
Depending on the country, the market shows diversity and potential. In this competitive market, technological innovation and adherence to safety regulations are critical along with government investments in healthcare infrastructure, as well as a focus on patient safety and comfort.
Why is Demand for Ambulance Stretchers High in the United States?
"Easy Access to Comprehensive Healthcare Systems"
| Attribute | United States |
| --- | --- |
| Market Value (2024) | US$ 79 Million |
| Demand Growth (2024 to 2034) | 1.2% |
| Projected Value (2034) | US$ 89 Million |
The United States has a robust healthcare infrastructure, including a huge network of hospitals, emergency care facilities, and ambulance services. This comprehensive healthcare system provides a steady and significant need for sophisticated ambulance stretcher solutions, positioning it as a leader as far as ambulance stretcher market trends are concerned.
As the geriatric population grows, there is an increasing demand for stretcher designs that prioritize the comfort and safety of older patients during transportation. This demand is ideally aligned with the capabilities of modern stretcher technology, making the United States a lucrative market for breakthrough stretcher solutions.
The United States focuses on safety and compliance and supports the use of modern stretcher models that meet these criteria, opening up chances for manufacturers to create and provide cutting-edge stretcher designs tailored to the country's healthcare needs. The United States is a trendsetter in healthcare technology and innovation. Powered stretchers with automated height adjustment and integrated monitoring systems are gaining popularity as a result of a push toward technical breakthroughs and automation.
What is the Demand Outlook for Ambulance Stretchers in China?
"Growing Demand for Improved and Specialized Stretchers"
| Attribute | China |
| --- | --- |
| Market Value (2024) | US$ 27 Million |
| Demand Growth (2024 to 2034) | 1.4% |
| Projected Value (2034) | US$ 30 Million |
China is undergoing a demographic change toward an increasingly aged population, which is anticipated to continue in the next decades. Because the elderly frequently require medical attention and may rely on ambulance services for care, there is a growing demand for improved and specialized stretchers that focus on the specific needs and comfort of older patients. This demographic transition emphasizes the development and deployment of stretchers that can accommodate the elderly, which is a key ambulance stretcher market growth driver.
The Chinese government has made significant investments in healthcare facilities and services, such as ambulances and patient transportation vehicles. This investment not only enhances the overall efficiency of the healthcare system but also drives the adoption of new stretcher solutions that meet worldwide safety and quality requirements. Emphasis of the Chinese Government on patient safety and comfort during medical transportation stimulates demand for novel stretchers with features such as automation, monitoring systems, and ergonomic design.
Know thy Competitors
Competitive landscape highlights only certain players
Complete list available upon request
Category-wise Insights
How are Emergency Stretchers Finding Their Way into the Global Market?
"Facilitate Quick Response to Time-sensitive Medical Situations"
| Attribute | Emergency Stretchers |
| --- | --- |
| Segment Value (2024) | US$ 149 Million |
| Demand Growth (2024 to 2034) | 0.7% |
| Projected Value (2034) | US$ 160 Million |
Emergency stretchers are the go-to solution for transporting patients in life-threatening emergencies such as accidents, cardiac crises, and trauma cases. Several major elements contribute to their dominance. The adaptability and versatility of emergency stretchers are also highly valued. They are designed to serve patients with a wide range of needs, including trauma patients who require immobilization or cardiac patients who require immediate access to advanced life-saving equipment. These stretchers are frequently equipped with adjustable height, patient restraints, and extra safety features, making them appropriate for a wide range of medical emergencies.
Incorporation of innovative technologies into emergency stretchers improves their capabilities. Motorized operation, real-time patient monitoring, and integrated medical equipment help healthcare providers make swift decisions and deliver prompt care. These technology advancements have not only improved patient outcomes but have also reduced the physical strain on paramedics and healthcare personnel while on the road.
With a dedication to enhancing patient outcomes and safety, the popularity of emergency stretchers is projected to persist and expand as demand for efficient emergency medical services continues to rise.
Competitive Landscape
The competitive landscape of the ambulance stretcher market is distinguished by an intersection of established industry giants and creative start-ups, all competing to meet the increasing demand for enhanced patient transportation solutions and grow their own ambulance stretcher market share. Stryker Corporation, Ferno, Hill-Rom Holdings, Inc., Favero Health Projects, and Sidhil are top manufacturers of ambulance stretchers, with a long history of supplying high-quality stretcher solutions.
Stryker introduced its new M1 Mobile Stretcher System in 2023. The M1 is a lightweight and portable stretcher system that can be loaded and unloaded from ambulances with ease. It also has features such as a hydraulic lift system and a built-in vacuum mattress to promote patient safety and comfort.
Ferno debuted its Rescue 32-inch Ambulance Stretcher in 2022. The Rescue 32 stretcher is a tough and adaptable stretcher that may be used in a variety of ambulance operations. It also has several patient safety elements, such as a restraint system and a head-to-toe support system.
The competitive landscape is distinguished by a commitment to innovation, regulatory compliance, and a focus on improving patient care while in transit, ensuring that the industry remains dynamic and responsive to the ever-changing needs of healthcare providers and emergency services.
Segmentation of Ambulance Stretcher Market Research
By Product Type :

Transport Stretchers
Emergency Stretchers

By Technology :

Manual
Electric-powered
Pneumatic
Others

By End User :

Clinics / Hospitals
EMS Service Providers
Ambulatory Services
Others

By Region :

North America
Latin America
Europe
East Asia
South Asia & Oceania
Middle East & Africa
- FAQs -
The global ambulance stretcher market is estimated at US$ 254.2 million in 2024.
North America is predicted to account for 33.2% share of the global ambulance stretcher market in 2024.
Based on product type, emergency stretchers are set to account for 58.6% of the global market share in 2024.
Demand for ambulance stretchers is projected to reach a market value of US$ 273.4 million by 2034-end.
Revenue from sales of ambulance stretchers is projected to increase at a CAGR of 0.7% through 2034.