Eco-friendly And Recyclable Properties of Shaped Liquid Cartons to Boost Sales
The global shaped liquid cartons market is expected to witness a promising growth over the forecast period on the backdrop of the rising global beverage industry and growing demand for eco-friendly and recyclable shaped liquid cartons in the end use sectors. The global market for shaped liquid cartons is anticipated to add over 2,500 Mn units by 2019 over 2018 with Y-o-Y increment of more than 6%. Furthermore, liquid food products are usually packaged using plastics, which are derived from non-renewable resources and involve high CO2 emissions. Governments across the globe have implemented stringent regulations to reduce carbon emissions. Thus, the packaging solution providers are shifting their focus from conventional forms of packaging to eco-friendly packaging products in the shaped liquid cartons market. The rising demand of eco-friendly and recyclable materials in packaging industry is projected to boost the growth of global shaped liquid cartons market over the forecast period.
Increasing Modern Retail and Consumer Preference towards Convenience Food
The retail industry in developing countries such as India, China and Malaysia have shown a substantial transformation, with a significant rise in the number of retail formats such as supermarkets, hypermarkets, online retail and convenience stores. Increasing disposable income, a fast life style and lesser time spent in kitchens is leading to the increased consumption of packaged foods & beverages. The growing need for packaged food is rapidly increasing consumer preference towards convenience food which is in turn driving the demand for packaging formats such as shaped liquid cartons.
Furthermore, the growing innovations in shapes and materials of packaging is also among the key factors drawing the consumer attention in the shaped liquid cartons market space. For instance, on 26th June 2019, Elopak Inc., one of the prominent manufacturers of shaped liquid cartons launched a new shaped liquid carton with no closures. The company is focusing on 100% renewability and eco-friendly products to gain a competitive advantage in the global shaped liquid cartons market.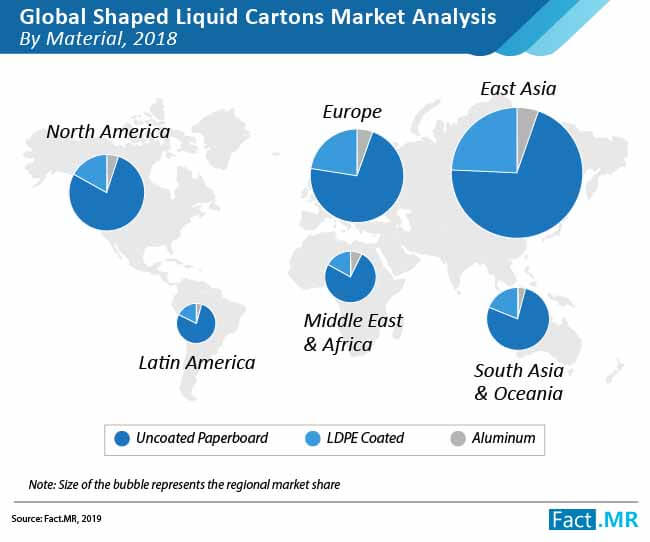 Request for a free report sample here to get exhaustive insights on the shaped liquid cartons market
Increased Shelf Life, a Major Growth Engine for Shaped Liquid Packaging
Shelf life is one of the main aspects of packaging. A longer shelf life of the product drives the process of distributing and supplying products easily and efficiently. The high barrier feature of shaped liquid cartons helps increase shelf life of liquid products, minimizes liquid waste, and effectively helps to cut back on delivery frequency. Another issue with unpackaged liquid food is that they can be easily tampered with. Shaped liquid cartons are tamper resistant and also have tamper evident seals, which makes them a preferred option for packaging of liquid products. Additionally, the dynamic shapes of shaped liquid cartons provide an effective means of stacking and can efficiently utilize the space. These above mentioned factors play an important role in the growth of the global shaped liquid cartons market.
Plastic Packaging, a Potential Stumbling Block for Shaped Liquid Cartons Market Growth
Plastic packaging is involved in almost all aspects of life and simplifies the transport of a wide range of drinks, food & other goods. There is substantial potential for new applications of plastics that could offer various benefits such as cost effectiveness, light weight, corrosion resistance and high electrical and thermal insulation properties owing to which, the demand of plastic in packaging industry is expected to register substantial growth as compared to shaped liquid cartons in the forthcoming years. Easy availability of plastic alternatives and high costs associated with shaped liquid cartons can inhibit market growth to a certain extent.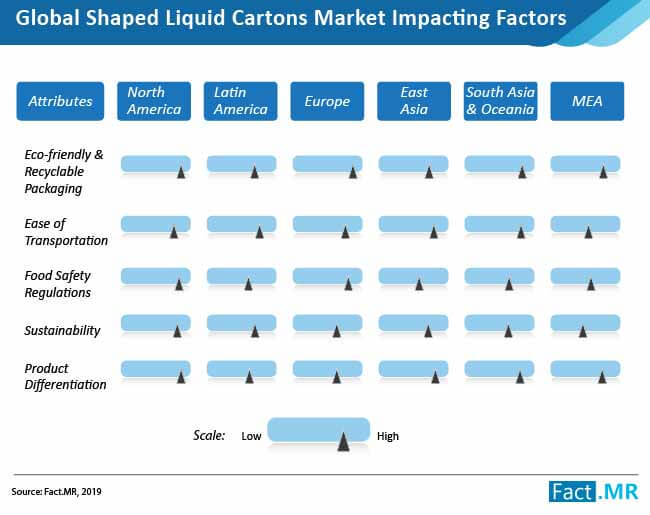 For in-depth nuances on the shaped liquid cartons market, request for a free report sample here
Innovative Shapes, a Key Focus Area for Prominent Players
Shaped liquid cartons are considered to be a prominent tool for advertising and promoting the product. The differentiating factor of shape in shaped liquid cartons is considered to be a tool to stand apart from their competitor and create brand awareness. Thus, the prominent manufacturers in the global shaped liquid cartons market are shifting their focus towards innovative shaped liquid cartons in order to fulfill the desired requirement of brand owners. For instance:
Tetra Pak introduced the Tetra Evero Aseptic — the world's first aseptic carton bottle for milk. This shaped liquid cartons package intended for white milk combines the easy handling and pouring of a bottle with the environmental and cost advantages of a carton.
SIG Combibloc Group Ltd., a leading manufacturer of shaped liquid cartons offers an innovative new design, combishape carton packaging in which multiple components are shaped into the final form.
ELOPAK AS, a leading player in the shaped liquid cartons market is offering Pure-Pak® Diamond, a new unique shape packaging for fresh and high acid aseptic products. The design features of Pure-Pak® diamond shaped liquid cartons can be used for effective brand differentiation.
Moreover, in the global shaped liquid cartons market the innovative product offerings is one of the key strategies followed by the industry giants to gain significant market share in the global shaped liquid cartons market. Additionally, some of the key players in the global shaped liquid cartons market are also focusing on expanding their market reach in developing potential markets like, China, India, etc. The prominent manufacturers in the shaped liquid cartons market such as, SIG Combibloc Group Ltd., Tetra Pak International S.A., etc. recently announced the expansion of their production in East Asia region.
Request research methodology of this report.
Shaped Liquid Cartons Market – Scope of the Report
This report provides forecast and analysis of the shaped liquid cartons market. It provides historical data of 2013 along with estimated data for 2019, and forecast data up to 2027 in terms of revenue (US$ Mn) and volume (Mn Units), according to a Fact.MR study. The research propounds key trends that are currently influencing growth of the shaped liquid cartons market along with the macro-economic indicators. This newly published and insightful report sheds light on key dynamics, and their impact on overall value chain from raw material suppliers to end users, which are expected to transform the future of the shaped liquid cartons market.
The report also comprises the study of current issues with end users and opportunities for shaped liquid cartons in the global market. It also contains value chain analysis along with key market participants. In order to provide users of this report with a comprehensive view of the shaped liquid cartons market, we have included detailed competitive analysis about market key players and strategic overviews. The dashboard provides a detailed comparison of shaped liquid cartons manufacturers on parameters such as total revenue, product offerings and key strategies. A list of key companies operating in the shaped liquid cartons market provided in the report adds to the credibility of this exhaustive research study.
Shaped Liquid Cartons Market: In-Depth Assessment on Key Segments-
The global shaped liquid cartons market is segmented by capacity, material, opening, application and region.
| | | | | |
| --- | --- | --- | --- | --- |
| Capacity | Material | Opening | Application | Region |
| Less than 200 ml | Uncoated Paperboard | Cut Opening | Dairy Products | North America |
| 200-500 ml | LDPE Coated | Straw Hole Opening | Alcoholic Beverages | Latin America |
| More Than 500 ml | Aluminum | Clip Opening | Carbonated Soft Drinks | Europe |
| | | Twist Opening | Fruit Juices | East Asia |
| | | King Twist Opening | Other Applications | South Asia & Oceania |
| | | | | MEA |
Country-specific assessment on demand for the shaped liquid cartons has been provided for each regional market, along with the market size valuation and forecast price point assessment, price index and impact analysis of key regional and country-wise dynamics, which were obtained through quotes from numerous shaped liquid cartons manufacturers, experts and suppliers. Y-o-Y growth projections have also been offered on all regional markets incorporated in the report.
The report provides company-level market share analysis, which has been derived on the basis of the company's annual sales and segmental revenue in all the target end-use industries. The market has been forecast based on constant currency rates. The report provides detailed competitive and company profiles of key participants operating in the global shaped liquid cartons market. Some of the major companies operating in the shaped liquid cartons market analyzed are Tetra Pak International S.A., SIG Combibloc Group Ltd., ELOPAK AS, Greatview, Evergreen Packaging LLC, NIPPON PAPER INDUSTRIES CO., LTD., and others
Shaped Liquid Cartons Market: Research Methodology
The shaped liquid cartons market numbers pertaining to the regional as well as country level data and various segments i.e. capacity, material, opening, region and application are estimated through the combination of primary and secondary research among target countries and regions, and are verified both by applying the bottom-up and top-down approach. Secondary sources include Morningstar, Factiva, association publication, industry magazines and company annual reports and publications. Comprehensive interviews have been conducted by our analysts, and the data and insights obtained have been used for validating the information of shaped liquid cartons gained through secondary sources. The report also includes a description of assumptions and acronyms utilized for research purposes. The data triangulation process is used for cross checking of the collected and analyzed data from the supply as well as the demand side for shaped liquid cartons.
For assessment of the market size on the basis of value and volume, revenues generated by leading players, coupled with their production capacities are taken into consideration. Backed by a proven & tested research approach, the report offers necessary information on the shaped liquid cartons market. Other qualitative findings and perspectives are gathered from interviews from industry participants including Business Development Managers / Executives, CEO's and Plant Managers. This information has been adhered to by the analysts while developing this insightful report on the shaped liquid cartons market. Secondary research is leveraged for ascertaining the overall size of the shaped liquid cartons market.
A short market viewpoint offered in the report explains the macro-economic indicators aspects that influence the growth of the shaped liquid cartons market, which includes worldwide demand packaging materials in food & beverages sector, growth of liquid packaging cartons market and other indicators. Global pricing analysis, restraint analysis, and opportunity analysis on the shaped liquid cartons market has also been incorporated in the report. This report serves as an authentic resource of intelligence on the shaped liquid cartons market, enabling the readers to take fact-based decisions on the future direction of their businesses.
Fact.MR offers custom research services that help clients to get specific research solutions
We are committed towards customer satisfaction and quality service.
---
Our Clients

Shaped Liquid Cartons Market Forecast, Trend Analysis & Competition Tracking - Global Market Insights 2019 to 2027