Building Information Modeling Market
Building Information Modeling(BIM) Market Analysis By Type (Software, Services), By Application (Building, Oil & Gas, Civil Infrastructure, Industrial), By End User (AEC, Contractors, Facility Managers) & By Region - Global Insights 2022-2032
Analysis of Building Information Modeling(BIM) Market Covering 30+ Countries including analysis of US, Canada, UK, Germany, France, Nordics, GCC countries, Japan, Korea and many more
Building Information Modeling Market Outlook (2022-2032)
The worldwide building information modelling market is expected to be worth US$ 6.43 Bn by the end of 2022 and is expected to be worth US$ 19.97 Bn by 2032, growing at a 12% CAGR from 2022 to 2032.
As of 2021, the market was valued at US$ 5.79 Bn and experienced a year-over-year (Y-o-Y) growth of 11% in 2022. Overall, the market is projected to experience over 3x growth in the forthcoming 2022-2032 forecast period.
Market Analysis

Data Points

Market Size (2022)

US$ 6.43 Bn

Value CAGR (2022-2032)

12% CAGR

Market Size (2032)

US$ 19.97 Bn

Key Companies Profiled

Aecom
Asite Solutions Limited
Beck Technology Ltd
Nemetschek AG
Synchro Software Ltd
Pentagon Solutions Ltd
Bentley Systems Inc
Dassault Systemes Sa
Trimble Navigation Ltd.
Know thy Competitors
Competitive landscape highlights only certain players
Complete list available upon request
2017-2021 Building Information Modeling Market Analysis Compared to 2022-2032 Forecast
The worldwide building information modelling (BIM) market grew at a CAGR of 11% over the 2017-2021 historical period. With fast population expansion, there has been an increase in demand for housing, with many governments throughout the world giving incentives for the growth of this sector. Companies all around the world are using BIM to enhance their operations in residential structure design, making this a feasible growth prospect for the BIM industry.
The introduction of computer software has resulted in a paradigm change in the architectural planning and modelling sector in recent years. Advances in digital design tools, computer-controlled manufacturing, computer-controlled connection, and interconnectedness have ushered in a new stage of the design and construction process.
Building information modelling (BIM) has grown in popularity as a result of its several advantages over previous technologies such as paper-based design and modelling and CAD systems. BIM essentially enables users to produce an exact, precise, geometric virtual model of all the building's components and structures. From 2022 to 2032, the industry is forecast to register a 12% CAGR.
Rapid Urbanization to drive the Expansion of the Building Information Modeling Industry
Because of expanding worldwide urbanization, the building information modelling market is expected to develop throughout the projected period. As populations and economies increase, there is a greater need for improved infrastructure for personal and commercial needs, which will drive the global construction sector forward.
The worldwide building information modelling market is expanding due to the fact that improved data transmission and coordination among numerous stakeholders, along with increased construction productivity, gives BIM users a competitive advantage.
Furthermore, the rise in government regulations for BIM usage throughout the world, as well as the expansion of the construction sector, drive market growth. Moreover, technical developments in data management at remote servers and improved inter-user coordination via cloud-based solutions are likely to give attractive potential for market expansion during the forecast period.
Government Requirements for the Use of BIM to Generate Dollar Opportunity for Key Market Players?
Government policies and laws promoting the use of BIM solutions in the development of public and private infrastructure in various areas promote the growth of the BIM industry. Most nations in North America have made the usage of BIM for commercial projects mandatory.
Furthermore, nations such as Singapore and the United Arab Emirates have legislation governing the use of BIM in infrastructure, industrial, and commercial projects. Furthermore, Germany is planning to make BIM mandatory in all infrastructure projects by the end of 2020, while Denmark, Spain, and Italy have achieved 100%, 93%, and 82%, respectively. Thus, one of the primary development drivers of the global BIM market is the establishment of beneficial government policies supporting the usage of BIM.
Development of Virtual Reality (VR) and Augmented Reality (AR) Technologies
Technologies and methods that enable BIM are continually changing in the building sector. The trend of BIM integration with AR/VR, in which users view and interact with a virtual world, has grown.
The growing popularity of BIM integration with AR/VR is beneficial to market growth because it enhances communication among stakeholders and provides better visualization for designers, engineers, and other stakeholders, allowing for one-to-one completely immersive experiences.
Academics have recommended the use of emerging technologies such as AR and VR to address some of BIM's fundamental flaws and to open up a new area for advancement in the AEC business. AR/VR technologies have the ability to improve BIM in a variety of ways, including real-time on-site collaboration, presenting the industry with significant growth prospects.
Country Wise Analysis
What is driving Building Information Modeling Growth in North America?
North America is expected to contribute 10% of total building information modeling market revenue. As the GIS business transitions to 3D modelling, a massive upheaval is brewing. The evolution illustrates the design and construction industry's movement from 2D to 3D BIM, suggesting the rise of GIS and BIM integration into a single holistic environment, which is predicted to boost the market.
The BIM solution is also predicted to be useful in the development of sustainable buildings and related systems. As sustainable building designs become more common, BIM's capacity to gather and manage enormous volumes of data relating to the built environment is likely to be a beneficial tool for the construction industry.
General contractors have been recognized to increase their usage of BIM beyond preconstruction model clash detection with frequent software upgrades. In addition, general contractors have begun to use the model for coordination, to add construction layout points, and to carry the accuracy into the field utilizing a comprehensive robotic station.
What are the Growth Prospects for BIM Market in China?
China is predicted to develop the fastest over the forecast period, owing to its thriving construction industry. The expansions of the retail sector, as well as the development of the country's infrastructure, are likely to be major drivers aiding the growth of the building information modelling industry.
In recent years, building information modeling has taken off across China's AEC industry. 89% of architects and 108% of contractors are incorporating BIM in most construction projects. The central government has exhibited interest, above all for the efficiency it can return in terms of cost control.
Prominent construction projects, including the Shanghai Towers, Phoenix Media Center and Shanghai Disneyland Resort, have deployed BIM systems to check for overall robustness and durability. In the future, Fact.MR forecasts the market to flourish at a CAGR of 11% through 2032.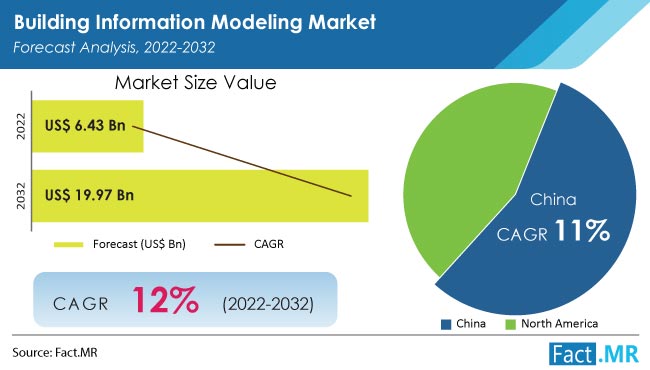 Category Wise Insights
Which End User is expected to Remain Highly Sought after during the Projected Period?
In the AEC sector, building information modelling technologies aid in the effective management of electricity and the improvement of electrical system design in order to decrease costs, waste, and enhance overall retrofits.
The fast increase in the number of construction projects, as well as the global increase in knowledge of building information modelling and its related advantages, are aiding market expansion. A market share worth 60% is anticipated for this sector.
Competitive Landscape
The global BIM market is very fragmented, with just a few major participants in building information modelling offering specialized application modules. The following are some of the market's most significant developments:
Autodesk announced the introduction of a new cloud-based AEC in November 2020, with the possibility to integrate the Autodesk Construction Cloud with BIM 360.
In October 2018, Hexagon AB, a global leader in digital technologies, announced the acquisition of Bricsys, a fast-growing CAD (computer-aided design) software developer. The purchase is targeted at the provision of building technology solutions.
Key Segments Covered
By Type

By Application

Building
Oil & Gas
Civil Infrastructure
Industrial

By End User

AEC
Contractors
Facility Managers
- FAQs -
According to Fact.MR, the building information modeling market is expected to be valued at US$ 6.43 Bn in 2022
Building information modeling demand surged at a CAGR of 11% from 2017 to 2021
From 2022-2032, the market for building information modeling is poised to expand at a CAGR of 12%
By 2032, the building information modeling industry is forecast to reach US$ 19.97 Bn
According to Fact.MR, the building information modeling market grew at an 11% y-o-y growth rate in 2022
North America is expected to account for 10% of the overall building information modeling deployment
China is forecast to register an attractive CAGR of 11% with respect to building information modeling systems deployment
The AEC segment will likely account for maximum building information modeling deployment, accumulating 60% revenue