Genetic Testing Services Market
Genetic Testing Services Market Analysis By Test types (Prenatal Testing, New Born Screening, Predictive and Presymptomatic Testing, Pharmacogenomic Testing), By Service providers (Hospital-based Laboratories, Diagnostic Laboratories, Specialty Clinics) & Regional Forecast 2020-2025
FACT4744MR
Mar-2022

List of Tables : 24

List of Figures : 79

170 Pages
Genetic Testing Services Market Outlook
Genetic Testing Services Market is expected to expand at a robust CAGR of 7.6% during the forecast period, 2020-2025. The global market is anticipated to reach a value of US$ 64.1 Billion by the end of 2025.
By test-type, new born screening is projected to grow rapidly during the forecast period, registering a CAGR of 8.4%. This segment is expected to grow as the number of infants diagnosed with hyperthyroidism and other chronic disorders rises.
Avail customized purchase options for your needs
Rising Prevalence of Autoimmune Diseases to Augment Genetic Testing Services Market Growth, Rising COVID-19 Cases to Provide Greater Scope
There is a gradual rise in the prevalence of autoimmune diseases throughout the world. This growing prevalence of autoimmune diseases has greatly augmented the demand for genetic testing across the world.
Genetic testing services have come to be widely used for many applications in the fields of oncology, obstetrics and ancestry as well. These services are purported to assist clinicians and patients to identify hereditary factors leading to the outbreak of the diseases mentioned above. As more people resort to genetic testing services, various technological advancements such as RT-PCR and sequencing are available in the market.
The ongoing COVID-19 pandemic has leveraged prospects for the genetic testing services market. Important market players are concentrating on providing testing kits to hospitals, diagnostic labs and other healthcare settings in order to ease the burden of the overwhelming number of positive cases.
On the back of these trends, the global genetic testing services market is expected to be leveraged considerably in the future. Other generic factors, such as increase in population, prevalence of communicable and non-communicable diseases are also expected to boost market share.
Usage of Healthcare IT in Genetics Provides Ample Expansion Opportunities
The future growth of genetic testing services is highly dependent on the growth of information technology. Genetics requires various data analytics tools to enable management of novel data.
Big data accumulation provides an opportunity to integrate and store important genetic information. Usage of healthcare IT aids in research and help take clinical decisions.
Emergence of new detection technologies in the genetic testing services market has enhanced the value of disease treatment. Manufacturers are focusing on developing techniques such as polymerase chain reaction, imaging and microarrays with greater depth of interaction (DOI) information.
The need for new detection technologies in genomics is attributed to ineffective screening methods. These methods often provide false-positive and false-negative results.
An Adaptive Approach to Modern-day Research Needs
Oncology to Capture Significant Market, Autoimmune Diseases Not Far Behind
The oncology segment is projected to register the highest growth throughout the forecast period, registering a prolific CAGR of 8%. This is primarily due to the increase in the incidences of cancers among the people.
Furthermore, rise in awareness towards early diagnosis is expected to boost the growth of the oncology segment. The oncology segment is projected to reach a value of US$ 26,366.4 Mn by the end of 2025, capturing almost two-fifth of the market.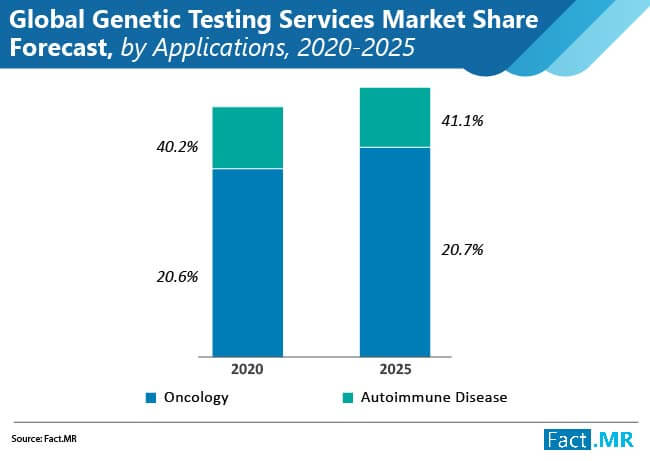 Autoimmune diseases are expected to grow considerably in terms of application of genetic testing services. Increased awareness about the importance of heredity-based factors and the need for prompt diagnosis is expected to leverage growth within this segment. The autoimmune disease segment is projected to expand at a CAGR of 7.8% during the forecast period, reaching a value of US$ 13,299.0 by 2025.
North America Remains at Forefront, Asia-Pacific Offers Lucrative Prospects
North America is expected to dominate the global genetic testing services market throughout the forecast period. Increased demand for genetic testing to understand ancestry, rise in demand of pre-implantation testing and in-vitro fertilization (IVF) are some key drivers augmenting market share. Projections indicate a market share of almost two-fifth for the North American genetic testing market. Projected CAGR for the region is pegged at 7%.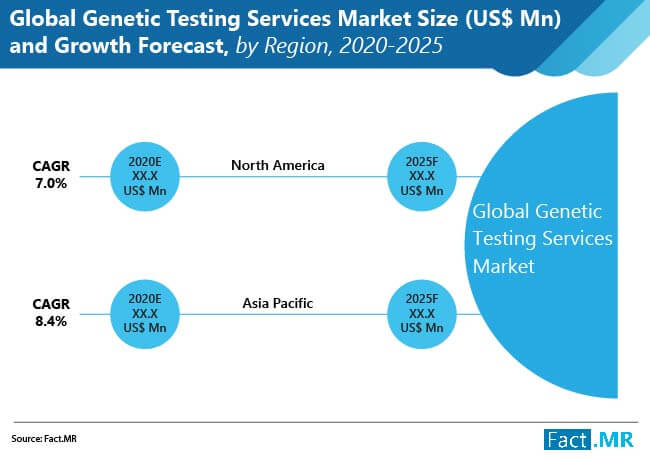 Asia-Pacific is set to be the most lucrative market for genetic testing services, expected to register a prolific CAGR of 8.4%. Rise in awareness towards the benefits of testing, high prevalence of cancer and increase in the prevalence of genetic disorders such as Huntington's disease are some key factors augmenting growth of the genetic testing services market in Asia-Pacific.
Clinical Testing to Remain Strategy of Key Market Players
The company processes tests on more than 3 million patient specimens per week and serves hundreds of thousands of customers in the United States. Likewise, Quest Diagnostics Incorporated offers various diagnostic and clinical tests for several medical conditions such as hepatitis C, arthritis, cardiovascular diseases, neurology, Genetics, Pediatrics, autoimmune diseases and cancers. The company's main area of expertise is in providing diagnostic information services.
Interested to Procure The Data
COVID-19 Market Insights:
The COVID-19 pandemic outbreak has prompted an increase in genetic test kits production. As the number of infections increase daily, there is immense pressure on hospitals and other healthcare settings to care for COVID-19 infected patients. Avellino Lab USA announced additional production shifts to scale up the manufacturing of the SARS-CoV-2/COVID-19 Test.
Christened Avellino CoV2, this ultra-rapid genetic test helps clinicians diagnose COVID-19 by identifying and isolating the genetic markers as approved by the FDA and the CDC. The test is the most preferred method of diagnosis, owing to its precision, speed and ability to detect the disease in asymptomatic patients. To ramp up production, the company is expanding its operations in the genetic diagnostics lab to its AvaGen test.
Likewise, MedGenome and SciGenom Research Foundation have published research into genetic susceptibility of the COVID-19 disease. The firms collaborated to analyze DNA sequence and variation data from over 300,000 people to study variations in the ACE-2 protein gene.
The research concludes that there are variants in the ACE-2 gene that will help protect individuals from infection. The firms hope to eventually develop a potential drug based on these variants in collaboration with a suitable pharmaceutical company. Another genetics player, Color, has entered the COVID-19 testing market. The company is working on providing the RT-qPCR assay test, the most suitable method of diagnosing COVID-19 infections. The company has entered the COVID-19 testing market in order to ease testing bottlenecks.
Analyst's Viewpoint :
The global genetic testing services market is anticipated to register an upsurge throughout the forecast period. Key manufacturers are increasingly streamlining their technological platforms to allow for robust genetic testing
Global Genetic Testing Services Market: Report Scope
The study on global genetic testing services by Fact.MR incorporates a 5-year analysis from 2020 to 2025 about the potential drivers, restraints and opportunities for important sectors of the genetic testing services market. Market segmentation has been done on the basis of test types, service providers and applications. Each segment has been analyzed in detail, taking into account the market share, growth and revenue across the forecast period.
A detailed regional analysis has also been conducted for the segments mentioned above. The analysis has been done for the following five regions: North America, Europe, Asia-Pacific, Latin America and Middle East and Africa. A separate section on competitive landscape has been provided, which includes information on leading market players, their key expansion strategies and revenue shares. An overview of their strengths, weaknesses, opportunities and threats has also been provided in order to project a realistic estimate.
Global Genetic Testing Services Market Segmentation
Fact.MR has studied the global genetic testing services market with detailed segmentation on the basis of test types, service providers, applications and key regions.
By Test types :

Prenatal Testing
New Born Screening
Predictive and Presymptomatic Testing
Pharmacogenomic Testing
Others

By Service providers :

Hospital-based Laboratories
Diagnostic Laboratories
Specialty Clinics
Others

By Applications :

Oncology
Infectious Diseases
Autoimmune Diseases
Others

By Key Regions :

North America
Europe
Asia Pacific
Latin America
Middle East & Africa
"This taxonomy prepared is confidential and intended exclusively for the individual or entity with whom it is being shared. Reading, disseminating, distributing, or copying this to any party other than addressee(s) is unauthorized and prohibited."