Edge Computing Market Size
Introduction of 5G coupled with increasing requirement for decentralized data processing power is projected to drive the demand for edge computing.  Shifting preference for high-performance smartphone apps is also contributing to the edge computing market's revenue growth. The global edge computing market will multiply 13.7X from its current value during the forecast period (2020 - 2030). Adoption of Multi-access Edge Computing (MEC) by telecom companies will generate profitable opportunities for edge computing market leaders. As telecom companies look to enhance the performance speed of mobile applications, edge computing products will witness a steep rise in demand. Benefits of multi-access edge computing, such as reduced network congestion are primary drivers of growth.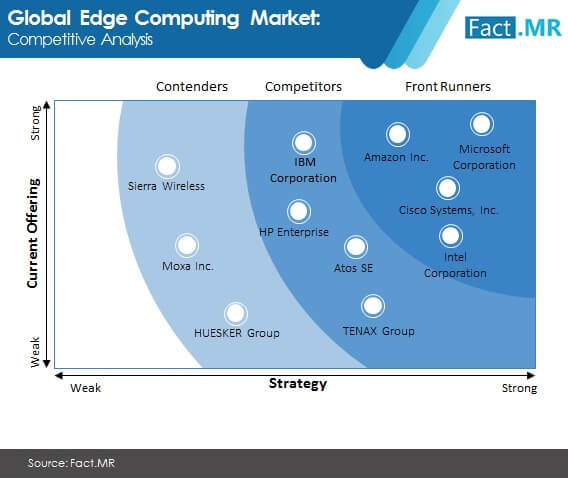 To get in-depth insights on the edge computing market, ask an analyst here
Edge Computing Market Trends
Consumer demand for high-performance smartphone applications such as high-definition multiplayer online battle arena (MOBA) games are important edge computing use cases. Edge computing Internet of Things (IoT) in developing countries such as India, Indonesia, and China present lucrative opportunities for edge computing architecture. IoT enabled devices warrant the use of advanced network infrastructure, and high processing speed, both of which are core benefits of edge computing. Therefore, IoT devices along with high performance smartphone applications will strengthen the growth of the edge computing market between 2020 and 2030.
Edge Computing Application Insights
On the basis of application, the market is segmented between, energy & utilities, industrial, transportation & logistics, smart cities/homes/building, healthcare, agriculture, retail, datacenters and others. Among these, energy & utilities emerge as the highest revenue application with more than 18% share of the total market value. Increasing emphasis on efficient energy utilization is increasing the adoption of remote monitoring and controlling of energy grids. Edge computing examples such as Automatic meter Reading (AMR), distributed generator management, and real time analysis of electricity generation are giving tailwinds to the market. The energy & utilities segment will continue to generate revenues at an astounding 29% CAGR through 2030.
Datacenter applications of edge computing aids interaction between smart devices as consumers adopt smart homes, smart cars, and smart wearables that communicate with each other to deliver seamless user experiences. The datacenter application segment will present financially rewarding opportunities with a meteoric 32.5% CAGR from 2020 to 2030. This can be attributed to the development of micro Edge Data Centers (EDC) that enables every smart device to record, store, and compute data independently of centralized data centers. Since these devices no-longer need to transmit data every time, the speed of performance increases drastically. It is favorable factors such as these that will drive the demand from this application segment.
Edge Computing Component Insights
Hardware components account for a majority share of more than 46% from the total market value. Technologies such as EDC, AMR, and MEC employ edge nodes, gateways, sensors, and routers. This further increases the demand for hardware components of edge computing. The segment will grow at a stupendous ~28% CAGR through 2030. As organizations across the world leverage industry 4.0 technologies such as artificial intelligence, machine learning, and the internet of things, they require high-performance hardware components to aid precision performance. However, the highest growth can be traced to the edge computing services segment.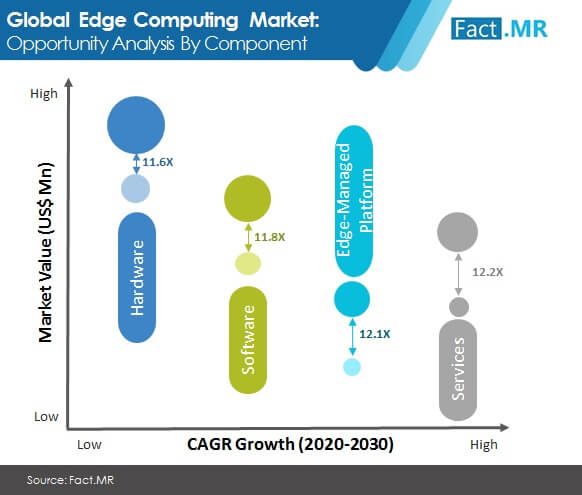 To get the latest COVID-19 impact insights on edge computing request for a report sample here
This is accredited to consumerization of industry 4.0 technologies. Prevalence of smart devices such as wearables, houses, and transit vehicles created by low-capital start-ups drive the demand for edge computing services. Since these early age technology disruptors are commonly boot strapped, they prefer edge computing services over procuring hardware assets. The services component segment will grow at a marvelous 31.5% CAGR between 2020 and 2030.
Edge Computing Market Forecast For Regions
North America is the largest regional market accounting for 46% share of the total market value. Developed countries such as the US are homes to start-ups and prominent market players. When coupled with high-disposable income of consumers, the North American region will continue its share-wide dominance with over 27% CAGR during the projection period. Regions in Asia Pacific, namely, East Asia and South Asia & Oceania present the most remunerative opportunities from six major regions.
East Asia will grow at 30% CAGR and South Asia & Oceania will grow at 32% CAGR from 2020 to 2030. Booming digital economies in these regions such as Indonesia, India, Singapore, China, Japan, and South Korea are central to the skyrocketing growth. The increasing disposable income of consumers, and penetration of edge computing based products such as electric vehicles, fitness trackers, and smart home appliances drive the demand in this region.
COVID-19 Impact Insights
The COVID-19 Pandemic has forced organizations to adopt digital collaboration and manufacturing. Organizations that were postponing their digital transformation are rapidly shifting their operations to tech-driven advanced technologies. This will increase the demand for edge computing components such as hardware (sensors, and edge nodes), software, services, and edge managed platforms. Major players in the edge computing market are leveraging this pandemic driven digital transformation to garner revenues. Since edge computing products can be delivered without physical interaction, COVID-19 has had little impact on the market.
However, hardware component manufacturers face stiff production challenges. As global import and export is suspended, the supply chain of edge computing hardware has been disrupted. Market players are now focusing their efforts on selling software, services, and edge-managed platforms. COVID-19 has created an increasing prospect pool for edge computing companies, as organizations look to judiciously spend their cash reserves in financially rewarding technologies. Edge computing with its versatility of applications in various industry verticals is well poised to help organizations minimize their financial losses. Fast recovering countries such as Australia, and India will present profitable revenue opportunities amid the COVID-19 Pandemic.
Analyst's Viewpoint
The growing popularity of connected vehicles and implementation of edge computing solutions is assisting market players to capture market value share during the forecast period.
Global Edge Computing Market: Scope of the Report:
The recent global edge computing market report by Fact.MR offers a 10-year forecast from 2020 to 2030. The report elaborates on the key drivers, restraints, opportunities and threats to the expansion of the global edge computing market. A detailed segmental analysis, based on product type, application and end-user, has been provided in the report.
Regional analysis in terms of supply chain analysis, business execution and market value analysis provides an in-depth perspective about the future scope of the global edge computing market. In addition, a separate section on market structure has also been provided. The section provides a detailed analysis of key market leaders and the strategies for expansion in the edge computing market.
Global Edge Computing Market – Scope of the Report
The following report provides forecast and analysis of the global edge computing market along with the historical data of 2015, estimated data 2020 and forecast data up to 2030 in terms of value (US$ Mn), according to a Fact.MR study. The research propounds critical trends that are currently influencing growth within the global edge computing market along with several macro-economic indicators. This newly published and insightful report on edge computing sheds light on key dynamics, and their impact on the overall value chain from suppliers to end-users, which are expected to transform the future of the global edge computing market.
The report also comprises the study of current issues with end users and opportunities for edge computing. It also contains value chain analysis, including the key market participants. To provide users of this report with a comprehensive view of the market, we have included a detailed competitive analysis about the key players involved in the market and strategic overviews. The dashboard included in the report provides a detailed comparison of edge computing manufacturers on parameters such as total revenue, product offerings, and key strategies. A list of key companies operating in the edge computing market provided in the report adds to the credibility of this exhaustive research study.
Global Edge Computing Market: In-Depth Assessment on Key Segments
The global edge computing market is segmented on the basis of component, application and region.
| | | |
| --- | --- | --- |
| Component | Application | Region |
| Hardware | Energy & Utilities | North America |
| Edge Nodes/Gateways (Servers) | Industrial | Latin America |
| Sensors/Routers | Transportation & Logistics | Europe |
| Others | Smart Cities, Smart Homes, Smart Buildings | East Asia |
| Software | Healthcare | South Asia & Oceania |
| Services | Agriculture | Middle East & Africa |
| Edge-Managed Platform | Retail | |
| | Datacenters | |
| | Others | |
This taxonomy and the detailed TOC prepared are confidential and intended exclusively for the individual or entity with whom it is being shared. Reading, disseminating, distributing, or copying this to any party other than addressee(s) is unauthorized and prohibited.
Country-specific assessment on demand for edge computing has been provided for each regional market, along with the market size valuation and forecast price point assessment, price index and impact analysis of key regional and country-wise dynamics, which were obtained through quotes from numerous edge computing manufacturers, experts, and suppliers. Y-o-Y growth projections have also been offered on all regional markets incorporated in the report. Moreover, future trends, growth prospects, and other possibilities related to the market have been answered in the report.
The report provides company-level market share analysis, which has been derived on the basis of the company's annual sales and segmental revenue in all the target end-use industries. The market has been forecasted based on constant currency rates. The report provides detailed competitive and company profiles of key participants operating in the global edge computing market. Some of the major competitors operating in the edge computing market are Cisco Systems, Inc., Digi International Inc., General Electric Company, Hewlett Packard Enterprise Development LP, Honeywell International Inc., IBM Corporation, Intel Corporation, Microsoft Corporation and others.
Global Edge Computing Market: Research Methodology
A number of primary and secondary sources were consulted during the course of the study. Secondary sources include Factiva, Morningstar and Hoovers, and company annual reports and publications. Comprehensive interviews have been conducted by our analysts, and the intelligence and insights obtained have been used for validating the information gained through secondary research. The report also includes a description of assumptions and acronyms utilized for research purposes. Data gathered has been validated using the triangulation method to offer useful quantitative and qualitative insights into the edge computing market.
A short market viewpoint offered in the report elucidates the macro-economic aspects that influence the growth of the edge computing market, which includes global GDP growth rate and other sector growth rate such as IT, Energy & Utilities, Industrial, Transportation & Logistics, and others. This report serves as an authentic resource of intelligence on the edge computing market, enabling the readers to take fact-based decisions on the future direction of their businesses
Fact.MR offers custom research services that help clients to get specific research solutions
We are committed towards customer satisfaction and quality service.
---
Our Clients

Edge Computing Market Forecast, Trend Analysis & Competition Tracking - Global Market Insights 2020 to 2030