Immunoglobulins Market
Immunoglobulins Market Analysis, By Application (Neurology, Immunology, Hematology), By Route of Administration (Intravenous, Subcutaneous, Intramuscular), By End-user (Hospitals, Clinics, Homecare) - Global Market Insights 2020-2026
FACT4788MR
Mar-2022

List of Tables : 24

List of Figures : 104

170 Pages
Global Immunoglobulins Market Growth Analysis
The global immunoglobulins market shall expand strongly at a CAGR of 7.0% during the forecast period (2020-2026), largely attributed to the upsurge in prevalence of autoimmune diseases. According to the Immune Deficiency Foundation (IDF), approximately 83 per 100,000 people in North America suffered from primary immunodeficiency in 2017, covering 350 genetic diseases. As the global geriatric population increases, so does the demand for better immunological treatments.
Moreover, a steady increase in the usage of immunoglobulins for the treatment of off-label indications is also rising. Common off-label indications treated with intravenous and subcutaneous immunoglobulins include Guillain Barre Syndrome, multifocal motor neuropathy, dermatomyositis and stiff person syndrome.
The ongoing novel coronavirus pandemic shall also leverage the global immunoglobulins market, as healthcare providers are exhaustively researching on the application of immunoglobulins in the treatment of COVID-19.
Avail customized purchase options for your needs
Global Immunoglobulins Market Study, By Application
The neurology segment held the maximum market share throughout the historical period, comprising almost 2/5th of the global immunoglobulins market. This trend is expected to continue across the forecast period. The immunology segment accounted for the 2nd largest share in the global immunoglobulins market and is poised to capture over 35% market share throughout the forecast period.
Intravenous, subcutaneous and intramuscular immunoglobulins are effective for the treatment of rare disorders in the neurology and immunology disease segments, hence the increasing market share. The number of patients suffering from disorders such as multifocal motor neuropathy, primary humoral immunodeficiency and Guillain Barre Syndrome are also increasing.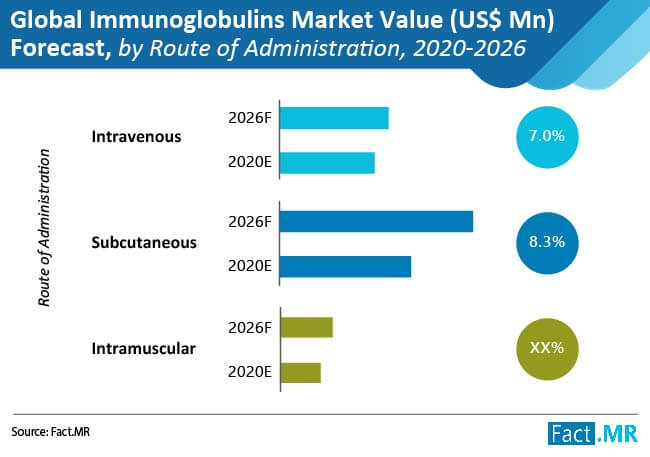 Global Immunoglobulins Market Study, By Route of Administration
Intravenous immunoglobulin administration, capturing more than three-quarters of the market, will expand at a CAGR of 7.0% during the forecast period. At the same time, the subcutaneous (SCIG) administration segment is anticipated to expand rapidly, at a CAGR of 8.3% in the total immunoglobulins market.
Approval of intravenous immunoglobulin (IVIG) products for chronic and rare diseases, are projected to uplift the market. Moreover, growing acceptance amongst patients due to advantages such as lower rate of non-serious systemic adverse reactions shall drive the growth of the subcutaneous administration segment.
An Adaptive Approach to Modern-day Research Needs
Global Immunoglobulins Market Regional Insights
North America shall remain the kingpin of the global immunoglobulins market across the forecast period, expanding healthily at a CAGR of 7.1% during the forecast period and capturing a market share of more than two-fifth. Trailing behind is the Asia-Pacific region, expanding at a CAGR of 8.5% and capturing more than a quarter of the global immunoglobulins market.
Growth in North America is attributed to the high prevalence of neurological, immunological and other disorders, high adoption of IVIG products and significant reimbursement coverage along with presence of major market players. Expanding healthcare market, untapped potential, and acceptance of immunoglobulins products in developing countries and increasing geriatric population are the key drivers augmenting growth of the Asia-Pacific market.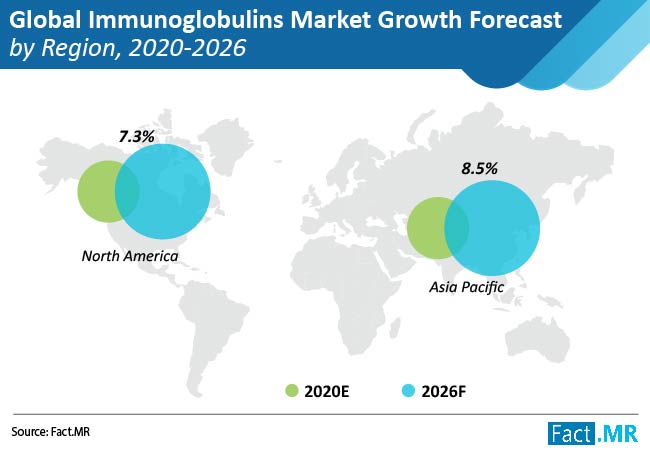 Global Immunoglobulins Market Key Players
Key Companies Profiled
Grifols S.A
Shire and CSL Behring.
Octapharma
Kedrion Biopharma Inc.
China Biologic Products Holdings Inc.
Biotest AG
Sanquin
LFB SA.
The global immunoglobulins market is highly consolidated, with the top three players constituting more than three-fifths of the overall market share. These three key players are Grifols S.A, Shire and CSL Behring. Other prominent players include Octapharma, Kedrion Biopharma Inc., China Biologic Products Holdings, Inc., Biotest AG, Sanquin and LFB SA. Most of these companies concentrate on molecular immunoglobulins indications and subsequent development of pipeline products.
Grifols S.A, for instance, manufactures Gamunex C and Flebogamma Intravenous immunoglobulin products. Gamunex C is a sterilized solution made from human plasma which contains antibodies to treat primary immunodeficiency. This includes, but is not limited to, congenital agammaglobulinemia, common variable immunodeficiency and Wiskott - Aldrich syndrome.
On a similar plane, CSL Behring is engaged in producing subcutaneous immunoglobulin products such as Privigen, Evogam and Beriglobin P. Berigloin P is presented in the form of an injection containing excipients of glycine, sodium chloride, hydrochloric acid or sodium hydroxide and water.
Interested to Procure The Data
COVID-19's Impact on the Global Immunoglobulins Market
As the coronavirus pandemic suffocates the entire world, leading healthcare practitioners are researching extensively on finding potential cures for this deadly virus. The pandemic has provided a platform for the immunoglobulins market to become elevated on a higher growth pedestal.
For instance, in India, Bharat Biotech is leading a project to develop monoclonal antibodies as a possible therapy for COVID-19. The project is sanctioned by the Council of Scientific and Industrial Research (CSIR) under its New Millennium Indian Technology Leadership initiative.
On a similar plane, Grifols continues to advance its research and supports integrated efforts for developing clinical trials on convalescent plasma transfusions as well as on the application of anti-coronavirus hyperimmune globulin.
Another market player, CSL Behring Ltd., is part of a larger alliance of the world's leading plasma companies titled the CoVIg-19 Plasma Alliance. The purpose of this project is to make extensive usage of immunoglobulins for the development of an investigational medicine to test whether such a drug could help develop immunity to the virus. All these efforts are directly and indirectly contributing to the growth of the immunoglobulins market.
Analyst's Viewpoint
"Rising prevalence of immunological disorders are anticipated to provide a launching pad for the growth of the immunoglobulins market. North America and the Asia-Pacific shall emerge as booming hubs, attributed to a rapidly advancing healthcare infrastructure."
Global Immunoglobulins Report Scope
The recent report on the global immunoglobulins market published by Fact.MR incorporates a 6-year forecast period between 2020 and 2026. The report elaborates on vital dynamics such as the drivers, restraints and opportunities associated with the immunoglobulins market.
Market analysis has been presented on the basis of the following segments: application, route of administration and end-user. Each segment has been analyzed on the basis of its revenue, market share and year-on-year growth projections.
A section on the market's regional landscape incorporating the abovementioned segments has also been included. The regional landscape has been mapped based on the following geographies: North America, Europe, Asia-Pacific, Latin America and Middle East & Africa.
In the final part of the report, a competition landscape detailing key market players' revenue and market shares, product portfolios and key collaborations have been embedded. In addition, each market player also includes a SWOT analysis in order to provide a realistic picture of future growth.
Global Immunoglobulins Market Segmentation
Fact.MR has studied the global immunoglobulins market with detailed segmentation on the basis of Application, Route of Administration, End-user and key regions.
By Application :

Neurology
Immunology
Hematology
Others

By Route of Administration :

Intravenous
Subcutaneous
Intramuscular

By End-user :

Hospitals
Clinics
Homecare

By Key Regions :

North America
Europe
Asia Pacific
Latin America
Middle East & Africa (MEA)
"This taxonomy prepared is confidential and intended exclusively for the individual or entity with whom it is being shared. Reading, disseminating, distributing, or copying this to any party other than the addressee(s) is unauthorized and prohibited."