Non-Dairy Toppings Market Outlook
When it comes to dairy alternatives, manufacturers have access to a vast range of plant-based sources. Supermarkets and hypermarkets are increasingly setting aside aisle space for non-dairy toppings based from conventional sources such as almond milk, peanuts, hazelnuts, walnut, tiger nut, cashews, coconut, spelt, hemp, pea, and quinoa, among others.
Over the past few years, non-dairy toppings such as non-dairy whipping creams, non-dairy pouring creams, and non-dairy spooning creams have become increasingly popular among consumers and manufacturers, owing to a number of benefits, including lower fat content, lower costs, and superior stability. Ease of use has made these products popular among bakers and caterers.
However, production of successful dairy-alternative toppings requires appropriate fat, emulsifier, and stabilizer content. The industry is also aided by rising health concerns and increased cases and awareness about lactose intolerance among consumers, which is also a major factor supporting demand.
In a new market study, market research and consulting firm Fact.MR analyzes the major factors that will influence demand in the decade ahead, where indication point towards sales being higher is regions such as APEJ, North America, and Europe. The study also provides an analysis of demand in over 20+ countries, with an in-depth section on the effects of COVID-19 on this sector.
Don't Need a Global Report?
Save 40% on Country & Region specific reports
Historical Trends Compared to Future Outlook
During the past five years (2015 and 2019), the non-dairy toppings market has displayed healthy growth, from US$ 868 Mn valuation to US$ 1 Bn. Multinational manufacturers such as Conagra Brands, Puratos, FrieslandCampina Kievit, and Hanan Products Co. Inc. have pushed substantially towards geographical expansion strategies, with opening of plants across the Asia Pacific region.
As per the Fact.MR report, the COVID-19 pandemic is expected to slowdown the growth rate of plant-based food topping products in the short term. However, the market is likely to witness significant increase in growth post 2021, to reach an estimated US$ 2.3 Bn valuation by the end of 2031.
Asia Pacific excluding Japan, led by China, will remain a major contributor to growth in the future. Investments by market leaders in emerging countries, including Singapore, China, and India, will be key to developments in the foreseeable future.
More Insights, Lesser Cost (-50% off)
Insights on import/export production,
pricing analysis, and more – Only @ Fact.MR
How are Changing Health Perceptions Influencing Topping Producers?
A survey was conducted by the Deakin University among 345 randomly selected shoppers in Melbourne, Australia, on consumer perceptions of the health effects of whole milk, reduced fat milk, and soy milk. The study investigated the influence of demographics on consumption patterns. The survey revealed major differences in perceptions in terms of weight control, bone health, allergy and disease causation, and disease prevention. Overall, whole milk has been seen more negatively than reduced fat, or soy milk, with plant-based milk holding mostly positive views by consumers.
A Nutrition Institute, Slovenia report states that, milk and dairy products are key to diets in numerous nations, while there is a rapidly emerging market for their plant-based alternatives. These products are promoted as healthier alternatives to dairy products, leveraging the negative health perception of saturated animal-based fats, the animal origin of dairy products, and the growth cases of lactose intolerance and milk allergies. These trends are likely to have a positive impact on the long term growth of the non-dairy toppings industry.
Know thy Competitors
Competitive landscape highlights only certain players
Complete list available upon request
How are Free-From Trends Influencing Developments in Non-Dairy Toppings Market?
According to MilkPEP plant-based alternative milks such as almond milk, soy milk, and oat milk, both, refrigerated and shelf-stable, are popular in the alternative milk space. However, sales of dairy alternatives accounted only for around a tenth of overall dairy sector sales.
With a shift in consumer purchase trends and increased focus on health, the touted benefits of plant-based diets, and the cases of celebrity endorsement, the 'Free From' industry has seen growth in the past few years. With rise in interest in Free From alternatives for everyday foods, pressure is on manufacturers to develop innovative dairy-alternative products, while also keeping up with texture, taste, and scope of use.
Thanks to increasing understanding about dairy intolerance, a wide range of non-dairy alternatives in the food & beverage industry are now available. Coconut, soya, oat, hemp, and almond milk are popular sources for animal-free alternatives at affordable prices. These products also nutritionally offer numerous benefits, and are fortified by manufacturers with nutrients such as calcium. This makes such products superior replacements for people who are triggered by dairy.
The food & beverage industry is witnessing steady increase in own label products from major supermarket brands, as they push to meet the lifestyle and health requirements of customers. According to a Good Food Institute Report, Free From offerings from supermarket-owned brands is worth close to £250 Mn. Such changes in consumer perception are likely to have a significant influence on the market in the long-term.
What is the Role of Sustainability in the Non-Dairy Toppings Industry?
In recent years, dairy milk sales have dropped substantially, as consumers are increasingly aware about the environmental benefits of non-dairy milk alternatives. As per data from the Dairy Farmers of America (DFA), sales of milk slumped by more than US$ 1 billion between 2017 and 2018; 2018 closed with net sales of US$ 13.6 billion as compared to US$ 14.7 billion in 2017.
According to One Green Planet, food production and consumption accounts for up to 30% of global greenhouse gas emissions. Around 15% of global emissions can be attributed to animal products. A key environmental factor in food production is also land use, as fertile agricultural land is a limited resource. Close to 40% of global land has been used as pastures for grazing livestock.
A 2018 study by researchers from the University of Oxford found that, a glass of dairy milk results in almost three times more greenhouse gas emissions in comparison to any plant-based alternative, while using nine times more arable land than any of milk alternative. One liter of cow milk requires 9 square meters of land and more than 1,000 liters of water, on an average. Soy and coconut have relatively lower impact on the environment in comparison to other plan-based, non-dairy topping sources. Higher consumer awareness will continue to influence the non-dairy topping market space in the years ahead.
What are the Leading Challenges Facing Non-Dairy Topping Manufacturers?
The prospects of the non-dairy toppings market are largely positive for the long term. However, the industry will face a number of challenges, limiting potential growth in the sector. For instance, competition from dairy-based toppings is a key factor holding back sales. Also, plant-based toppings are relatively highly priced, hindering adoption, as opposed to conventional.
Also, the non-dairy toppings industry is reliant on the yield of vegetables and nuts. Fluctuation of yield and prices of these raw materials, owing to environmental factors, is also a challenge to market players in the industry.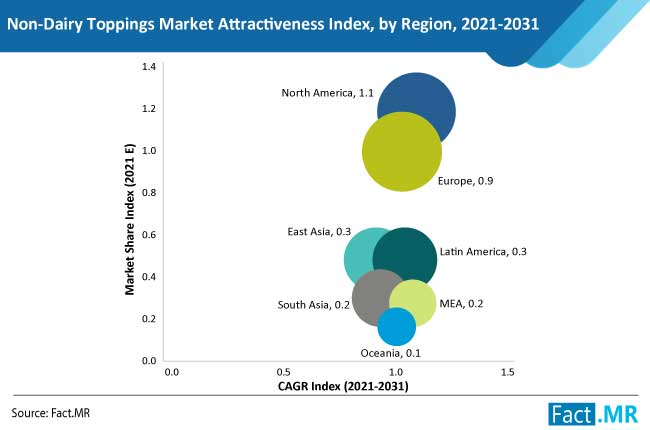 Country-wise Insights
What are the Prospects of Non-Dairy Topping Sales in the U.S?
North America is a key market for non-dairy topping products, and is projected to account for more than 20% of the global market share through the end of the forecast period. The United States holds the lead over Canada with a valuation of over US$ 182 million in 2020.
According to a study by the Cornell University, more than 10% of the overall American population suffers from lactose intolerance. This factor will also support the adoption of non-dairy toppings in the United States of America through the forecast period.
According to a study by the Good Food Institute, sales of plant-based products have surpassed animal-based alternatives in the meat and dairy sectors following the advent of the COVID-19 pandemic. Also, a USDA report has stated that, U.S. milk consumption been steadily declining in recent years. In 1984, milk consumption accounted for 15% share of all eating occasions. However, by 2019, milk consumption had fallen to a 9% share. These trends are likely to have an influence on non-dairy topping sales in the long term.
Are Imbalances in Dairy Supply Affecting the Non-Dairy Toppings Market in the U.K?
As per the Vegan Society data, the number of vegans in the United Kingdom has quadrupled between 2014 and 2019. Also, the U.K. was the leader in vegan product launches in 2018 in comparison to any other nation. U.K.'s sales and consumption of vegan dairy alternatives have become the highest in Europe.
The Vegan Society has also stated that, the U.K. plant-based dairy sector was worth more than US$ 320 million in 2019, accounting for more than 15% of the overall European market. This figure is projected to more than double at a CAGR of close to 14% through 2025. This is likely to create a highly favorable environment for the expansion of non-dairy topping producers in the country.
According to FarmingUK, dairy farmers in the U.K. were impacted by a 50 percent drop in profits from conventional milk from 2018 to 2019, with one-fourth of all the country's population now opting for plant-based dairy alternatives. On the other hand, the COVID-19 pandemic has generated obstacles for manufacturers. As per the Journal of Food Science and Technology, dairy-free products in the U.K. reflected a growth rate of less than 1% between late 2019 and early 2020.
What is the Share of France in the Non-Dairy Toppings Industry?
According to a Barry-Callebaut study, France was the largest market for plant-based diary alternatives in terms of retail value for 2019, at a valuation of over 200 Mn €. The country also displayed a 15% CAGR for dairy alternatives between 2014 and 2017.
Danone is a key French player in the non-dairy foods sector. In 2017, this France-based food conglomerate acquired plant-based dairy producer WhiteWave Foods for a valuation of US$ 12 billion. In October 2018, the company announced plans to triple its global plant-based foods business by 2025.
As per the Association Végétarienne de France, plant-based dairy products are most commonly consumed in the U.K. and Belgium, with France's market share being fairly low at approximately 40%. This can be attributed to general consumer preferences for conventional milk-based options. According to Mercy for Animals, a 17% annual growth of plant-based products is expected in France between 2019 and 2021, creating a favorable environment for the growth of the industry.
Will Vegan Population Growth in Germany Generate Potential for Non-Dairy Toppings Market?
As per a report by Agri-food Canada, the boomer population in Germany accounts for a consumption of over 30% of overall dairy in the country. This factor will play an important role in the consumption of non-dairy toppings in Germany. On the basis of plant-based dairy-alternatives, Germany lags behind Italy, the U.K., Spain, and France, and accounts for around 38% of the Western European market share.
A USDA report stated, 15 percent of all new vegan product launches between 2017 and 2018 took place in Germany. A Proveg International report indicated that, Germany houses around 1.3 million vegans, and close to 8 million vegetarians. The USDA report also said that, around 70% of German households have a preference for a larger variety of vegetarian products in supermarkets, with around 65% purchasing vegan and vegetarian products intentionally.
Further, the estimated growth of dairy alternative product sales between 2019 and 2024 is expected to be more than 7% CAGR. Plant-based milk in Germany accounted for 15 percent of overall dairy sales in 2018. According to a report by Veganz, 30% of Germany's population is considered flexitarian. These factors are likely to generate favorable conditions for long-term growth of the non-dairy toppings market, including vegan topping products in Germany.
How is Lactose Intolerance Surging Sales of Non-Dairy Toppings in Spain?
A report by the USDA has stated that, retail sales of free from products in Spain crossed a US$ 1.2 billion valuation in 2018, which was a 12% rise in comparison to 2017. Also, free from dairy retail value sales were estimated to rise by around 17% in 2018. The Green Revolution has stated that, food stores and restaurants in the country catering to vegans and vegetarians has doubled from 2016 to 2019.
A report by the Irish Food Board stated that, lactose-free products are finding traction in Spain, with around 35% of the country's population suffering from lactose intolerance, which is among the highest incidence in European countries.
As per a USDA report, Spain's milk production followed its growth trend to rise in 2018 and 2019, minimizing the need for imports from other EU countries. Also, during 2020 and 2021, milk trade is projected to gain substantial domestic supplies to boost the use of domestic milk supplies in dairy product manufacturing. This will create obstacles to non-dairy topping production in terms of competition.
According to a WhiteWave Foods study, Spain has emerged as a major market for non-dairy alternatives, with soy-milk being the most common source, while almond and oats are also reflecting stronger growth. Also, 2% of the country's population is vegan or vegetarian, while flexitarians account for 8%. This creates opportunities for the future of the country's non-dairy toppings sector.
Are Dietary Habits of Consumers Largely Influencing Demand for Non-Dairy Toppings in Italy?
According to the Vegan Society, nearly half of all consumers in Italy have stated an interest in lowering animal-based food intakes, with a fourth pushing to bolster consumption of vegetarian processed foods. Also, the Vegan Society stated that, Italy has the fastest-growing population of animal-free product consumers.
A report by the European Commission stated that, around 40% of the country's milk production is annually directed towards the production of Grana Padano and Parmigiano-Reggiano cheeses. The imbalance in dairy supplies from this practice is likely to create opportunities for non-dairy topping manufacturers in the country.
Another report by the European Data Journalism Network has indicated that, the small population of Italian vegans, at 3%, rose by nearly 100% between 2016 and 2018. Also, a report by the National Library of Medicine has indicated that, population of the country reflects more than 50% and 40% lactose malabsorption cases in North and South Italy, respectively, while central Italy accounts for close to 20%. These trends are likely to have significant influence on the prospects of non-dairy topping purchases in the country.
Why is China a High Potential Market for Non-Dairy Toppings?
The Chinese market for non-dairy toppings is the second-largest and fastest-growing in the world. The country is estimated to rise at over 11% CAGR by 2031. The Chinese government has set up standards for plant-based dairy products, including the GB/T 10789-2015 General Standard for Beverages, which provides details on different standards used in different plant milks: GB/T 31325-2014 for walnut milk, QB/T 2439 for peanut milk, and GB/T 30885-2014, among others. These factors are likely to aid China as a high potential market for non-dairy products in the near future.
According to the Good Food Institute, growth of plant-based product sales has crossed that of animal-based products in China in terms of dairy products. A report by Health Ingredients China stated that, Asian consumers, of which the Chinese comprise a large percentage, are prioritizing healthy food choices, with approximately 90% of Asians being lactose intolerant.
Also, adoption of vegan labeling on food packaging has increased four times between 2016 and 2018. Health Ingredients China has also added that, between 2015 and 2017, sales of plant-based milk grew in China by more than 15%. According to Xinhua News Agency, the Chinese vegan population has surpassed 50 million individuals, and is continuing to grow, creating a conducive atmosphere for non-dairy topping production and sales in the country.
How are Non-Dairy Toppings Faring in India?
According to the Census from the Government of India, around 30% of the country's population is either vegan or vegetarian. On the other hand, a substantial percentage of this demographic is lacto-vegetarian, with significant consumption of milk products. These trends are likely to influence sales of non-dairy topping products.
Urban Platter, GoodMylk, Karma Milk Pvt. Ltd., and So Good are some of the increasingly prominent brands for non-dairy toppings in India, and are reflecting steady growth. According to the Fact.MR report, India is the fastest-growing market for non-dairy toppings at over 13% CAGR through 2031.
While higher levels of health awareness among the Indian population will prove beneficial for market players, higher costs of vegan products in the country are likely to hold back sales in the non-dairy toppings market in the near term.
Category-wise Insights
Why are Vegetable Oils Important for Production of Non-Dairy Toppings?
Non-dairy toppings can be produced from a large range of base ingredients. These include soy milk, vegetable oil, almond milk, coconut milk, and others. Of these, sales of vegetable oil-based toppings have been relatively higher. The segment is estimated to account for more than 30% of the market share through 2031.
Superior characteristics of vegetable oils in terms of emulsification and stabilization for non-dairy toppings is a major factor driving demand in the industry. On the other hand, coconut milk is displaying faster growth, supported by better nutritional characteristics and lower environmental footprint. Coconut milk is projected to reach approximately 20% share by the end of the forecast period.
What are the Prospects of Liquid Toppings?
Manufacturers produce non-dairy toppings in liquid, powder, and frozen variants. Liquid form toppings hold the lead, accounting for close to 60% of the industry, while also reflecting faster growth than other options.
Demand in the market for liquid toppings can be largely attributed to their wide range of applications in ready-to-eat foods, and the ease of mixture in recipes. Powdered options, on the other hand, display longer shelf lives and optimal costs as far as logistics are concerned.
Will Bakery Applications Drive Global Demand for Non-Dairy Toppings?
Non-dairy toppings find use in a range of food applications, including bakery, confectionery, processed fruit, frozen desserts, and beverage products. Growing at approximately 10% CAGR through 2031, bakery product applications hold the lead in terms of market share.
These toppings play a key role as non-dairy bakery ingredients, such as in layer cakes, donuts, pies, eclairs, sandwich-cookies, turnovers, or savory-baked goods, to improve on color and taste. Non-dairy toppings for bakery products are available in the form of fondants, creams, truffles, chocolate, caramels pralines, and more, which will ensure growth of the segment in the long term.
Why are Whipped Cream Products Dominant?
Non-dairy-based topping products can largely be classified into 3 types – whipped cream, pouring cream, and spooning products. Whipped cream products are expected to account for more than 60% of the overall market, and are expected to continue growing through the assessment period.
Higher profit margins for manufacturers and wider scope of application in dessert products are essential to the rise of whipped cream manufacturing and sales. Pouring cream will also hold a significant market share for its role in a number of recipes.
How will Indirect Sales through Modern Stores Remain Key to Non-Dairy Toppings Market Revenue?
Manufacturers are selling their non-dairy topping offerings through both, direct and indirect sales channels. Indirect sales remain dominant in the industry through modern stores, specialty food stores, e-Commerce, and others. Indirect sales accounted for close to US$ 770 Mn in 2020. Modern stores will account for more than 60% of these sales by the end of the forecast period.
Modern stores include larger players such as supermarket chains, minimarkets, hypermarkets, and more. Aggregation of demand for a wide range of diverse product ranges and higher optimization for profitability through this channel will contribute to long-term growth.
Competitive Landscape
The global non-dairy toppings market is moderately fragmented and competitive in nature, owing to the presence of numerous regional players in the industry. Major manufacturers are focused on product launches to bolster their portfolios, in addition to strategic collaborations and acquisitions to consolidate their positions in the market.
For example, in April 2020, Rich Products Corp. announced the acquisition of an ownership stake in Rich Graviss Product Pvt. Ltd. The deal is expected to aid the company in expanding its footprint into the high potential market of India.
Conagra Brands unveiled two new variants of Reddi-wip whipped toppings – non-dairy almond and coconut options. These products only hold 10 calories for each serving, and are free from artificial flavors and preservatives.
Trader Joe's launched a new whipped topping under its Sweet Rose label. The product is produced with real coconut cream, and is a low-calorie dairy alternative to conventional whipped cream, priced at US$ 3.29 for a 6.5 ounce can.
Report Scope
Attribute

Details

Forecast Period

2021-2031

Historical Data Available for

2016-2020

Market Analysis

USD Million for Value
Tons for Volume

Key Regions Covered

North America
Latin America
Western Europe
Eastern Europe
Japan
Asia Pacific Excluding Japan
Middle East & Africa

Key Countries Covered

US
Canada
Brazil
Mexico
Argentina
Chile
Peru
Germany
U.K.
France
Italy
Spain
BENELUX
Nordic
Russia
Poland
CIS Countries
China
Japan
South Korea
India
ASEAN
Australia
GCC Countries
Turkey
Israel
South Africa

Key Segments Covered

Base Ingredient
Form
Application
Type
Distribution Channel
Region

Key Companies Profiled

Rich Products Corporation
Conagra Brands
Puratos NV
FrieslandCampina Kievit
Hanan Products Co. Inc.
Pinnacle Foods Inc.
So Delicious Inc.
Schlagfix
Dawn Food Products Inc.
Goodrich Carbohydrates Ltd., (indicative list)

Report Coverage

Market Overview
Key Market Trends
COVID-19's Impact
Demand Analysis
Market Background
Segmental Analysis
Regional Profiling
Market Structure Analysis
Competition Analysis

Customization & Pricing

Available upon Request
Key Segments of Non-Dairy Toppings Market
Base Ingredient
Soy Milk
Vegetable Oil
Almond Milk
Coconut Milk
Others
Form
Application
Bakery
Confectionery
Processed Fruits
Frozen Desserts
Beverage
Others
Type
Whipped Cream
Pouring Cream
Spooning
Others
Distribution Channel
Direct
Indirect

Modern Stores
Specialty Food Stores
E-Commerce
Others
Region
North America (U.S. & Canada)
Latin America (Mexico, Brazil, Argentina, Chile, Peru, & Rest of LATAM)
Western Europe (Germany, U.K., France, Italy, Spain, BENELUX, Nordic, & Rest of W. Europe)
Eastern Europe (Russia, Poland, CIS Countries and Rest of E. Europe)
Middle East and Africa (GCC Countries, Turkey, South Africa, Israel, & Rest of MEA)
Japan
Asia Pacific excluding Japan (China, India, ASEAN, South Korea, Australia, & Rest of APEJ)