Non-Dairy Toppings Market
Non-Dairy Toppings Market By Type (Whipped Cream, Pouring Cream, Spooning), By Base Ingredient (Soy Milk, Vegetable Oils, Almond Milk, Coconut Milk), By Form (Liquid, Powder, Frozen), By Application (Bakery, Confectionery, Processed Fruits, Frozen Desserts, Beverages), By Distribution Channel (Direct Sales, Indirect Sales) & Region - Global Market Insights 2023 to 2033
Analysis of Non Dairy Toppings Market Covering 30+ Countries Including Analysis of US, Canada, UK, Germany, France, Nordics, GCC countries, Japan, Korea and many more
Non-Dairy Toppings Market Outlook (2023-2033)
Expanding at a CAGR of 8%, the global non-dairy toppings market is predicted to increase from a valuation of US$ 1.2 billion in 2023 to US$ 2.6 billion by the end of 2033. Demand for liquid non-dairy toppings is predicted to rise at a significant CAGR due to their wide range of applications in ready-to-eat foods and the ease of mixture in recipes.
Non-dairy toppings are dairy-free foods that are used in place of dairy-based toppings and have functions that are comparable to those of their dairy-based counterparts. These toppings' basic constituents include soy milk, hemp milk, almond milk, rice milk, vegetable oils, and others. These come in a variety of forms, including powder, liquid, and frozen varieties.
The market is primarily driven by the expanding use of non-dairy toppings in the bakery industry and the global increase in incidences of lactose intolerance. Market growth is accelerated by rising cooperation between important companies and strategic product launches, including the introduction of new flavors.
This industry is influenced by the growing popularity of vegetarianism, which is pushing consumers toward vegan products, the adoption of new technologies such as plant-based dairy products, and the strong demand for chocolates and other sweet meals among consumers. The market is driven by the increase in ready-to-eat food consumption brought on by hectic work schedules, changing ethnic culinary tastes, and increased demand from consumers who cannot consume dairy products.
The market is positively impacted by population growth around the world, changing customer preferences, lifestyle changes, product awareness, and an increase in disposable income. When it comes to dairy alternatives, manufacturers have access to a vast range of plant-based sources. Supermarkets and hypermarkets are increasingly setting aside aisle space for non-dairy toppings based on conventional sources.
However, the production of successful dairy-alternative toppings requires appropriate fat, emulsifier, and stabilizer content. The industry is also aided by rising health concerns and increased cases and awareness about lactose intolerance among consumers, which is also a major factor supporting demand.
The food & beverage industry is witnessing a steady increase in own-label products from major supermarket brands, as they push to meet the lifestyle and health requirements of customers. Such changes in consumer perception are likely to have a significant influence on the market in the long term.
The market is expanding as a result of consumers' growing preference for wholesome food options. In comparison to their dairy counterparts, non-dairy toppings are thought to be a healthier choice because they are lower in fat and calories. Veganism is a lifestyle preference that forbids the use of any items made from the exploitation or cruelty of animals, including meat, eggs, honey, and other dairy-free substitutes.
Report Attributes

Details

Non-Dairy Toppings Market Size (2023)

US$ 1.2 Billion

Projected Market Value (2033)

US$ 2.6 Billion

Global Market Growth Rate (2023-2033)

8% CAGR

Market Share of Whipped Cream

60%

Key Companies Profiled

Rich Products
Puratos
Hanan Products
Dawn Foods
Conagra Brands
Pinnacle Foods
Goodrich Foodtech
Schlagfix
Don't Need a Global Report?
save 40%! on Country & Region specific reports
What is Majorly Driving Demand for Non-Dairy Toppings?
"Increasing Global Consumption of Plant-based Products"
With a shift in consumer purchase trends and increased focus on health, the benefits of plant-based diets, and the cases of celebrity endorsement, the 'Free From' industry has seen growth in the past few years. With the rise in interest in Free From alternatives for everyday foods, pressure is on manufacturers to develop innovative dairy-alternative products, while also keeping up with texture, taste, and scope of use.
Thanks to an increasing understanding of dairy intolerance, a wide range of non-dairy alternatives in the food & beverage industry are now available. Coconut, soya, oat, hemp, and almond milk are popular sources of animal-free alternatives at affordable prices. These products offer nutritional benefits and are fortified by manufacturers with nutrients such as calcium. This makes such products superior replacements for people who are triggered by dairy.
"Growing Awareness about Environmental Benefits of Non-dairy Milk Alternatives"
In recent years, dairy milk sales have dropped substantially, as consumers are increasingly aware of the environmental benefits of non-dairy milk alternatives. According to One Green Planet, food production and consumption account for up to 30% of global greenhouse gas emissions.
Around 15% of global emissions can be attributed to animal products. A key environmental factor in food production is also land use, as fertile agricultural land is a limited resource. Close to 40% of global land has been used as pastures for grazing livestock.
A study by researchers from the University of Oxford found that a glass of dairy milk results in almost three times more greenhouse gas emissions in comparison to any plant-based alternative while using nine times more arable land than any milk alternative.
One liter of cow milk requires 9 square meters of land and more than 1,000 liters of water, on average. Soy and coconut have a relatively lower impact on the environment in comparison to other plant-based, non-dairy topping sources. Higher consumer awareness will continue to influence the non-dairy topping market space over the coming years.
What Could Possibly Hinder the Sales of Non-Dairy Toppings?
The industry will face several challenges, limiting potential growth in the sector. For instance, competition from dairy-based toppings is a key factor holding back sales. Also, plant-based toppings are relatively highly-priced, hindering adoption, as opposed to conventional.
Also, the non-dairy toppings industry is reliant on the yield of vegetables and nuts. Fluctuation of yield and prices of these raw materials, owing to environmental factors, is also a challenge to market players in the industry.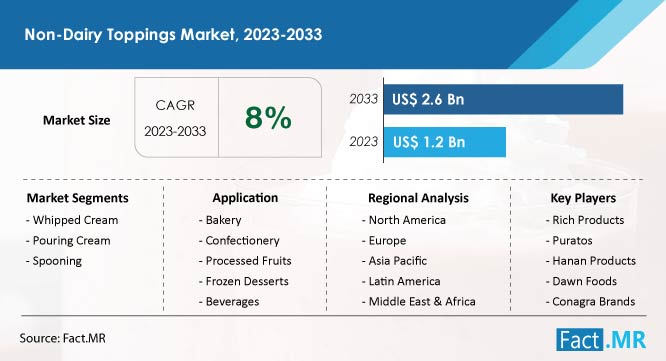 Which Region Holds a Dominating Position in This Industry?
"Growing Sales of Plant-based Wellness Foods in North America"
North America holds 50% market share of the global market as a result of the growing vegan population and changing consumer preferences for packaged foods made with plant-based ingredients, including beverages, desserts, and snacks. According to a study by Cornell University, more than 10% of the overall American population suffers from lactose intolerance. This factor is supporting the adoption of non-dairy toppings in the region.
More Insights, Lesser Cost (-50% off)
Insights on import/export production,
pricing analysis, and more – Only @ Fact.MR
Country-wise Insights
What are the Prospects for Non-Dairy Topping Sales in the U.S.?
"Wide Availability of Raw Materials in the U.S."
Market growth in the U.S. is ascribed to the rising consumption of dairy substitutes due to their nutritive advantages and user-friendliness. The availability of a wide range of raw materials, such as vegetable oil, coconut milk, and soy milk, and the expansion of the non-dairy food industry are providing lucrative opportunities to market participants in the U.S.
Why is Germany a High Potential Market for Non-Dairy Topping Producers?
"Huge Variety of Vegetarian Products in Supermarkets across Germany"
The fastest-growing population of animal-free product consumers, the larger variety of vegetarian products in supermarkets, the introduction of vegan-label products, the presence of prominent players, and the growing popularity of vegan-branded products among consumers of dairy products are the aspects supporting market expansion in Germany.
What are the Opportunities for Non-Dairy Topping Suppliers in Japan?
"High Rate of Confectionery Consumption in the Country"
Rapid urbanization, growing population, increase in prominent brands for non-dairy toppings, high rate of confectionery consumption, and higher levels of health awareness among the population are the factors driving market growth in Japan.
Category-wise Insights
Which Type of Non-Dairy Topping is Expected to Gain Immense Popularity?
"Non-Dairy Whipped Cream More Preferred Due to its Wider Scope of Application in Dessert Products"
Based on type, the market is segmented into whipped cream, pouring cream, spooning, and others. Whipped cream products account for 60% share of the global market.
Higher profit margins for manufacturers and wider scope of application in dessert products are essential to the rise of whipped cream manufacturing and sales. Pouring cream will also hold a significant market share for its role in various recipes.
Non-dairy whipped cream is a plant-based substitute for traditional whipped cream. It has a comparable texture and flavor to dairy-based whipped cream and can be substituted for it in recipes. People with a dairy allergy or lactose intolerance widely use non-dairy whipped cream. Many people are searching for strategies to cut back on their consumption of dairy products these days as well.
Why are Vegetable Oils Important for the Production of Non-Dairy Toppings?
"Vegetable Oils Have Superior Emulsifying & Stabilizing Properties"
Non-dairy toppings can be produced from a large range of base ingredients, including soy milk, vegetable oils, almond milk, coconut milk, and others. Of these, vegetable oil-based toppings account for more than 30% of the global market.
Superior characteristics of vegetable oils in terms of emulsification and stabilization for non-dairy toppings are driving demand in the industry. Various foods employ vegetable oil non-dairy toppings as an ingredient as a form of food enhancer. These garnishes can be used to improve the flavor and presentation of food items. Additionally, they are found in baked goods, candies, processed fruits, frozen desserts, and beverage products.
Which Application Will Bring in High Revenue Streams?
"Non-Dairy Toppings Widely Used in Bakery Product Applications to Improve Color & Taste"
Based on application, the market is divided into bakery, confectionery, processed fruits, frozen desserts, beverages, and others. The use of non-dairy toppings in bakery product applications is projected to rise at the highest CAGR over the forecast period.
These toppings play a key role as non-dairy bakery ingredients, such as in-layer cakes, donuts, pies, eclairs, sandwich cookies, turnovers, or savory-baked products, to improve color and taste. Non-dairy toppings for bakery products are available in the form of fondants, creams, truffles, chocolate, caramel pralines, and more.
Which Distribution Channel Accounts for the Highest Sales of Non-Dairy Toppings?
"Indirect Sales through Modern Stores Gaining Traction Owing to Easy Accessibility of Various Products"
The market is classified into direct sales and indirect sales based on the distribution channel. Indirect sales remain dominant in the industry through modern stores, specialty food stores, e-Commerce, and others. Modern stores include larger players such as supermarket chains, minimarkets, hypermarkets, and more. Aggregation of demand for a wide range of diverse products and higher optimization for profitability through this channel will contribute to long-term growth.
Competitive Landscape
Major non-dairy topping producers are concentrating on new launches in addition to strategic alliances and acquisitions to strengthen their market positions to expand their portfolios.
For instance :
Two new non-dairy Reddi-wip whipped topping varieties such as almond and coconut were introduced by Conagra Brands. These foods don't include artificial flavors or preservatives and only have 10 calories per serving.
Segmentation of Non-Dairy Toppings Industry Research
By Type :

Whipped Cream
Pouring Cream
Spooning
Others

By Base Ingredient :

Soy Milk
Vegetable Oils
Almond Milk
Coconut Milk
Others

By Form :

By Application :

Bakery
Confectionery
Processed Fruits
Frozen Desserts
Beverages
Others

By Distribution Channel :

Direct Sales
Indirect Sales

Modern Stores
Specialty Food Stores
e-Commerce

By Region :

North America
Europe
Asia Pacific
Latin America
Middle East & Africa
- FAQs -
Worldwide consumption of non-dairy toppings is expected to surge at a CAGR of 8% through 2033.
Whipped cream dominates and holds 60% share of the global market.
Demand for non-dairy toppings is projected to reach US$ 2.6 billion by 2033.
North America is estimated to account for around 50% share of the global non-dairy toppings market.
Rich Products, Puratos, and Hanan Products are key producers of non-dairy toppings.