Reach Stacker Market
Reach Stacker Market Analysis By Maximum Capacity (Below 30 Tons, 30 to 45 Tons, Above 45 Tons), By Application (Sea Ports/Terminals, Yards/Landsides, Industrial), By Propulsion Type (Internal Combustion Engine, Electric, Hybrid), By Sales Channel (OEMs, Aftermarket) & By Region - Global Market Insights 2023 to 2033
Analysis of Reach Stacker Market Covering 30+ Countries Including Analysis of US, Canada, UK, Germany, France, Nordics, GCC countries, Japan, Korea and many more
Reach Stacker Market Outlook (2023 to 2033)
According to Fact.MR's latest study, the global reach stacker market is valued at US$ 2.64 billion in 2023. Expanding at a CAGR of 5.5%, Worldwide sales of reach stackers are projected to reach US$ 4.51 billion by 2033-end.
A reach stacker is a type of mobile crane that is specifically designed for handling shipping containers in ports, terminals, and other logistics and transportation hubs. It is a versatile piece of equipment that combines the functions of a forklift and a crane, allowing it to lift and transport containers over short distances and stack them in rows or blocks.
Reach stackers are equipped with a telescopic boom that can extend and retract, hence the name reach stacker. The boom is mounted on a wheeled chassis that provides mobility and maneuverability within a container yard or port facility. The reach stacker is capable of stacking containers in multiple rows and lifting them to different heights, allowing for efficient storage and retrieval of containers in a compact space.
Based on propulsion type, reach stackers are segmented into internal combustion engines, electric, and hybrid. Governments and regulatory bodies worldwide are imposing stricter emissions standards and environmental regulations to reduce carbon footprint and air pollution, which is boosting the demand for reach stackers. Electric reach stackers offer a greener alternative to diesel-powered machines as they produce zero emissions at the point of use. This aligns with the sustainability goals of many organizations and encourages the adoption of electric equipment.
The logistics and goods services sector, which holds a significant share of GDP, is actively embracing the transition towards zero-emission vehicles to create an eco-friendly ecosystem.
In July 2022, the Port of Helsingborg in Sweden placed an order for Kalmar reach stacker's all-electric model. This electric reach stacker boasts a wheelbase of 6.5 meters and is equipped with a powerful 587 KWh battery pack, ensuring ample power for its operations. Furthermore, the equipment is available in three variants with lifting capacities of 45, 32, and 16 tons, respectively. This move highlights the sector's commitment to adopting sustainable solutions while maintaining efficient cargo handling capabilities.
Governments in various countries are promoting the adoption of electric vehicles and equipment through incentives and subsidies. These initiatives aim to accelerate the transition to cleaner technologies and reduce dependence on fossil fuels. Such support can make electric reach stackers more affordable and financially attractive for several end users.
Electric reach stackers are more energy-efficient compared to their diesel counterparts. They utilize electric motors and batteries, which can be recharged, reducing the reliance on expensive diesel fuel. Over time, this can lead to significant cost savings in terms of fuel expenses. Additionally, electric reach stackers have fewer moving parts, resulting in lower maintenance costs and longer equipment lifespan.
Report Attributes
Details

Reach Stacker Market Size (2023E)

US$ 2.64 Billion

Forecasted Market Value (2033F)

US$ 4.51 Billion

Global Market Growth Rate (2023 to 2033)

5.5% CAGR

Leading Regional Market

North America

Emerging Regional Market

Asia Pacific

Key Companies Profiled

CVS Ferrari
Kalmar
Konecranes
Cargotec Corporation
Dalian Forklift Co., Ltd.
Hoist Material Handling, Inc.
Jay Equipment & Systems Pvt. Ltd.
Hyster-Yale Group, Inc.
Bomaq Industries SL
Linde Material Handling
Liebherr Group
Mitsubishi Forklift Trucks
Taylor Machine Works, Inc.
Terex Corporation
SANY Group
Toyota Material Handling
Anhui Jac International Co., Ltd.
TASK Forklift
Don't Need a Global Report?
save 40%! on Country & Region specific reports
Why is the Reach Stacker Emerging as Popular Material Handling Equipment?
"Rapid Expansion of Global Trade and Increasing Containerized Shipping Boosting Demand for Reach Stackers"
Increasing globalization of trade and the increase in containerized shipping is significantly influencing the demand for efficient container handling equipment, with reach stackers playing a pivotal role in meeting these requirements.
Globalization is transforming the way goods are traded, with companies seeking to expand their reach across international borders. This has led to substantial growth in containerized shipping, as containers offer standardized and secure means of transporting goods. As a result, ports, terminals, and logistics hubs are experiencing a surge in container traffic, necessitating efficient handling and management of these containers.
Reach stackers are emerging as versatile and indispensable solutions in this context. These machines excel at stacking, moving, and organizing containers, offering the flexibility to handle various container sizes, weights, and stacking configurations. They are specifically designed to work in container yards and terminals, where space optimization and quick turnaround times are critical.
One of the key advantages of reach stackers is their ability to stack containers in multiple rows and heights, maximizing the utilization of available space within the yard. This capability is essential in congested port areas where land is limited, allowing terminals to accommodate a larger number of containers within a confined area.
Reach stackers also contribute to operational efficiency by streamlining the container handling process. They enable the seamless movement of containers from ships to storage yards, facilitating faster vessel turnaround times and reducing congestion at ports. The versatility of reach stackers allows them to perform a wide range of tasks, such as loading and unloading containers from trucks or trains, transferring containers between different storage locations, and positioning containers for efficient retrieval.
Manufacturers are continuously innovating to improve reach stacker designs, incorporating advanced technologies to enhance safety, productivity, and environmental performance. The versatility and effectiveness of reach stackers make them an integral component of the global logistics infrastructure, enabling smooth and efficient handling of containers in ports, terminals, and logistics hubs worldwide.
What are the Factors Hampering Revenue Growth for Reach Stacker Producers?
"High Initial Investments Hindering Reach Stacker Adoption"
Reach stackers require a significant upfront investment, making them a costly acquisition for some businesses, especially smaller ports or companies with limited budgets. The substantial capital expenditure involved in purchasing reach stackers can act as a barrier to reach stacker's revenue growth.
"Lack of Trained Operators and Poor Lifting & Handling Infrastructure Impeding Efficient Use of Reach Stackers"
In some regions, the lack of adequate infrastructure, such as poorly designed or outdated port facilities and the absence of proper material lifting & handling equipment in end-use industries, can impede the efficient use of reach stackers. Insufficient space, inadequate maintenance facilities, or outdated container yards may limit the implementation of reach stackers, hindering reach stacker market growth.
Operating a reach stacker requires skilled operators who possess the necessary technical expertise and certifications. However, a shortage of trained operators can limit the adoption of reach stackers, particularly in regions where training programs and resources are limited.
More Insights, Lesser Cost (-50% off)
Insights on import/export production,
pricing analysis, and more – Only @ Fact.MR
How Can New Companies Ensure Profitability in This Space?
"Focus on Competitive Pricing Strategies and Technological Advancements in Reach Stacker Design"
New manufacturers should differentiate their reach stacker offerings from competitors by highlighting unique features, advanced technologies, or specialized capabilities. They should also develop a value proposition that resonates with customers, such as improved efficiency, higher lifting capacities, or innovative safety features.
Competitive pricing strategies that attract customers while ensuring profitability are also an effective approach. Start-ups should conduct market research to understand pricing trends, cost structures, and customer expectations. They should also consider offering flexible pricing options, such as leasing or rental programs, to cater to diverse customer needs.
New market entrants should forge strategic partnerships with other players in the logistics industry, such as shipping lines, freight forwarders, or port operators. They should collaborate with them to offer integrated solutions, bundle services, or create value-added packages that attract customers and provide a comprehensive range of services.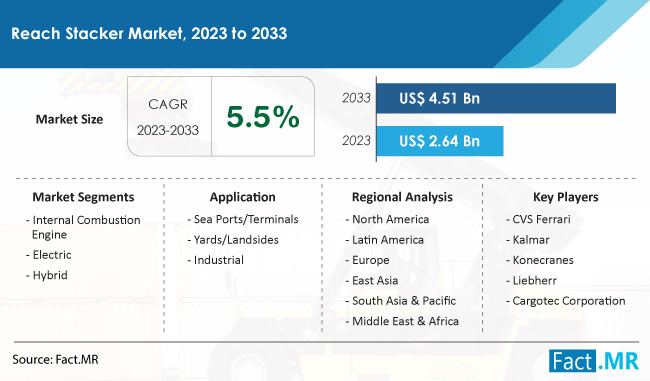 Country-wise Analysis
What are the Trends Influencing the Sales of Reach Stackers in the United States?
"Rising Trade Volumes and Infrastructure Development Initiatives"
Sales of reach stackers in the United States are growing significantly due to several factors. First, the country's robust economy and increasing international trade volumes are leading to a surge in containerized shipping. As a result, ports and logistics hubs are under pressure to handle larger volumes of containers efficiently. Reach stackers provide a versatile solution for stacking, moving, and organizing containers, making them indispensable in these operations.
The United States is also witnessing infrastructure development initiatives, such as port expansions, upgrades, and the construction of new logistics facilities. These infrastructure investments are creating opportunities for reach stacker manufacturers and suppliers to meet the growing demand for container handling equipment.
What Makes the United Kingdom a Profitable Market for Manufacturers of Reach Stackers?
"Growing Demand for Electric and Hybrid Reach Stackers Driven by Government's Sustainability Commitments and Carbon Emission Reduction Targets"
The United Kingdom, being a major trading hub, is experiencing high container traffic in its ports. This growth is attributed to factors such as e-Commerce expansion, high import/export activities, and the country's strategic geographical location. Reach stackers play a vital role in efficiently managing the handling and storage of containers, optimizing port productivity and throughput.
The country is also committed to sustainability and reducing carbon emissions. The government has set targets for transitioning to cleaner, greener technologies across various sectors. As a result, there is a growing demand for electric and hybrid reach stackers that align with the country's environmental objectives.
How is Demand for Reach Stackers Faring in China?
"Increasing Focus on Developing Green & Smart Ports for Enhancing Global Trade and Operational Efficiency Driving Demand for Advanced Reach Stackers"
According to a GoComet report, China boasts a vast network of ports comprising 34 major ports and 2,000 minor ports, each contributing to the expansion of the country's trade routes.
Many of these ports hold immense economic and historical significance, playing a pivotal role in global trade volumes. Among them, 158 ports situated along China's eastern and southern coasts are particularly crucial for import-export activities.
Recognizing the importance of these ports, Chinese authorities are committed to accelerating their development into world-class facilities. The focus is on achieving breakthroughs in three key areas: green, smart, and safe development.
In parallel, the development of smart ports is a priority. Utilizing advanced technologies such as the Internet of Things (IoT), artificial intelligence (AI), and automation, these ports are expected to enhance operational efficiency, optimize resource allocation, and streamline logistics processes. This digital transformation will enable real-time monitoring, data-driven decision-making, and seamless integration across the entire supply chain.
By pursuing these ambitious goals, China aims to not only strengthen its major ports but also enhance the scale and capabilities of regional and other ports. This comprehensive approach will contribute to the continued growth of China's trade and solidify its position as a global leader in maritime commerce.
Kalmar announced in June 2022 the delivery of three Eco reach stackers to North China Yantai Port. This strategic move aims to bolster the port's overall efficiency, sustainability, and financial stability. Yantai Port, situated in the northern region of the Shandong Peninsula, holds great significance as a crucial node along the 21st-century maritime silk route. Notably, Kalmar and Yantai Port have fostered a longstanding partnership since the 1990s, showcasing their commitment to maintaining a strong working relationship.
Know thy Competitors
Competitive landscape highlights only certain players
Complete list available upon request
Category-wise Analysis
Why are Reach Stackers Widely Employed at Seaports/Terminals?
"Rapidly Growing Sea Trade and Logistics Activities Driving Utilization of Reach Stackers at Seaports/Terminals"
Reach stackers are specifically designed to handle containers of various sizes and weights. They can lift, stack, and transport containers efficiently, both horizontally and vertically. This versatility makes them ideal for the dynamic container handling demands of seaports and terminals.
Reach stackers are capable of lifting heavy containers, typically ranging from 30 to 50 tons or more, depending on the model. Their robust lifting capacity enables them to handle loaded containers and stack them several units high, maximizing the use of available space in container yards. Rapidly increasing maritime and e-Commerce trade across the globe is boosting the need for reach stackers at seaports and terminals. Their multiple uses make them prime handling equipment for ports & terminals.
Competitive Landscape
Key players in the reach stacker market are investing in research and development initiatives to continuously improve their models. They are also focusing on enhancing the lifting capacity, fuel efficiency, automation features, and operator comfort of reach stackers.
In March 2020, Konecranes secured a record-breaking contract for the supply of reach stackers in Germany. The contract, which is the largest in Konecranes history, was won in collaboration with their distributor Richter Fördertechnik GmbH & Co. KG. The order consists of 39 reach stackers with varying handling capacities, including 16-ton, 22-ton, and 6-ton containers.
Key Segments of Reach Stacker Industry Research
By Maximum Capacity :

Below 30 Tons
30 to 45 Tons
Above 45 Tons

By Application :

Seaports/Terminals
Yards/Landsides
Industrial

By Propulsion Type :

Internal Combustion Engine
Electric
Hybrid

By Sales Channel :

By Region :

North America
Latin America
Europe
East Asia
South Asia & Oceania
MEA
- FAQs -
The global reach stacker market is valued at US$ 2.64 billion in 2023.
The market for reach stackers is projected to reach US$ 4.51 billion by 2033.
Sales of reach stackers are expected to rise at a CAGR of 5.5% from 2023 to 2033.
Some of the prominent manufacturers of reach stackers are Konecranes, CVS Ferrari, and Cargotec.
China, Japan, and India are exhibiting significant demand for reach stackers.