Bale Stacker Market
Bale Stacker Market Analysis by Type (Round Bale Grab, Square Bale Grab, Universal Bale Grab), By Mounting (Stationary, Rear-mounted, Front-mounted, Trailer-mounted), By Load Capacity (Less Than 500 Kg, 500 to 1,000 Kg, 1,001 to 1,500 Kg, 1,501 to 2,000 Kg, Above 2,000 Kg), By Ownership (Private, Self-owned, Rental) & By Region – Global Market Insights 2023 to 2033
Analysis of Bale Stacker Market Covering 30+ Countries Including Analysis of US, Canada, UK, Germany, France, Nordics, GCC countries, Japan, Korea and many more
Bale Stacker Market Outlook (2023 to 2033)
The global bale stacker market is valued at US$ 182.28 million in 2023 and is forecasted to reach US$ 291.95 million by the end of 2033, expanding at a CAGR of 4.8% over the decade, according to a new study by Fact.MR, a market research and competitive intelligence provider.
Bale handling is a post-harvest activity in farming fields that aids farmers in preventing feed losses. When handled properly, bales can maintain an oxygen-free environment for the duration of storage. The silage can be easily transported to many locations and is kept fresh until it is fed out. The bale loader facilitates high moisture content baling, which drops leaf loss and offers high-quality protein.
Increasing adoption of bales as a preferred feed option by farmers in dairy farms and livestock operations is contributing to the growth of the bale-handling equipment market. Utilization of bale handling equipment prevents the reduction in feed value and minimizes spoilage losses, driving market growth by providing convenient and advanced feeding options.
The market can vary depending on factors such as regional demand, farming practices, and the availability of other bale pickers. Agricultural machinery manufacturers and dealers often offer bale stackers as a part of their product portfolio. Cut hay might be stacked in the same field with a transportable tool such as the beaver slide. The hay stacker can be readily, swiftly, and affordably fixed or rebuilt because it is made primarily of wooden planks and metal joiners.
Report Attributes
Details

Bale Stacker Market Size (2022)

US$ 173.89 Million

Estimated Market Value (2023)

US$ 182.28 Million

Forecasted Market Value (2033)

US$ 291.95 Million

Global Market Growth Rate (2023 to 2033)

4.8% CAGR

China Market Value (2033)

55.17 Million

China Market Growth Rate (2023 to 2033)

5.2% CAGR

United Kingdom Market Value (2033)

11.97 Million

United Kingdom Market Growth Rate (2023 to 2033)

5.3% CAGR

Key Companies Profiled

John Deere & Company
Mahindra
Massy Ferguson
Kubota Corporation
CNH Industrial
Crown Equipment Corporation
Hyster
Alamo Group Inc.
Brown Agricultural
Don't Need a Global Report?
save 40%! on Country & Region specific reports
Why are We Seeing Increasing Usage of Demand for Bale Stackers?
"Incorporation of Technologies and Safety Systems in Bale Stacking"
Sustainability and environmental concerns are increasingly influencing the agricultural sector. In the bale stacker market, there is a growing preference for equipment that minimizes crop waste, reduces fuel consumption, and lowers emissions.
Similar to many other agricultural machines, bale stackers are incorporating advanced technologies such as automation, sensors, and GPS systems. These technologies can improve accuracy, reduce operator fatigue, and enhance overall efficiency.
Manufacturers are focusing on improving safety features and operator comfort in bale stackers. This includes features such as ergonomic controls, enhanced visibility, and safety systems to prevent accidents and injuries during bale handling operations.
"High-speed Bale Stackers Driving Efficiency & Profitability in Farm Operations"
The growing demand for high-speed bale stackers is driving the market, benefiting farmers in several ways. They enable farmers to expedite the baling process in agricultural fields, leading to increased efficiency and profitability. By swiftly transferring silage bales to convenient storage locations, farmers can minimize the risk of hay loss due to adverse weather conditions.
High-speed bale stackers create an optimal ensiling environment by creating an airtight seal, facilitating the fermentation process, and ensuring high-quality feed options. The rising adoption of such equipment is driven by the demand for superior feed options and increased efficiency, which is expected to fuel growth in the bale handling equipment market.
More Insights, Lesser Cost (-50% off)
Insights on import/export production,
pricing analysis, and more – Only @ Fact.MR
What Restraints are Encountered to the Adoption of Bale Stackers?
"Cost and Training Challenges for Bale Stackers"
The upfront cost of purchasing a bale stacker can be a barrier for some farmers, especially if they have limited capital or if the cost cannot be justified based on their bale handling needs.
Implementing new equipment and technologies often requires training and adjustments to existing workflows. Some farmers may be hesitant to adopt bale stackers due to the expertise involved in operating and maintaining the equipment. Lack of familiarity and resistance to adopting changing techniques act as restraints to the stacker machine industry's growth.
Bale stackers need to be compatible with the bale sizes, shapes, and weights commonly used in a particular region or by a specific farm. A bale stacker not designed to handle specific bales used by farmers limits its usefulness and hinders market growth. Customization options are important to ensure the equipment meets the diverse needs of farmers.
"Regular Maintenance of Stackers and Lack of Awareness among Farmers"
Bale stackers require regular maintenance and occasional repairs. Farmers may face challenges in finding qualified technicians or access to spare parts, especially in rural areas. High maintenance and non-availability of repair services are expected to hinder market growth.
Lack of awareness and information about the benefits associated with bale stackers also restricts their adoption. Many farmers are unaware of the advantages and potential returns on investments offered by bale stackers and therefore are unwilling to adopt them in their farm operations.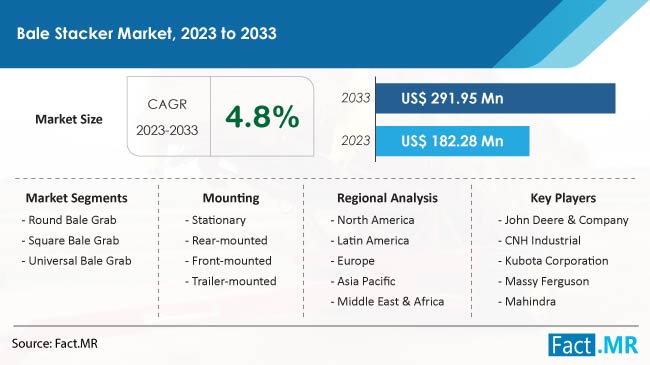 Country-wise Insights
Why is the United States a Prominent Market for Bale Stackers?
"Rising Demand for Advanced Technology and Enhanced Efficiency in Farm Operations"
The market in the United States is expected to grow at a CAGR of 5.1% and reach US$ 105.68 million by the end of 2033.
The ongoing trend of farm mechanization in the United States drives the adoption of advanced machinery, including bale stackers. Farmers are increasingly seeking efficient and time-saving solutions to handle bales, leading to higher demand for mechanized equipment.
Efficiency is a crucial factor in agricultural operations and bale stackers offer an efficient way to handle and stack bales, reducing manual labor and saving time. The desire for increased efficiency and productivity in the agriculture sector contributes to the demand for bale stackers.
Continuous advancements in technology have led to the development of automatic bale stackers. Manufacturers are incorporating features such as automation, precision control, and improved safety measures to meet evolving needs of farmers in the United States.
Which Facet Contributes to Germany's Emergence as a Lucrative Market?
"Sustainable and Quality Standards for Optimal Forage Preservation"
Sales of bale stackers in Germany are expected to reach US$ 15.18 million by the end of the forecast period, rising at a steady CAGR of 5.4%.
Farmers in Germany focus on precision agriculture practices, aiming for optimal resource utilization and environmental sustainability. Bale grippers that provide precise and controlled bale handling, minimize crop waste, and optimize storage spaces align with the country's focus on precision agriculture.
Germany has stringent quality and safety standards for agricultural machinery. Manufacturers of bale stackers comply with these standards to ensure their equipment meets required safety regulations and performance benchmarks. The country has a growing demand for forage preservation, particularly for high-quality feed for livestock and dairy production. Bale stackers play a crucial role in efficiently handling baled forage, ensuring its preservation, and maintaining feed quality.
Know thy Competitors
Competitive landscape highlights only certain players
Complete list available upon request
Category-wise Insights
Which Type of Bale Stacker is Most Widely Utilized?
"Round Bale Stackers Driving Efficiency and Storage in Agricultural Operations"
Utilization of bale stackers in the agriculture industry is anticipated to increase at a CAGR of 4.9% over the projected period.
A round bale stacker is a type of agricultural equipment designed specifically for handling and stacking round bales. A round bale stacker is used to efficiently handle and transport round bales, making the process more streamlined and less labor-intensive. It typically consists of hydraulic arms or forks that can grasp and lift bales, allowing them to be stacked or loaded onto trailers or trucks for transportation or storage.
Bale stacker trucks are commonly used in agricultural operations such as livestock farms, dairy farms, and hay production facilities, where round bales are a common form of feed or bedding material. By using a round bale stacker, farmers and operators can save time, reduce manual labor, and optimize storage spaces for efficient handling and storage of round bales.
What is the Preferred Load Capacity in Bale Stackers?
"High Demand for Bale Stackers with 501 to 1,000 Kg Load Capacity"
Demand for 501 to 1000 kg load capacity bale stackers is expected to rise at a CAGR of 6% from 2023 to 2033.
A bale stacker with a load capacity of 501–1000 kg is designed to handle bales within that weight range. This means that the stacker is capable of lifting and transporting bales of 501 kg–1000 kg.
It's important to note that the load capacity may vary depending on the specific model and design of the bale stacker. Different suppliers of bale stackers may offer varying load capacities within the specified range.
When using a bale stacker, it's essential to adhere to the manufacturer's guidelines and recommendations regarding the maximum load capacity to ensure safe and efficient operation. Overloading the stacker beyond its capacity can pose safety risks and may lead to equipment damage or failure.
Competitive Landscape
As new players flood the market over the anticipated period, the competitive environment for bale stackers continues to take shape. The industry has recently displayed great performance and has promising growth prospects. Consumer emphasis on quality, goals for sustainability, and advancements in technology often continue to be crucial success factors.
By presenting a thorough analysis of the market's competitive landscape and information on products offered by competitors, the market research report assists customers in identifying new growth possibilities and designing distinctive growth strategies.
For instance :
As a part of the H2Ports project and the European Horizon 2020 initiative, Hyster created a fuel cell-powered electrical stacker for the port of Valencia in March 2019.
One of the biggest material handling firms in the world, Crown Equipment Corporation, expanded its stacker portfolio in March 2020 with the addition of a new, compact M 3000-20 walkie-straddle stacker. The recently introduced M 3000-20 equipment improves productivity, visibility, and mobility when stacking, moving, and handling products in small warehouses, retail, and other enterprises that need to make the best use of their available area. It is capable of supporting 2,000 lbs.
Key Segments of Bale Stacker Industry Research
By Type :

Round Bale Grab
Square Bale Grab
Universal Bale Grab

By Mounting :

Stationary
Rear-mounted
Front-mounted
Trailer-mounted

By Load Capacity :

Less Than 500 kg
500 to 1,000 kg
1,001 to 1,500 kg
1,501 to 2,000 kg
Above 2,000 kg

By Ownership :

Private/Self-owned
Rental

By Region :

North America
Latin America
Europe
Asia Pacific
Middle East & Africa
- FAQs -
The global bale stacker market is valued at US$ 182.28 million in 2023.
Worldwide demand for bale stackers is set to increase at a CAGR of 4.8% from 2023 to 2033.
Sales of bale stackers are set to reach US$ 291.95 million by 2033.
The market in India is forecasted to expand at a CAGR of 5.4% through 2033.
The market in China is predicted to reach US$ 55.17 million by the end of 2033.