Anti-Drone Market
Anti-Drone Market Analysis By Component (Drone Detection Equipment, Drone Neutralization Equipment, Concealed Threat Detection Systems, Long-range Acoustic Devices & Software) By Range, By End-User and By Region – Global Market Insights 2022 to 2032
FACT7378MR
May-2022

List of Tables : 55

List of Figures : 94

170 Pages
Anti-Drone Market Outlook (2022-2032)
The global anti-drone market size is estimated at US$ 1.1 billion in 2022 and is predicted to top a market valuation of US$ 7.4 billion by 2032, expanding at a stupendous CAGR of 20.9% from 2022 to 2032.
Anti-drone system sales account for around 4% share of the global drone market globally; however, penetration is expected to increase rapidly in parallel to the increasing unit sales of drones across the world.
Report Attributes

Details

Anti-Drone Market Size (2021A)

US$ 842.8 Million

Estimated Market Value (2022E)

US$ 1.1 Billion

Forecasted Market Value (2032F)

US$ 7.4 Billion

Global Market Growth Rate (2022-2032)

CAGR 20.9%

Europe Market Share (2022)

29.2%

Market Share of Top 5 Companies

~27%

Key Companies Profiled

Advanced Protection Systems
ApolloShield
Avnon Group
Battelle Memorial Institute
Blighter Surveillance Systems Ltd.
CerbAir
Citadel Defense
Dedrone
DeTect Inc.
D-Fend Solutions A.D. Ltd.
Droneshield ltd
Grumman Corp.
Guard from Above BV
Israel Aerospace Industries Ltd.
Leonardo s.p.a
Liteye Systems, Inc.
MBDA
Mydefence Communication
QinetiQ
Rafael Advanced Defense Systems Ltd.
Raytheon Technologies Corp.
SRC Inc.
TeleRadio Engineering Pte Ltd.
Thales group
Fact.MR, a market research and competitive intelligence provider, predicts thriving growth in demand for anti-drone devices over the years ahead. Anti-drone technology is used to identify and/or intercept unmanned aerial vehicles (UAVs) and unwanted drones.
With the development of economic and cost-effective UAVs, there has been a sharp increase in the utilization of hostile drones that can be used to deploy bombs, smuggle goods, or gather confidential information on sensitive assets.
Anti-drone solutions have a wide range of applications in different end-use sectors such as homeland security, military & defense, airport operations, commercial security service providers, critical infrastructure owners, and others.
According to the latest trends in anti-drone systems, demand for drone detection systems is projected to increase as the demand for drones and UAVs grows. It is anticipated that counter-drone systems will be significantly used in military & defense departments. Over the assessment period, demand for 1 km – 4 km anti-drone systems is likely to witness significant growth and drive the overall growth of the market.
An increase in aerospace and defense spending and rapidly rising utilization of counter drone technology due to lowering costs are projected to drive the sales of anti-drone systems at a high rate over the decade.
Interested to Procure The Data
Anti-Drone System Sales Analysis (2017-2021) Vs. Market Forecast Outlook (2022-2032)
According to the latest analysis provided by Fact.MR in the anti-drone market report, sales of anti-drone systems witnessed a growth rate of 17.6% from 2017 to 2021 due to increasing demand from different use cases of anti-drone technology. Drone detection equipment accounted for a dominant market share at approximately 29.1% in 2021, as the sales of commercial drones have also increased rapidly over the years
Accelerating demand for stationary and mobile anti-drone jammers in the drone neutralization segment, by component, especially from the homeland security department, will drive anti-drone technology demand rapidly.
Surging implementation of anti-drone weapons with a range of 4 km – 20 km in the North American region is projected to create an absolute $ opportunity of US$ 678 billion over the forecast period.
Furthermore, rapidly rising use of long-range acoustic devices (LRAD) and concealed threat detection systems as a reliable choice for safety is likely to drive market expansion throughout 2022-2032. Drone detection anti-drone radars, under the drone detection equipment segment by component, are predicted to increase at a CAGR of 21.3% over the forecast period.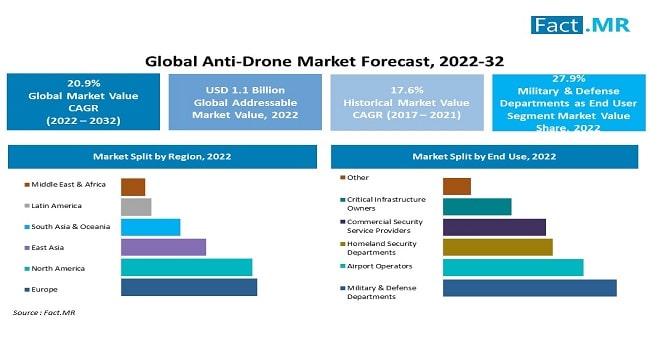 What's Driving High Demand for Anti-Drone Solution?
"Advancements in UAV Technology Influencing Anti-Drone Market"
Due to restrictions on armed drones that fly under 800 kilometers per hour, under the Missile Technology Control Regime (MTCR), short-term exports of MALE (Medium Altitude Long Endurance) & HALE (High Altitude Long Endurance) UAVs are expected to increase.
The U.S. is leading in the volume and value of UAVs that are exported, and most exports made were of smaller UAVs. In 2020, in the U.S., US$ 147 million of the total US$ 171 million value of UAVs exported were lower than 500 kg in weight.
With the rise in demand for UAVs, their price per unit has gone down. Anti-drone systems can help provide better security against drones and UAVs. Thus, with an increase in the sale of UAVs, demand for anti-drone systems has been surging.
"Continuously Rising Expenditure by Governments in Aerospace & Defense Industry"
With increasing tension in the geopolitical conflicts between Russia – Ukraine and China – Taiwan, there has been a rise in spending on the aerospace and defense arsenal of many countries. Countries such as the United States, United Kingdom, Russia, China, and India are increasing their spending on defense, just to be prepared in case of a crisis.
Out of all the counter drone weapons, anti-drone rifles are often utilized to shoot down drones. The United States is the highest spender on defense at US$ 778 billion, followed by China, India, Russia, the United Kingdom, and Saudi Arabia.
An Adaptive Approach to Modern-day Research Needs
What is Preventing the Anti-Drone System Market from Reaching its Full Potential?
"Strict Government Regulations to Affect Demand Growth of Anti-Drone Equipment"
Based on the Fact.MR study, companies manufacturing anti-drone systems and drone accessories face heavy regulations by governments. As the defense sector is heavily regulated by governments, manufacturers find it difficult to concentrate on innovations in anti-drone devices. They cannot sell their products to rival countries that are willing to pay a good price for such equipment.
Also, because of security considerations surrounding counter-drone equipment testing and anti-drone jammer systems, classified comparison data is kept from the public and unavailable to government personnel as well. Counter-drone technologies are, for the most part, prohibitively expensive for practically everyone, most businesses, and even some governments.
Country Wise Analysis
What Makes China a Huge Market for Anti Drone Systems?
Huge investments are being made for the development of anti-drone technology in the military and defense sectors in China. These anti-drone systems are being used by security departments as well as the military. The risk of drone attacks or drone collecting intelligence has been significantly increasing in recent times.
The China anti-drone market is predicted to expand rapidly at 22.3% CAGR as a result of these factors. Growing number of manufacturers that are acquiring control over the market and aid from the government for research & development is influencing the regional growth.
The market for counter drone systems in China is estimated to reach a valuation of US$ 1 billion by the end of 2032.
Will Investment Increase Remain the focus for Anti Drone Manufacturers in the U.S.?
A developed nation such as the United States of America is spending US$ 778 billion on military and defense, per year. Expenditure on counter drones has been directed toward research rather than procurement. Trends of this investment are declining since 2018, but as high as US$ 1.49 billion was spent in 2018.
The U.S. DoD has been the largest customer for hardware and has extensive penetration in R&D for counter-drone technology since the introduction of the market.
Many companies have invested huge amounts of time and money in the United States by opening research laboratories and conducting extensive research. The United States anti-drone market is valued at US$ 278.6 million in 2022. With huge growth expected over the coming years, it has proven to be a favorable aspect for anti-drone manufacturers to leverage the market scenario with advanced technology.
Category wise Insights
Why are Anti-Drone Suppliers Targeting Airport Operators?
The anti-drone industry is proportionally expanding with the global UAV and drone market. Additionally, government spending has substantially increased in the aerospace and defense industry, specifically towards the procurement of drones.
Under end users, airport operators enjoy a market valuation of around US$ 251.8 million in 2022, with this segment expected to reach a market value of US$ 1.7 billion by the end of 2032.
Airports are hot targets and very vulnerable in terms of terrorist attacks. It is common for airports to use anti-drone technology that is accurate and precise for security purposes. As such, demand for drone motors, anti-drone systems in airport operations is very high, leading to creating significant dollar opportunity for this end-use segment.
Why is Drone Neutralization Equipment Likely to Witness Accelerated Growth?
Drones can not only infiltrate restricted areas but also transport drugs, firearms, chemical agents, and even bombs. Security forces need to detect malicious drones and also be able to neutralize them. The primary function of drone neutralization equipment is to intercept and neutralize a hostile drone.
Moreover, there is rising demand for various technologies that are either passive or active. Drone neutralization systems prove to be pivotal for end users as loss of property can be avoided. Drone neutralization equipment is likely to account for a market value of US$ 291.6 million in 2022 and expand at a CAGR of around 21.1% over the forecast period.
Avail customized purchase options for your needs
Competitive Landscape
Fact.MR has profiled key anti-drone solution providers, such as Advanced Protection Systems, ApolloShield, Avnon Group, Battelle Memorial Institute, Blighter Surveillance Systems Ltd., CerbAir, Citadel Defense, Dedrone, DeTect Inc., D-Fend Solutions A.D. Ltd., Droneshield ltd, Grumman Corp., Guard from Above BV, Israel Aerospace Industries Ltd., Leonardo s.p.a, Liteye Systems, Inc., MBDA, Mydefence Communication, QinetiQ, Rafael Advanced Defense Systems Ltd., Raytheon Technologies Corp., SRC Inc., TeleRadio Engineering Pte Ltd., and Thales group.
Key manufacturers of anti-drone systems are constantly innovating to meet new challenges that are evolving daily. Prominent market players are focusing on a competitive market pricing strategy, which includes the installation of integrated systems along with high-end software.
Anti-drone companies are entering into collaborations and partnerships with governments and end-use industries for increasing the installation rate of anti-drone systems. Owing to the high need for security and rising drone demand, manufacturers are witnessing positive demand for military anti-drone technology.
In April 2022, Thales and CS GROUP started working with their partners in France and Europe on a program capable of providing permanent deployable protection for critical infrastructure from drone threats.
In April 2021, Dedrone announced the release of DedroneRapidResponse, its first portable drone detection unit. Nearly 300 different drone types are detected, identified, located, and analyzed by Dedrone.
Key Segments Covered in Anti-Drone Industry Survey
Anti-Drone Market by Component :

Drone Detection Equipment

Drone Detection Radars
RF Spectrum Analyzers
Acoustic Sensors
Video Surveillance Systems

Drone Neutralization Equipment

Stationary and Mobile Jammers
Interception Systems
Counter-Drone Lasers
Drone Capture Nets

Concealed Threat Detection Systems
Long-range Acoustic Devices (LRAD)
Software

Security and Integration Software
Video Enhancement and Analysis Software

Anti-Drone Market by Range :

< 200 Mtr Anti-Drone Systems
200 Mtr - 1 Km Anti-Drone Systems
1 Km - 4 Km Anti-Drone Systems
4 Km - 20 Km Anti-Drone Systems
> 25 Km Anti-Drone Systems

Anti-Drone Market by End User :

Homeland Security Departments
Military & Defense Departments
Airport Operators
Commercial Security Service Providers
Critical Infrastructure Owners
Others (not classified in any of the above categories)

Anti-Drone Market by Region :

North America
Latin America
Europe
East Asia
South Asia & Oceania
Middle East & Africa