Brain Monitoring Devices Market
Brain Monitoring Devices Market Analysis By Product (Devices, Accessories), By Disease (Traumatic Brain Injuries, Parkinson`s Disease, Sleep Disorders, Epilepsy, Huntington`s Disease), By End User (Hospitals, Clinics, Ambulatory Surgery Centers), & By Region - Global Market Insights 2022-2027
Analysis of Brain Monitoring Devices market covering 30 + countries including analysis of US, Canada, UK, Germany, France, Nordics, GCC countries, Japan, Korea and many more
Brain Monitoring Devices Market Outlook (2022-2027)
The global brain monitoring devices market is currently valued at US$ 6.5 billion and is expected to increase at a noteworthy CAGR of 6% to reach US$ 8.7 billion by the end of 2027.
The devices segment of the market is expected to progress at a similar CAGR of 6% from 2022 to 2027 and reach a market valuation of around US$ 7 billion by 2027.
Report Attributes

Details

Brain Monitoring Devices Market Size (2022E)

US$ 6.5 Billion

Forecasted Market Value (2027F)

US$ 8.7 Billion

Global Market Growth Rate (2022-2027)

6% CAGR

China Market Value (2027)

US$ 2 Billion

Key Companies Profiled

Advanced Brain Monitoring
B. Braun Medical BD
Cadwell Industries Inc.
CAS Medical Systems Inc.
Compumedics Limited
DePuy Synthes Companies
Electrical Geodesics Inc
Elekta AB
EMOTIV Inc.
General Electric
Integra LifeSciences Corporation
Koninklijke Philips N.
Masimo Corporation
Medtronic
Natus Medical Incorporated
NIHON KOHDEN CORPORATION
Rimed Inc.
Siemens Healthcare Private Limited
Yokogawa Electric Corporation
Know thy Competitors
Competitive landscape highlights only certain players
Complete list available upon request
Revenue Analysis of Brain Monitoring Devices (2017-2021) Vs. Market Forecasts (2022-2027)
In neurological testing, brain monitoring systems are used to identify any abnormalities in the way that brain cells (neurons) work that can result in the emergence of neurological illnesses such as Parkinson's disease, dementia, epilepsy, sleep disorders, and Alzheimer's. Without invasive neurosurgery, these technologies enable the observation and detection of neuronal activity.
Using an intracranial pressure monitoring device, doctors can determine whether one's symptoms are being brought on by high or low cerebrospinal fluid (CSF) pressure. A tiny pressure-sensitive probe that is put through the skull during the examination directly detects the pressure within your brain.
To offer more metrics for clinical decision-making and therapy augmentation, brain tissue oxygen monitoring systems are used for monitoring both oxygen and temperature in the cerebral cavity.
These systems keep an eye on indicators such as neural activity, pressure around the brain, cerebral oxygenation capacity, strokes, traumatic cranial damage, blood pressure, and other dangerous situations. The global brain monitoring devices market has seen a growth in demand for non-invasive brain monitoring technologies including MRI, EEG, MEG, and more.
Systems for monitoring the brain are an essential component of radiographic and neuroimaging operations.
According to market dynamics derived from disease epidemiology and procedure adoption rates, several macroeconomic and industrial factors, including device regulations, device safety, and device licensing, may influence demand for brain monitoring devices.
Considering the above factors the market for brain monitoring devices is expected to progress at a healthy growth rate.
According to Fact.MR, a market research and competitive intelligence provider, over the next five years, the global brain monitoring devices market is expected to expand at a CAGR of 6% and reach US$ 8.7 billion by 2027.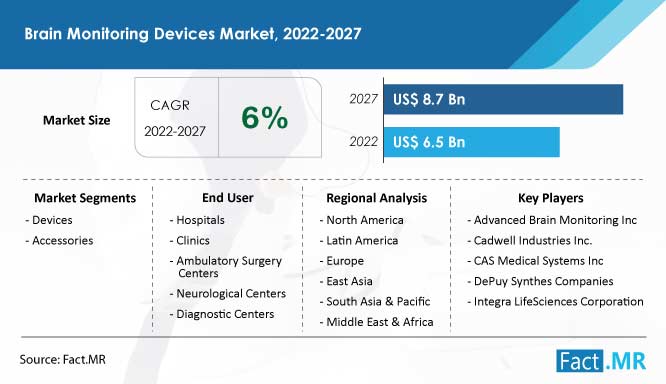 What is Driving the Market Share of Brain Monitoring Systems?
"Rising Global Incidence & Prevalence of Neurological Disorders"
Dementia, epilepsy, Parkinson's disease, headache disorders, Huntington's disease, neuro infections, multiple sclerosis, stroke, and cerebral palsy have all seen considerable increases in their incidence and prevalence around the world over time.
Brain disorders, which encompass a variety of psychiatric, neurodegenerative, and developmental illnesses, are a rising source of morbidity around the world. This can primarily be contributed to the rising rate of the elderly population.
The American Medical Association (AMA) predicts that by 2030, at least 60% of people 65 years of age and older will be living with multiple chronic conditions.
The following list includes some significant data on the incidence and prevalence of neurological disorders:
According to a WHO report published on 2nd September 2021,
Almost 10 million new cases of dementia are diagnosed each year, and there are already over 55 million people living with this disease worldwide.
Many illnesses and injuries that directly or indirectly impact the brain can lead to dementia. The most prevalent type of dementia, Alzheimer's disease may be a factor in 60–70% of cases.
According to a WHO report published on 9th February 2022,
Epilepsy affects about 50 million individuals worldwide, making it one of the most prevalent neurological conditions globally.
Nearly 80% of epilepsy patients reside in low- and middle-income nations.
It is crucial to keep an eye on the brain and neurological processes given the prevalence of certain neurological illnesses. Risk of many degenerative neurological diseases and illnesses rises with age.
Other illnesses and problems, such as sickle-cell diseases and heart disorders, are also becoming more common. Another significant reason influencing demand for brain monitoring equipment is the potential impact of cardiac procedures on the brain's normal function.
"Sensors for Brain Monitoring Widely Being Used in Advanced Integrated Healthcare"
During the bidirectional data collection and processing of EEG signals, brain monitoring sensors assist clinicians in keeping track of the brain when it is under the influence of anaesthesia.
Monitoring patients with severe brain injuries are becoming increasingly important to stop further brain damage, especially cerebral ischemia. Demand for brain monitoring sensors will be driven by the rising need for measuring elevated intracranial pressure (ICP) in patient monitoring.
Because it involves coming into contact with the sensitive brain tissue directly, invasive monitoring is a difficult, uncomfortable, and dangerous process. As a result, the use of non-invasive or minimally-invasive brain monitoring technology is welcomed by both medical professionals and patients.
More Insights, Lesser Cost (-50% off)
Insights on import/export production,
pricing analysis, and more – Only @ Fact.MR
How are Sales of Brain Monitoring Devices Being Adversely Affected?
"High Cost of Brain Monitoring Equipment Production & Maintenance, As Well As High Diagnose Cost"
One of the main factors limiting global sales of brain monitoring devices is its high cost, particularly in developing nations with weak reimbursement regulations. Brain monitoring technologies are quite technical, and the process required to use them are typically expensive.
For example, an EEG costs roughly between US$ 200 - US$ 700; however, extended monitoring might increase the price to US$ 3,000. An ICP monitor costs about US$ 340 – US$500, and a dual-channel TCD costs about US$ 3,200.
Similarly, a single MEG system use costs between US$ 2.5 million to US$ 3 million. Healthcare providers find it difficult to obtain MEG devices due to their high cost, even in countries where high-tech medical technology is widely utilized.
The total cost of ownership of these gadgets rises due to the maintenance costs and other related indirect costs, which limits their adoption.
Due to financial limitations, small hospitals and independent ambulatory surgery centers are also less likely to purchase expensive and complex equipment; this is more noticeable in developing nations.
As these operations are expensive and poorly reimbursed, only a small number of patients in underdeveloped nations can afford neurological treatments. As a result, medical facilities may avoid spending money on novel or cutting-edge technology, which restricts the market for brain monitoring machines.
How are Innovations in Brain Monitoring Systems Helping New Market Players?
"Advancements in Brain Monitoring Systems – The Way to Go for New Companies"
Devices that diagnose without the need for cables or cords are called wireless monitors. Wireless headphones make it possible for patients to be examined from the convenience of their own homes while completely taking non-invasive readings.
Due to invent of wireless technology, the recording equipment can be removed from the computer and communicate with it wirelessly being up to 10 or 20 metres away. These gadgets only need one AAA battery and are simple to maintain, cheap, and simple to use. Portable brain monitoring machines are compact, lightweight, and easy to hold in the hand.
Such advanced brain monitoring products help to make the treatment process easy for both doctors and patients.
Don't Need a Global Report?
save 40%! on Country & Region specific reports
Which Regional Markets are Lucrative for Manufacturers of Brain Monitoring Systems?
"Rising Clinical Studies for Advanced Brain Monitoring in North America Paving the Way for Suppliers of Brain Monitoring Devices"
In terms of market value, North America is anticipated to dominate the global market for brain monitoring systems, holding the highest market share. This is a result of both the availability of medical reimbursements and the increased prevalence of neurological diseases.
Demand for brain monitoring equipment in the region will rise as healthcare expenditure rises and the healthcare infrastructure improves.
Growing government funding for neuroscience has encouraged more clinical studies for cutting-edge brain monitoring technologies. The widespread availability of insurance coverage is another factor that has an impact on North America market expansion.
Asia Pacific is anticipated to lead the market from 2022 to 2027 due to several factors, including the increased prevalence of neurological and mental illnesses, the unmet demand for long-term treatment choices, and an increase in awareness campaigns.
Due to increased efforts being made by neurosurgeons and neurology clinics to promote knowledge about brain monitoring systems, the market for brain monitoring systems in the region is predicted to have excellent growth possibilities. Furthermore, the significant R&D investments made by international market competitors as a result of their low-cost structure are one of the key factors driving the market growth in the Asia Pacific region.
Country-wise Analysis
What is Boosting the Sales of Brain Monitoring Systems in the U.S.?
"Increasing Incidence of Neurological Conditions"
30 million people in the US are affected by 7,000 identified uncommon and ultra-rare disorders, according to the National Institute of Neurological Disorders and Stroke.
Few have FDA-approved therapies, and many are life-threatening. 90% of rare children's disorders have significant neurological repercussions, and about 45% of rare diseases, including ultra-rare diseases, are neurological abnormalities.
The prevalence of numerous neurodegenerative and neurological conditions is on the rise in the United States, which has prompted more advancements in mobile EEG technologies, real-time monitoring, and alarms. As a result, there is an increase in demand for brain monitoring products.
Why are Manufacturers of Brain Monitoring Systems Attracted to China?
"Rapid Adoption of Non-invasive Brain Monitoring Technologies & Presence of Highly Qualified Researchers"
Demand for brain monitoring machines in China is expected to increase at a high CAGR of 9% from 2022 to 2027 and reach US$ 2 billion by 2027.
Key players predict that China will be their preferred location for investment possibilities. It is because of the rapid increase in diagnoses, ongoing research, improvements in quality, and growing modernization of healthcare.
For instance, deep brain stimulators have long been used to treat neurological conditions such as Parkinson's disease. A device that acts as a form of pacemaker for the brain and electrically stimulates particular regions is placed during the process.
Where Western attempts to enhance deep brain stimulators for addiction trials on humans have failed, China is emerging as a hub for such research.
The brain monitoring products market is expanding in China as a result of an increase in the population of elderly people and patients with severe neurological diseases, rising investment in R&D, and the adoption of non-invasive brain monitoring technologies.
Category-wise Analysis
Which End User Accounts for High Consumption of Brain Monitoring Equipment?
"Significant Rise in Adoption of MRI & Standard EEG for Brain Monitoring in Hospitals"
Currently, hospitals are expected to hold a share of around 42% of the brain monitoring systems market. The complex process of brain monitoring calls for the utilization of pricey, cutting-edge equipment and systems that are often found in hospitals.
Furthermore, hospitals see a substantially bigger patient intake than small clinics and other end users. Also, the maintenance costs associated with brain monitoring equipment place a major financial burden on healthcare organizations, hospitals can bear such costs. As a result, hospitals make high use of brain monitoring systems.
Competitive Landscape
Major producers of brain monitoring devices are concentrating on marketing plans to broaden both their global footprint and product offering.
Brain monitoring device manufacturers also work with local and international players and form long-term alliances with ambulatory surgical centres, clinics, hospitals, and other distribution channels, including neonatal and paediatric ICUs.
Developments in Brain Monitoring Devices
To enhance patient care, Medtronic and Rune Labs formed a collaboration in November 2021 to thoroughly investigate the effects of neurostimulation.
Brain Monitoring Devices Industry Research Segments
By Product:

By Disease:

Traumatic Brain Injuries
Parkinson's Disease
Sleep Disorders
Epilepsy
Huntington's Disease
Headache Disorders
Others

By End User:

Hospitals
Clinics
Ambulatory Surgery Centers
Neurological Centers
Diagnostic Centers
Others

By Region:

North America
Latin America
Europe
East Asia
South Asia & Oceania
MEA
- FAQs -
Worldwide sales of brain monitoring devices are expected to increase at a CAGR of 6% from 2022 to 2027.
The global brain monitoring devices market is currently valued at US$ 6.5 billion.
The global market for brain monitoring devices is projected to reach US$ 8.7 billion by 2027.
The market for brain monitoring devices in China is expected to balloon at 9% CAGR and reach a valuation of US$ 2 billion by 2027.
The devices segment is predicted to progress at a CAGR of 6% through 2027.