Brain Implants Market
Brain Implants Market Analysis By Product (Deep Brain Stimulators, Spinal Cord Stimulators, Vagus Nerve Stimulators), By Application (Chronic Pain, Epilepsy, Parkinson's Disease, Depression, Essential Tremor, Alzheimer's), By End User & By Region - Global Market Insights 2022-2027
Analysis of Brain Implants market covering 30 + countries including analysis of US, Canada, UK, Germany, France, Nordics, GCC countries, Japan, Korea and many more
Brain Implants Market Outlook (2022-2027)
The global brain implants market is valued at US$ 6.6 billion in 2022 and is predicted to expand at a high-value CAGR of 11% to reach US$ 11.1 billion by the year 2027.
Sales of deep brain stimulators are expected to increase at a similar CAGR of 11% from 2022 to 2027.
Report Attributes

Details

Brain Implants Market Size (2022E)

US$ 6.6 Billion

Forecasted Market Value (2027F)

US$ 11.1 Billion

Global Market Growth Rate (2022-2027)

11% CAGR

China Growth Rate (2022-2027)

10% CAGR

Key Companies Profiled

Medtronic Plc
Boston Scientific Corporation
St Jude Medical, Inc (Abbott)
Synapse Biomedical Inc
Nevro Corporation
NDI Medical LLC
Terumo Corporation
Edwards Lifesciences Corporation
NeuroPace, Inc
LivaNova PLC
Synchron Inc
Functional Neuromodulation Ltd
Beijing PINS Medical Co Ltd
Renishaw Plc
Aleva Neurotherapeutics SA
Know thy Competitors
Competitive landscape highlights only certain players
Complete list available upon request
Brain Implant Demand Research (2017-2021) Vs. Market Forecasts (2022-2027)
Brain implants are often referred to as neural implants. Brain implants are categorized as a collection of numerous product types with indications for usage in surgery and health management. Medical devices such as deep brain stimulators and vagus nerve stimulators are among the implants used in the brain.
A nerve cell or neural channel in the nervous system/brain is stimulated through the direct or indirect excitation of its cell membrane by an electric current using a technique known as electrical brain stimulation or electric brain stimulator (EBS), also known as focal brain stimulation. EBS is a type of electrotherapy used in scientific and clinical neurobiology.
To distribute medications to the (CNS) central nervous system, acellular synthetic polymeric brain implants have been made using nanotechnology. The process disperses medication over extended periods, such as months or weeks, by diffusion or degradation.
Patients with Parkinson's disease can better manage their physical and cognitive functions due to brain implants. In the coming years, it is anticipated that technical developments such as 3-D printing, brain-computer interfaces, and motor neuron prosthesis would help the industry flourish.
For instance, the U.S. FDA authorized Medtronic's brain reading stimulator in June 2020, which assists in transmitting brain signals during therapy.
Increased public awareness of mental health issues, a more active lifestyle, and an increase in neurological disorders such as epilepsy, Alzheimer's, Parkinson's, and depression are the primary factors influencing demand for brain implants.
Demand for sophisticated brain implants is increased by growing public awareness and technological developments such as BCIs (Brain-Computer Interfaces), which are implanted in the brain and use microscopic electrodes to monitor the activity of neurons.
Because they can be utilized to improve body motions and cure chronic pain, brain implant treatments are expected to continue to see an increase in popularity. Furthermore, in the coming years, use of brain implants for seizure control is also anticipated to increase quickly.
Expanding at a CAGR of 11%, the global brain implants market is projected to increase to a valuation of US$ 11.1 billion by 2027, says Fact.MR, a market research and competitive intelligence provider.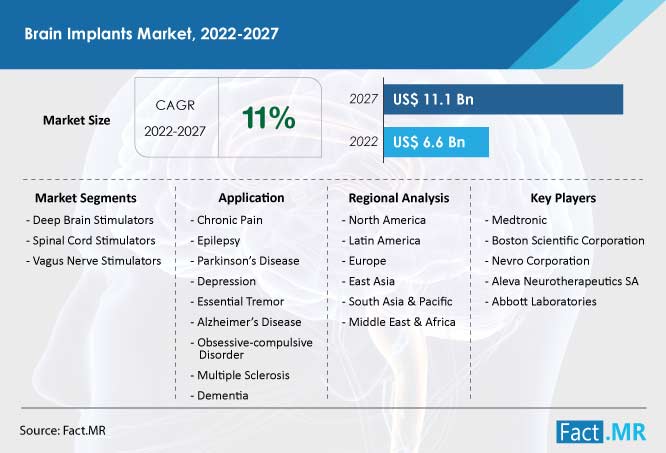 What Market Variables are Influencing Brain Implant Technology Sales?
"Rising Number of Brain Implant Surgeries Forcing Top Companies into Innovations in Brain Implant Products for Better Results"
Growing popularity of brain implant surgery is mostly due to the increase in neurological disorders. Clinical demand for long-term alternatives such as spinal cord stimulators and deep brain stimulators has increased as a result of these illnesses. Depression that is brought on by stress and obesity is also on the rise globally.
These factors make it clear that cutting-edge brain implant technologies can significantly contribute to the availability of depression therapy alternatives. Worldwide market for brain implants is expanding due to these illnesses.
It is projected that the advent of cutting-edge technologies, such as Medtronic's MRI-safe brain implants and transdermal neuromodulation technology introduced by Neurowave Medical Technologies, will further propel brain implant sales.
Smart neural chips enhance wireless brain signal transmission into the fingers and hands with approximately 95% accuracy, which is expected to increase demand for brain implants during the projected period
"Old Age Leads to Several Health Issues, Especially Related to the Brain, Subsequently Boosting Demand for Brain Implants"
Demand for brain implants has increased due to the rising global elderly population, an increase in the prevalence of target diseases, particularly Parkinson's, epilepsy, and Alzheimer's, as well as significant unmet medical demands.
Parkinson's disease is more likely to develop in the population who are getting older. Parkinson's disease patients are unable to produce enough dopamine in their brains, which results in a variety of symptoms including stiffness, tremors, and difficulty walking.
According to CDC, Parkinson's disease is typically diagnosed in patients over the age of 60 and is expected to impact 1% of people over 60 years of age to 4% of people by the age of 80.
The population of people aged 60 and older is predicted to increase from 900 million in 2015 to 2 billion by 2050, says a WHO 2018 study. The elderly are more vulnerable to Parkinson's disease, which is anticipated to be a major factor influencing the demand for brain implants.
More Insights, Lesser Cost (-50% off)
Insights on import/export production,
pricing analysis, and more – Only @ Fact.MR
What Should Key Suppliers of Brain Implants Be Aware Of?
"High Surgical & Post-surgical Costs May Hamper Sales of Brain Implants"
Factors such as high surgical costs are likely to impede global brain implant market growth. In the future, people with brain implants might need to undergo several additional procedures to replace them. Therefore, the excessive cost of revenant surgery may be a major factor badly affecting brain implant sales.
What Opportunities in the Brain Implants Market are Attracting New Companies?
"Investments in R&D Activities for Brain Implant Product Development Will Open Opportunities for New Comers"
The market for brain implants is anticipated to see profitable growth prospects as a result of the growing number of research activities that result in technological improvements. These include memory chips and self-charging implants, which are expected to boost market expansion prospects over the projection period.
For instance, the Andersen Lab studies cognitive signals in the Post Parietal Cortex (PPC) for determining the position of the intended target during motion. The signals that the cortex receives are used to control the equipment.
Furthermore, over the projection period, market expansion is anticipated to be aided by the possible advantages of these devices, such as improved postoperative outcomes management and long-term efficacy. It is projected that these important reasons would increase the sales of brain implants.
A new start-up of Elon Musk's odd and futuristic businesses is Neuralink. It is creating technology for neural interfaces, also known as implanting microchips in human brains. Neurological problems can be studied and treated with the aid of neuralink brain implant technology.
The chip aims to enable those with severe paralysis to interact or communicate by thinking. Similar goals are provided by Elon Musk's neuralink implant machine, which is still waiting for FDA approval.
Elon Musk recently declared that the business hoped to begin incorporating its microchip into the human (brain) by 2022. The billionaire and co-founder uploaded a video just before making the announcement, of a monkey utilizing a Neuralink brain chip to play a video game using its mind.
Which Regions are Driving Sales Revenue from Brain Implants?
"Presence of Top Neural Implant Companies, Qualified Medical Professionals, & Advanced Healthcare Infrastructure in North America"
Over the next five years, North America is anticipated to dominate the global market for neural implants. This dominance can be linked to elements including an increase in the prevalence of neurological illnesses, an increase in treatment awareness, the accessibility of highly qualified medical professionals, and existence of long-standing healthcare facilities.
Furthermore, it is anticipated that increased respective government funding and campaigns to improve awareness of neurological disorders will fuel the market for deep brain stimulation equipment in the region.
For instance, the Parkinson's Foundation invested US$ 3.5 million in 2020 to support more than 34 Parkinson's disease research initiatives.
Such initiatives are anticipated to increase interest in brain implants in the North American region.
Need for brain implants in Europe grows as a result of high opioid drug dosages and inflammation brought on by viral and bacterial infections in the brain that result in brain disorders such as seizures, Parkinson's disease, and disorientation.
Strong estimates for Europe's healthcare spending would provide a lucrative environment for the expansion of brain implants and also neural disorders, creating a significant demand for brain implant providers.
Due to the use of nanomaterials, ultra-flexible cortical implants can record and stimulate the brain on a vast scale. Under the FET Proactive financing program, the European Union is supporting BrainCom, a collaborative research initiative that intends to create a new generation of neuroprosthetic devices to progress speech neural prosthesis.
However, there are questions concerning the ethical elements of such brain implant technology. As a result, businesses in the brain implants sector are innovating with ultra-flexible cortical implants using artificial intelligence (AI).
Due to various factors, including the rising frequency of neurodegenerative and mental disorders, the unmet need for long-term treatment options, and an increase in awareness campaigns, Asia Pacific is predicted to dominate the market from 2022 to 2027.
The market for brain implants in the region is anticipated to experience tremendous development prospects as a result of increasing efforts being made by neurosurgeons and neurology clinics to spread knowledge about brain implants. Furthermore, one of the main drivers of the market in the Asia Pacific region is the substantial R&D investments made by global market players as a result of their low-cost structure.
Country-wise Analysis
What Makes the United States a Profitable Market for Neural Implant Suppliers?
"Effective Results of Neural Implant Treatment Due to Qualified Doctors & Growing Cases of Alzheimer's Disease"
Market for brain implants in the United States is expected to expand quickly. This is due to several factors, such as an increase in the prevalence of neurological illnesses, high public awareness of available treatments, well-developed healthcare infrastructure, and the presence of morally upright doctors.
According to medical experts, brain implants are the most effective kind of treatment for depression in the country.
The number of new and active cases of Alzheimer's disease will rise along with the number of senior persons in the United States, predicts the statistics provided by Alzheimer's Disease Facts and Figures.
The number of people aged 65 and older with Alzheimer's disease is predicted to increase to 12.7 million by 2050 if medical advancements to prevent, treat, or cure the disease are not made.
How is the Market for Brain Implants Evolving in China?
"Huge Government Support for Research & Development of Deep Brain Stimulators"
Sales of brain implants in China are expected to expand at a CAGR of 10% from 2022 to 2027.
Brain surgery for drug addiction has a long, albeit controversial, history in China. People can still be subjected to years of mandatory treatment, including 'rehabilitation' through labour, under China's harsh anti-drug legislation.
A sizable patient base, government financing, and aspirational medical device businesses willing to contribute to deep brain stimulation (DBS) research are expected to boost sales of brain implants.
Across the world, eight registered DBS clinical studies for drug addiction are being carried out, according to a database maintained by the National Institutes of Health in the United States. China is home to six.
Neurological diseases such as Parkinson's have long been treated using deep brain stimulation. During the procedure, a gadget that functions as a kind of pacemaker for the brain and electrically stimulates specific regions is implanted. China is becoming a centre for such research while Western attempts to advance DBS for addiction trials on humans have failed.
Category-wise Analysis
Why are Deep Brain Stimulators Widely Demanded?
"Preferred Use of Deep Brain Stimulators in Treating Several Neurological Diseases"
Sales of deep brain stimulators are expected to expand at a CAGR of 11% from 2022 to 2027.
Technological developments such as rechargeable implantable pulse generators, robot-assisted implantation, and an increase in the use of advanced deep brain stimulator systems in hospitals and neuro centres are major factors for this surge.
Due to the increasing prevalence of Parkinson's disease, it is projected that the product will continue to hold the top spot during the forecast period. One of the main factors influencing the growth of this market is the increasing use of DBS for the treatment of several neurological illnesses, such as obsessive-compulsive disorder (OCD), dystonia, epilepsy, essential tremor, and Alzheimer's disease.
Competitive Landscape
Market participants are consistently expanding their product offerings and creating better analytical solutions. Alliances, technological partnerships, and product launch strategies of the businesses in the market for brain implants are their main priorities.
Medtronic plc, in June 2021, announced that SenSight Directional Lead System, which is utilized for deep brain stimulation therapy, received FDA approval.
Key Segments in Brain Implants Industry Research
By Product :

Deep Brain Stimulators
Spinal Cord Stimulators
Vagus Nerve Stimulators

By Application :

Chronic Pain
Epilepsy
Parkinson's disease
Depression
Essential Tremor
Alzheimer's Disease
Obsessive-compulsive Disorder
Multiple Sclerosis
Dementia

By End User :

Hospitals
Neurological Centers
Specialized Clinics
Others

By Region :

North America
Latin America
Europe
East Asia
South Asia & Oceania
MEA
- FAQs -
By 2027, worldwide brain implant demand is anticipated to reach US$ 11.1 billion.
Medtronic, St. Jude Medical (Abbott), Boston Scientific Corporation, NeuroPace, Inc., and Synapse Biomedical Inc. are the top neural implant companies.
Global brain implant sales are estimated to surge at a CAGR of 11% from 2022 to 2027.
The global market for brain implants is currently valued at US$ 6.6 billion.
Brain implant sales in China are estimated to increase at 10% CAGR from 2022 to 2027.