Dianhydride Market Outlook (2022-2032)
Global dianhydride market valuation currently stands at US$ 666.2 million, and the market is forecast to reach US$ 1.1 billion by 2032, expanding at a CAGR of 6.1% from 2022 to 2032.
Pyromellitic dianhydride (PMDA) compound consumption is anticipated to increase at 4.8% CAGR to touch 65.7 KT by 2032. The top 5 dianhydride manufacturers account for around 22% market share at present.
Report Attributes

Details

Dianhydrides Market Size (2021A)

US$ 631.1 Million

Estimated Market Value (2022E)

US$ 666.2 Million

Forecasted Market Value (2032F)

US$ 1.2 Billion

Global Market Growth Rate (2022-2032)

6.1% CAGR

North America Market Share (2021)

~26.3%

North America Growth Rate (2022-2032)

5.9% CAGR

U.S. Growth Rate (2022-2032)

6.1 % CAGR

Top 5 Companies' Market Share

~22%

Key Companies Profiled

Boshan Hengtai Chemical Factory
CABB Chemicals
Daicel Corporation
Daikin Chemicals
Evonik
Fanxian Guofeng Fine Chemical Co., Ltd.
Fanxian Senyuan Chemical Industry Co., Ltd.
Fengchen Group Co., Ltd
Haihang Industry
Hualun
Huangshan Deping Chemical Co., Ltd.
Liyang Qingfeng Fine Chemical Co., Ltd.
Lonza Group AG
Mitsubishi Gas Chemical Company
Nexam Chemical
Puyang Longde Young New Material Co., Ltd.
Puyang Shenghuade Chemical Co., Ltd.
Rugao Leheng Chemical Co., Ltd.
Shandong Helishi Petrochemical Technology Development Co., Ltd.
Shijiazhuang Hope Chemical Co., Ltd.
UIV Chem
Know thy Competitors
Competitive landscape highlights only certain players
Complete list available upon request
Consumption Analysis of Dianhydrides (2017-2021) Vs. Market Forecasts (2022-2032)
As per the latest market analysis by Fact.MR, a market research and competitive acumen provider, from 2017 to 2021, demand for dianhydrides increased at a CAGR of around 3.2%. In 2021, the dianhydrides market stood at around 69.1 KT.
Dianhydride consumption as a curing agent is anticipated to continue dominating the market in the mid-term, which is mainly attributed to its high usage in resin production across geographies.
Besides, during the past few years, consumption of dianhydrides grew owing to high usage for resin manufacturing. Owing to this, PMDA continued to account for a prominent market share, attributed to its extensive utilisation in resin production, adhesive manufacturing, and coating manufacturing. However, recently, PMDA has been regarded as hazardous by OSHA, which has somewhat limited market growth.
Nevertheless, manufacturers have been looking to expand their manufacturing capacities of 6-FDA and BTDA (Benzophenone Tetracarboxylic Dianhydride), which is proving to be a vital alternative to PMDA in recent times.
Owing to the aforementioned factors, the market for dianhydrides is anticipated to expand at 6.1% CAGR over the forecast period of 2022-2032.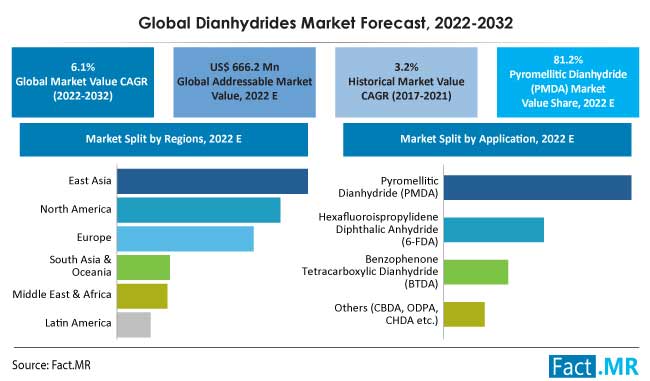 What are the Predicted Demand Drivers for Dianhydrides Going Ahead?
"Dianhydride Usage Increasing in Manufacturing High-performance Adhesives & Coatings"
Dianhydride finds application in the manufacturing of high-performance adhesives and coatings. One of the compounds, pyromellitic dianhydride (PMDA), is a white solid substance that is used to make polycarbonates, polyether, plasticizers, polyesters, epoxy resins, and other thermoplastics.
As the demand for thermoplastics keeps escalating at a rapid pace across diverse end-use industries such as automobiles, adhesive manufacturing, paints & coatings, and lubricants, the market is expected to grow at a high-value rate of 6.1% during the forecast period.
On the other hand, BTDA compound usage has been on the rise as a viable alternative to PMDA (which exhibits brittleness and high glass transition temperature). Owing to this, manufacturers have been investing in the R&D of alternate anhydrides, which not only overcomes the shortcoming of PMDA but also enhances the overall use-case of dianhydrides on the whole.
"High Demand for 6-FDA for Use as Advanced Aerospace Composite"
Additionally, 6-FDA compound finds vital usage across geographies where it is used as an advanced aerospace composite, especially in developed regions. Moreover, 6-FDA provides superior heat resistance and electrical performance, which are important characteristics for modern FCCL circuits in 5G-enabled smartphones and other personal electronic devices.
In addition, unlike traditional yellow-brown polyimides, 6-FDA enables the production of colourless and clear polyimide films. As a result, polyimide film-based foldable displays have emerged as a viable glass substitute.
More Insights, Lesser Cost (-50% off)
Insights on import/export production,
pricing analysis, and more – Only @ Fact.MR
Country-Wise Analysis
Why are Dianhydride Suppliers Looking towards China?
Whether you think of paints & coatings, resin production, or electronics manufacturing, China has remained the undisputed leader across these industries, with easier access to raw materials and relatively cheap labour available at their disposal, which has given them the tag of the manufacturing hub of the world. This is especially true because a substantial portion of the dianhydrides being supplied across geographies is being manufactured in China.
Additionally, with the presence of several special economic zones in the country, along with higher demand, especially from China's end-use sectors, the country has managed to attract a large number of investments, which is resulting in accelerating the overall growth of the China dianhydrides market.
Owing to the above-discussed factors, the Chinese market for dianhydrides is poised to provide a high absolute dollar opportunity worth US$ 89.2 million throughout 2022-2032, with East Asia, on the whole, accounting for 30.4% of the global market.
Why is Europe a Lucrative Market for Dianhydride Producers?
European companies have been investing in the research and development of alternatives to PMDA, with 6-FDA and BTDA being the most popular of the bunch. Besides, Europe is a prominent automobile and aerospace manufacturing hub of the world, and these two industries cumulatively account for a vital chunk of revenue in the overall European manufacturing arena.
Out of the countries considered in the scope, Germany is poised to remain the largest user of dianhydrides in Europe, accounting for 23.4% of total demand. This is especially true because automobile, construction, and general manufacturing industries are vital consumers of anhydride being used in epoxy resin manufacturing.
As such, the European market is anticipated to be one of the dominant growth generators from 2022 to 2032, expanding at a CAGR of 6.5% to be valued at US$ 272.2 million by 2032-end.
More Insights, Lesser Cost (-50% off)
Insights on import/export production,
pricing analysis, and more – Only @ Fact.MR
Category-Wise Analysis
Which Compound is Predicted to Drive High Sales of Industry Participants?
Out of the compounds taken into consideration, pyrometallic dianhydride (PMDA) had remained a major demand generator during the past years, owing to its usage in epoxy resin production, where it is used as a curing agent.
However, in recent times, PMDA has been denoted as hazardous by OSHA, which has resulted in limiting the market growth of the chemical. Additionally, research is ongoing in the field of BTDA and 6-FDA, as they have proven to be viable alternatives to PMDA in the short term.
As of 2022, PMDA accounts for 81.2% of the market share by value, and it is poised to continue its dominance across diverse end-use industries, owing to the limited manufacturing of 6-FDA and BTDA, and the relative maturity of PMDA material being used across several end-use verticals in recent times.
On the other hand, 6-FDA has found usage across the semiconductor and electronics manufacturing industry due to its usage in FCCL circuits for upcoming 5G smartphones and other related personal electronics devices. Besides, 6FDA is also used in advanced composite applications, such as AFR-PE4, a matrix resin created by the U.S. AFR-PE4 that achieves a transition temperature of 360°C while avoiding the use of MDA.
As a result, although PMDA is anticipated to account for a major chunk of the market, 6-FDA is poised to provide stiff competition in the latter half of the forecast period, increasing at a CAGR of 6.6%.
Which Dianhydride Application Accounts for Most Consumption?
Out of all the end-use categories, resin production is anticipated to remain the vital contributor to market revenue and is poised to continue dominating the market till the end of the forecast period.
Additionally, dianhydride finds usage across the paints & coatings industry with a majority of manufacturers targeting the curing agent function, especially in epoxy and polyamide manufacturing.
Owing to the excellent curing property of dianhydride, it is used in the production process of the aforementioned resins. When melted, it is both stiff and reactive. Cured resins are brittle and have a high glass transition temperature. As a result, for some applications, the use of PMDA with epoxies has been substituted with alternative dianhydrides such as BTDA.
Although resin production has remained a vital application targeted by manufacturers, adhesive and coating manufacturers are also trying to utilise the excellent cross-linking property of dianhydride and are collaborating with dianhydride manufacturers for coming up with targeted products catering to specific applications across diverse end-use verticals.
All in all, resin production application is projected to provide a high absolute dollar opportunity worth US$ 239.3 million, increasing at a higher CAGR of 6.8% during the forecast period.
Don't Need a Global Report?
Save 40% on Country & Region specific reports
Competition Landscape
To lower prices, it is widely acknowledged that cost reduction and increased performance are required, both of which involve significant R&D. Furthermore, dianhydride has been acknowledged as a potential choice for a variety of developing applications across the semiconductor, paint & coating, and adhesive manufacturing industries.
Top dianhydride manufacturers and top chemical making companies have remained active in terms of overall investments being done in the dianhydrides market, and are profoundly looking forward to creating future revenue-generating opportunities in target markets.
Key Segments Covered in Dianhydrides Industry Research
Dianhydrides Market by Compound :

Pyromellitic Dianhydride (PMDA)
Benzophenone Tetracarboxylic Dianhydride (BTDA)
Hexafluoroispropylidene Diphthalic Anhydride (6-FDA)
Others (CBDA, ODPA, CHDA, etc.)

Dianhydrides Market by Purity :

Below 98% Dianhydride
Above 98% Dianhydride

Dianhydrides Market by Function :

Additives
Precursors
Curing Agents
Chain Extenders

Dianhydrides Market by Application :

Resin Production

Epoxy
Polyester
Polyether
Polyimide (Kapton)
Others

Adhesive Production
Coating Production
Mouldings Powder Production
Lubricant Production
Others

Dianhydrides Market by Region :

North America
Latin America
Europe
East Asia
South Asia & Oceania
Middle East & Africa