Vanadium Market Growth Outlook (2023 to 2033)
The global vanadium market stands at a valuation of US$ 46.2 billion in 2023 and is anticipated to reach US$ 105.4 billion by the end of 2033. According to Fact.MR, worldwide sales of vanadium are predicted to rise rapidly at a CAGR of 8.5% from 2023 to 2033.
Vanadium is a chemical element with the symbol V and atomic number 23. It is a hard, rare grey-white, and ductile element, which is found in combination with various other minerals. It is widely used for manufacturing certain alloys, including titanium alloys, steel alloys, and iron alloys.
Vanadium resists corrosion due to its ability to form an oxide and the same oxide can work as a protective film on surfaces of different materials. Vanadium naturally occurs in the environment in fossil fuel deposits and around 65 minerals. Vanadium is produced from the steel smelter slag or as a secondary product of uranium mining. In addition, flue dust of heavy oil is also used in the production of vanadium.
China and Russia are prominent producers of vanadium from steel smelter slag. Other global countries produce vanadium directly from magnetite, from the flue dust of heavy oil, and as a by-product of uranium mining.
Vanadium pentoxide is a noticeable industrial vanadium compound, which is utilized as a catalyst for the production of sulfuric acid. The use of vanadium redox flow batteries for the storage of energy can also become an important application over the coming 10 years.
The global industry is expected to exhibit remarkable growth over the forecast period due to the rising use of vanadium in the automobile industry. As a malleable and ductile transition metal, it is used in numerous industries. It is also widely used in fossil fuel deposits.
The rising use of vanadium in different end-use industries, including medical, automotive, and construction are contributing to its increased sales. Crankshafts, axles, bicycle frames, etc. are some popular areas where vanadium is used.
As per this recently published research report by Fact.MR, a provider of market research and competitive intelligence, the global market is expected to grow rapidly due to the beneficial properties of vanadium. Growth drivers, regional analysis, restraints, novel opportunities, import and export analysis, production–consumption analysis, technological advancements, and pricing analysis are included in the research report.
Report Attributes

Details

Vanadium Market Size in 2023

US$ 46.2 Billion

Anticipated Market Value (2033)

US$ 105.4 Billion

Forecasted Market Growth Rate (2023 to 2033)

8.5% CAGR

Canada Market Growth Rate (2023 to 2033)

7.7% CAGR

Germany Market Growth Rate (2023 to 2033)

5.7% CAGR

Key Companies Profiled

Australian Vanadium Limited
VanadiumCorp Resource Inc.
Bushveld Minerals Limited
Largo Resources Ltd.
EVRAZ PLC
China Ansteel Group Corporation Limited
HBIS GROUP
Tremond Metals Corp
Don't Need a Global Report?
Save 40% on Country & Region specific reports
Which Factors are Expected to Stimulate the Sales of Vanadium Globally?
"Increasing Use of Vanadium in Automobile Industry"
Vanadium is being utilized at an increased rate in the automobile industry. Vanadium alloy, which is ferro vanadium, is utilized for the production of automobile parts to reduce their weight and increase their fuel efficiency. It is capable to reduce the overall weight of the automobile system.
"Growing Demand from the Medical Industry"
Vanadium is widely used as a supplement to medicine to cure heart diseases, diabetes, pre-diabetes, and low blood sugar. In addition, it is also used to improve the performance of athletes. Sometimes, it also works as an insulin due to proven shreds of evidence of its ability to upsurge the impact of insulin in the human body.
"Increasing Demand for Vanadium Redox Flow Batteries (VRFB)"
Increasing demand for vanadium redox flow batteries is due to their advantages compared to other batteries. They are capable of providing unlimited capacity and can be recharged through electrolyte placement. The battery of VRFBs lasts longer than other batteries. All these factors are predicted to contribute to the rising demand for VRFBs around the world.
"Rising Demand for Vanadium in Steel Industry"
In recent years, the steel industry has been largely contributing to sales of vanadium. When vanadium is used in steel, it results in an increased affinity with oxygen, nitrogen, and carbon. It can also produce stable compounds in steel with the use of these materials.
Vanadium exists mainly in steel due to its function of refining grains and the structure of steel, which increases the toughness and strength of the end product. Further, vanadium is also used in steel to reduce its sensitivity in case of overheating.
"Increased Expenditure on Production of Artificial Vanadium"
Investors, in recent years, have been investing at an increased rate to meet the rising demand for vanadium across the globe. They are spending on the manufacture of artificial vanadium. This newly produced vanadium can be utilized in the steel and automobile sectors. Moreover, the aerospace industry is also contributing to substantial demand for artificial vanadium.
Which Factors are Restraining the Sales Growth of Vanadium?
"Implementation of Stringent Regulations for Environmental Protection"
Vanadium deposition into the environment is increasing continuously, which is expected to increase harmful discharges in the human environment. These vanadium-rich by-products such as steel slags and ash are estimated to contribute to the increasing waste incineration.
Countries around the world are executing environmental protection regulations and strategies to decrease the toxic effects of vanadium on the environment. Manufacturers of vanadium need to make additional investments to match these regulations for minimal environmental impact, which are projected to limit opportunities for market players.
"Serious Health Effects and Price Fluctuations of Vanadium"
Although vanadium is beneficial for human beings, some serious health effects such as kidney damage in case of excessive consumption can adversely impact human health. It is not safe for kids to consume vanadium but it is medically proven that vanadium is the best solution to relieve lower levels of sugar and produce insulin. However, in case of excessive consumption, it can also become toxic.
The constant fluctuations in the price of vanadium are also serving as one of the major challenges limiting its adoption. Thus, these factors are expected to negatively affect sales of vanadium.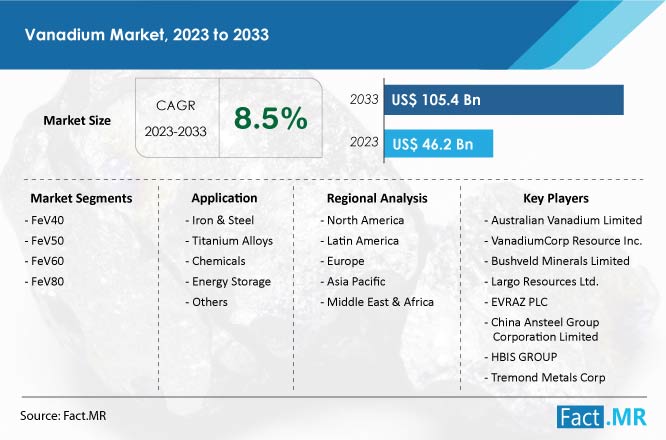 How is the Vanadium Market Performing at a Regional Level?
"Asia Pacific Generating Substantial Revenue Opportunities"
Asia Pacific is expected to hold a dominating position in the global market in terms of revenue share. This is owing to the rising demand for vanadium across the region. Among other regional countries, Japan is estimated to hold the leading position as a consumer of vanadium. Moreover, the well-developed steel industry in Japan is also anticipated to generate lucrative opportunities for market players.
"Rising Demand for Vanadium from the Construction Industry in North America"
North America is predicted to grow at a fast pace over the coming 10 years. Increased sales of vanadium in North America are due to its growing demand from the construction industry. It can be used alone as well as in combination with other alloys to strengthen steel plates for different box girders and different types of bridges.
Vanadium is added to steels, which are designed to resist earthquakes and fire. In addition, it is also employed for strengthening steel to reduce corrosion.
More Insights, Lesser Cost (-50% off)
Insights on import/export production,
pricing analysis, and more – Only @ Fact.MR
Country-wise Insights
What Opportunities are Present for Vanadium Suppliers in Japan?
"Rapid Growth in Steel Industry Fueling Demand for Vanadium"
Sales of vanadium are estimated to increase at a steady CAGR of 4.9% in Japan from 2023 to 2033.
Noteworthy growth in the steel industry in Japan can further lead to the rising demand for vanadium. In addition, vanadium suppliers from Japan are using several strategies to generate leads and enhance their sales.
Which Factors are Driving Sales of Vanadium in the United States?
"Increasing Initiatives to Produce Vanadium in the Country"
Demand for vanadium in the United States was US$ 11.7 billion in 2022.
Growth in the demand for vanadium in the United States is due to efforts taken by manufacturers to increase their sales in the target market.
The Canada market is forecasted to progress at a CAGR of 7.7% over the forecast period.
Which European Country is Expected to Hold Major Revenue Share?
"Germany to Be Prominent Market in European Region"
The German market is projected to progress at a CAGR of 5.7% from 2023 to 2033.
Germany is one of the few countries in Europe that is generating higher demand for vanadium with the growing steel industry. Further, increasing manufacturing and utilization of vanadium, in Germany, are estimated to contribute to its higher sales.
Category-wise Insights
Which Application Will Help Vanadium Companies Increase Their Sales Potential?
"Growing Use of Vanadium in Iron & Steel Companies"
Iron & steel, energy storage, chemicals, titanium alloys, and other applications of vanadium are propelling its demand around the world. Among these, the iron & steel segment is estimated to hold the leading position in the market. In recent years, the steel industry has been undergoing advancements, which are fueling demand for vanadium in the production of steel.
Vanadium can refine the structure of steel and increase its toughness, wear resistance, and strength. In the presence of vanadium, the hardenability of steel and its related products can be reduced.
Competitive Landscape
Vanadium suppliers are increasing their expenditure on maintaining their product standards by using more efficient raw materials and incorporating advanced manufacturing technologies. In addition, supply chain management systems are strengthened to expand the product reach to global consumers.
Vanadium manufacturers are entering into collaborations and partnerships for new developments to provide quality products to end users while considering pricing trends.
For instance :
In 2020, Nusaned, owned by SABIC (Saudi Basic Industries Corporation), which is an investment company based in Saudi Arabia, joined a project with SCHMID Group, which is a Germany-based technology group. These companies are together concentrating on technology development and production of VRFB (Vanadium Redox Flow Batteries).
Companies in the vanadium market include Australian Vanadium Limited, VanadiumCorp Resource Inc., Bushveld Minerals Limited, Largo Resources Ltd., EVRAZ PLC, China Ansteel Group Corporation Limited, HBIS GROUP, and Tremond Metals Corp.
Segmentation of Vanadium Industry Research
By Grade :

By Application :

Iron & Steel
Energy Storage
Chemicals
Titanium Alloys
Others

By Region :

North America
Europe
Asia Pacific
Latin America
Middle East & Africa