Diversity and Inclusion (D&I) Market
Diversity and Inclusion (D&I) Market Analysis By (Employee Resource Groups (ERGs), External Partnerships, Training & Development, Recruitment, Others), and Region – Global Market Insights 2023 to 2033
Diversity and Inclusion (D&I) Market By Segment (Employee Resource Groups (ERGs), External Partnerships, Training & Development, Recruitment, Others) & Region – Global Market Insights 2023 to 2033
Diversity and Inclusion (D&I) Market Outlook (2023 to 2033)
The global diversity and inclusion (D&I) market is valued at US$ 9 billion in 2023 and is expected to reach US$ 30 billion by 2033, expanding at an impressive CAGR of 12.7% from 2023 to 2033 (forecast period).
Most organizations have prioritized diversity and inclusion in the workplace. D&I are two distinct but interconnected ideas that have a significant impact on workforce performance and organizational growth.
Diversity and inclusion refer to a company's set of policies, strategies, and missions for creating and encouraging an inclusive workplace that draws a wide pool of people from varied cultural backgrounds.
Companies seeking to create a significant presence in a wide range of rising new markets have initiated a global gold rush for multicultural markets, diverse workers, and untapped consumer bases. Multicultural activities and a consistent effort to blend diverse demographic and cultural diversity into an inclusive workplace that fits into the broader goal of the company's growth and advancement are required for success in global markets.
This creates numerous opportunities for businesses to expand by using their access to a diversified talent pool.
Although diversity in the workforce is excellent and valuable for firms in terms of increasing creativity and driving innovation, it also raises questions about long-held traditional business principles and assumptions. Companies are being compelled to make significant structural changes that affect all essential areas of corporate operations, marketing, workforce recruiting, and retention.
Even from a corporate perspective, workplace diversity is appealing due to its potential to inspire innovation, creativity, and empathy in ways that homogeneous workplaces cannot.
Companies with more diverse and inclusive teams can lead change more effectively than those that have a more homogeneous workforce. Diverse businesses make 2.5 times more cash flow per employee, and inclusive teams are 35% more productive.
On the other hand, D&I projects are complicated to implement and measure. Achieving true equality and inclusion is difficult, and more than 65% of employees believe their superiors need to encourage an inclusive environment. It is relatively easy to achieve increased diversity in the workplace because it symbolizes the mix or make-up of an entity.
Nevertheless, the inclusion component of the puzzle is more complicated, and guaranteeing it is tough because it entails integrating the presence, contributions, and opinions of other groups of people into the environment. Inclusion is the process of making the mix work as a coherent whole by accepting, embracing, and respecting the various backgrounds, races, experiences, ethnicity, gender identity, sexual orientation, tradition, faith, and, most importantly, viewpoints of each individual.
An inclusive culture promotes collaborative daily learning, complete freedom to choose and experiment, good mobility across the business, and promote long-term thinking. Diversity without inclusion can lead to a toxic environment, and inclusion without diversity can lead to an uncreative and infertile atmosphere in which a company can stagnate. Such aspects are boosting the global demand for diversity and inclusion solutions.
Report Attributes

Details

Diversity and Inclusion Market Size in 2023

US$ 9 Billion

Projected Market Value (2033)

US$ 30 Billion

Global Market Growth Rate (2023 to 2033)

12.7% CAGR

United States Market Value (2022)

US$ 4 Billion

Leading Segment

Training and Development

Key Companies Profiled

Affirmity
AllenComm
Atrixware, LLC
Artesian Collaborative, LLC
Berkshire, LLC
CTM Unlimited
CABEM Technologies
Deloitte
Don't Need a Global Report?
save 40%! on Country & Region specific reports
Why is D&I in the Workplace Important?
"Diversity and inclusion Drives Innovation"
Businesses with diverse workforces are discovering that their capacity for innovation is increasing.
According to a 2019 HR Research Institute survey, 66% of organizations believe diversity improves innovation, and 83% of employees felt their ability to innovate rose when they felt they were heard and understood and their organization was committed to and supportive of diversity.
According to BCG's 2019 Diversity and Innovation Survey, organizations with above-average diversity scores recorded more income from innovation (revenues from products launched in the previous three years).
Employees feel less stressed and are less likely to experience negative emotions toward their employer when they feel included and considered, and a larger diversity of perspectives are heard throughout an organization, producing a melting pot of free-thinking that generates innovative ideas.
"Faster Problem-Solving and Better Decision-Making"
Investing in diversity and inclusion solutions has been found to increase team decision-making speed.
According to a 2019 study, cognitively diverse teams completed issues faster than homogeneous teams.
Moreover, diversity also improves the quality of decisions made.
According to a Cloverpop white paper from 2021, diverse teams made decisions 60% faster than non-diverse teams. In addition, teams with gender, age, and regional diversity made the right decision 87% of the time, as opposed to 58% for all-male teams.
"Attracting and Retaining Talent"
People are drawn to companies that encourage diversity and inclusion in the workplace. Their job openings attract more attention because people from diverse backgrounds are accepted and welcomed. Businesses that embrace diversity are more inclined to value their workforce as well as their employees. Moreover, employee retention becomes easy when employers or management motivate and satisfy the workforce.
"D&I Improves Company's Reputation"
Nike and Disney are both paying close attention to the D&I concept in the workplace. Aside from them, several small organizations are implementing significant improvements in their organizational structure. Eliminating favoritism, racism, and partiality from the workplace can provide the organization with a distinct and excellent market reputation.
"Measuring D&I Performance Can Result in Internal Advantages"
Evaluating D&I within an organization can highlight pre-existing hierarchies. For instance, gathering employment data can help to detect concerns like prejudice in the hiring process. This allows an organization to restructure in accordance with its D&I objectives.
Moreover, when implemented at all levels of the organization, D&I has been found to foster a culture in which people can express themselves and ask questions without fear of discrimination. This enables an environment conducive to mutual learning, constructive conflict, and improved decision-making.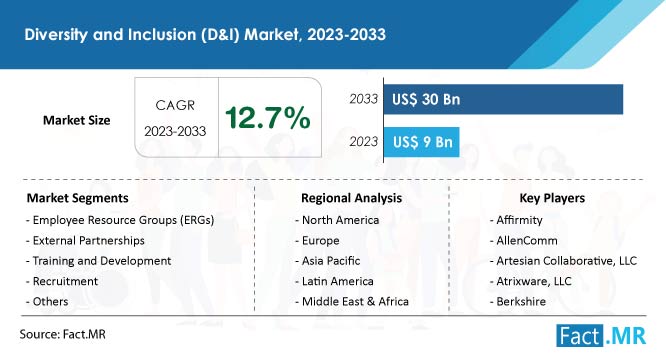 Country-wise Insights
Why is the United States Expected to Stand Out in the Global Diversity and Inclusion Market?
"Several Tech Giants Incorporating D&I Solutions"
North America, dominated by the United States, is leading the worldwide market for diversity and inclusion (D&I). The United States market was worth US$ 4 billion in 2022. The United States is home to major tech companies like Microsoft, Meta, Apple, and Google, among others. These organizations are concentrating on their D&I projects to reap the benefits and establish an all-inclusive culture.
For example, according to USA Today, Amazon intends to double the representation of Black directors and VPs in 2022 and 2023 by leveraging the organization's internal skills development initiatives, like the Black Employee Network Executive Leadership Development Program. Amazon has made diversity and inclusion training mandatory for all its employees worldwide. They've also eliminated non-inclusive terms such as "whitelist," "blacklist," "slave," and "master" from any software or documentation. Amazon also appointed Alicia Boler Davis to its executive leadership team as VP of global customer fulfillment. She is the company's fourth female executive and the first Black executive to join its senior leadership team.
How are Japan & South Korea Driving Market Growth in Asia Pacific?
"Strong Focus on Developing Diverse Culture to Accelerate Business Growth"
The Asia Pacific market is expanding at a considerable pace. Japan and South Korea are increasingly embracing D&I solutions.
Nowadays, many businesses recognize the value of identifying and utilizing a diverse workforce. Nevertheless, due to Japan's long-standing membership-based employment system, the adoption of diversity and inclusion appeared to be lacking. Membership-based employment was an effective approach for enterprises to secure a long-term workforce for their expansion during Japan's fast economic growth period. To accomplish this, a fairly homogeneous organization was preferred.
However, Japanese organizations now have realized that developing a culture that recognizes and appreciates each member's diversity contributes to business growth. As a result, Japanese organizations are progressively implementing D&I solutions to improve the company's performance.
What Aspects are Boosting Demand for D&I Solutions in Germany?
"Increasing Aging Workforce"
Germany is facing an ever-decreasing workforce due to an aging population. Over a third of people employed in Germany in 2020 were over 50 years old, and it is estimated that by the end of this decade, there will be more workers over 65 than those under 20. The number of workers in Germany is expected to shrink by 7.2 million by 2035.
By restricting employees to particular demographics, existing and future labor needs will not be met. Employers can meet labor demands by diversifying their workforce. As a result, widening the targeted demographics in the workforce and actively committing to encouraging participation among all employees will help firms safeguard future value.
Furthermore, an inclusive culture strengthens employees' attachment to the organization. This provides an opportunity for a corporation to overcome the economic effects of an aging national population.
More Insights, Lesser Cost (-50% off)
Insights on import/export production,
pricing analysis, and more – Only @ Fact.MR
Category-wise Insights
Why are Training and Development So Necessary?
"Training & Development Helps Foster Inclusive Workplace Culture"
The first step in promoting D&I is ensuring that a company's workforce is diverse and reflects its culture and consumer base. However, after recruiting, training and development play a critical role in fostering an inclusive workplace culture.
Diversity training can make a difference when done correctly. For instance, training employees who have coworkers with impairments can help them work well together and assist individuals with disabilities to succeed. Moreover, gender diversity training that raises awareness of the obstacles women experience at work will eventually result in male allies who support their achievement.
Overall, continual D&I training activities, rather than one-time initiatives, will help minimize unconscious bias and guarantee that employers make D&I a continuous priority rather than a response to societal events or workplace mishaps.
Competitive Landscape
Key players in the D&I market are actively pursuing marketing tactics such as partnerships, investments, acquisitions, technological innovations, and R&D activities to develop and strengthen their worldwide presence. Moreover, many start-ups are focusing on new developments and offering innovative solutions.
OurOffice, a start-up established in the United States, creates management tools and analytics models to oversee diversity and inclusion (D&I). The Diversity and Inclusion Maturity Model, developed by the start-up, provides insights into strategy and commitment, talent diversity, workplace inclusion, and organizational engagement. It also provides firms with diversity benchmarking by comparing their ratings to a proprietary index of other organizations. This fosters workplace diversity by emphasizing topics such as family care, maternity leave, work flexibility, and others.
Umbrella Analytics, a start-up based in the United Kingdom, develops a software platform that evaluates important inclusion metrics. It provides immediate personalized feedback based on a wide range of input variables such as pay, gender, location, job postings, and policies. The platform's companion app also visualizes HR and financial systems data, provides enhanced tools for writing better job ads and produces standard reports for senior management teams.
Know thy Competitors
Competitive landscape highlights only certain players
Complete list available upon request
Segmentation of Diversity and Inclusion Industry Research
By Segment:

Employee Resource Groups (ERGs)
External Partnerships
Training and Development
Recruitment
Others

By Region:

North America
Latin America
Europe
Asia Pacific & China
Middle East & Africa
- FAQs -
The global diversity and inclusion market is valued at US$ 9 billion in 2023.
Worldwide demand for diversity and inclusion solutions is estimated to increase rapidly at 12.7% CAGR from 2023 to 2033.
The market for diversity and inclusion solutions is expected to hit US$ 30 billion by 2033.
The United States market was valued at US$ 4 billion in 2022.
Affirmity, AllenComm, Atrixware, LLC, Artesian Collaborative, LLC, Berkshire, LLC, CTM Unlimited, CABEM Technologies, and Deloitte are leading providers of diversity and inclusion solutions.