Graphene Battery Market
Graphene Battery Market Analysis, By Type (Lithium-ion Batteries, Lithium-sulphur Batteries, Graphene Supercapacitors, Lead-acid Batteries), By Application (Consumer Electronics, Automotive, Industrial Robotics, Energy, Aerospace & Defense, Marine, Healthcare), & By Region - Global Market Insights 2023 to 2033
Analysis of Graphene Battery Market Covering 30+ Countries Including Analysis of US, Canada, UK, Germany, France, Nordics, GCC countries, Japan, Korea and many more
Graphene Battery Market Growth Outlook (2023 to 2033)
The global graphene battery market is set to increase from a value of US$ 140.7 million in 2023 and jump to US$ 2 billion by the end of 2033 and booming at a CAGR of 31% from 2023 to 2033.
One of nature's wonder materials is graphene, with amazing qualities. A sheet of carbon atoms arranged in the shape of a honeycomb lattice makes up the carbon compound graphene. It is a good conductor of heat and electricity according to its composition and chemical characteristics. It can stretch over a huge surface area, is incredibly lightweight, and has inert chemical characteristics. It is also regarded as environmentally friendly.
Graphene has countless potential applications, particularly in the power generation and storage sectors. Because of its characteristics, graphene considerably enhances conventional batteries. It enhances battery performance, shortens charging time, boosts energy output, and lengthens battery life.
Continuous research and development efforts are making great progress in creating newer, better products such as lithium-ion batteries, lithium-sulphur batteries, graphene supercapacitors, and lead-acid batteries.
Sales of lithium-ion batteries are expected to increase at a healthy CAGR during the forecast period. Several graphene producers are concentrating on R&D initiatives to create high-quality graphene, which is utilized as a material made of the electrode in graphene li-ion batteries.
Vorbeck Materials unveiled a portable charging station that is made of a lighter, flexible battery improved with graphene.
Outstanding heat conductivity, high electron mobility, exceptional chemical stability, and superior mechanical qualities are anticipated benefits of using graphene in li-ion batteries. The capacity and lifespan of batteries are both increased by graphene electrodes. The use of graphene-powered li-ion batteries is projected to solve the durability and storage capacity problems.
Followed by lithium-ion graphene batteries, sales of graphene supercapacitors are expected to increase at a swift pace during the next 10 years. It is anticipated that the use of graphene-based supercapacitors will increase storage capacity and shorten the time needed for full charging or discharging. Supercapacitors made of graphene have potential uses in the electronics and automotive industries.
The energy density of graphene-based supercapacitors is greater than that of commercially available supercapacitors and is comparable to that of nickel metal hydride batteries. Supercapacitors powered by graphene are expected to solve the problems with storage space and durability. Additionally, the rising use of portable gadgets and electric automobiles is anticipated to boost the demand for graphene supercapacitors in emerging countries such as Taiwan, China, India, and others.
Report Attributes

Details

Market Size (2023E)

US$ 140.7 Million

Forecasted Market Value (2033F)

US$ 2 Billion

Global Market Growth Rate (2023 to 2033)

31% CAGR

Leading Regional Market

Europe

Key Companies Profiled

Cabot Corporation
Cambridge Nanosystems Ltd.
G6 Materials Corp.
Graphenano S.L.
Graphene NanoChem plc
Graphenea S.A.
NanoXplore Inc.
Real Graphene USA
Vorbeck Materials Corp.
XG Sciences Inc.
Samsung Electronics
Huawei
Log 9 Materials,
Nanotech Energy
Hybrid Kinetic Group Ltd.
Don't Need a Global Report?
save 40%! on Country & Region specific reports
Why are Graphene Battery Sales Set to Skyrocket?
"Rapidly Increasing Use of Graphene in Electric Vehicle Batteries"
Electric vehicle demand is rapidly expanding. The need for high storage and high-capacity batteries has been greatly driven by the increasing sales of electric vehicles.
The production of electric vehicles by global automakers, including automobiles, bikes, scooters, and bicycles, is concentrated on providing models with longer ranges and faster charging times. The energy may be stored and dispersed for a longer time with graphene battery technology.
Since they enable a longer-distance driving range and faster charging times for electric vehicles, graphene batteries are quickly gaining appeal in the automotive sector. Graphene batteries are safer and less prone to explosions than conventional lithium-ion batteries, and they can charge more quickly.
"Introduction of Technologically Advanced Graphene-enhanced Batteries"
Global demand for graphene batteries is anticipated to increase as a result of expanding research into graphene-based energy storage technologies and rising graphene usage in membrane separation. Electronics, biomedical technology, composites and coatings, energy storage, and water and wastewater treatment are some of the best applications for graphene.
Miniaturization is becoming increasingly important in graphene research, which is one of the main causes propelling it globally. Graphene can completely change the semiconductor industry due to its conductivity and ultrathin nature.
The biggest barrier to the widespread implementation of graphene is the lack of a workable, affordable mass-production technique. To make superior graphene oxide films and graphene nanoplatelets as well as to enhance the quality of the materials produced, ongoing research and development activities are increasing swiftly.
Hybrid Graphene-aluminium Battery
In cooperation with the Graphene Manufacturing Group, scientists from the University of Queensland in Australia have developed a prototype hybrid battery that is based on graphene. Because it employs aluminium and graphene as electrode materials, this battery is also known as a graphene aluminium battery.
The battery can be charged in as little as 1 to 5 minutes and has an energy density of 150 to 160 Wh/kg. The safety, recycling, and extended battery life (over 2000 cycles) with essentially no performance deterioration are further advantages of graphene aluminium-ion batteries.
The Graphene Manufacturing Group (GMG) has also produced its graphene aluminium-ion batteries in the configuration of pouch cells to be utilized in tablets, smartphones, laptops, and other devices. The potential energy capacity of these batteries is roughly 1050 Wh/Kg. As a result, users can soon anticipate that graphene batteries will offer greater energy than conventional batteries.
Improved Lithium-sulfur Battery with Graphene
The announcement by the California-based business Lyten that it had created a graphene battery for electrical vehicles with an energy density three times that of conventional lithium-ion batteries marked a turning point in the development of graphene hybrid batteries by the end of 2021.
These batteries are lithium-sulfur (Li-S) batteries, which have long been heralded as the upcoming rechargeable battery technology. Nevertheless, the problem with real-world Li-S battery applications is the soluble polysulfide species production during discharge cycles. Internal short circuits are brought on by the intermediate species that diffuse between the anode and cathode. The Li-S cells' poor efficiency and rapid capacity fading are caused by a phenomenon known as the 'shuttle effect', which is also known as the shuttling effect.
To solve this problem, Lyten added a 3D graphene membrane to the sulphur cathode, which served as a good separator and slowed the rate of cyclic capacity decay. The LytCell EV product reportedly delivers 900 Wh/kg of energy density. A LytCell prototype can reportedly withstand more than 1,400 charge-discharge cycles.
Which Aspects Can Act as Obstacles Before Manufacturers of Graphene Batteries?
"Lack of Enough Awareness of Graphene Batteries"
Although the sales of graphene batteries are growing rapidly, there are some factors that may hamper demand growth to some extent. Due to inadequate publicity and representation, many customers are ignorant of the advantages of graphene-enhanced batteries.
Improper use of graphene poses another obstacle. The growth of the graphene battery market is expected to be hindered by its slow application, despite an abundance of theoretical information about graphene and its properties. The graphene battery demand may become slow as a result of these factors.
"Comparatively Higher Manufacturing Costs"
Graphene, the raw substance used to make graphene batteries, directly influences the overall cost. The high expense of producing graphene-based derivatives is thought to be the cause of the high price of graphene batteries. High-quality single-layer graphene sheets are very costly and are only produced in small quantities. Consequently, graphene battery manufacturing costs are increasing.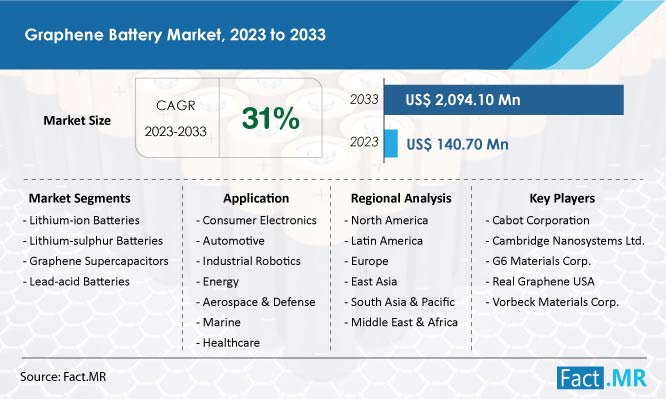 Country-wise Analysis
Why are Germany & the United Kingdom Profitable Markets for Graphene Battery Manufacturers?
"Rapidly Progressing Electronics Sector in These Countries"
Germany and the United Kingdom both are expected to be beneficial markets for graphene batteries in the European region. Due to the high concentration of graphene manufacturing firms in Germany and the United Kingdom, both of these countries hold the largest market shares. Furthermore, the electronics industry is developing at a rapid rate, necessitating the use of fuel-efficient graphene cells in electronic devices such as power tools and portable electronics.
Germany's and the United Kingdom's robust electric vehicle sales are anticipated to generate potential opportunities in the graphene battery market in both countries. For their electric and hybrid vehicles, German firms such as Fiat, General Motors, and Ford are making investments in graphene-based li-ion batteries. One of the most powerful and R&D-intensive sectors in Germany is electronics. As a result, demand for graphene batteries from the electronics sector is predicted to grow rapidly during the forecast period.
The largest manufacturers and vendors of high-quality, functionalized graphene used to create conductive and multipurpose high-quality graphene electrode material for batteries are located in the United Kingdom.
The United Kingdom-based firm Levidian Nanosystems (formerly known as Cambridge Nanosystems) produces high-quality graphene in a single process exclusively for use as the electrode material in batteries.
What is Allowing China to Hold a Dominant Position in the Asia Pacific Market?
"Raid Increase in Demand for Electric Vehicles"
Rapid industrialization and developments in electric vehicle manufacturing and industrial robotics are boosting demand for graphene composites in China. The Chinese government is promoting the use of electric vehicles as part of several initiatives to reduce air pollution.
China has implemented CO2 pollution control measures and is anticipated to use unconventional energy sources. To satisfy the rising demand for battery capacity and durability, this effort aims to create batteries with high storage density and environmentally friendly energy storage devices.
Graphene-based G-King battery modules with a quick charge time have been introduced by Beijing-based Dongxu Optoelectronics.
The adoption of electric automobiles that use less fuel and the increasing need for developments in portable devices is anticipated to boost sales of graphene batteries in the coming 10 years. The government is also undertaking several initiatives to shift consumer preferences from gasoline-powered vehicles to electric or hybrid vehicles. This effort is anticipated to accelerate the rate of improvements in graphene-based batteries.
How is Demand for Graphene Batteries Progressing in the United States?
"High Use of Graphene Batteries in Production of Aerospace & Defense Products"
The presence of dominant aerospace & defense manufacturing facilities in the United States is increasing demand for graphene batteries. This can be due to the growing use of graphene batteries in USVs, UAVs, satellites, rovers, and portable communication devices.
Manufacturers including SiNode Systems, XG Sciences, and Graphene 3D Labs are following the respective guidelines to produce graphene-based batteries, which are durable, eco-friendly, and extremely effective. Thus, all such factors are boosting sales growth.
More Insights, Lesser Cost (-50% off)
Insights on import/export production,
pricing analysis, and more – Only @ Fact.MR
Category-wise Analysis
Why is Demand for Graphene Batteries Expected to Increase Substantially in the Electronics Sector?
"Flexible & Durable Qualities Make Graphene Batteries Highly Preferred"
A booming business exists for electronics. Numerous goods fall under the category of portable electronics, including smartphones, laptops, portable chargers, walkie-talkies, and different kinds of communication devices.
Graphene batteries are becoming increasingly popular in the market for portable electronic devices due to their increased energy-storing capacity in a small battery volume. In addition, the adverse memory effect, which occurs when a battery is charged repeatedly and reduces its maximal energy potential, is not present in graphene batteries. Moldable batteries for portable electronic devices and wearables have become commercially available as a result of graphene's malleable nature.
Competitive Landscape
Key players in the graphene battery market are investing a lot of money in R&D activities to expand their product portfolios. With significant developments such as the introduction of advanced batteries, contractual agreements, mergers and acquisitions, higher investments, and collaboration with other organizations, leading companies in the graphene battery market are also undertaking various strategic initiatives to expand their global footprint.
According to Fact.MR, a market research and competitive intelligence provider, to grow and achieve a dominant market position, manufacturers may provide graphene batteries at affordable prices.
To establish a dominant market presence in 2020, Applied Graphene Materials signed distribution agreements with several major regional market players.
Know thy Competitors
Competitive landscape highlights only certain players
Complete list available upon request
Key Segments of Graphene Battery Industry Research
By Type :

Lithium-ion Batteries
Lithium-sulphur Batteries
Graphene Supercapacitors
Lead-acid Batteries

By Application :

Consumer Electronics
Automotive
Industrial Robotics
Energy
Aerospace & Defense
Marine
Healthcare

By Region :

North America
Latin America
Europe
East Asia
South Asia & Oceania
MEA
- FAQs -
The global graphene battery market is valued at US$ 140.7 million in 2023.
Sales of graphene batteries are expected to increase at a high-value CAGR of 31% from 2023 to 2033.
Worldwide demand for graphene batteries is predicted to reach US$ 2 billion by 2033.
High production costs of graphene batteries are likely to hamper product sales growth.
Cabot Corporation, Cambridge Nanosystems Ltd., and G6 Materials Corp. are some of the key market players in this space.