Sodium-ion Battery Market
Sodium-ion Battery Market Analysis By Product (Sodium Sulfur Batteries, Sodium Salt Batteries, Sodium Air Batteries), By Technology (Aqueous, Non-aqueous), By Application (Stationary Energy Storage, Transportation), By End Use (Consumer Electronic Devices, Automobile & Transportation, Power Backup, Grid-Level Applications, Industrial, Aerospace & Defense, Marine) and By Region - Global Market Report (2023 to 2033)
Analysis of Sodium-ion Battery Market Covering 30+ Countries Including Analysis of US, Canada, UK, Germany, France, Nordics, GCC countries, Japan, Korea and many more
Sodium-ion Battery Market Outlook (2023 to 2033)
Worldwide sales of sodium-ion batteries are estimated at US$ 997.92 million in 2023. The global sodium-ion battery market size is projected to growth at 15.5% CAGR and reach a valuation of US$ 4.22 billion by 2033, according to Fact.MR, a market research and competitive intelligence provider.
Sodium-ion energy storage batteries are a critical segment of the global energy storage market. Sodium-ion batteries are gaining popularity as an eco-friendly alternative to traditional lithium-ion battery packs due to the focus on sustainability and cost-effectiveness. While lithium-ion batteries have long been a key player in the energy storage landscape, sodium-ion batteries are gaining traction, particularly in applications where cost, safety, and sustainability are critical.
Investments in R&D, collaborations between technology companies and sodium-ion battery manufacturers, and government incentives for sustainable energy solutions are all helping to drive the sodium-ion battery market growth. Sodium-ion batteries have the potential to reshape the landscape of clean energy technologies while also reducing our reliance on scarce resources such as lithium.
The global push to reduce greenhouse gas emissions and combat climate change has steadily boosted demand for electric vehicles. Sodium-ion batteries are seen as a promising solution for powering these vehicles, as they provide high energy density, quick charging, and improved safety.
Key Market Growth Drivers
Need to reduce carbon emissions and transition to clean energy sources is a strong incentive for sodium-ion battery solutions.
Leading energy storage companies and research institutions are actively investing in R&D to improve the performance and safety of sodium-ion batteries. Advancements in electrode material and electrolyte formulation promise breakthroughs that are expected to hasten the commercialization of sodium-ion technology.
There is a greater demand for affordable and long-term energy storage solutions, as solar and wind power become more prevalent. Excess energy generated during peak renewable energy production can be stored in sodium-ion batteries and made available when needed.
Governments around the world are implementing rigorous emission rules and offering incentives for electric vehicles. Because of their high energy density and cheap production costs, sodium-ion batteries are a top alternative for this increased demand for efficient, cost-effective battery solutions.
The sodium-ion battery market is expected to grow significantly in the coming years, owing to its advantages over lithium sodium batteries and rising demand for clean energy solutions. Sodium-ion batteries may become a popular choice for electric vehicles and grid energy storage as technology advances and manufacturing scales up.
Report Attributes
Details
Sodium-ion Battery Market Size (2022A)
US$ 864 Million
Estimated Market Value (2023E)
US$ 997.92 Million
Forecasted Market Value (2033F)
US$ 4.22 Billion
Global Market Growth Rate (2023 to 2033)
15.5% CAGR
North America Market Share (2022)
21%
Europe Market Share (2022)
40%
Asia Pacific Market Share (2022)
29%
Key Companies Profiled

Aquion Energy
Faradion Limited
HiNa Battery Technology Co., Ltd
Ben'an Energy Technology (Shanghai) Co., Ltd.
AMTE Power PLC
Contemporary Amperex Technology Co. Limited
NGK Insulators Ltd.
TIAMAT SAS
Altris AB
Natron Energy Inc.
Ronbay Technology
Zoolnash
Natrium
Kishida Chemical
Mitsubishi Chemical
Panasonic
Blackstone Technology GmbH
Sumitomo Chemical Co.
AGM Batteries Limited
Haldor Topsoe A/S
Don't Need a Global Report?
save 40%! on Country & Region specific reports
What is Setting the Pace for Sales of Sodium-ion Batteries across the World?
"Intermittency of Renewable Energy Sources Necessitating Continuous Power Supply"
The fluctuating nature of renewable energy sources such as wind and solar power presents a huge problem as the world transitions to a more sustainable and renewable energy future. Weather influences energy production from various sources, and peak renewable energy generation does not always coincide with peak energy demand. Energy storage devices that are efficient are crucial for closing this gap.
Sodium-ion batteries can store excess energy during periods of high generation and release it when demand is high or there is a pause in renewable energy production. This attribute makes them a good alternative for grid energy storage, assuring a continuous and dependable power supply. They can also lead to reduced dependency on fossil fuels, minimize greenhouse gas emissions, and aid in the development of a more resilient and sustainable energy infrastructure. Because of their ability to supply high energy density and rapid charging, sodium-ion batteries are suitable for a wide range of off-grid applications.
"Increasing Adoption of Renewable Energy Solutions"
Renewable energy capacity has been continuously expanding as countries attempt to decrease their carbon footprint and switch to cleaner energy sources. Wind and solar power are becoming more common in power generation, yet their erratic nature needs efficient energy storage technologies.
Sodium-ion batteries are useful for facilitating the incorporation of renewable energy sources. These batteries help maintain grid stability by acting as an energy buffer, maintaining a consistent and reliable power supply even when the wind is not blowing and the sun is not shining. The scalability of sodium-ion battery systems enables them to fulfill the growing demands of the renewable energy sector.
Large-scale facilities can store massive amounts of energy, making them a key component in guaranteeing grid stability and decreasing curtailment of excess renewable energy production. This feature is crucial for increasing the usage of renewable resources and hastening the transition to a more sustainable, carbon-neutral energy ecosystem.
According to the International Energy Agency, renewable energy has grown substantially in recent years and increased by more than 10% in 2022.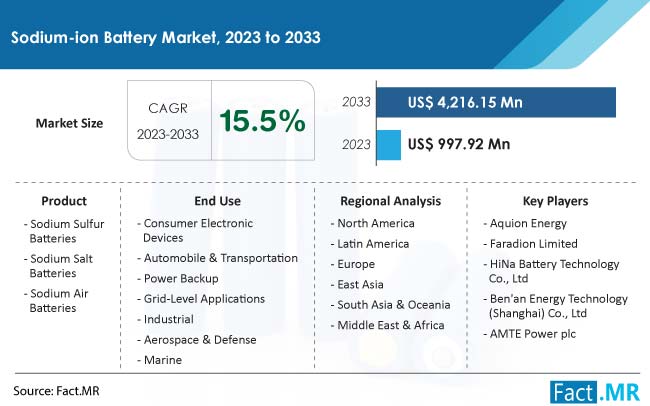 What Can Stifle the Growth of the Sodium-Ion Battery Market?
"Rapidly Rising Demand for Sodium-ion Battery Leading to Scale-up Challenges"
The ability to scale up the production is critical as this emerging technology gains traction and adoption. Increasing the production of sodium-ion batteries while maintaining consistent product quality and cost-effectiveness is no easy task. It necessitates significant investments in manufacturing facilities, equipment, and skilled personnel, as well as a steep learning curve. The manufacturing process must be meticulously optimized, to ensure that each battery meets stringent safety and performance standards.
Materials used in sodium-ion batteries, such as sodium-ion battery electrodes and electrolytes, must be sourced sustainably and consistently to meet the increased demand. Any disruptions in the supply chain can have a significant impact on production, resulting in delays and higher costs. Proper disposal and recycling are critical for reducing environmental impacts and ensuring sustainability, which aligns with the overall goals of the market. Despite these challenges, sodium-ion batteries have enormous potential and successfully addressing scale-up issues is critical to realizing their full potential.
More Insights, Lesser Cost (-50% off)
Insights on import/export production,
pricing analysis, and more – Only @ Fact.MR
What Innovative Strategies Must Start-ups Employ to Supercharge Their Revenue Growth?
"Focus on Developing Cost-effective Batteries and Protecting Intellectual Property"
Start-ups entering the sodium-ion battery business face stiff competition from established players, but they can use a variety of strategies to gain a competitive advantage and stay ahead of the game. Start-ups can distinguish themselves by emphasizing innovation research and development. This entails constantly optimizing battery performance, safety, and cost-effectiveness.
Creating new materials and manufacturing processes can lead to breakthroughs that provide a competitive advantage to start-ups. As a start-up, having a clear strategy for scaling up production while maintaining quality and cost-effectiveness is critical. It is also important to ensure that products meet regulatory and safety standards.
Start-ups must invest in compliance and safety testing to reassure potential customers and stakeholders. Patents and trademarks are critical for protecting innovations in the sodium-ion battery industry and maintaining a competitive advantage. Start-ups should consider developing a strong intellectual property protection strategy. Start-ups have the advantage of agility, innovation, and a fresh perspective in the rapidly evolving domain of sodium-ion battery solutions.
Country-wise Insights
Europe accounted for 40% of the sodium-ion battery market share in 2022. North America is anticipated to grow significantly during the projection period. Asia Pacific held a 29% market share in 2022.
What Growth Opportunities Does the United States Market Present?
"Strong Emphasis on Lowering Carbon Emissions and Adopting Renewable Energy Sources"
The government of the United States has shown a significant commitment to supporting clean and sustainable energy alternatives. In recent years, there has been a considerable emphasis on lowering carbon emissions and switching to renewable energy sources. Government incentives, grants, and funding programs have boosted innovation and investments, making the United States a desirable destination for research into sodium-ion batteries.
There is a greater need for high-performance, cost-effective battery solutions, as EV adoption grows. Sodium-ion batteries are well-suited for this application because they combine high energy density with low production costs, which aligns with the goals of the United States electric vehicle manufacturers and policymakers. The presence of major automotive companies, as well as the pursuit of more environmentally friendly transportation options, make the United States a strategic market for sodium-ion battery development.
Collaborations between academia and industry have resulted in breakthroughs in materials, battery design, and manufacturing processes, all of which have improved the performance and safety of sodium-ion batteries. This strong network of innovators and stakeholders has accelerated sodium battery technology development and commercialization.
How are Sodium-ion Battery Sales Faring in Germany?
"Strong Emphasis on Environmental Responsibility and Innovation"
Germany has established itself as a market leader in sodium-ion battery solutions, due to compelling factors, including a strong emphasis on sustainability, robust R&D initiatives, and a well-established industrial infrastructure. Germany has a thriving innovation ecosystem, with many research institutions and academic centers devoted to energy storage technology. This R&D environment fosters technological advancements and drives innovation in the sodium-ion battery industry.
The country's expertise in materials science and battery technology has paved the way for significant breakthroughs in electrode materials and electrolytes, which have contributed to improved sodium-ion battery performance and safety.
With a strong emphasis on reducing greenhouse gas emissions, the German government has implemented policies and incentives to encourage the use of electric vehicles, which are well-suited to sodium-ion batteries. Germany's advanced manufacturing capabilities and strategic alliances with leading energy storage companies have enabled the country to lay a solid foundation for opportunities in the sodium-ion battery business. Because of its strong industrial infrastructure, Germany can scale up sodium-ion battery production while maintaining high quality and cost-effectiveness.
Know thy Competitors
Competitive landscape highlights only certain players
Complete list available upon request
Category-wise Insights
Why are Sodium Sulfur Batteries Gaining Immense Popularity?
"High Demand for Sodium Sulfur Batteries Due to Their Cost-effectiveness"
Sodium sulfur batteries accounted for 48% of the market in 2022. Sodium sulfur batteries are becoming increasingly popular because they are widely available and stable at all temperatures, less expensive than other storage devices, and have a high energy density, a high power density, a longer lifetime (4,500 cycles), and an 80% discharge depth. These batteries can discharge completely without degrading the cell and are made from materials that are less expensive and more widely available than lithium and cobalt. Large-scale energy storage, power batteries, and electric vehicles are all projected to make extensive use of sodium sulfur batteries.
The energy density of sodium sulfur batteries is 110 Wh/kg, while the power density is 150 W/kg. Sulfur-sodium chemical reactions charge and discharge them. When the battery is discharged, each sodium atom gives up one electron, resulting in the formation of sodium ions. To reach the positive terminal, electrons use additional circuitry.
On the other hand, sodium ions that reach the cathode balance the charge flow. During the charging cycle, the opposite occurs. Unlike lithium batteries, which have a heating issue, these batteries need to be maintained hot at all times.
Competitive Landscape
The sodium-ion batteries market is distinguished by a dynamic interplay between established industry leaders and emerging entrants. Key suppliers of the sodium-ion battery market such as Faradion Limited, NGK Insulators, Altris AB, TIAMAT SAS, Natron Energy Inc., and HiNa Battery Technology Co. Ltd. are at the forefront of this developing technology, actively investing in research and development to increase battery performance, safety standards, and production prices.
Industry veterans use their experience and resources to keep up with the trends in the sodium-ion battery market to boost output and achieve a large market share. To accelerate technological developments and expand their market reach, businesses usually form strategic collaborations with research institutions and government organizations.
CATL signed a sole battery supply deal with Primergy Solar in October 2022 for the monumental 690 MW Gemini Solar and Storage Project.
Natron Energy and Virtual Power Systems collaborated to integrate Natron's sodium-ion technology with VPS's ICE Platform to meet the growing demand for flexible power distribution.
HiNa Battery Technology Co., Ltd., in partnership with the Chinese Academy of Sciences (IOP-CAS), established a 1 MWh sodium-ion battery (NIB)-based solar energy storage facility in Taiyuan, China, in June 2021.
Segmentation of Sodium-ion Battery Market Research
By Product :

Sodium Sulfur Batteries
Sodium Salt Batteries
Sodium Air Batteries

By Technology :

By Application :

Stationary Energy Storage
Transportation

By End Use :

Consumer Electronic Devices
Automobile & Transportation
Power Backup
Grid-Level Applications
Industrial
Aerospace & Defense
Marine
Others

By Region :

North America
Latin America
Europe
East Asia
South Asia & Oceania
Middle East & Africa
- FAQs -
The global sodium-ion battery market reached a size of US$ 864 million in 2022.
Worldwide Sales of sodium-ion batteries are estimated at US$ 997.92 million in 2023.
Europe accounts for 40% share of the global market in 2023.
Demand for sodium-ion batteries is projected to reach a market value of US$ 4.23 billion by 2033-end.
Revenue from sales of sodium-ion batteries is projected to increase at a CAGR of 15.5% through 2033.
CATL (Contemporary Amperex Technology Co., Ltd.) is one of the largest suppliers of batteries for electric cars (EV batteries).