Hip Tendinitis Market
Hip Tendinitis Market Analysis, By Injury Type (Internal Snapping Hip, External Snapping Hip, Intra-articular Snapping Hip), By Treatment (Diagnosis, Therapy), By End User (Hospitals & Clinics, Medical Research Centers, Academic Institutes), & By Region - Global Market Insights 2023 to 2033
Analysis of Hip Tendinitis Market Covering 30+ Countries Including Analysis of US, Canada, UK, Germany, France, Nordics, GCC countries, Japan, Korea and many more
Hip Tendinitis Market Growth Outlook (2023 to 2033)
Expanding at a CAGR of 5%, the global hip tendinitis market is predicted to increase from a value of US$ 268.7 million in 2023 to US$ 437.8 million by the end of 2033.
Hip tendinitis is an uncomfortable inflammatory condition when a tendon in the hip becomes irritated or inflamed. Other names for it include hip tendonitis and hip flexor tendonitis. The rapidly increasing rate of the senior population worldwide and growing sports activities are primarily increasing the demand for hip tendonitis treatment.
A tendon, which joins muscles to the bones, is a thick cord comprised of microscopic fibers. People who have irritated or inflamed tendons may feel pain, soreness, and little swelling close to the affected joint. The hip is flexed by a muscle called the iliopsoas muscle, which is connected to the upper thigh via a tendon. Hip tendonitis can develop when this tendon becomes inflamed due to the muscle being overworked from too much exercise.
Athletes who engage in high-intensity sports or exercise programs, such as running, biking, or swimming, are more likely to experience hip tendinitis. Hip discomfort that comes on gradually is the main sign of hip tendonitis. Furthermore, it may result in soreness at the hip's tendon attachment point.
Iliopsoas tendinitis often leads to discomfort in the front of the hip. Hip tendinitis can worsen over time if left untreated. Hip tendinitis can decrease hip mobility by making hip movement difficult.
Internal snapping hip, external snapping hip, and intra-articular snapping hip are some of the types of hip tendinitis. Coxa Saltans, sometimes referred to as a dancer's hip or snapping hip syndrome, is a clinical ailment that is characterized by an audible or tactile snapping sensation that is experienced during the motion of the hip joint.
The iliopsoas tendon commonly causes an internal snapping hip when it ruptures over underlying bony prominences such as the anterior portion of the femoral head or the iliopectinal eminence. The snapping experience and intra-articular disease both start in the front hip region, therefore they can be very similar.
The cartilage of the hip joint thins and the surfaces of the joint grow rougher resulting in hip osteoarthritis pain. The prevalence of hip tendinitis is increasing due to rising cases of rheumatoid arthritis and diabetes, as well as the shift toward a sedentary lifestyle, which significantly contributes to the growth of the market for hip tendonitis treatment.
Report Details

Report Attributes

Hip Tendinitis Market Size (2023E)

US$ 268.7 Million

Forecasted Market Value (2033F)

US$ 437.8 Million

Global Market Growth Rate (2023 to 2033)

5% CAGR

Leading Regional Market

North America

Key Companies Profiled

Almatica Pharma, Inc
AstraZeneca
Bayer AG
Boehringer Ingelheim Pharmaceuticals, Inc
Merck & Co., Inc
Pfizer
Abbott
GlaxoSmithKline plc
Teva Pharmaceuticals
Lupin Pharmaceuticals, Inc.
Geri-Care Pharmaceuticals.
Perrigo Company
Why are Sales of Hip Tendinitis Products Increasing Steadily?
"Rising Prevalence of Rheumatoid Arthritis"
Global prevalence of rheumatoid arthritis (RA) was calculated to be 0.46% according to a study that was published in Rheumatology International in November 2020 with the title 'The global prevalence of rheumatoid arthritis (RA): a meta-analysis based on a systematic review'.
Rheumatoid arthritis affects the connective tissues, muscles, joints, hip bone, fibrous tissue, and tendons around the hip in addition to being related to an inflammatory illness that produces hip inflammation and pain in the body's joints. The capacity to carry out health-related everyday activities, such as employment and domestic tasks, is significantly hampered by rheumatoid arthritis.
According to the national center of biotechnology information, rheumatoid arthritis affects between 0.3% and 1% more people worldwide than in developing nations, especially women.
In both underdeveloped and developed countries, rheumatoid arthritis impairs the quality of life and causes early death. Rheumatoid arthritis is a severe, immobilizing condition that commonly results in deformity and pain. It typically develops between the ages of twenty and forty, the most active years of life.
An all-encompassing inflammatory condition known as rheumatoid arthritis manifests itself in many joints throughout the body. Although this inflammation usually affects the body's organs, it can also impact the lining of the joints. This inflammatory joint lining commonly occurs in cartilage damage, bone disintegration, and joint deformity. Thus the rising prevalence of rheumatoid arthritis is increasing the risk of hip tendonitis.
"Poor Diabetes Care Leading to Increased Cases of Chronic Hip Tendonitis"
Diabetes patients are significantly more likely to experience difficulties with their tendons than people without the disease, most likely as a result of the tendons' abnormally poor blood flow. This indicates that the tendons may have extremely early diabetic blood vessel alterations. High blood sugar levels could result in aberrant thickening of the tendons, which is another potential result of tendinitis in the hip.
Advanced glycation end-products (AGEs), which are present in both type 1 and type 2 diabetes, induce tendon injury. They develop as a result of blood sugar and protein or fat combining. The body typically produces AGEs slowly and steadily. But, having diabetes causes the excess sugar in the blood to speed up, which impacts tendons and results in hip pain tendonitis.
Collagen is a protein that is used to make tendons. It forms a connection with AGEs that may alter the structure of the tendons and impact their functionality. For example, they might become thicker than usual and lose some of their previous capacity to support the weight. As a result, the chances of developing a tendon tear increase. In comparison to non-diabetics, people with type II diabetes mellitus (T2DM) have a fourfold increased risk of tendinopathy and a fivefold increased risk of tendon rupture or tear.
Don't Need a Global Report?
save 40%! on Country & Region specific reports
What is Lowering Demand for Hip Tendinitis Products to Some Extent?
"High Treatment Costs Involved"
Various hip tendonitis therapies can be used to treat inflamed hip pain. Physical therapy such as hip tendinitis stretching is one of the most commonly used treatment procedures.
Continuous advancements have introduced effective hip tendonitis therapies such as stem cell therapy, hip replacement tendonitis, extracorporeal shock wave therapy, sclerotherapy, and more. Thus, the introduction of advanced treatment procedures increases the treatment cost. Patients with chronic hip tendonitis in developing countries may avoid the latest treatment procedures due to high cost and lack of spending power, this may further hamper sales of hip tendinitis solutions.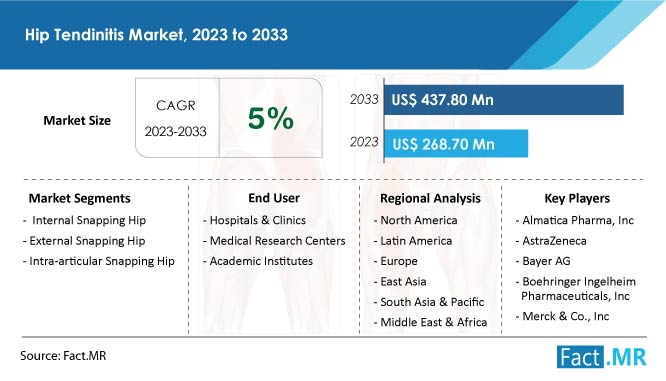 Country-wise Analysis
Why is the United States a Profitable Market for Hip Tendinitis Solution Suppliers?
"Increasing Rate of Sport-related Injuries"
According to the national center of biotechnology information, in the United States, about 300,000 tendon repairs are carried out each year to fix damage to tendons brought on by either acute trauma or long-term tendinopathy.
The presence of advanced healthcare facilities, the existence of major hip tendinitis companies, and rising cases of orthopedic conditions are all boosting the United States market for hip tendonitis.
Over 115,790 swimming-related injuries were treated in emergency departments in 2021, according to statistics from the National Safety Council (NSC) that were updated in 2022, with children under the age of 14 accounting for half of all injuries.
Also, 3.2 million people needed emergency room treatment in 2021 for accidents involving sporting goods and recreational equipment. Basketball, cycling, and exercising are the most common activities linked to accidents.
Why are Cases of Hip Tendonitis Increasing Rapidly in Japan?
"Rising Cases of Hip Tendinitis As Country Continues to Grey"
Rapidly developing healthcare systems and the introduction of advanced medical technologies are expected to boost the demand for hip tendinitis technologies in Japan. The swiftly increasing rate of the older population (who are more prone to orthopedic problems) is also aiding sales growth.
Statista estimates that in 2021, the proportion of Japanese citizens aged 65 and over to the entire population was around 29.8%. People 65 years of age and older are predicted to make up nearly 38% of the population in Japan by 2060 as a result of a low birth rate and high life expectancy.
Thus, increasing risk of hip tendonitis in older people and advancements in the medical field are driving the hip tendinitis industry growth in Japan.
How is the Market for Hip Tendinitis Progressing in Germany?
"High Rate of Diabetes Increasing Risk of Improper Blood Flow to Tendons"
In recent years, cases of diabetes are increasing alarmingly in Germany. Diabetes patients need to make numerous adjustments throughout the day to keep their blood sugar levels within normal ranges, avoid injuries, maintain their diets, and more. Obesity, an unhealthy diet, and lack of exercise are the main causes of the rise in newly diagnosed Type 1 and Type 2 diabetes cases.
Tendonitis cases are on the upsurge, as evidenced by the rapidly rising incidence and prevalence of diabetic patients. Tendon rupture and tendinopathy are two musculoskeletal conditions that are commonly seen by patients with diabetes mellitus (DM).
According to DZD - German Center for Diabetes Research, around 7.2 percent of the population in Germany currently has diabetes, the majority of which is type 2 diabetes. The same source estimates that, over the next 20 years, there will be a huge rise in the population of diabetic patients.
More Insights, Lesser Cost (-50% off)
Insights on import/export production,
pricing analysis, and more – Only @ Fact.MR
Category-wise Analysis
Which Kind of Treatment Method is Widely Popular?
"Physical Therapy Mostly Preferred by Patients"
Diagnosis and therapy are two types of hip tendinitis treatment procedures. The diagnosis treatment includes a physical examination, imaging studies, and others. Physical therapy's efficiency and results, such as providing patients with quicker alleviation, are currently boosting demand.
The therapy is further segmented into pharmacological, non-pharmacological, shock wave or surgery, and medical equipment. The increasing preference of hip tendinitis patients towards non-invasive treatment methods is expected to boost hip tendinitis therapy demand during the forecast period.
Competitive Landscape
Athletes and sports players commonly experience tendon-related injuries; the rising prevalence of these ailments in the general population is attributable to an increase in the need for tendonitis treatment options throughout the projected period.
According to Fact.MR, a market research and competitive intelligence provider, key players in the hip tendinitis market are developing effective product development plans and launching numerous initiatives to increase their company footprint in response to the rising demand. One of the main reasons behind the industry's growth is the well-balanced presence of regional producers with well-known companies working in international markets.
In November 2022, Camber Pharmaceuticals added Naproxen Oral Suspension to its line of products since it is used to treat the symptoms and signs of tendinitis.
Know thy Competitors
Competitive landscape highlights only certain players
Complete list available upon request
Key Segments of Hip Tendinitis Industry Research
By Injury Type :

Internal Snapping Hip
External Snapping Hip
Intra-articular Snapping Hip

By Treatment :

Diagnosis

Physical Examination
Imaging Studies

Therapy

Pharmacological
Non-pharmacological
Shock Wave or Surgery
Medical Equipment

By End User :

Hospitals & Clinics
Medical Research Centers
Academic Institutes

By Region :

North America
Latin America
Europe
East Asia
South Asia & Oceania
MEA
- FAQs -
The global hip tendinitis market is currently valued at US$ 268.7 million.
The market for hip tendinitis is projected to reach US$ 437.8 million by 2033.
Global demand for hip tendinitis solutions is expected to rise at a CAGR of 5% from 2023 to 2033.
Rising prevalence of diabetes and rheumatoid arthritis is driving market growth.
Almatica Pharma, Inc, AstraZeneca, and Bayer AG are some of the leading hip tendinitis product companies.