Hypodermic Needles Market
Hypodermic Needles Market Analysis By Product (Safety Hypodermic Needles, Non-safety Hypodermic Needles), By Material (Stainless Steel, Plastic), By Application (Drug Delivery, Vaccination, Blood Specimen Collection), By End User (Hospitals, Diagnostic Centers, Home Healthcare) & By Region - Global Market Insights 2023 to 2033
Analysis of Hypodermic Needles Market Covering 30+ Countries Including Analysis of US, Canada, UK, Germany, France, Nordics, GCC countries, Japan, Korea and many more
Hypodermic Needles Market Outlook (2023 to 2033)
Increasing at a CAGR of 4%, the global hypodermic needles market is valued at US$ 5.74 billion in 2023 and is thus projected to reach US$ 8.50 billion by the end of 2033. An increasing number of dental surgeries and the rising prevalence of chronic disorders are majorly driving the sales of hypodermic needles.
A hypodermic needle is a thin hollow metallic tubing instrument with a sharp edge that is used to inject medicines into the body system or extract fluids from the body, such as blood. Hypodermic needles are used in various procedures, including dental procedures, surgeries, drug delivery, vaccinations, and blood collection. The syringe comprises three components, including a long shaft, a bevel, and a hub, into which the needle is inserted.
Hypodermic needles are segmented into safety hypodermic needles and non-safety hypodermic needles. Global demand for safety needles is expected to increase at a CAGR of 4.5% from 2023 to 2033. Due to its built-in safety features, as well as technological advancements and innovation in the manufacture of multi-safety needles, the demand for safety hypodermic needles is increasing.
Decreased danger of needle stick injuries, which can lead to the spread of blood-borne infections such as HIV and the hepatitis B and C viruses, is another factor driving sales growth. Safety needles are more practical for everyday usage, reduce the danger of infection, and are cost-effective.
Since diabetic patients must take regular insulin doses to maintain health, there will be a large demand among those customers for painless or pain-free needles to prevent any discomfort or unease associated with painful needles. Thus, the demand for safety hypodermic needles is increasing at a healthy pace.
Report Attributes

Details

Hypodermic Needles Market Size (2023E)

US$ 5.74 Billion

Forecasted Market Value (2033F)

US$ 8.5 Billion

Global Market Growth Rate (2023 to 2033)

4% CAGR

Dominating Regional Market

North America

Key Companies Profiled

Terumo Corporation
BD
Cardinal Health
Medline Industries, Inc
Hindustan Syringes & Medical Devices Ltd
B. Braun Melsungen AG
Hitech Syringes
NIPRO Medical Corporation
Vita Needle Company
Vygon SA
NeedleTech Products, Inc
ISCON SURGICALS LTD.
McKesson Corporation
Connecticut Hypodermics Inc
EXELINT International, Co
Retractable Technologies, Inc
Smiths Medical
Don't Need a Global Report?
save 40%! on Country & Region specific reports
Why is Demand for Hypodermic Needles Increasing Steadily across the World?
"Ongoing COVID-19 Vaccination Campaigns and ISO Standards Benefitting Hypodermic Needle Manufacturers"
Syringes and needles have been under the limelight as a result of the global immunization campaigns due to COVID-19. To ensure they adhere to internationally recognised standards for safety and quality, healthcare professionals must follow International Organization for Standardization (ISO) guidelines. With the increasing need for single-use needles & catheters for blood sampling, key players in the hypodermic needles market are taking advantage of commercial prospects.
Government regulations on the particular qualities and specifications for sterile single-use hypodermic syringes are becoming more and more known to stakeholders in the healthcare industry. To meet demands for vaccination programs and ongoing COVID-19 patient cases in hospitals, producers of hypodermic needles are sustaining strong supply chains. Medical needle producers can ensure that their products adhere to World Health Organization (WHO) guidelines by using international standards.
"Rising Prevalence of Chronic Disorders"
Increasing cases of chronic disorders such as cancer, diabetes, and cardiovascular disorders are boosting the sales of hypodermic needles. The increasing burden of infectious diseases, rising demand for injectable drugs, and technological advancements in needle manufacturing are boosting sales growth.
One of the most prevalent diseases in the world today is cancer. Syringes and needles for drug administration are in high demand due to the increasing rate of cancer cases, and this demand is anticipated to considerably contribute to the growth of the hypodermic needles market throughout the forecast period.
The GLOBOCAN 2020 report estimates that there were approximately 19,292,789 new cases of cancer worldwide in 2020. By 2040, there would likely be 28,887,940 instances, according to estimates.
In India, around 74.19 million people were living with diabetes in 2021, and the cases are expected to rise to 92.97 million by 2030 and 124.87 million by 2045, according to the International Diabetes Federation Diabetes Atlas Tenth edition 2021.
For managing blood sugar levels, the diabetic population needs insulin, which is often injected with the aid of a syringe and needle. Therefore, the need for needles and syringes is projected to increase due to the rising prevalence of diabetes.
"Growing Number of Hospital & Surgical Facilities"
Both industrialized and developing nations are witnessing growing hospitals and surgical facilities. Due to the growing patient base, there is a considerable need for medical or surgical gadgets at these surgical centres and hospitals.
For example, in October 2020, the UK's Prime Minister announced intentions to invest US$ 4.3 billion in 40 hospitals and various plans for future investment for 48 hospitals by 2030.
In March 2021, Steward Health Care revealed plans to build a brand-new hospital in Washington County.
Developing nations' healthcare systems have seen major advancements during the past ten years, particularly in China and India.
China announced plans to invest US$ 4.6 billion in the establishment of hospitals in Wuhan, according to a January 2020 report.
In 2018, China has about 12,000 public hospitals and 21,000 private hospitals, according to the Commonwealth Fund.
Similarly, the Indian Ministry of Health and Family Welfare stated in June 2019 that 22 new AIIMS would be opened across the nation in the coming years. The market for hypodermic needles is anticipated to rise as a result of the huge increase in hospitals and surgical facilities.
"High Use of Self-administrating Drugs"
Self-administered injectables are becoming more popular as a result of patients choosing to self-administer their medications. The most common disorders treated with these self-injecting devices are chronic diseases including diabetes or emergency conditions such as allergies. Self-administering injectables are useful in easing users' needle-related anxieties.
Females commonly administer injectable contraception to themselves to avoid the cost and inconvenience of clinic appointments. Contraceptives delivered via injection are safer than other methods. When used properly, they avoid pregnancy 99% of the time. These injections can be given during the menstrual cycle and also offer a defense against womb cancer and inflammatory illnesses of the pelvis.
Patients who have breast cancer, diabetes, liver tumours, or osteoporosis prefer to administer these injections themselves. In keeping with this, businesses are concentrating on creating cutting-edge self-administration tools. The demand for hypodermic needles is increasing as self-administering injectables are becoming more widely used.
What May Hamper the Sales of Hypodermic Needles to Some Extent?
"Development of Alternative Drug Delivery Methods"
Typically, patients preferred alternative drug delivery methods such as oral, topical, and nasal since injectables were invasive and uncomfortable. Oral drug delivery is the most used medication administration method since it is simple, practical, economical, safe, and acceptable. The above-mentioned considerations have led to an increase in alternative drug delivery methods being used globally.
For instance, the usage of injectable insulin is being curtailed by the development of substitute insulin delivery systems, such as Exubera (inhaled insulin) from Pfizer and the Veo insulin pump (inhalable insulin from Medtronic).
Currently, one important industry for injectable drug delivery technologies is insulin injections. The introduction of inhalable insulin, however, might have a detrimental effect on the hypodermic needles industry because nasal drug delivery is painless and has a high patient compliance rate. The necessity for needles is also being hampered by the development of alternative delivery methods, such as oral anaemia therapy (by GlaxoSmithKline and Bayer).
Proteins and peptides have typically been supplied by the injectable mode of medication delivery due to their enormous molecular size and stability problems. Oral dosing of therapeutic proteins and peptides is now possible due to the recent development of smaller peptide molecules using intricate techniques such as nanotechnology.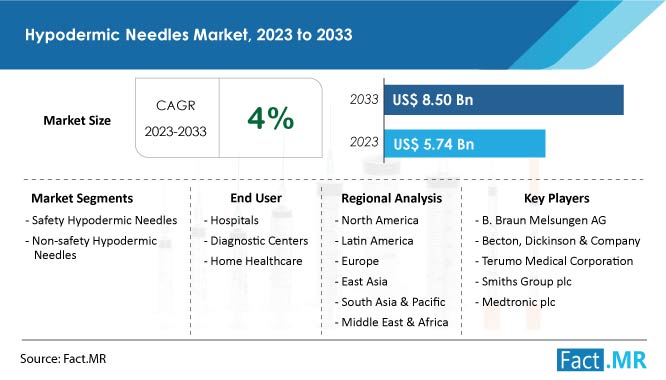 Country-wise Analysis
Why is Demand for Hypodermic Needles High in the United States?
"Rising Prevalence of Heart Disorders and Presence of Key Market Players"
Rising cases of cardiac disorders, rapid innovations in needle development, and the presence of key market players are some of the aspects boosting the sales of hypodermic needles in the United States. Also, the cases of diabetes are increasing rapidly in the United States, which is again driving sales growth.
According to the Centers for Disease Control and Prevention's July 2022 report, about 805,000 Americans experience heart attacks each year.
More than 20.1 million people in the country over the age of 20 were affected by coronary artery disease, the most widespread form of heart disease. For cardiovascular disorders medications and treatments, needles and syringes are necessary. As a result, the disease's high prevalence is aiding sales growth.
Diabetes prevalence is likewise high and rising throughout the nation. In the United States, around 32 million individuals were experiencing diabetes in 2021, according to research from the International Diabetes Federation.
By 2030 and 2045, their numbers are projected to rise to 34.8 million and 36.3 million, respectively. Diabetes treatment involves the use of insulin pens and syringes. Therefore, rising diabetes prevalence predicts sales growth.
To stop instances of hereditary angioedema (HAE), Takeda's TAKHZYRO (lanadelumab-flyo) injection single-dose prefilled syringe (PFS) was approved by the United States Food and Drug Administration in February 2022.
Why is Germany Considered a Profitable Market in the European Region?
"Rapidly Growing Cases of Neoplasms"
In the European market for hypodermic needles, Germany holds a significant position. The presence of well-established healthcare infrastructure, rising medical tourism, and increasing cases of infectious diseases are all boosting the sales of hypodermic needles in Germany.
Growing cases of neoplasms are some of the major factors driving sales growth. Increasing patient awareness regarding the availability of advanced injections and favourable reimbursement policies are also boosting the demand for hypodermic needles.
What is Supporting the Sales of Hypodermic Needles in Japan?
"Increasing Percentage of Senior Population"
Japan is one of the rapidly progressing markets in the Asia Pacific region. This can be attributed to the factors such as the rapidly growing rate of the senior population. Ageing gives rise to several disorders such as heart disorders, diabetes, and more.
Also, rising cases of obesity and lifestyle disorders are driving the demand for hypodermic needles. Poor diet, a sedentary lifestyle, and work stress are some of the factors increasing the risk of several disorders.
More Insights, Lesser Cost (-50% off)
Insights on import/export production,
pricing analysis, and more – Only @ Fact.MR
Category-wise Analysis
Why is Demand for Hypodermic Needles High in Hospitals?
"High Patient Admissions and Availability of Advanced Treatment Procedures"
Demand for hypodermic needles from hospitals is increasing at a rapid pace. This can be ascribed to the high intake of patient admissions and the presence of advanced healthcare systems.
Target patients prefer hospitals for treatment procedures due to the presence of skilled medical professionals and advanced technologies. Rapidly rising cases of chronic disorders are also increasing the demand for needles and syringes from hospitals.
Competitive Landscape
According to Fact.MR, a market research and competitive intelligence provider, key players in the hypodermic market are focusing on developing advanced needles to maintain market position and earn more. Mergers, acquisitions, regional expansion, increasing local supply, and new product developments are some of the tactics adopted by the leading companies in the market.
Micro-Tech Endoscopy introduced the PinPoint Injection Needle in October 2020.
To prevent the plunger from being pulled out, Terumo Corporation has introduced hypodermic syringes with inbuilt plunger stops.
Key Segments of Hypodermic Needles Industry Research
By Product :

By Material :

By Application :

Drug Delivery
Vaccination
Blood Specimen Collection

By End User :

Hospitals
Diagnostic Centers
Home Healthcare

By Region :

North America
Latin America
Europe
East Asia
South Asia & Oceania
MEA
- FAQs -
The market for hypodermic needles is valued at US$ 5.47 billion in 2023.
The global hypodermic needles market is projected to reach US$ 8.5 billion by 2033.
Global demand for hypodermic needles is expected to increase at a CAGR of 4% from 2023 to 2033.
Rapid advancements such as the introduction of shorter needles are some of the factors driving product sales growth.
Braun Melsungen AG, Terumo Corporation, BD, and Cardinal Health are leading hypodermic needle manufacturing companies.