Industrial Fasteners Market
Industrial Fasteners Market By Material (Metal, Polymers), By Type (Screws, Nuts, Bolts, Washers), By Application (Chemical Industry, Transportation, Marine), By Sales Channel (Online, Offline)- Global Market Insights 2021 to 2031
FACT5679MR
Aug-2021

List of Tables : 70

List of Figures : 424

170 Pages
Market Outlook of Industrial Fasteners
The global demand observed a decline of 2.5% in 2020, and stood at 30,060 KT. Demand for polymer fasteners fell by 3.2% to 2,495 KT, whereas, that for metal fasteners experienced a decline of 2.6% to 27,564 KT.
However, the overall market is set to regain traction and expand at a CAGR of around 5% through 2031.
Key Points Covered in Industrial Fasteners Industry Survey:
Market Estimates and Forecasts (2016-2031)
Key Drivers and Restraints Shaping Market Growth
Segment-wise, Country-wise, and Region-wise Analysis
Competition Mapping and Benchmarking
Top Industrial Fastener Suppliers
Market Share Analysis
Assessment by Product Grade / Purity / Formulation Standards
Assessment of Import Price, Bulk Price, Contractual Price, Producer / Distributor Price
Certifications and Compliance Requirements
Leading Export - Import Destinations
COVID-19 Impact on Demand for Industrial Fasteners and How to Navigate
Recommendation on Key Winning Strategies
Consumption Analysis of Industrial Fasteners from 2016 to 2020 Vs Future Market Outlook for 2021 to 2031
As per the industrial fasteners industry research carried out by Fact.MR, a market research and competitive intelligence company, from 2016 to 2020, market value increased at a CAGR of 2.1%. The U.S., China, Germany, France, and Italy have remained leading countries as far as demand for industrial fasteners is concerned.
The market for industrial fasteners is anticipated to rise at a moderate CAGR of close to 5% over the next 10 years, thanks to their increased use in automotive, power generation & transmission, and aerospace & defence.
With worldwide revenue down 2.5% year-over-year, industrial fastener demand experienced a dramatic fall in 2020. A ten-year compound annual growth rate (CAGR) of 5% is predicted for the sales of industrial fasteners for 2021-2031
According to Fact.MR, the worldwide industrial fasteners industry is expected to swell 1.6X by 2031.
Demand for fasteners used in power generation and transmission to increase at the highest CAGR of 5.6% among all other applications.
In 2020, tier-1 suppliers of industrial fasteners held a market share of 8-10%
Demand for steel industrial fasteners is predicted to rise at an impressive CAGR of 4.9% to reach 17,110 KT by 2031.
Reduction in number of construction and manufacturing activities in 2020 as compared to 2019 levels has cascaded the effect to demand for industrial fasteners as well. Most of the companies have felt the heat of losses over Q2 and Q3 of 2020.
What are the Restraints Being Faced by Industrial Fastener Manufacturers?
Goods are becoming sophisticated with the advent of novel technologies incorporated in products. This is necessitating manufacturing techniques that meet new structural requirements. Traditional assembly methods such as mechanical fasteners and welding are popular among manufacturers, but they aren't always the best option for modern assemblies.
Mechanical fasteners, in particular, can be affected by rising prices, restricting material options, which may lead to metal distortion, fatigue, and even ripping at times. Materials having variable coefficients of thermal expansion, and compress and expand differently as temperature changes. During temperature fluctuations, mechanical fasteners do not allow connected materials to expand or contract without causing damage or bulging.
Adhesives have the flexibility to tolerate movements caused by the thermal expansion of substrates even after they have fully dried. Using adhesives also avoids the need to drill holes in metal goods that may be coated or painted. Adhesives reduce thermal expansion damage and keep protective coatings on materials intact, increasing the life of the joints and the product.
This advantage has presented adhesives and tapes as a viable alternative to mechanical fasteners, and in the long run, it is expected to negatively affect the projected market growth of industrial fasteners.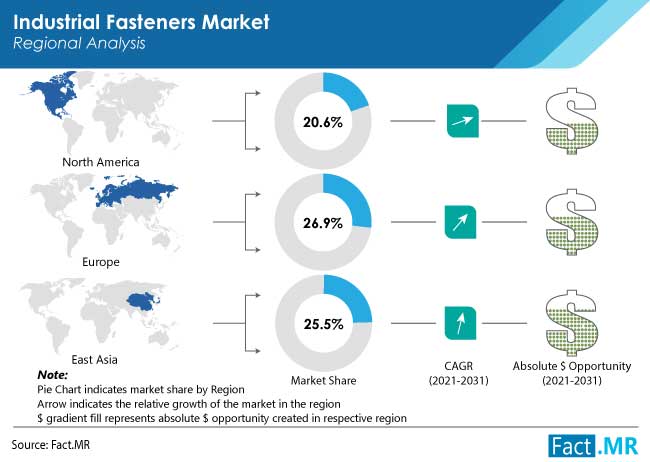 Interested to Procure The Data
Country-wise Analysis
What Makes China One of the Most Important Markets for Manufacturers of Industrial Fasteners?
In 2020, China accounted for over 57% of East Asia industrial fastener consumption. This is because China is the largest producer and consumer of steel, accounting for over half of the world's steel production, as of 2020. Additionally, majority of the top 10 construction companies are situated in China.
China is also the world's largest automobile manufacturer, and produces around 25 million units of vehicles every year. This, in turn, bodes well for industrial fasteners, which are consumed in exorbitant quantities for the manufacturing of vehicles.
Besides, China also produces over half of the world's alumina, and a chunk of it goes into various manufacturing activities in end-use industries such as automobile, aerospace & defence, petrochemicals, and power generation & transmission, to satisfy local demand.
Additionally, China has been giving incentives to manufacturers for improving electric vehicle infrastructure in the country. Thereby, aluminium fasteners that are increasingly being adopted by manufacturers in place of steel fasteners are also getting an inevitable boost.
The country is set to experience heightened growth at a CAGR of 5.6% during the assessment timeframe, evaluates Fact.MR.
Why are Industrial Fastener Manufacturers Eyeing the United States?
The U.S has remained one of the prominent countries for industrial fastener sales, and is anticipated to account for above 81% of the North American market value. It is also expected to progress at a CAGR of 4.6% during the forecast period. This is because the U.S. remains one of the major contributors to automobile & defense manufacturing and power generation.
The U.S. has been the second-largest manufacturer of automobiles, second only to China, as of 2020 data published by Fact.MR in its electric vehicle market report. Additionally, many automobile manufacturers have set up base in the country to cater to the growing need for updated and newer automobiles with change in CAFE standards.
Moreover, the U.S. is the largest manufacturer of aircraft that use a plethora of industrial fasteners to manufacture sophisticated equipment as well as require the same fasteners during repair operations of older equipment.
Additionally, the U.S. has the largest defense budget, and its total defense spending amounted to US$ 714 Bn in FY 2020. It is further expected to increase to US$ 733 Bn during FY 2021. This would trickle down to industrial fastener sales as well, which are consumed during the manufacturing of sophisticated defence equipment in the country.
Owing to the above-mentioned factors, the U.S. is poised to remain the growth epicentre during the forecast period and create an absolute $ opportunity of around US$ 9.5 Bn during 2021-31.
How Has Industrial Fastener Demand Been Shaping across Established & Emerging Markets?
Germany: Demand for industrial fasteners in Germany has been rising especially from automobile, aerospace & defense, and construction industry applications. HILTI, one of the key manufacturers of industrial fasteners has bases setup in Germany to cater to customers across Europe. The country accounted for around 1,458 KT consumption in 2020.
Russia: Russia is one of the largest producers of crude oil across the globe, and the country is also known for high fuel consumption. Russia accounted for over 6.1% of European industrial fastener demand in 2020, and is expected to reach a market valuation of US$ 2.4 Bn by 2031-end.
France: France has remained one of the most important locations for industrial fasteners and is anticipated to account for almost 1/5 of European market value in 2021. This is due to the fact that, throughout the last decade, France has remained the second-largest exporter of aircraft and related aerospace equipment. Apart from aviation, France is home to a slew of automakers and has long been a major contributor to European automobile production.
India: The industrial fastener industry in India has been experiencing steady growth over the past 5 years, owing to rising urbanization and tremendous growth in the construction sector. Additionally, the country is experiencing enhanced demand for fasteners, especially from aerospace & defense, which is undergoing modernization and is poised keep sales increasing at a CAGR of 6.4% through 2031.
Category-wise Insights
Which Industrial Fastener is Enjoying the Most Popularity?
Stainless steel fastener demand is poised to grow at the highest growth rate of 5.5% during 2021-31, and create an absolute dollar opportunity of around US$ 7.3 Bn during the same period.
Without a doubt, stainless steel is the most popular fastener material. Stainless steel has several characteristics that make it a distinctive and long-lasting material. While stainless steel is the generic name for corrosion-resistant steel alloys, tiny modifications in the alloy's composition can radically alter the electrical and mechanical characteristics of the component.
Chromium, nickel, copper, tungsten, and molybdenum are some of the elements found in stainless steel alloys. The fact that stainless steel resists corrosion is undoubtedly the most appealing feature of the material.
Which Application Has the Highest Growth Potential in the Industrial Fastener Industry?
Power generation & transmission application is poised to remain the most attractive segment estimated to account for nearly 19.5% share in 2021.
As offshore projects need to be operational even underwater, they need to be highly corrosion-resistant, offer resistance to temperature changes, and have extended life of the operation in highly saline environments for prolonged durations. Besides, countries are continuously moving towards renewable power generation and relying on offshore wind turbines for power generation, which again demands fasteners for keeping the parts intact.
Additionally, upstream and downstream activities in oil extraction and drilling operations need reliable fasteners that offer operational flexibility in highly saline environments. Manufacturers are fully aware of this, and they are always innovating to introduce industrial fasteners that not only improve on existing structural features but also address issues with earlier products. Such actions keep the industry competitive and establish a foundation for future growth.
Owing to the aforementioned factors, demand from power generation and transmission is poised to increase at a high growth rate of 5.6% during 2021-31, and create an absolute dollar opportunity of around US$ 13.9 Bn during the same period.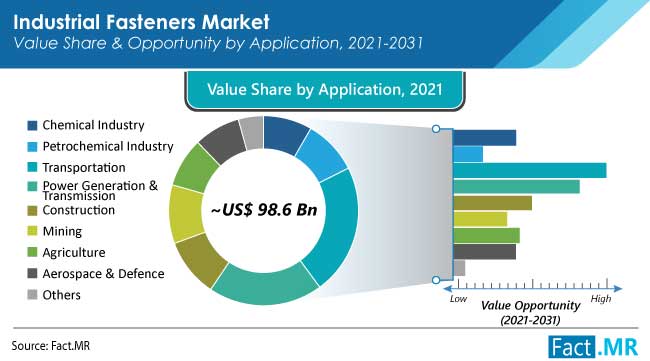 Will Sales of Industrial Fasteners Gain Traction in Lieu of Demanding Marine Applications?
Marine application of industrial fasteners is poised to rise at a CAGR of 5.3% during the forecast period of 2021-2031.
Seawater-resistant fasteners are required for marine applications, and they are an integral part of any onshore or offshore machinery deployment. There are cryogenic fasteners and conventional bolts available for use in colder settings, such as in plate heat exchangers, LNG tanks, and cryogenic valves.
Professionals in the marine industry favour stainless steel fasteners because of their corrosion resistance characteristics in subsea saline conditions. Marine applications include thrusters, cleaning equipment, cable connectors, and other fastening mechanisms for seawater filter systems.
Stainless steels used in marine applications should include molybdenum in amounts more than 2%. Fasteners made of austenitic steel or duplex steel are recommended for long-term applications.
Because of the intense competition in a fragmented market, businesses are concentrating their efforts on the research & development of innovative solutions that are tailored to the needs of customers in the marine industry.
How is the Demand from Oil & Gas and Petrochemical Industries Poised to Aid Market Growth?
Industrial fasteners are critical in positioning stationary parts on the location by assisting the proper operation of machinery. The petrochemical industry application for fasteners is poised to experience moderate CAGR of 3.6% through 2031.
Oil & gas has remained the backbone of major economies, powering their automobiles and power plants. Furthermore, oil is necessary for the production of various consumer end-products obtained through downstream processes.
The oil industry is divided into three segments: upstream, midstream, and downstream. Exploration and drilling are used to locate oil and remove it from the ground in the upstream phase. Midstream activities include transportation and storage, whereas, downstream activities include refinement and sale of the completed product. The most crucial action is upstream because everything else would not exist if oil hadn't been discovered.
This upstream activity necessitates the use of a variety of apparatus and techniques that are required for the extraction of oil from sea beds. These machines require industrial fasteners, particularly stainless steel fasteners because they operate underwater and must remain water-resistant while avoiding corrosion.
Steel and stainless steel fasteners are also used in a variety of high-pressure pumps and vessels used in the petrochemical industry's pumping stations where precision is crucial.
How Has COVID-19 Impacted Revenue Generation from Industrial Fasteners?
As a result of COVID-19, the market for industrial fasteners declined by 2.5% in 2020. Economic uncertainty is projected to have a short-term negative impact on the market. Due to staffing scarcity and availability, automotive manufacturing facilities were also affected with enterprises either shutting down completely or severely reducing their capacity.
Moreover, oil & gas activities were also postponed, construction projects were cancelled, and manufacturing growth plummeted, which drastically impacted demand for industrial fasteners.
Competition landscape
To acquire access to untapped markets, top industrial fastener manufacturers are combining organic methods such as targeted product line extensions and geographic expansions. In addition, certain key players are employing inorganic tactics such as acquisitions to improve their existing portfolios, as well as consistent research spending.
LISI Aerospace collaborated with the University of Sheffield Advanced Manufacturing Research Centre and received US$ 1.34 Mn in funding from Aerospace Technology Institute to research on newer markets in the fastener industry through the usage of advanced technologies.
In June 2020, LISI Aerospace and Lockheed Martin signed a supply agreement for the F-35v program, with a total estimated value of US$ 60 Mn.
Stanley Black & Decker acquired Consolidated Aerospace Manufacturing LLC (CAM) added viable products for aerospace & defence end-users to its product portfolio.
Avantus Aerospace acquired Fastener Innovation Technology Corporation in 2020, to improve its overall product portfolio.
Moreover, Birmingham Fasteners announced the acquisition of Steel City Bolt in 2021, which would increase the company's local manufacturing capabilities and help its customer with their fastener needs suited to diverse applications.
An Adaptive Approach to Modern-day Research Needs
Industrial Fasteners Market Report Scope
Attribute

Details

Forecast Period

2021-2031

Historical Data Available for

2016-2020

Market Analysis

KT for Volume and US$ Mn for Value

Key Regions Covered

North America
Latin America
Europe
East Asia
South Asia
Oceania
MEA

Key Market Segments Covered

United States
Canada
Brazil
Mexico
Germany
U.K.
France
Spain
Russia
Italy
BENELUX
China
Japan
South Korea
India
Indonesia
Malaysia
Australia
New Zealand
Turkey
South Africa
GCC Countries

Key Market Segments Covered

Material
Type
Application
Sales Channel
Region

Key Companies Profiled

American Fastener Technologies Corporation
American Bolt & Screw
AF Fastener
Acument Global Technologies (Fontana Gruppo)
Birmingham Fastener
Delta Fastener Corp.
De Walt
Eurofast
Elgin Fastener Group
Extreme Bolt & Fastener
Ford Fasteners, Inc.
HILTI
Impalabolt
ITW
Johns Manville
KD FASTENERS, INC.
LISI Group
Midwest Fastener Corp
Ningbo Qunli Fastener Manufacture Co., Ltd.
Nobel Precision Metal Co., Ltd.
Ocean State Stainless, Inc.
PCC Fasteners
Penn Engineering & Manufacturing
Rahul Fasteners & Fittings
Raptor Nails & Staples
Reliable Polymer Industries
SA Bolt Manufacturers
Schaaf-GmbH
Shanghai Jianxin Hardware Co., Ltd.
SUNO GROUP LIMITED,
Sure FAS
Sternly Black & Decker
Tianjin Fine Fasteners Co., Ltd
Vöhrs GmbH & Co. KG
Wilhelm Bollhoff GmbH & Co. KG

Pricing

Available upon Request
Key Segments Covered in Industrial Fasteners Industry Research
By Material

Metal Industrial Fasteners

Steel Industrial Fasteners
Stainless Steel Industrial Fasteners
Alloy Steel Industrial Fasteners
Copper & its Alloys Industrial Fasteners
Aluminium Industrial Fasteners
Titanium Industrial Fasteners
Nickel & its Alloys Industrial Fasteners
Others

Polymer Industrial Fasteners
Industrial Plastic Fasteners

By Type

Screws

Wood Screws
Machine Screws
Thread Cutting Machine Screws
Sheet Metal Screws
Self-drilling
Socket Screws
Others

Nuts

Hexagon Nuts
Flange Nuts
Wing Nuts
Kep Nuts
Push Nuts
Castle Nuts
Coupling Nuts
Pal Nuts
Others

Bolts

Track Bolts
Square Bolts
Plow Bolts
Round Bolts
Lag Bolts
Aircraft Bolts
J-bolts
U Bolts
Shoulder Bolts
Elevator Bolts
HR Bolts
HV Bolts
Others

Washers

Lock Washers
Structural Washers
Others

Anchors
Dowel Pins

By Application

Chemical Grade Industrial Fasteners

Industrial Fasteners for Heat Exchangers
Industrial Fasteners for Exhaust Systems
Industrial Fasteners for Tanks and Vessels
Industrial Fasteners for Processing Equipment

Petrochemical Grade Industrial Fasteners

Industrial Fasteners for High Pressure Pumps & Vessels
Industrial Fasteners for Pumping Stations
Industrial Fasteners for Metering Pumps
Others

Transportation Grade Industrial Fasteners

Industrial Fasteners for Railways
Industrial Fasteners for Marine

Decks
Tanks
Ramps
Bulkheads
Others

Industrial Fasteners for Automotive

Power Generation & Transmission Grade Industrial Fasteners

Renewable

Onshore

Electrical Equipment
Turbines
Motors
Exhaust Systems
Pumping Systems
Storage Vessels

Offshore

Non-renewable

Construction Grade Industrial Fasteners

Industrial Fasteners for Heavy-duty Machines
Industrial Fasteners for Construction Vehicles

Mining Grade Industrial Fasteners

Industrial Fasteners for Precious Metal Mining
Industrial Fasteners for Industrial Metal Mining

Agriculture Grade Industrial Fasteners
Defense Aerospace Grade Industrial Fasteners
Others

By Sales Channel

Online Sales of Industrial Fasteners

Direct to Customer Sales of Industrial Fasteners
Third-party Online Sales of Industrial Fasteners

Offline Sales of Industrial Fasteners

Authorized Distributors of Industrial Fasteners
Industrial Fasteners Sold at Garages & Workshops
Industrial Fasteners Sold at Specialty Stores
Need an Exclusive Report for your Unique Requirement?
- Our Clients -

- Evaluate How Fact.MR's Report Can Help. -
Is the market research conducted by Fact.MR?
Yes, the report has been compiled by expert analysts of Fact.MR, through a combination of primary and secondary research. To know more about how the research was conducted, you can speak to a research analyst.
What research methodology is followed by Fact.MR?
Fact.MR follows a methodology that encompasses the demand-side assessment of the market, and triangulates the same through a supply-side analysis. This methodology is based on the use of standard market structure, methods, and definitions.
What are the sources of secondary research?
Fact.MR conducts extensive secondary research through proprietary databases, paid databases, and information available in the public domain. We refer to industry associations, company press releases, annual reports, investor presentations, and research papers. More information about desk research is available upon request.
Who are the respondents for primary research?
Fact.MR speaks to stakeholders across the spectrum, including C-level executives, distributors, product manufacturers, and industry experts. For a full list of primary respondents, please reach out to us.
Is a sample of this report available for evaluation?
Yes, you can request a sample, and it will be sent to you through an email.