Lyocell Fiber Market
Lyocell Fiber Market Analysis By Fiber Type (Staple Lyocell Fiber, Filament Lyocell Fiber), By Application (Lyocell Fiber for Apparel, Home Textiles, Medical Use, Footwear), By Region - Global Insights to 2031
FACT5883MR
May-2021

List of Tables : 80

List of Figures : 81

170 Pages
Market Outlook for Lyocell Fiber
The global lyocell fiber market is projected to expand at an impressive CAGR of around 11% over the assessment period of 2021 to 2031, with demand surging from the footwear industry.
Lyocell is a type of rayon. Lyocell fiber is made by dissolving pulp and then reconstituting by the dry jet-wet spinning of cellulose fiber. These fibers are used for a variety of purposes in various industries.
Lyocell fiber are eco-friendly as they can be easily disposable, they can be disposed of by processes such as landfilling, incineration and deposition. As the consumers are getting aware of global warming, the demand for eco-friendly products is rising and this will boost the sales of lyocell fiber.
Lyocell fiber are strong material, they are stronger than common cotton and other machine-made staple cellulose fibers, and they provide strength similar to polyester. Lyocell fiber has a crystalline structure which allows them to remain strong while wet and that is why they can be easily used for clothing or dyeing purpose.
Apparels or home textiles products prepared from using lyocell fiber don't shrink or get damaged when dissolved in water, therefore manufacturers are investing more in products made from these fibers.
The foremost objective of the report by Fact.MR on the lyocell fiber market is to pitch insights on the market scenario, demand generators, and technological advancements in this space. The report provides a taxonomy elaborating on key segments.
The report also outlines visionary insights on the dynamics of the market, including the drivers, restraints, opportunities, trends and pricing analysis, along with key success factors. Market trends have been tracked in 20+ high-growth countries, pointing towards countries in South Asia, North America, Europe, and East Asia holding the bulk of the market share.
Interested to Procure The Data
Historical Trends Vs Future Market Projections
From the year 2016- 2020, market growth rate has been on a steady rise. As the demand for better apparels, home textiles products has been increasing across the globe. The market for lyocell fiber has seen a significant increase in the past half-decade.
In FY2020, sales of lyocell fiber dipped because of the global COVID-19 pandemic, in many countries government declared lockdowns and due to this production was held. But with the ease in lockdown and resume of production around the world, sales of lyocell fiber is about to witness a growth in the second quarter of 2021.
Forecast period assessment is done by breaking down the period into three assessable periods i.e., Short-run, medium-run, and long-run:
Short-run: Due to Covid-19 the market was affected but with the ease in lockdown the market is expected to see potential rise.
Medium-run: The apparel and footwear industry have seen a tremendous growth in recent years and it is projected that they will see continue seeing growth in forthcoming years as well. The demand of lyocell fiber is increasing in these industries because of their properties, and increasing use of these fibers in these industries will provide escalation in sales of lyocell fiber.
Long-run: Economic cycles, inflation rate, substitutes and regional demands and supply chain for the lyocell fiber to impact the overall market which has been discussed in detail in the recently published report of Fact.MR
All in all, the lyocell fiber market is to advance at ananticipated CAGR of 11% during the assessment period (2021-2031).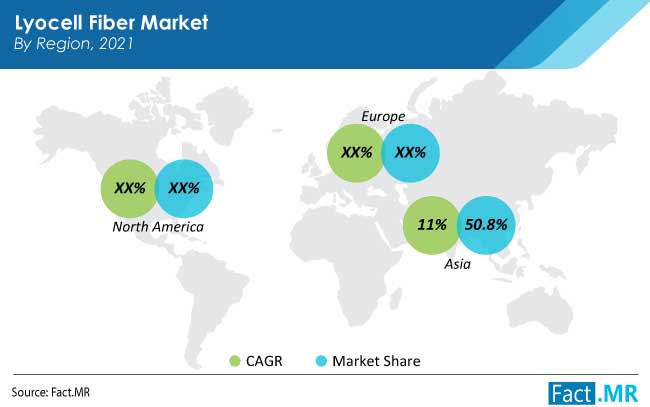 Country-wise Analysis
Which Countries Have a HighShare in the Global Lyocell Fiber Industry?
South Asia & Oceania and East Asia are the largest regions for the sale of lyocell fiber. They hold more than 40% of the market share of these fibers and the main contributing countries for attaining the highest market share in this region are China & India.
China is the second-biggest economy in the world owing to the largest manufacturing industry. China is the largest exporter of goods due to the abundant availability of raw materials. The country is one of the major manufacturers of apparels and sporting good. With an increase in population around the world, the apparel industry is growing rapidly and this is motivating the sales of these fibers in the apparel industry.
The footwear industry is also seeing growth across the globe. Many of the prominent manufacturers of footwear produce their products in the region. Countries like Vietnam, Thailand and Indonesia are seeing the opening of many new footwear factories and lyocell fiber use in footwear is increasing so this will drive demand for lyocell fiber in these countries.
India is also one of the major manufacturers of apparels and home textiles. With government initiated programs like 'Make in India', it is easier for investors to open manufacturing sites in the country. Along with this, the disposal income of consumers in the country have seen an increase in recent years and consumers are spending on home textiles and personal apparels more.
As the demand for lyocell fiber is rising for the manufacturing of apparels, home textiles and footwear, the sales of lyocell fiber will be impacted positively by this growth.
Why is Demand for Lyocell Fiber Rising Continuously in the United States?
The United States of America has the biggest economy in the world. The average income of residents of the country is way more than compared to most of the other countries. Due to that Fashion industry in the country have seen tremendous growth in the past few years and it is projected that it will grow even more in the forthcoming years.
As the awareness toward the eco-friendly product is spreading among the consumers, they are demanding and spending more on apparels and footwear that are manufactured by using eco-friendly fibers and this is driving sales of products which are manufactured by using lyocell fiber. Apparels holds the largest share of lyocell fiber in the country.
Recently the market for home textiles have also seen a huge growth in the country, consumers are spending more on curtains and other products and this is driving the sales of lyocell fiber.
An Adaptive Approach to Modern-day Research Needs
Category-Wise Insights
Which Lyocell Fiber Types are Available in the Market?
There are two fiber types of lyocell fiber are available in the market, staple fiber and filament fiber.
Staple fibers are textile fibers of practical finite length. Staples fibers can be obtained from cotton, wool, lyocell and other material. Filament fiber is opposite to that of staple, they are of a very long continuous length and they can also be obtained from fibers like cotton, wool, lyocell and others. But lyocell staple fiber has many advantages over staple fibers obtained by other fibers.
Some advantages of lyocell fiber are they have a high dry and wet strength compared to other fibers and they also have a high swelling ratio. These fibers also have a marvelous spinnability, they can be easily spun into other material such as wool, cotton, silk, cashmere and other fibers.
Apparels and other products manufactured by using lyocell fiber are extremely comfortable, they have great strength and feels luxurious. Another advantage of lyocell fiber is that products made from them can be used in a rainy environment because they don't shrink when wet.
What are the Applications of Lyocell Fiber?
Lyocell fiber are used in various industries for numerous applications. Some of the industries which require these fibers are the fashion industry, medical industry and others. In the fashion industry, lyocell fiber are essential for making different apparels, footwear and others products. Accounting to their properties these fibers are used for making apparels such as sportswear, types of denim and others.
Athletics and sports events are very physically demanding, athletes sweat a lot a and manufacturer have to make sure that the fiber they are using for making these sportswear are will not shrink or be reactive after getting wet and due to that many manufacturers are making sportswear from lyocell fiber. Manufacturers of other luxurious brand are also spending on these fibers since products manufactured using these fibers look luxurious and have better strength compared to other fiber.
Lyocell fiber are also heavily used in footwear, because of their strength, and flexibility. Footwear manufacturers of extreme sports like, tracking, hiking, mountain climbing and others are making these shoes from lyocell fiber because it provides better strength and they can be used in wet conditions.
For home textile and décor purpose, lyocell fiber are used. These fibers are being used for making curtains, towels, beddings and others. Because of their properties manufacturers are spending heavily on home textiles products that are prepared from these fibers because they can be dyed easily and they won't get affected by wet conditions.
Lyocell fiber are also being used in making medical bandage, and their use is increasing in the medical industry. Because of all these factors, sales of lyocell fiber will witness growth.
How Has COVID-19 Impacted Sales of Lyocell Fiber?
Natural disasters and pandemics such as COVID-19 are unforeseen and have affected all economies across the globe. COVID-19 has also resulted in impacting the demand for lyocell fiber, backed by the imposition of lockdowns and stoppage in the production for lyocell fiber has affected the market.
However, with the ease in lockdown restrictions and reopening of production of apparels, footwear and other products which requires lyocell fiber the sales of these fibers will see a growth in the next quarter of the year.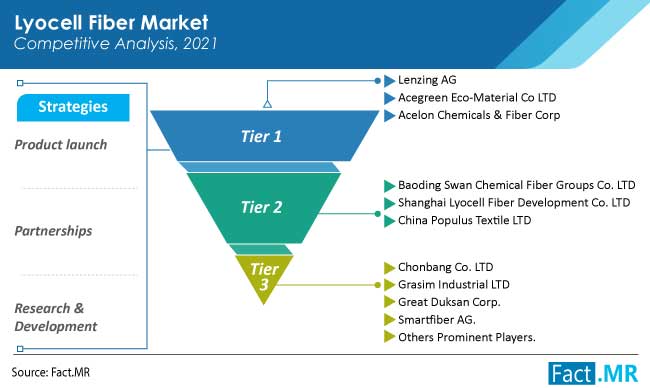 Competitive Landscape
Aforementioned players rely on a blend of organic and inorganic strategies to deepen penetration across lucrative markets. These strategies include product launches, introduction of new products, partnerships, acquisitions, and strengthening of regional and global distribution networks.
Similarly, recent developments related to companies manufacturing lyocell fiber have been tracked by the team at Fact.MR, which is available in the full report.
Avail customized purchase options for your needs
Report Scope
Attribute

Details

Forecast Period

2021-2031

Historical Data Available for

2016-2020

Market Analysis

US$ Mn for Value, Tons for Volume

Key Regions Covered

North America
Latin America
Europe
East Asia
South Asia & Oceania
The Middle East & Africa

Key Countries Covered

U.S.
India
China
France
Canada
Germany
Brazil
U.K.
France
Japan
Others

Key Segments Covered

Fiber Type
Application
Region

Key Companies Profiled

Acegreen Eco-Material Co LTD
Acelon Chemicals & Fiber Corp.
Baoding Swan Chemical Fiber Groups Co. LTD
China Populus Textile LTD
Chonbang Co. LTD
Grasim Industrial LTD
Great Duksan Corp.
Lenzing AG
Shanghai Lyocell Fiber Development Co. LTD
Smartfiber AG.
Others Prominent Players.
Key Market Segments Covered
By Fiber Type

Staple Lyocell Fiber
Filament Lyocell Fiber
Others

By Application

Lyocell Fiber for Apparel
Lyocell Fiber for Home Textiles

Curtains
Carpets & Upholstery
Beddings
Towels
Others

Lyocell Fiber for Medical Use
Lyocell Fiber for Footwear
Others

Region

North America
Latin America
Europe
East Asia
South Asia & Oceania
Middle East & Africa