Material Buggy Market
Material Buggy Market By Engine (Electric, Petrol, Diesel, Gas), By Type (Tracked, Wheel), By Pay load (Below 600 kg, 600 to 800 kg, 800 to 1000 kg), By Moving Speed (Less than 10 km/hr, 10 to 12 km/hr), By Engine Power (10-15 hp, 15-20 hp), By Region - Global Insights to 2031
FACT5793MR
Apr-2021

List of Tables : 98

List of Figures : 254

170 Pages
Market Outlook for Material Buggy
The global material buggy market is expected to expand at an impressive CAGR of around 7% over the forecast period of 2021 to 2031, with the mining & construction industry accounting for bulk of the demand.
Demand for material handling equipment has been progressing at a rapid pace over the past several years. Material buggies account for less than one percent of the global material handling equipment industry. Apart from material buggies, manual material carrying buggies are used in construction and mining industries.
At present, demand for material buggies in Europe, North America, and MEA is extremely high, due to adoption of advanced equipment in these regions. Construction companies, mining companies, and warehouses use material buggies to carry material, including coal, concrete mix, construction products, heavy metals, mud, and products at warehouses from one place to another in a short radius. Procurement of material buggies is growing in farming areas for carrying vegetables and fruits, due to their chain-based wheels that allow movement on uneven or muddy roads.
Foremost objective of the report by Fact.MR on the market for material buggies is to pitch insights on the purchase growth scenario, demand generators, and development strategies in this space. The report provides a taxonomy elaborating on key segments.
The report also outlines visionary insights on market dynamics, including the drivers, restraints, opportunities, trends, and pricing analysis, along with value chain of material buggies.
Demand trends have been tracked in 15+ high-growth countries, pointing towards countries in Europe and North America holding bulk of the market share.
Interested to Procure The Data
Historical Trends Vs. Future Market Projections
Historically, from 2016 to 2020, use of material buggies increased at around 4.4% CAGR, and the key factor assisting this growth is their advantages over traditional manual material carrying equipment.
For instance, manual material carrying equipment takes lots of time to carry material one place to another as compared to material buggies, and the chances of accidents are also high. Material buggies come with various payload capacities, and buyers can choose according to their needs.
Material buggies are most effective in large construction and mining jobsite areas. Material buggies provides the advantage of automatic dumping process with the help of a hydraulic system. They are also easily accessible in underground mining areas.
The market is forecasted to expand at the CAGR of around 7% over the coming 10 years. Prime factor influencing market growth is rising construction of residential building and mining in developing countries.
Also, with advancements of automation in technology, demand is expected to rise due to the ability to carry material and dumping material with the help of advanced technology and provide more reliable results. This enhances the opportunity for material buggy manufacturers to increase overall sales in market.
What are the Key Opportunities for Material Buggy Manufacturers?
With increase in demand for material buggies, manufacturers have an opportunity to set up their manufacturing plants beyond their domestic markets to cut down on prices, among other benefits.
North America- and Europe-based buggy manufacturing companies should look for opportunities to start production in countries such as China, India, and Vietnam, as these countries are offering lower operating costs, particularly reduced labour costs as compared to Europe and North America. Companies will save approximately 10% in salary payments by setting up production centers in these regions.
Increase in mining and other end-use industries in East Asia, South Asia, and Africa has increased the market widely for companies to set up their plants close to these sites, so as to reduce supply chain costs and associated taxes.
Having a manufacturing facility close to end users will enable them to get real-time support, raising their confidence in international brands. With China, Japan, and India being prominent steel manufacturing countries, material buggy manufacturing in these countries can bring considerable cost benefits for manufacturers.
An Adaptive Approach to Modern-day Research Needs
Which Region Offers Larger Opportunity for Sales of Material Buggies?
Europe accounts for approximately 30% of the global sales value of material buggies. The region is expected to offer around US$ 78 Mn absolute dollar opportunity between 2021 and 2031.
The reason for such high market share is growing demand for material buggy is due to rising awareness about employee safety and high labour charge in European countries, material buggy will help to cut down the salary cost.
Other than this, demand for material buggy is also increasing with increasing in accidents in construction and mining sites. However, growing disputes between European Union and United Kingdom has increased the custom duty charges, which are likely to impact material buggy sales to some extent.
Country-wise Analysis
What Makes the United States a Hub for Material Buggy Demand?
An estimated valuation of the United State construction industry is approximately US$ 1.3 trillion for 2019. Every year, demand for commercial and residential building is increasing rapidly, which has increased the market for material buggies for movability of construction materials from one place to another.
Apart from growth of the construction industry, demand for material buggies have also increased due to adoption of advanced mining and construction equipment. Most manufacturers of material buggies are from the United States, which helps them hold a high share in the local market as compared to others.
Furthermore, the market in this country is driven by initiatives taken by manufacturers to make people aware about the product through various exhibition programs and live demos. For instance, Allen Engineering provides demo and trainings to employees and live demos to create awareness about its buggies.
Such schemes spread awareness and allow construction and mining companies to access highly advanced material buggies. Companies in the United States have started renting material buggies to small-scale construction companies or small and medium enterprises at very cheap rates with less burden on operation expenditure.
The U.S. has a well-established industrial goods manufacturing industry since decades. One of the top two players providing material buggies – The Toro Company and Allen Engineering - is headquartered in the country. The country caters to approximately 22% global material buggy revenue. The country also has efficient distributor networks, which aids manufacturers in exporting their products overseas. The U.S. currently holds a share of over 60% of North America's market, and is expected to have sales valued at nearly US$ 65 Mn by 2031, with its market expected to expand at a CAGR of over 5% through 2031.
How Does Growth of Africa's Small Mining Industries Affect Demand for Material Buggies?
Small-scale mining companies in Africa have grown in number and size over the last few decades. Around 30% of the world's total mineral reserves and an even higher share of diamonds, vanadium, manganese, platinum, cobalt, and gold lie in Africa. Investors are seeking expansion into new markets, especially in the developing world, which presents a new investment frontier for leading mining firms. In this context, the African mining industry is offering unparalleled opportunities for both, local and international investors by providing them with high tax reliefs.
Recently, BHP Billiton, the world's largest mining group, cancelled projects worth around US$ 40 billion in Australia, mainly due to high costs, including labour-related expenses. High cost of mining in developed countries has forced key global companies to seek investment opportunities in African countries that offer relatively low costs of production.
Big players such as The Toro Company, Allen Engineering, and Rotair Spa are among the few companies that provide material buggies to African countries. Small manufacturers of material buggies should focus on partnerships or acquiring distributors to provide their products in Africa to expand their global market share.
What are the Factors Aiding Demand Growth of Material Buggies in China?
China accounts for 40% of Asia's material handling equipment market, which was estimated at US$ 50 billion in 2018. China is the biggest manufacturing hub for a number of industries due to easy availability of raw materials and low labor costs, and dominates the market for material handling equipment, followed by Japan and South Korea. Demand for material handling equipment is growing in East Asia due to increase in gold mining activities in China, with much of the historical and current production coming from the Jiaodong Peninsula in Shandong province, which is host to many gold resources. In 2018, five largest Chinese gold producers controlled around 30% of local mine production, which has grown an average of 4% per year over the last five years.
Demand for material buggies in China is increasing, due to their small structure and chain-based mobility, which makes it easy to load and unload material at mining sites. Apart from the mining sector, growing public-private partnerships in China are also a driver. In 2019, the Government of China saw more than 400 projects registered under public-private partnerships; more than 130 projects were related to urban infrastructure and the rest were related to agriculture, forestry, water conservation, social development, transport, and environmental protection.
The market in China is anticipated to expand at a CAGR of around 11.5% during the forecast period, with absolute dollar opportunity for East Asian countries expected to be US$ 34 Mn from 2021 to 2031.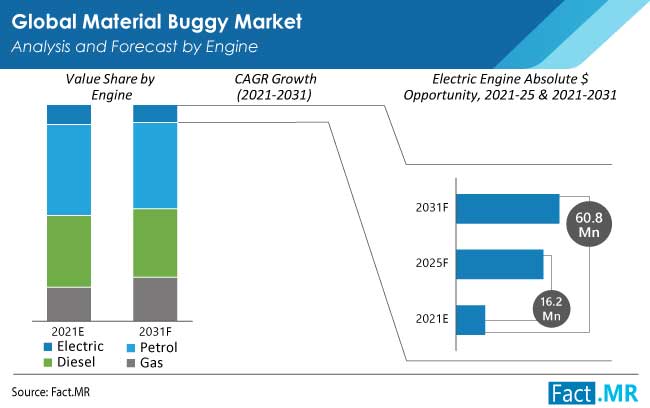 Category-wise Insights
Why Diesel and Petrol Material Buggies Preferred?
Diesel engine and petrol fuel engine material buggies are most uses as compared to electric and gas engines. One of the prominent reasons behind this is that there is no limitation in the working hours; gas and electric buggies are restricted to work less than 8 hours. Cost of buggies also plays an important role in procurement – electric- and gas-powered material buggies are highly expensive and the maintenance cost is high as compared to petrol and diesel buggies.
How Has COVID-19 Affected Sales of Material Buggies?
With the implementation of lockdowns at global level as a response to the COVID-19 pandemic, industries are badly affected globally due to halt in business activities by governments to prevent spread. Construction industries and manufacturing industries have been badly impacted. This has impacted the market growth for material buggies, as these sectors are key end users.
Manufacturers are facing issues in procurement of raw material such as steel, aluminium, and iron ore from others countries due to trade restrictions between countries. Companies are also facing issues in delivering their products to international clients. Shortage of raw material has forced companies to start looking for local opportunities for procuring raw materials. However, even after a huge drop in the revenue during the pandemic times, growth of the market is expected to get back to normalcy very soon.
What are the Factors Affecting the Prices of Material Buggies?
Surge in prices of raw materials, including steel ore, rubber chain wheels, electronic parts, engines, and batteries, and high labor cost affect the production cost material buggies. Currently, several manufacturers are focusing on using plastic pay loading buckets in place of iron. Both materials have their own significance in pay loading capacity. Other than this, manufacturers are spending heavily on R&D to develop advanced material with AI-based technology in material buggies.
Continuous increase in cost of labor in North America and Europe has led manufacturers to think of viable options that can replace certain sections of the labor force. This has led to the introduction of remote-operated material buggies. Currently, only Operval is producing fully automatic buggies. However, observing their acceptance in the market, other manufacturers can also bring their lines of remotely operated material buggies into the market. Remote control buggies will increase productivity and give more consistent results.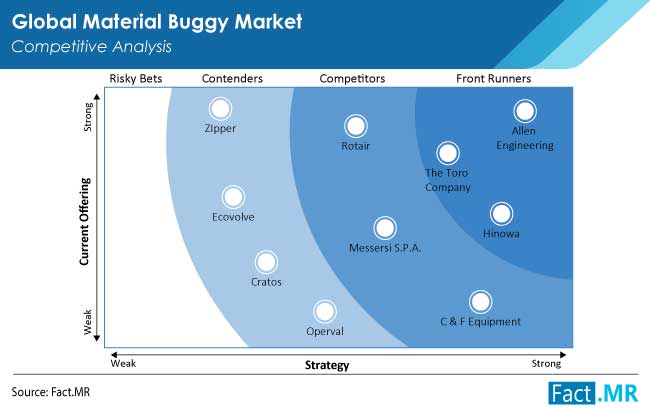 Competitive Landscape
Majority of the companies discussed in the material buggy industry report have focused on establishing subsidiaries in developing regions. Strategies include product launches, collaborations with key players, partnerships, acquisitions, and strengthening of regional and global distribution networks. Some of the key development are:
In March 2020, C & F participated in CONEXPO – LAS VEGAS, NV (USA), the biggest trade fair show for building material machines, mining machines, construction vehicles, and construction equipment in North America.
In September 2019, The Toro Company and Tractor Supply Company announced a long-term strategic partnership for farm and ranch channels.
In February 2019, Operval joined Unacea, an Italian trade association for construction equipment, to expand its construction business to other countries.
Similarly, recent developments related to companies manufacturing material buggies have been tracked by the team at Fact.MR, which is available in the full report.
Avail customized purchase options for your needs
Report Scope
Attribute

Details

Forecast Period

2021-2031

Historical Data Available for

2016-2020

Market Analysis

US$ Mn for Value

Key Regions Covered

North America
Latin America
Europe
MEA
East Asia
South Asia & Pacific

Key Countries Covered

United States
Canada
Brazil
Mexico
Argentina Germany
U.K.
France
Spain
Italy
South Africa
China
Japan
South Korea
Thailand
UAE
Saudi Arabia
Russia

Key Segments Covered

Engine
Type
Payload
Moving Speed
Engine Power
Sales Channel
Region

Key Companies Profiled

The Toro Company
Ecovolve
Allen Engineering
Bartell Global
Zipper
Operval
Rotair
C & F Equipment
Cratos
Messersì S.p.A
Hinowa
LHD
Altrad Belle Light Construction Equipment

Key Distributors

C.S.MENIK SL
FERAX
SIFRA
MOGRA - FOURNITURES INDUSTRIELLES
FLUIDES SERVICE DISTRIBUTION
PARTS EQUIPMENT
MILTECH INTERNATIONAL
COMPTOIR GENERAL OUTILLAGE
OUTILACIER
RÉSEAU SOCODA
A. Labor Hako S.A.S. (dba Solvert).
A. EMEKA SA
A. Toro Australia Group sales Pty Ltd
A. PROCHASKA Handels GmbH
A. Delta Turf Care, EMEA
A. Real Green Comercio De Maquinas E Pecas Ltda-EPP
A. KVL, LT
A. Toro (China) Irrigation Equipment Co Ltd
A. CR Marine Supply, S.A.
A. Hako Ground and Garden OY
"Geomechaniki of Athens
A. FEMA IMPORT EXPORT DI MASIERO ENRICO

Pricing

Available upon Request
Key Market Segments Covered
By Engine

Electric Material Buggies
Petrol Material Buggies
Diesel Material Buggies
Gas Material Buggies

By Type

Tracked Material Buggies
Wheel Material Buggies

By Payload

Below 600 kg Material Buggies
600 TO 800 kg Material Buggies
800 to 1000 kg Material Buggies
1000 to 1200 kg Material Buggies
More than 1200 kg Material Buggies

By Moving Speed

Less than 10 km/hr Material Buggies
10 to 12 km/hr Material Buggies
12 to 14 km/hr Material Buggies
14 to 16 km/hr Material Buggies

By Engine Power

Less than 10 hp Material Buggies
10 to 15 hp Material Buggies
15 to 20 hp Material Buggies
20 to 25 hp Material Buggies

By Sales Channel

Material Buggies through Direct Sales
Material Buggies through Distributor Sales

By Region

North America
Latin America
Europe
East Asia
MEA
South Asia & Pacific
- FAQs -
By value, projected a CAGR of around 7% for material buggy sales during 2021-2031. In terms of volume, demand is expected to increase at around 3.2% CAGR over the same period.
North American and European countries would experience the highest growth rate. Also, the markets in East Asia and South Asia & Pacific are expected to experience high CAGRs.
Prominent players manufacturing material buggies include The Toro Company, Alllen Engineering, Ecovolve, Bartell Global, Zipper, and Operval.
Need an Exclusive Report for your Unique Requirement?
- Our Clients -