Patch Management Market
Patch Management Market Analysis by Component (Software, Services), by Deployment (On-premises, Cloud-based Patch Management), by Vertical, by Region - Global Forecast 2022-2032
Analysis of Patch Management market covering 30 + countries including analysis of US, Canada, UK, Germany, France, Nordics, GCC countries, Japan, Korea and many more
Patch Management Market Outlook (2022-2032)
The global patch management is expected to generate highly lucrative gains over the next decade, expected to grow at a CAGR of 9.4%, which will benefit from long-term technological advances and application developments.
Report Attributes
Details

Anticipated Base Value (2021)

US$ 722 Million

Expected Current Market Value (2022)

US$ 800 Million

Projected Forecast Value (2032)

US$ 2 Billion

Global Growth Rate (2022-2032)

9.4% CAGR

Growth Rate of the U.S (2022-2032)

9.2% CAGR

Market Value of China (2032)

US$ 133.5 Million

Dollar Opportunity in the U.K (2022-2032)

US$ 45.6 Million

Prominent Patch Management Service Providers

IBM Corporation
Symantec (NortonLifeLock Inc.)
Micro Focus
Qualys Inc.
SolarWinds Corporation
Ivanti
ManageEngine
ConnectWise
Avast
Automox
As of 2032, the market is expected to reach US$ 2 Billion, while in 2022, a valuation of US$ 800 Million has been predicted. From 2021-2022, a Y-o-Y expansion rate of nearly 11%, growing from US$ 722 Million in 2021.
Major factors driving the patch management market are the increasing use of third-party applications, as well as the increasing number of vulnerabilities in the market. In addition to growing security threats, hackers are also driving growth in the patch management industry.
The cloud-based patch management system is expected to make significant progress in the market. Cloud-based patch management systems are becoming widely used in BFSI and IT applications because of their high performance and low cost configurations. Increasing popularity of the internet and 5G networks will further increase market demand for patch management products in the coming years.
Don't Need a Global Report?
save 40%! on Country & Region specific reports
2015-2021 Revenue Analysis of Patch Management vs. Future Outlook 2022-2032
According to Fact.MR- market research and competitive intelligence provider- the global patch management market expanded at a value CAGR of 10.8% from 2015 to 2021. The manufacturers have fully grasped the potential of the application, and they are developing new innovative product lines, offering highly customized solutions tailored specifically to the needs of the market.
The market performed significantly well throughout 2020, despite COVID-19-induced deceleration. This is the result of widespread adoption across the healthcare sector. By extending work hours and implementing policies for online storage of data for various firms, organizations were able to reduce the risk of losing data in the market.
When the pandemic intensity gradually decreased in 2021, growth prospects improved as end-use industries deployed various security applications to deliver data to remote regions and prevent data breaches that occurred during the covid-19 pandemic around the globe. Through 2032, the market is expected to see a strong CAGR of over 9.4% driven by technological advances including artificial intelligence, application developments, and the integration of the internet.
What are the Impacts of Various Industry Verticals on Patch Management Market Growth?
An increase in vulnerabilities will encourage more patch management solutions to be introduced on the market. Increasing cybercrime in various verticals is expected to further boost the patch management market. The rising demand for the latest versions of software will emerge as one of the biggest driving factors for the growth of patch management market.
As the volume of data grows and more third party applications are deployed, patch management will continue to grow. Additionally, there is a growing number of hackers in the market, which is boosting the market growth as well as the emergence of new regulatory policies that encourage patch management in the market.
Cloud-based patch management solutions are also assisting the patch management market's growth. Businesses are experimenting with a variety of cloud models as the cloud computing market expands to find the most optimal balance of functionality, scalability, and return on investment.
Growth of interconnected devices and IoT in the market to further boost market demand for patch management. The importance of maintaining systems up-to-date to meet regulatory requirements is growing in response to the emergence of new security and compliance standards and the adoption of digital technology by SMEs in the region.
In addition, the market is also experiencing a significant shift towards automation among various vertical. A key trend observed across all major industry verticals is the trend toward automation to increase production, reduce operating costs, and achieve optimal efficiency.
Government initiatives and rules concerning the protection of sensitive data are expected to further drive patch management market growth. Expansion of firms and increasing investments help boost these trends in the market.
In 2019, the CSO Australia report found that 60 percent of breaches were due to unpatched vulnerabilities. Veracode research shows that more than 55% of discovered breaches are not resolved after three months. Data also shows that one out of three breaches are the result of unpatched vulnerabilities and the inability to know what happened to them. All these factors to propel market growth for patch management.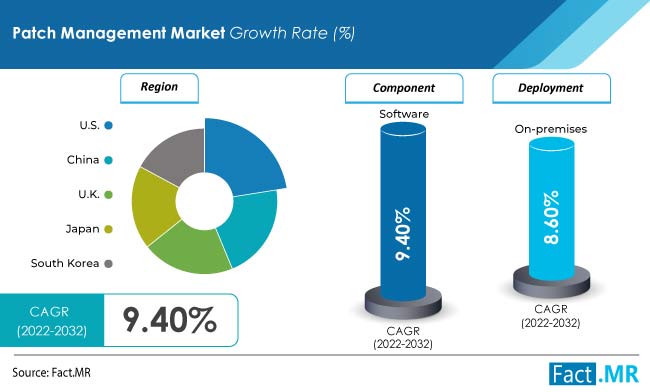 Country-wise Analysis
Why is the U.K. an ideal market for patch management services?
With a significant market share generated by the UK, the patch management market is experiencing strong growth in the market. U.K.'s patch management market is projected to reach a value of US$ 82.6 Million during the forecast period. The market is anticipated to grow at a CAGR of 8.4% during the forecast period. Continuing growth in the market for software solutions, coupled with the presence of prominent manufacturers and distributors in the region, is driving an increase in demand for patch management services in the market.
ENISA is a regulatory body formed by European countries that works to secure Europe's cyberspace. In addition, the Information Commissioner's Office (ICO) is enforcing GDPR laws on non-compliant organizations, which will include investigating how the organization operates, as well as addressing any cybersecurity aspects that do not adhere to the GDPR's requirements. Patch management solutions are also becoming increasingly accepted due to awareness about the advantages of patching and the prevalence of more applications and Operating Systems (OS) in the market.
The combination of positive government initiatives, technological advances, and increased demand from businesses in all industries has driven patch management system demand. With the introduction of new rules and regulations, there will be fewer entry barriers, which will allow regional products to be adopted more widely in the market.
What is the Growth Rate of the patch management market in the United States?
Managing patches is viewed today as an essential component of sustaining IT services, especially considering the increase in cybersecurity threats in these region. As a result of rapid adoption of the latest technology in the market, the United States holds the largest share of the market. Cybercriminals become easier to target when organizations let their network security guard down. The patch management market in the United States is expected to grow at a CAGR of 9.2% during the forecast period.
Additionally, the IT sector has been supporting the development of various software applications efficiently in the U.S. market. Further market demand for patch management will be boosted by technological innovation and the enormous number of data centers in these regions. Increasing demand for patch management services will be further stimulated by the growth of healthcare centers and expansion of businesses in the market. As a result of the high penetration of technology and increasing IT deployments across sectors and verticals in the U.S. will be essential to the growth of the patch management software market.
How are the Market Prospects for Patch Management in the Asia Pacific region?
The Asia Pacific region accounts for the second highest share for patches management in the market. Several developing countries are increasing their capital income, as well as developing their IT sectors and data centers, creating a stimulus for the growth of the market in these regions. China will hold the largest share of the patch management market with a projected CAGR of 8.7%. It is expected that the market will reach US$ 133.5 Million by the end of the forecast period.
Increasing numbers of industrial companies are rapidly emerging globally, which is a major factor driving the market demand for patch management software in the market. Furthermore, the increasing popularity of improving productivity in organizations by implementing strategies is fueling the market growth. Furthermore, the internet of things is gaining popularity, which is helping the market's demand to grow in these regions. Increasing government spending to increase the economy offers opportunities for market growth of patch management systems in the market.
Technology and innovations in various IT sectors are expected to propel the patch management market forward. In addition, the growth is expected to continue at a rapid pace due to the large number of potential customers and businesses in the region. Public, private, and government initiatives to develop various software's and services are growing at a faster rate in the development of these patch management systems in the market.
As per the research, Japan is expected to grow at a CAGR of 7.6% during the forecast period. Public cloud solutions are becoming more and more popular in the industry, giving industry participants more opportunities in the market. The penetration of internet is definitely a contributing factor to the exponential growth rate of the market. Further, prominent market growth determinants include the increasing adoption of advanced technologies such as big data, AI, ML, Internet of things, are all stimulating growth for these market.
How is the Development of IoT enhancing South Korea's growth prospects?
South Korea achieved a market value of US$ 32.9 Million in terms of absolute dollar value with a CAGR of 7% during the forecast period. Robotics and technology advancement have been greatly influenced by the Korean government. Growing technological innovation and business expansion of e-commerce industries in these regions will further boost market for patch management systems in the market.
The growth of the telecommunication industries and the development of robotics and smart devices in these regions is encouraging further growth of these markets. Moreover, the increasing presence of hackers in these regions will further boost market growth for patch management across the globe. With the availability of educational and training services in these regions, the market for patch management services is expected to grow further in this region.
More Insights, Lesser Cost (-50% off)
Insights on import/export production,
pricing analysis, and more – Only @ Fact.MR
Category-wise Insights
What are some of the ways Firms are using Software to Protect Themselves from Vulnerability Issues?
Based on component type the market is segmented into software and services. It is predicted that the market for software will grow at an annual CAGR of 9.4% during the forecast period. The software companies are mainly involved in providing patch management services in the market. In order to resolve bugs of various products, software companies provide these services in the market.
In addition, the software is evaluated by different versions in order to determine whether a security hole has been developed. As soon as a software program is released, security holes can be found and patches which are released during the course of software development will assist in correcting these bugs. In certain cases, patches are applied to the program in order to improve specific functionalities.
It is not uncommon for applications or software to contain various codes that are susceptible to various risks, and these risks can sometimes lead to system failure. The demand for patch management solutions is driven by the existence of such vulnerable patches in the market. Growing technological advancements and innovation of various applications the demand for patch management has grown in the market.
Most of the companies that adopt patch management are the ones that work for software companies since they have a constant need to ensure that their software is properly analyzed and works as it should. Most businesses depend on such software to conduct their business operations as smoothly as possible without being interrupted by security threats in the market.
What is stimulating the Patch Management Market demand with On-Premises Deployment?
On the basis of deployment type, the market for patch management can be divided into on-premises and cloud type. On-premises will hold the highest share of the market during the forecast period. On-premises is projected to grow at an estimated CAGR of 8.6% over the next ten years. With on-premises solutions, organizations can use their own platforms, software, tools, and data, which can be handled and managed by their own IT staff, who often manage projects within the organization.
Traditional patch management solutions were deployed on-premises by enterprises for centralized patching. Organizations that deal with sensitive information such as user credentials will prefer on-premises deployment in order to have greater control over their IT systems. Defense and government, and banking and financial services industries are most likely to opt for on-premises data security since they may have sensitive data included in their customer financial records, tax details, or account details, and money transfers involved in the market.
On-premises systems are operated and maintained by companies and corporations on their own premises, primarily by their own IT departments. System components and data protection mechanisms are regularly updated and implemented by the company's in-house IT specialists. Among the primary drivers of demand for on-premises patch management software is the need to protect sensitive data, such as financial data, accounting data, and patent information.
Competitive Landscape
An increase in product functionality is a key reason behind the increasing demand for patch managements. Therefore, market players are increasing their R&D spending in order to launch new products in the market. Furthermore, both acquisitions & mergers, collaborations, and regulatory approvals are also crucial components of effective growth.
In July 2021, Atera raised $77 million in venture funding at a valuation of $500 million. The company helps SMBs manage their remote networks like businesses. With this funding, Atera plans to grow its customer base as well as enhance its product specifically, by adding more features to the artificial intelligence (AI). Atera currently uses to run predictive analytics, which is one of the technologies found in solutions aimed at large enterprises but missing from many SMB software solutions.

Private equity firm TA Associates (TA) has invested in PDQ.com (PDQ), a provider of data asset management software for small and mid-sized businesses. A joint venture between TA and PDQ's founders and management team is designed to accelerate PDQ's growth through the expansion of its scalable portfolio of easy-to-use IT asset management and scanning products. With this partnership, the company can offer added value to global partners.
Know thy Competitors
Competitive landscape highlights only certain players
Complete list available upon request
Key Market Segments Covered in Patch Management Market
Patch Management Market by Component :

Patch Management Software Market
Patch Management Services Market

Patch Management Support and Integration Services Market
Patch Management Training and Education Services Market
Patch Management Consulting Services Market

Patch Management Market by Deployment :

Patch Management On-premises Market
Patch Management Cloud Market

Patch Management Market by Vertical :

Patch Management for BFSI
Patch Management for Information Technology (IT) and Telecom
Patch Management for Healthcare
Patch Management for Government and Defense
Patch Management for Retail
Patch Management for Education
Patch Management for Other Verticals

Patch Management Market by Region :

North America Patch Management Market
Latin America Patch Management Market
Europe Patch Management Market
Asia Pacific Patch Management Market
Middle East & Africa Patch Management Market
Latin America Patch Management Market
- FAQs -
The global patch management market size is expected to be worth US$ 800 Million as of 2022
A CAGR of 9.4% is expected for the global patch management market from 2022-2032
The patch management market is expected to reach nearly US$ 2 Billion by 2032.
Software component is highly lucrative market with a CAGR of 9.4% during the forecast period.
Patch management market is experiencing growth due to the increasing number of security vulnerabilities and the increasing number of third-party applications being deployed.
On-premises is projected to grow at a CAGR of 8.6% during the forecast period.
U.S. is projected to grow at a CAGR of 9.2% during the forecast period.
Patch management demand is expected to rise by 8.7% CAGR in China through 2032.
IT and Telecom applications to dominate patch management market during the forecast period.