Emerging Frontiers in the Global Dental Industry
Published : 26 Jul 2021 Industry: Healthcare
Introduction
Over the years, demand for dental treatments has inclined significantly across several regions. Extensive applications of dental infection control products and equipment across the dentistry sector is evident. Wide arrays of dental consumables are deployed in the overall industry.
From hospitals to personal clinics, use of dental devices and instruments is increasing annually. Periodic teeth whitening sessions and maintenance of healthy teeth are attracting patients to the market.
Dental consumables are products used on patients in order to treat dental impairments, tooth restoration, and treating associated gingival tissues.
Major technological advancements are prompting launch of advanced devices, used for conducting medical examinations, manipulations, restorations, and removal of teeth and surrounding oral structures.
Increasing wages and disposable incomes in developing countries have helped drive demand for cosmetic dentistry at the global level. In fact, dental tourism is becoming a popular option for patients without access to domestic cosmetic dental services.
Patients are increasingly seeking cosmetic procedures such as teeth whitening and alignment correction. Attributed to this, new product launches and enough supplies of over-the-counter products designed to whiten teeth by removing stains and treating discoloration are rising.
Consumers have acknowledged the need for professional teeth whitening procedures performed by a licensed dentist as consumers are concerned about the placement and function of their teeth.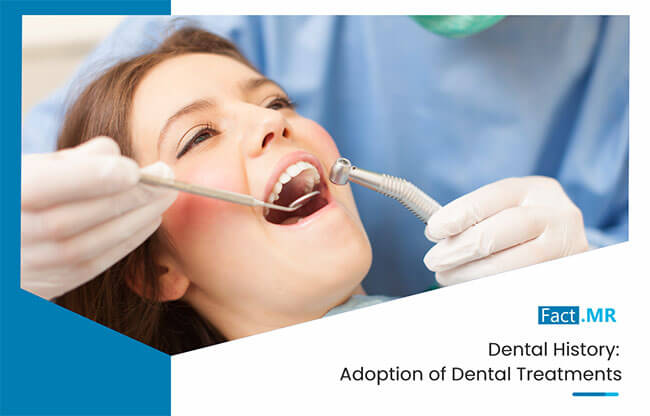 Dental History: Adoption of Dental Treatments
The dental industry has come a long way in the history of healthcare. Global dental history comprises a whole set of dental experiences and problems.
For instance, partial cleaning of infected teeth with flint tools in Italy, between 13,820 and 14,160 years old, represents the oldest known dentistry.
In addition, earliest evidence of dentistry being practiced from 7000 BC, during the Stone Age, was yielded by the Indus Valley.
In ancient Greece, Hippocrates and Aristotle wrote about dentistry, laying emphasis on treating decaying teeth. Later, in 1530, the first book entirely devoted to dentistry, namely, The Little Medicinal Book for All Kinds of Diseases and Infirmities of the Teeth, was published.
Dentistry had become a more defined profession in the 18th century, when in 1723, Pierre Fauchard, the Father of Modern Dentistry, published his influential book, The Surgeon Dentist, which defined an extensive system for caring and treating teeth.
Modern dentistry has gained significance owing to its benefits for professional practitioners to provide the best care for their patients.
The first dental practice was held In the United States in 1841, and nearly 20 years later, the American Dental Association (ADA) was formed. By 1873, Colgate had started the production of its first toothpaste, followed by toothbrushes some years later.
Ever since the professional application of dentistry began, the ADA has been active, representing more than 157,000 dentist members on the national, state, and local level, with the vision to be a recognized leader on oral health.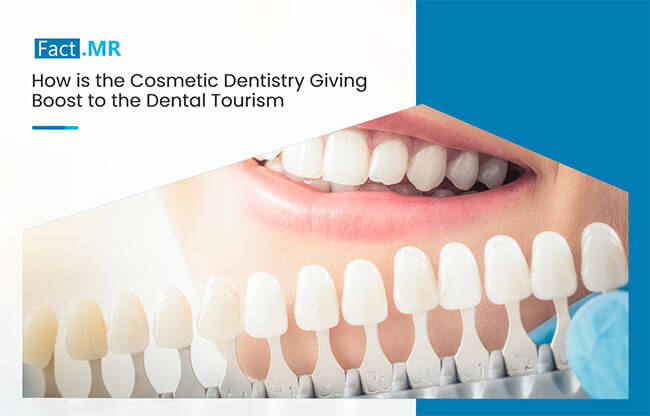 How is the Cosmetic Dentistry Giving Boost to the Dental Tourism?
Cosmetic dentistry market is acquiring momentum since the 21st century.
According to DocMode, cosmetic dentistry is becoming highly popular, with the industry projected to reach $32 billion by 2026.
Cosmetic dentistry has received a significant nudge, amid surging disposable incomes, especially in the developing world. Additionally, increasing geriatric population has propelled the growth of this industry due to the various old age-related tooth ailments.
Dental tourism is rapidly expanding owing to the dearth of cosmetic dentistry solutions in home countries. Countries such as India have emerged as potential destinations for cosmetic dental procedures.
Several foreign insurance companies have partnered with Indian hospitals and tour operators. Tour operators include dental care as an important part of the entire travel itinerary and tour package.
Technological improvements in the healthcare sector are responsible for attracting tourists to India. According to the Indian Brand Equity Foundation (IBEF), the government of India plans to augment healthcare spending to 3% of the GDP by 2022.
India possesses vast opportunities in R&D and medical tourism, with hospitals contributing Rs. 8.6 trillion (US$ 132.84 billion) by FY22, up from Rs. 4 trillion (US$ 61.79 billion) in FY17 at a CAGR of 16–17% (IBEF).
Under the Indian Dental Association's National Oral Health Program, the government aims to provide equal distribution of general and oral health facilities, in coordination with public and private sectors.
With the help of such initiatives, ample awareness is spread, which further drives the demand for cosmetic dentistry dental equipment and consumables.
Players in key countries are focusing on important strategies such as innovation and product development to gain a major market share.
For instance, idspringfield is working on its offerings under the cosmetic dentistry segment. The company offers porcelain veneers, smile makeovers, innovative teeth whitening, cosmetic bonding and more.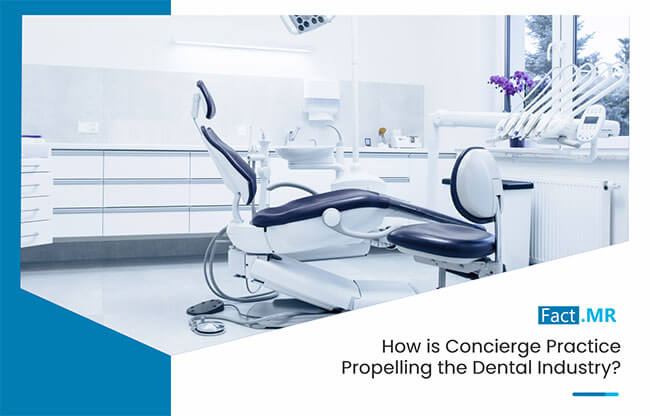 How is Concierge Practice Propelling the Dental Industry?
Concierge practice is acquiring traction in the global market. Shorter wait times, unlimited primary care services and personalized treatments are primary factor responsible for its surging popularity.
Under this model, dentists are able to deliver high-quality services to patients in a comfortable and relaxing environment.
It enables the dentists to spend more time with patients, therefore, providing personalized and customized care.
Experts at the Center for Primary Care at Harvard Medical School advocate that concierge medicine, which appeared in primary care in the 1990s, aims to provide luxury medical care
The model was commercialized in the mid-2000s with the motive of focusing on establishing long-term doctor-patient relationship and providing access to more personalized care at a lower price point than concierge medicine.
A study assessed the oral health and dental needs of homebound elderly care patients in the U.S, discovering majority of the patients require different types of dental treatment beyond oral hygiene needs.
To this, the launch of House Call Dentists, an organization providing individualized dental care, how, when and where you choose, was a watershed development.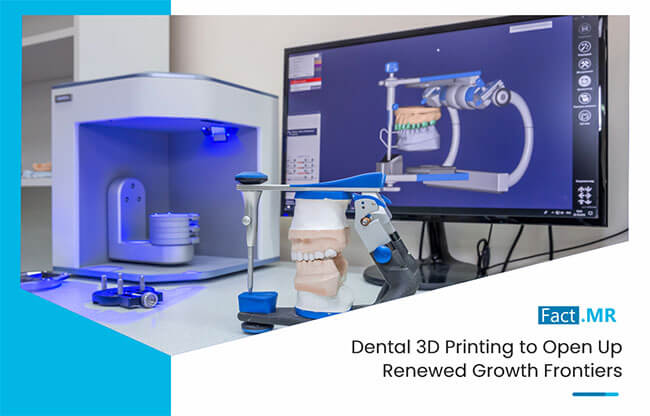 Dental 3D Printing to Open Up Renewed Growth Frontiers
Digital dentistry is opening lucrative avenues for manufacturers in the dental 3D printing market to progress with a customized, rather than standardized, approach to dental equipment manufacturing.
Development of customized dental models such as bridges, crowns, implants, and dentures is offering better patient outcomes, and, in turn, boosting the reliance of dentists on printed prosthetics. Moreover, factors like unhealthy eating habits leading to oral health problems like tooth decay, are adding to the demand for dental prosthetics.
According to the American College of Prosthodontists, more than 36 million Americans do not have teeth, while 120 million are missing at least one tooth. This high incidence of target diseases plays a key role in the growth of dental 3D printing.
Considering the link between teeth and self-esteem, the targeted consumer group for aesthetic dentistry is moving beyond the geriatric populace to millennials, especially generations Y and Z.
Bariatric surgeries are also pushing the growth of dental 3D printing as it helps dentists address the demand flow in the least possible time.
In addition, development of new procedures and approaches to dental surgeries along with the production of drilling or cutting guides using 3D printed technology can lead to accelerated and more predictable surgery.
Apart from the high demand for crowns and bridges, the popularity of shaded printing material is surging, owing to increasing consumer inclination for natural-looking teeth, especially amongst millennials.
Hence, manufacturers are developing tooth-shaded 3D printing materials to produce natural dental models with fine details and resolutions.
2020 saw an increase in the use of 3D printing by dentists, a trend expected to continue in 2021 and beyond.
Even though 3D printing has been around for years, its applications in the dental industry is only recently gaining prominence. It began as a lab tool and has thrived into something useful in all aspects of general dentistry, implantology and prosthodontics.
In June 2021, 3D printer manufacturer, UNIZ, announced the launch of its latest super high-speed dental 3D printer at TCT Asia. The resin-based LCD system combines speed, precision, and reliability to provide a one-stop shop for dental offices, labs, and manufacturing facilities.
The device is suitable for aligner models, denture bases, night-guards and surgical guides, and is designed to address the needs of high-speed dental 3D printing.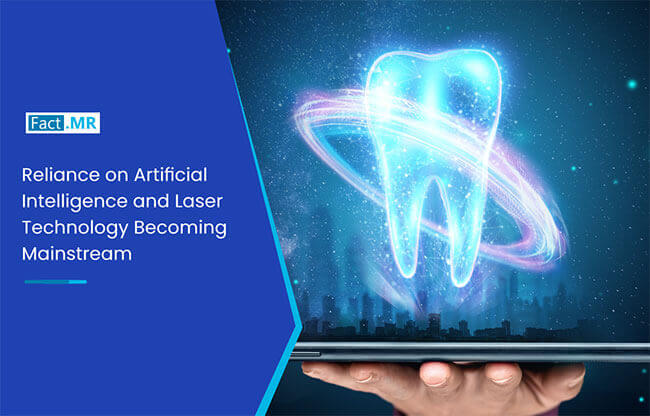 Reliance on Artificial Intelligence and Laser Technology Becoming Mainstream
With the advent of technology, the use of Artificial Intelligence (AI) and laser dentistry market is on the rise. While practicing dentistry, AI enables dentists to be relieved of daily tasks such as communicating with patients, sending reminders, booking appointments, etc.
Integrating AI algorithms enables dentists to find the best modalities for their patients. These smart algorithms help any healthcare system to analyze health data, research findings, and treatment techniques to offer diagnostic and therapeutic options for different patients.
According to the World Health Organization (WHO), "AI could also empower patients to take greater control of their own health care and enable resource-poor countries to bridge health service access gaps."
Furthermore, according to the American Dental Association, dentistry is experiencing significant changes in the management and delivery of treatment associated with the extensive introduction of digital capabilities and informatics, augmented intelligence and machine learning.
This is enabling systems to learn and adapt using algorithms and statistical models to draw inferences from patterns in data.
Laser technology reduces the need for sutures, eliminates cavities with very little or no pain at all, kills bacteria in the cavity, and reduces the chances of infection or complication. Two major factors driving the growth of the use of laser technology are lesser to no pain and a shorter healing time.
The U.S Food and Drug Administration (FDA) has approved the use of laser technology in dental practice and claims it to be less painful. The dentists can perform dental laser treatment, after going through training for each specific dental laser device.
Before approval, the FDA examined studies of over 600 teeth to declare the laser as safe and effective as a drill. Only after assuring that the technology has no side effects, and the dental fillings using laser last as long as fillings in teeth that were drilled, approval was granted.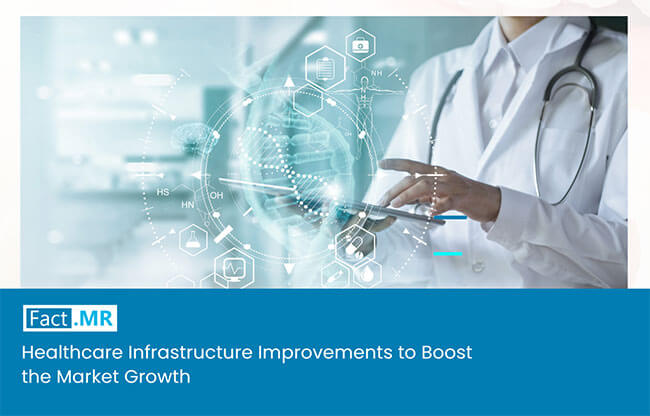 Healthcare Infrastructure Improvements to Boost the Market Growth
After the outbreak COVID-19, healthcare infrastructure, especially in dentistry, has witnessed improvements on a global level.
Infrastructure is a key pillar supporting the improvement of standards of care and wellbeing of the patients, offering a good experience of the health care system.
The pandemic has presented several opportunities for developing countries in this field. Numerous start-ups have risen to the occasion and accelerated the development of low-cost, scalable, and quick solutions, especially in the market for dental anesthetics. Furthermore, the pandemic is providing an impetus to the expansion of home healthcare market in these countries.
In May 2021, the World Health Assembly delegates, in order to pave the way for better oral health care, asked WHO to develop, by 2022, a draft global strategy on tackling oral diseases for consideration by WHO governing bodies in 2022.
The assembly has further asked to translate the global strategy into an action plan, by 2023, to develop "best buy" interventions on oral health; and to explore the inclusion of noma. The progress of the action plan will be looked upon in 2031.
In addition, the healthcare industry is witnessing a steady rise in the number of dental service organizations (DSOs) to contract with dental practices in order to provide critical business management and support including non-clinical operations.
According to data published by ADA, 7.4% of all practicing dentists are affiliated with a DSO.
DSOs are trending in 2021 owing to factors like they assist the dental practices and dentists with non-clinical business management services such as marketing, HR, recruiting, training, billing, payroll, etc. This allows the practice to focus solely on patient care along with outstanding dental care services.
In December 2020, Heartland Dental announced the acquisition of Tru Family Dental, a Michigan-based regional dental support organization (DSO). Heartland Dental is one of the leading DSOs supporting more than 1,700 dentists in over 1,100 offices across 38 states.
Both, Tru Family Dental and Heartland Dental are doctor-led and patient-focused organizations and are well-aligned for mutual success.
How is Teledentistry taking over the global market?
Thanks to COVID-19, teledentistry gained popularity and traction in 2020. Teledentistry has been helping dentists interact with patients without the need for patients to visit dental clinics.
Due to its heightening popularity, ADA authorized a policy validating teledentistry as a legitimate practice. It advocated that teledentistry is an effective way to extend the reach of dental professionals, increasing access to care by reducing the effect of distance barriers to care.
The issued policies document procedures and protect patients by using HIPAA-compliant video conferencing software.
According to the National Center for Biotechnology Information (NCBI), dentistry has been severely compromised during the COVID-19 pandemic. The need of the hour is to incorporate teledentistry into routine dental practice.
If not fully replaced, teledentistry can complement the existing compromised dental system during the current pandemic.
MouthWatch's TeleDent service offers an all-in-one teledentistry platform. Patients have access to captured images, can send relevant information to a dentist remotely, and undertake live consultations.
Emerging Hotspots for Dental Services- Top 4 Geographies
U.S. to Capture High Share across the Market
The market for dental procedures and surgeries across the U.S is expected to be majorly driven by an increase in the number of cosmetic dental operations, especially amongst millennials.
Other factors contributing to growth in the U.S market include rising awareness in people about oral health, increasing incidence of dental diseases, growing aging population in the country, rising healthcare expenditure by the government and surging disposable incomes.
Moreover, technological advancements in dental imaging and teledentistry are gauging traction in the market across the U.S.
India Experiencing High Growth in the Dental Industry
India's growing demographics, expanding economy, and investor-friendly government policies are key factors inducing growth in the dental industry, especially dental curing equipment.
The country has over 5000 dental laboratories and nearly 300 dental institutes. Growing dental tourism in the wake of emerging dental hubs is a key growth driver.
Consequently, several dental healthcare providers are offering advanced dental equipment in dental restoration procedures such as CAD/CAM, dental delivery systems, and other dental technologies in the market.
For instance, the Confederation of Indian Industry highlighted that the number of foreigners visiting the country for dental tourism is increasing by 15% every year.
Germany to Outpace Other European Nations
Europe holds the 2nd largest share in the cosmetic dentistry industry, with Germany emerging as the most lucrative nation. Increased expenditure in dental or oral health and the rise in the availability of advanced dental services are spearheading expansion.
Moreover, increased presence of major manufacturers and suppliers in Germany also adds to the growth of the cosmetic dentistry market. The German dental industry also provides ample opportunities for private investors.
To maintain the pace, the Platform for Better Oral Health in Europe launched their Manifesto "Why Oral Health Matters - policy recommendations to improve oral health in the EU" in the European Parliament in Brussels.
Mexico Experiencing Significant Dental Tourism
Mexico is becoming a favorable destination for dental tourism. The market share of Mexico is rising mainly due to its close proximity to the U.S.
The U.S.-Mexico border has a good number of U.S. residents. Hence, they willingly drive to Mexico rather than flying and ultimately save money. The vast majority of these dental care seekers combine a vacation with dental care.
Moreover, the country has significant availability of American dentists operating at low dental treatment costs.
COVID-19- A Pandora's Box or Truckload of Opportunities?
The COVID-19 pandemic has had a huge impact on the global dental industry. The industry witnessed a significant drop in revenue as dentists were unable to practice during the initial lockdown.
The pandemic is also a testimony to our poor preparedness in terms of our response to such massive outbreaks, despite precedents set by regional epidemics such as SARS, MERS, and Ebola. Simultaneously, it also opened up immense opportunities across several industries, such as the dental industry.
As infections recede across multiple regions, dentistry has come into the limelight as an essential service, and practices have remained open. The decrease in revenue and patient flow is believed to be a challenge for dental professionals in 2021.
Dental practitioners have adopted the computer-guided dental services to carry on with the dental services and succeed in the field.
In June 2021, Envista Holdings Corporation introduced a new non-profit, oral health foundation Envista Smile Project. The initiative is a philanthropic foundation designed to improve oral health of disadvantaged communities by supporting increased access to oral care and oral health education.
As a part of the project's mission, the company is collaborating with dental professionals and Envista employee volunteers to donate products, treatment, and oral health education to communities in need around the world.
Countries are fast-tracking vaccination drives to cope with this ever-growing threat, while dentists across the nations are incorporating highly advanced dental technology to offer an outstanding dental care experience and exhibiting growth in the dental supplies market.
In July 2021, the ADA Council released updated COVID-19 dental office procedures emphasizing the need for hazard assessments. The report states that dental practices must have a safety plan for exposure control and COVID-19. They should repeat the hazard assessment regularly as COVID-19 conditions change.
Technological trends like teledentistry and dental laser treatments are taking over the market. The adoption and implementation of augmented intelligence within the dental profession are coming out to be highly transformative in dental care delivery.
Observing the increasing inclination towards teledentistry, the ADA published a policy to ensure that examinations performed using teledentistry can be an effective way to extend the reach of dental professionals.
Competition Dashboard: Key Developments in the Dental Market
Straumann Group announces Digital Solutions for Dentists
The Straumann group announced the launch of Straumann® CARES® Visual Chairside which is an open design software for chairside solutions compatible with devices like intraoral scanners, impression scanners, and milling machines.
A wide range of indications is supported. It allows input and output of STL to support 3rd party systems.
Envista and Curaeos Partner to Advance Dental Care
In April 2021, Envista Holdings Corporation announced the establishment of a new partnership with Curaeos' fast-growing network of dental clinics across the Netherlands, Belgium, Denmark, Germany, and Italy.
The partnership aims at providing value-added solutions and a variety of services to both companies.
Envista, with this new partnership, commits to empower Curaeos' dental practitioners in their mission to deliver high-quality dental care to their patients.
Dentsply Sirona and 3Shape announce Strategic Partnership
In June 2021, Dentsply Sirona and 3Shape announced a strategic partnership to work on multiple strategic opportunities in order to improve digital dentistry and oral health.
The collaboration will support the goals of tailoring the product solutions by the companies to cater to the needs of customers and dental professionals.
Fact.MR's Coverage on the Dental Landscape
Dental Anesthetics Landscape Fairly Fragmented
Dental anesthetics continue to witness lucrative opportunities across countries on the backdrop of an increasing number of dental clinics and surgery centers worldwide. Moreover, the growth in the healthcare industry is likely to squarely influence the dental anesthetics market.
Root canal procedures are chiefly used to establish stable lesions by removing infected tissue. Thus, dental anesthesia performed during root canal procedures is likely to gain popularity on account of advances in this sector along with the rise in patients with dental implants.
Positive growth outlook for Dental Lasers Market?
The dental lasers market is likely to earn high traction in the foreseeable future, due to rising incidences of periodontal diseases such as bleeding in gums and untreated tooth decay.
The increase in approvals of dental lasers by the Food and Drug Administration (FDA) and other related agencies has been creating a lot of enthusiasm in the global market of dental lasers.
Why is Cosmetic Dentistry in High Demand?
An increase in the prevalence of oral health disorders worldwide and the rise in dental tourism in emerging economies further supplement the growth of cosmetic dentistry.
A promising factor driving the growth of the cosmetic dentistry market is the rise in the geriatric population with tooth ailments related to age, which have propagated the need for cosmetic dentistry in most developing economies.
Increasing Dental Procedures Augmenting Sales of Dental Restorative Supplies
An increasing number of dental procedures on the back of growing consumption of junk food, tobacco intake, and dental trauma have fueled the demand for dental restorative supplies.
Increasing awareness of dental disorders on the global front has largely supported the growth of the restorative dentistry space by favoring procedures such as dental implants, filling, and crown implants.
Increasing Significance of Dental Curing Lights in All Dental Practices
In 2021, dental curing lights in cordless designs are highly preferred by professionals. Though costly, these innovations are appealing to the preference of users, thereby creating significant opportunities for market players.
Especially, the LED dental curing lights are in high demand in 2021 due to the high occurrence of dental caries throughout the world.
Dental Prosthetics to Unlock Lucrative Prospects for Players in Dental 3D Printing Market
Dental technicians and clinicians are progressively turning receptive to digital dentistry, which is opening lucrative avenues for manufacturers of 3D printers to progress with a customized, rather than the standardized approach in the dental 3D printing market.
The development of customized dental models such as bridges, crowns, implants, and dentures is offering better patient outcomes, and, in turn, boosting the reliance of dentists on printed prosthetics.
Dental Clinics Registering Highest Share in Dental Endodontics?
As the patient base for dental clinics is growing at a significant rate, medical professionals seek advanced endodontic systems to boost their clinical productivity.
Moreover, a spurt in the number of dental academic and research institutes is adding a new revenue stream to the dental endodontics market, as market players seek collaborations with universities to diversify their product portfolios.
Dental Consumables Market Exhibiting Growth as Rising Demand for Invasive Dental Procedures
Driven by growing cases of dental disorders and rising demand for invasive dental procedures, the dental consumables market is projected to exhibit steady growth.
Rising cases of dental problems across the world are driving the expansion of the dental consumables market size.
According to a recent report by the World health organization (WHO), more than 3 billion people suffer from oral problems, globally. The rise in consumption of sugar, alcohol, and tobacco, and poor diet are key reasons responsible for this occurrence.
What is Propelling the High Adoption of Dental Cements?
In recent times, the popularity of dental restoration continues to rise to cater to the unmet aesthetic demands of patients. Also, the reliance of doctors on permanent cement is high, on account of their minimal interference with the functional qualities of natural teeth.
As opposed to the application of permanent cement, temporary cement possesses limited scope, as individuals incline towards permanent fixtures for their dental concerns.
How are Dental Diseases Leading to the Usage of Dental Amalgamators?
As the prevalence of dental diseases is increasing in developed regions, dental amalgamators attract more from the end-users side. This is because of having advanced technology.
The growing demand for Dental Amalgamators indicated for ease of the cavity filling procedure by offering easy accessibility to tools for the dentists is expected to be the major factor driving the growth of the Dental Amalgamators market.
Digital Dentistry Stimulating Growth in Dental Infection Control Products Market
Digital dentistry is user-friendly, enhances precision, and reduces cost and time. It also gives a high level of predictability along with assuring a flexible, smooth, and efficient workflow.
The introduction of digital devices, together with new aesthetic materials and powerful manufacturing and prototyping tools, is reconstructing the dental infection control products market entirely.
- Request for
More Information

-
Dental Infection Control Products Market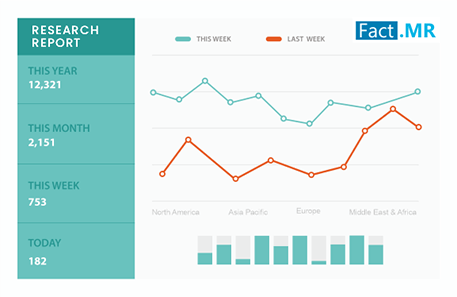 Dental Infection Control Products Market By Equipment (Cleaning Monitors, Ultrasonic Cleaning Units), By End User (Dental Hospitals and Clinics, Dental Academic & Research Institutes, Dental Laboratories), By Consumables, By Region - Global Forecast 2020-2030