Nizatidine Market to Surge at 9% CAGR, backed by Increased Foray to Mitigate Incidence of Inflammatory Disorders: Fact.MR
Published : 23 Sep 2021 Industry: Healthcare
The nizatidine market is expected to grow at a rate of about 9% CAGR from 2021 to 2031, according to Fact.MR, owing to rising demand for gastrointestinal diseases treatment in key areas. As per the report, the expected market valuation by the end of the 2021-2031 assessment period is US$ 12.2 Bn.
Historically, from 2016 to 2020, the market for nizatidine expanded at a CAGR of 7% to be valued at nearly US$ 5 Bn. Attributed to its anti-inflammatory properties, nizatidine is expected to showcase significant promises in the development of an antiviral drug to combat COVID-19. As of 2021, the market is expected to reach US$ 5.1 Bn.
According to the British Medical Association (BMA), non-communicable diseases (NCDs) account for 60% of the worldwide illness burden, with stomach disorders accounting for the majority of this total. As a result, regional-level measures are ongoing to address this issue. Eventually, the production of nizatidine based drug formulations is expected to gather pace, providing significant stimulus to market growth in forthcoming years.
Key Takeaways from the Market Study
Nizatidine capsule sales like to register a staggering 10% value CAGR from 2021-2031
Retail and online pharmacies to account for maximum sales, expanding at a CAGR of 14%
India to experience 3x expansion with respect to nizatidine sales from 2021 to 2031
Prospects for nizatidine sales are bright in the U.S, registering a 7.2% CAGR until 2031
China to experience a robust 8% CAGR in the nizatidine market across the forecast period
"Rising incidences of chronic inflammatory diseases amongst populations of all age groups attributed to changing lifestyles is prompting pharmaceutical companies to invest in advanced drug formulations, impelling the scope for nizatidine drugs in upcoming years," says the Fact.MR analyst.
Competitive Landscape
Prominent players profiled in Fact.MR's nizatidine market research report include Flynn Pharma, MedChemExpress, Mylan N.V., Glenmark Pharmaceuticals, Weightech (Hunan) Pharmaceutical, Hengdian Group, Dr. Reddy's Laboratories, Eli Lily & Company and Stride Pharma Science Limited among others.
Glenmark Pharmaceuticals, a major Indian manufacturer, offers a range of Nizatidine Oral Capsules composed of a dosage of 300 milligrams, specifically manufactured for treating active duodenal ulcers.
Likewise, Dr. Reddy's Laboratories offers nizatidine for inhibiting gastrointestinal- GI H2 receptor antagonists which are synthetically manufactured and available in oral solid and liquid formats.
MedChemExpress, another prominent player, manufactures nizatidine for uptake across stomach and intestine ulcers. It works by secreting the secretion of gastric acid the stomach produces, thereby preventing ulcer recurrence.
More Insights Available
The research study on the global nizatidine market by Fact.MR incorporates an unbiased assessment of key factors and trends responsible for shaping the landscape of the nizatidine market over 2021-2031. It includes a detailed assessment of key parameters that are anticipated to exert influence during 2021-2031.
Market statistics have been presented on the basis of type (capsules, tablets and others) and distribution channel (hospital pharmacies, retail pharmacies and online pharmacies) across seven regions (North America, Latin America, Europe, East Asia, South Asia, Oceania and Middle East & Africa).
Fact.MR's Domain Knowledge in Healthcare
Our healthcare consulting team guides organizations at each step of their business strategy by helping you understand how the latest influencers account for operational and strategic transformation in the healthcare sector. Our expertise in recognizing the challenges and trends impacting the global healthcare industry provides indispensable insights and support - encasing a strategic perspective that helps you identify critical issues and devise appropriate solutions.
For more information, refer to our market research report or contact the PR author.
Shambhu Nath Jha
Fact.MR
Sr. Consultant - Healthcare
E-mail: shambhu@factmr.com
- Request for
More Information

-
Nizatidine Market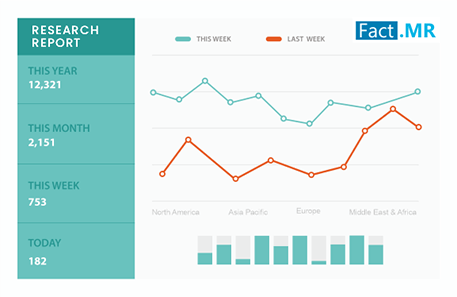 Growth of Nizatidine Market to Spur on the Back of Rising Gastrointestinal Problems during 2021-2031