Fishing Rods Market
Fishing Rods Market Analysis Report By Rod Type (Spinning, Casing, Ice Fishing, Fly, Surf, Telescopic Rods), By Flex Type (Tip Flex, Mid Flex, Full Flex), By Sales Channel (Supermarkets/ Hypermarkets, Sports Stores, Speciality Stores, Online Stores, Direct Procurement), By Rod Weight, By Region Forecast 2020-2030
FACT1339MR
Mar-2022

List of Tables : 87

List of Figures : 216

170 Pages
Introduction
The fishing rods market size is poised to expand at a value CAGR of 4.5%, and is expected to create an absolute dollar opportunity of US$ 1.5 Bn during the forecast duration of 2020-2030. By rod type, spinning rods are foreseen to grow 1.7X than flying rods in 2020. On the other hand, casing rods will account for 18% of overall market share in 2020.
Rising participation in fishing competitions and support for recreational fishing initiatives from governments of various countries are expected to drive the expansion of the fishing rods market size over the coming years. Development of offshore wind projects in deep water, which poses low intervention with fishing activities and recreational boating, have been enabling higher fishing performance for anglers. Rise in offshore wind farm projects will continue to benefit the sales of fishing rods.
Moreover, number of funding schemes offered by governments for recreational fishing projects, in light of the social and economic value of recreational fishing, is likely to push demand for recreating fishing gear, thereby creating significant demand in the fishing rods market. Engagement of fishing enthusiasts on social media and other digital platforms for sharing their catches and other fishing novelties is likely to promote participation, thereby aiding the growth of the fishing rods market.
Avail customized purchase options for your needs
Fishing Rods Market Insights by Rod Type
Spinning rods are one of the most prominent rods types, and are expected to account for 38% of the market share by crossing a valuation of US$ 1 Bn by the end of 2020. Spinning rods are used at a windy places, as it makes casting easier, while most kinds of other rods fail miserably. User-friendly attributes and convenience of spinning rods, along with their versatile and low-cost nature, continue to underpin their preference among fishing enthusiasts worldwide.
Fly fishing rods are gaining traction owing to theirs capability of casting baits in distant waters. Also, they do not require reeling before casting. Skilled anglers can use them as a strike indicator too by observing the fly line. The fly fishing rods segment is expected to expand at CAGR of over 4% from 2020 to 2030.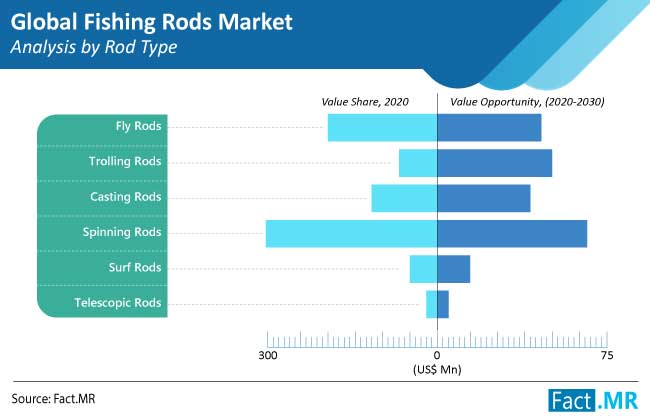 Fishing Rods Market Insights by Distribution Channel
Sports stores accounted for the largest share, and contribute nearly 35% of the global fishing rods market. Anglers regularly upgrade their fishing rods in order to attract more fish, owing to the availability of different options in stores, which is supporting the sales of fishing reels through this sales channel.
The online sales channel is expected to expand at a CAGR of nearly 5% during the forecast period. These products are gaining traction due to the pandemic caused by COVID-19. Due to the virus outbreak, consumers have shifted focus to online sales channel platforms. Rising interest in fishing is expected to promote the utility of online channels over the coming years.
An Adaptive Approach to Modern-day Research Needs
Regional Outlook of Fishing Rods Market
North America is expected to dominate the fishing rods market share, followed by Europe, in 2020, and is foreseen to maintain its dominance in terms of value as well as volume over the forecast period. Increasing demand for technologically-advanced fishing rods in North America and Europe is anticipated to boost the fishing rods market in these regions. In the U.S., recreational fishing is considered as the second-most popular outdoor activity in the country after jogging. Such activities are foreseen to contribute to the growth of the fishing rods market in the region.
APEJ is expected to be fastest-growing market expanding at a CAGR of 5.5% during the forecast period. Recreational fishing is slowly gaining traction across countries such China, India, and ASEAN countries.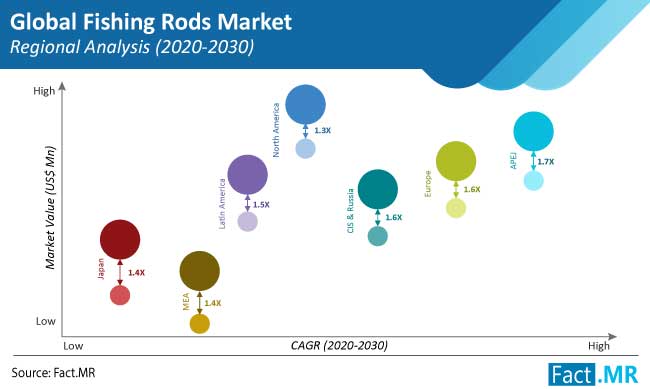 Fishing Rods Market: Competitive Landscape
The fishing rods market is highly fragmented in nature with the presence of a large number of local players. Some of the prominent players in the market are Pure Fishing Inc., Shimano Inc., Wright & McGill Co., Okuma Fishing Tackle Co. Ltd., Daiwa Corporation, Eposeidon Outdoor Adventure Ltd., Clam Corporation, TIEMCO Ltd., St. Croix Rods, and Piscifun, among others.
The fishing rods market continues to grow at a steady pace, registering low-to-moderate growth in developed markets, with a slightly better expansion in developing markets. Low-entry barriers led to an influx of startups in the fishing rods landscape, which further added to the already intense competition. While stronger distribution remains the mainstay of leading players in the fishing rods market, emerging players are focusing on maintaining long-term relationships with existing suppliers.
Interested to Procure The Data
COVID-19 Impact on Fishing Rods Market
The effects of COVID-19 has been profound in recent times, which is thereby having significant implications on various sectors. Fish and fish products that are highly dependent on international trade suffered quite early from the pandemic due to trade restrictions and closures of global markets.
North America is one of the prominent regions in the fishing rods market, and will see maximum fall in demand, as it is the most affected region by the outbreak. However, amid the downturn of offline sales of fishing rods, growing use of virtual technologies will enhance online shopping among consumers, and is expected to gradually increase sales in the post-COVID-19 period.
The Analyst's Viewpoint
"The unprecedented impact of COVID-19 will have short-term implications on the fishing rods market. However, rising participation in fishing activities and swift growth in the number of recreational activities will provide new growth avenues for the fishing rods market during the forecast period."
Furthermore, manufacturers further foresee an opportunity in the near term, owing to significant growth in the number of anglers, globally. This is anticipated to result in increased demand for fishing equipment and gear, including fishing rods, during the post-pandemic period.
Global Fishing Rods Market: Scope of the Report
A recent global fishing rods market report by Fact.MR offers a 10-year forecast from 2020 to 2030. The report elaborates on key drivers, restraints, opportunities, and threats to the expansion of the global fishing rods market. A detailed segmental analysis based on rod type, rod weight, flex type, and sales channel has been provided in the report.
Regional analysis in terms of supply chain analysis, business execution, and market value analysis provides an in-depth perspective about the future scope of the global fishing rods market. In addition, a separate section on the market structure has also been provided. The section provides detailed analysis of key market players and their strategies for expansion in the fishing rods market.
Key Segments of Fishing Rods Market
Fact.MR's study on the fishing rods market offers information divided into five key segments-rod type, rod weight, flex type, sales channel, and region. This report offers comprehensive data and information about important market dynamics and growth parameters associated with these categories.
Rod Type

Spinning Rods
Casing Rods
Ice Fishing Rods
Fly Rods
Surf Rods
Telescopic Rods

Rod Weight

Ultra Light
Light
Medium
Medium Heavy
Heavy
Extra Heavy

Flex Type

Tip Flex
Mid Flex
Full Flex

Sales Channel

Supermarkets/ Hypermarkets
Sports Stores
Speciality Stores
Online Stores

Company Websites
Third-party Online
Specialty Online

Direct Procurement

Region

North America
Latin America
Europe
CIS & Russia
Japan
Asia Pacific excluding Japan (APEJ)
Middle East & Africa (MEA)