Biometrics Middleware Market
Biometrics Middleware Market Analysis By Product Type (Software, Services), By End-use Industry (BFSI, Government Sector, Retail, Healthcare) & By Region - Global Market Insights 2023 to 2033
Analysis of Biometrics Middleware Market Covering 30+ Countries Including Analysis of US, Canada, UK, Germany, France, Nordics, GCC countries, Japan, Korea and many more
Biometrics Middleware Market Outlook (2023 to 2033)
As per the latest Fact.MR industry research, the global biometrics middleware market is valued at US$ 2.63 billion in 2023 and is predicted to reach US$ 7.34 billion by the end of 2033, expanding at a high-value CAGR of 10.8%.
Biometrics middleware refers to software or a middleware layer that acts as an interface between biometric devices and applications or systems that require biometric authentication or identification. It serves as a bridge between the low-level operations of biometric devices (such as fingerprint scanners, iris scanners, or facial recognition cameras) and high-level functionalities of applications that utilize biometric data.
The main purpose of biometrics middleware is to provide a standardized and simplified way of integrating biometric technologies into various applications. It abstracts the complexities of different biometric devices, protocols, and data formats, allowing developers to work with a unified set of APIs (application programming interfaces) instead of dealing with the intricacies of individual devices.
Worldwide sales of biometric software solutions are forecasted to increase at a CAGR of 10.9% during the next 10 years.
Biometrics middleware software incorporates robust security measures to protect the confidentiality and integrity of biometric data. It ensures that sensitive biometric information is securely transmitted, stored, and processed. This level of security is crucial for applications requiring strong authentication and access control, such as financial services, healthcare systems, and government sectors.
Biometric systems heavily rely on software, playing a vital role in their functionality. For instance, signature verification systems compare signatures and assess their authenticity. Human operators may not always detect signature fraud easily, making it challenging for them to accurately identify fraudulent signatures. Adoption of signature verification software is on the rise due to its ability to save time, reduce human errors in the signature process, and minimize the risk of fraud.
Advanced technologies, including AI, are seamlessly integrated with biometric software to enhance fraud detection capabilities.
IntelliVision's face recognition software, a sophisticated solution based on deep learning, caters to integrators and developers, enabling them to detect faces across different ethnicities without any racial bias and match them against a database of images. It boasts an impressive facial recognition accuracy of 99.5% when tested on public standard data sets. This versatile software can be deployed in both on-server and in-cloud environments, offering flexible usage options.
Gnani.ai, a prominent company specializing in conversational AI and voice security, announced in September 2021 the introduction of its voice biometrics software named "Christened armour365." This advanced biometric solution is specifically designed to cater to a wide range of industries including healthcare, banking, defense, and more.
Report Attributes
Details

Biometrics Middleware Market Size (2023E)

US$ 2.63 Billion

Forecasted Market Value (2033F)

US$ 7.34 Billion

Global Market Growth Rate (2023 to 2033)

10.8% CAGR

Germany Market Growth Rate (2023 to 2033)

11.5% CAGR

United States Market Growth Rate (2023 to 2033)

11.2% CAGR

United Kingdom Market Value (2033F)

US$ 447.95 Million

China Market Value (2033F)

US$ 1.33 Billion

India Market Growth Rate (2023 to 2033)

11.2% CAGR

Key Companies Profiled

Wuhu Jiahong New Material Co. Ltd.
SST Group
Thermopads
Fine Korea Co. Ltd.
nVent Raychem
Emerson
Anbang
Anhui Huayang
Eltherm
Chromalox
Isopad
Thanglong Electric
BriskHeat
Don't Need a Global Report?
save 40%! on Country & Region specific reports
Why is Demand for Biometrics Middleware Solutions Rising at a Fast Pace?
"Increasing Focus of Manufacturers on Development of Advanced Security Systems"
Sales of biometrics middleware solutions have surged in the past few years, due to the growing demand from the BFSI, healthcare, and governmental domains. As the need for robust security solutions permeates diverse sectors, suppliers and manufacturers have devoted themselves to intensive research and development endeavors, striving to fabricate cutting-edge products. Over the past five years, spanning from 2017 to 2022, the biometrics middleware industry has enjoyed a predominantly favorable outlook, barring a momentary setback in 2020.
Infusion of state-of-the-art technologies, notably artificial intelligence, is propelling the growth of the biometrics middleware market, while the ongoing wave of digitalization is opening up enticing avenues of revenue for industry participants. The escalating adoption of biometrics middleware within the military, law enforcement, and other governmental areas is poised to kindle substantial revenue growth for manufacturers, paving a promising path that extends through 2033.
"Rising Incorporation of AI into Biometrics Middleware Solutions"
Adoption of artificial intelligence (AI) is revolutionizing various industries, and the field of biometrics middleware is no exception. The infusion of AI technologies has become a driving force behind the high demand for biometrics middleware solutions.
AI algorithms can analyze and interpret biometric data with exceptional accuracy. By leveraging AI, biometrics middleware can achieve higher levels of precision and reliability in authentication processes. This heightened accuracy makes biometrics middleware more trustworthy and appealing to industries where security is of utmost importance.
AI-powered biometrics middleware systems can make intelligent decisions based on complex patterns and data analysis. By employing machine learning algorithms, these systems can continuously learn and adapt to new threats or fraudulent activities. This proactive approach helps in preventing security breaches and improving overall system efficiency.
AI algorithms can detect anomalies and identify suspicious patterns in biometric data. This capability is particularly useful in fraud detection, where AI-powered biometrics middleware can analyze various biometric factors and behaviors to identify potentially fraudulent activities. This proactive approach helps organizations to stay one step ahead of fraudsters and mitigate risks effectively.
What are the Hindrances to the Widespread Adoption of Biometrics Middleware Solutions?
"High Licensing and Maintenance Costs of Biometrics Middleware Solutions Limiting Their Adoption by Small Organizations"
Biometrics middleware solutions often involve significant upfront costs, including hardware, software licenses, integration, and maintenance. Budget constraints may deter some organizations from investing in biometrics middleware, especially for smaller businesses or those with limited financial resources.
"Lack of Awareness of Capabilities of Biometrics Middleware"
Many potential customers may not be fully aware of the capabilities and benefits of biometrics middleware solutions. Limited knowledge about the technology, its applications, and the potential return on investment can hinder sales as organizations may opt for familiar or traditional security measures instead.
"Complex Integration Processes Associated with Biometrics Middleware"
Integrating biometrics middleware with existing infrastructure and systems can be complex and time-consuming. Compatibility issues, technical requirements, and the need for customizations can deter organizations from adopting biometrics middleware solutions, particularly if they perceive the integration process as disruptive or risky.
More Insights, Lesser Cost (-50% off)
Insights on import/export production,
pricing analysis, and more – Only @ Fact.MR
What Measures are Start-ups Adopting to Enhance Their Profitability?
"Emphasis on Cost-effective Solutions & Seamless Integration Processes for Biometrics Middleware Solutions"
Offering cost-effective solutions can be an advantage for newcomers in the biometrics middleware market. Providing competitive pricing models, affordable licensing options, or flexible subscription plans can appeal to organizations with budget constraints and encourage them to adopt biometrics middleware solutions.
Simplifying the integration and deployment processes for customers can be a significant factor in attracting and retaining clients. Providing comprehensive documentation, well-documented APIs, and intuitive user interfaces can make it easier for organizations to implement the biometrics middleware solution seamlessly and quickly.
"Strategic Partnerships between Start-ups and Established Players for Enhanced Market Penetration"
Forming strategic partnerships or collaborations with established players in related industries, such as biometric hardware manufacturers or system integrators, can provide new entrants with access to a broader customer base, distribution channels, and expertise. Such partnerships can help accelerate market penetration and increase revenue potential.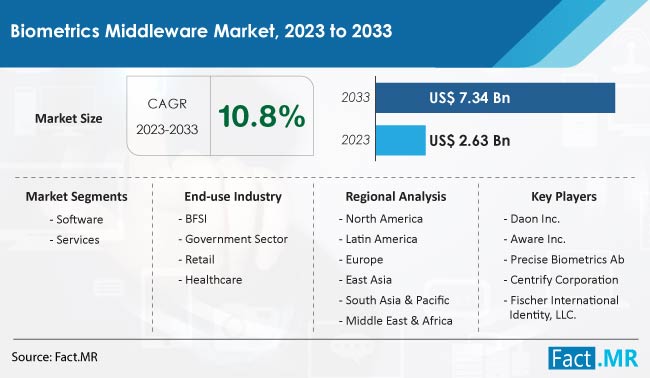 Country-wise Analysis
What Makes the United States a Lucrative Market for Providers of Biometrics Middleware?
"Rising Threat of Identity Theft, Data Breaches, and Fraudulent Activities"
Sales of biometrics middleware solutions are predicted to increase at a CAGR of 11.2% from 2023 to 2033.
Increasing need for robust security measures in sectors such as finance, healthcare, and government is driving the demand for biometrics middleware solutions in the United States. The rising threat of identity theft, data breaches, and fraudulent activities has led organizations to adopt advanced biometric authentication systems to enhance security.
The United States government has been actively promoting the adoption of biometric technologies for various applications, including border control, law enforcement, and national security. This support and investment in biometrics are creating a favorable environment for the growth of the market in the United States.
What is the Demand Outlook for Biometrics Middleware in Germany?
"Stringent Regulations Governing Data Security and Privacy Rules"
The German market is projected to reach US$ 580.13 million by 2033.
Germany has stringent data protection laws and regulations, and individuals are highly conscious of their privacy rights. Biometrics middleware solutions that prioritize data security, comply with regulations, and provide transparent data handling practices are gaining traction in the German market.
Germany's strong industrial base and emphasis on automation have resulted in the adoption of biometrics middleware in industrial environments. Biometric authentication is being utilized to enhance access control, employee management, and secure sensitive areas, thereby driving the sales of biometrics middleware.
How is Demand for Biometrics Shaping Up in China?
"Rapid Digital Transformation and Increasing Smartphone Usage Fueling Demand for Advanced Biometrics Middleware Solutions"
Demand for biometrics middleware solutions in China is anticipated to rise at a CAGR of 11.2% during the forecast period.
China's rapid digital transformation, coupled with a large population and widespread smartphone usage, is fueling the adoption of biometric authentication. Biometrics middleware solutions are being integrated into various digital platforms, mobile payment systems, and smart devices, boosting their sales.
The vast market potential and the presence of several tech companies in China are attracting significant investments in biometrics technology. Availability of capital, research and development initiatives, and a competitive landscape are contributing to the growth of the market in China.
Know thy Competitors
Competitive landscape highlights only certain players
Complete list available upon request
Category-wise Analysis
Which Sector Extensively Uses Biometrics Middleware Solutions?
"Widespread Use of Biometrics Middleware Technologies in Government Sector for Robust Authentication, Access Control, and Regulatory Compliance"
Utilization of biometrics middleware technologies by the government sector is predicted to increase at a high CAGR of 11% in the coming decade.
The government sector deals with sensitive information and critical infrastructure, making security a top priority. Biometrics middleware provides a high level of security by utilizing unique physiological or behavioral characteristics for authentication. This helps prevent unauthorized access and identity fraud and ensures that only authorized individuals can access secure areas or sensitive data.
Government agencies are often subject to strict regulatory requirements regarding data privacy and security. Biometrics middleware solutions offer a reliable and compliant method for verifying and authenticating individuals, ensuring adherence to regulatory standards. By adopting biometric technology, government entities can meet the necessary compliance requirements and protect the privacy of citizens' personal information.
Competitive Landscape
Key market players are investing heavily in research and development activities to innovate and enhance their biometrics middleware solutions. They strive to develop cutting-edge technologies, improve accuracy, and introduce advanced features such as artificial intelligence, machine learning, and behavioral analytics.
Leading companies are also forming strategic partnerships and acquiring other firms to expand their product portfolio, gain access to new markets, or integrate complementary technologies.
In October 2021, ImageWare Systems ventured into the self-sovereign identity market by creating a groundbreaking solution called the Biometrically Enabled Blockchain-powered Self-sovereign Identity. This innovative system incorporates biometric protection into the identity blockchain, offering an additional layer of security. As a result, data remains safeguarded within digital wallets, ensuring that only authorized users can access it.
Key Segments of Biometrics Middleware Industry Research
By Product Type :

By End-use Industry :

BFSI
Government Sector
Retail
Healthcare

By Region :

North America
Latin America
Europe
East Asia
South Asia & Oceania
MEA
- FAQs -
The global biometrics middleware market is estimated to be valued at US$ 2.63 billion in 2023.
The market for biometrics middleware is projected to reach US$ 7.34 billion by 2033.
Revenue from biometrics middleware is expected to increase at a CAGR of 10.8% from 2023 to 2033.
Daon Inc., Aware Inc., and Precise Biometrics Ab are key providers of biometrics middleware solutions.
Sales of biometrics middleware solutions in India stand at US$ 208 million in 2023.