Behavioural Biometrics Market
Behavioural Biometrics Market Analysis By Component (Behavioural Biometric Software, Behavioural Biometric Services), By Deployment Model (On-premise, Cloud-based), By Type (Keystroke Dynamics, Gait Analysis, Signature Analysis, Voice Recognition), By Enterprise Size (Small & Medium, Large), By Application (Identity & Access Management, Risk & Compliance Management, Fraud Detection & Prevention Management, Identity Proofing, Continuous Authentication), By Industry Vertical (BFSI, Retail & e-Commerce, Healthcare, Government & Defense, IT & Telecom) & By Region - Global Market Insights 2023 to 2033
Analysis of Behavioural Biometrics Market Covering 30+ Countries Including Analysis of US, Canada, UK, Germany, France, Nordics, GCC countries, Japan, Korea and many more
Behavioural Biometrics Market Outlook (2023 to 2033)
The global behavioural biometrics market stands at US$ 2.50 billion in 2023. According to the latest Fact.MR analysis, worldwide revenue from behavioural biometrics is predicted to increase rapidly at a CAGR of 18.5% and reach US$ 13.63 billion by the end of 2033.
Behavioural biometrics refers to the field of study that focuses on analyzing and measuring human behaviour as a unique identifier. It involves the use of various biometric characteristics such as keystroke patterns, mouse movements, gait analysis, signature dynamics, and voice recognition to identify and authenticate individuals. Unlike traditional biometric devices such as fingerprints or facial recognition that rely on physical traits, behavioural biometrics utilize patterns and habits in human actions to establish identity.
The fundamental principle behind behavioural biometric services is that individuals exhibit distinctive patterns and traits in their actions, even when performing everyday tasks. These patterns can be captured and measured using specialized sensors or software applications. By analyzing these patterns, unique biometric profiles are created, allowing for accurate identification and verification of individuals.
One of the most commonly used forms of behavioural biometrics is keystroke dynamics. Each person has a unique typing pattern that can be captured by measuring the time intervals between keystrokes, the duration of key presses, and even the sequence of keys pressed. These patterns are then analyzed and used to create a typing profile for each individual. Similarly, mouse movement dynamics analyze the way individuals move and interact with a mouse or trackpad, capturing traits such as speed, acceleration, and movement patterns.
Behavioural biometric software demand is predicted to surge at a CAGR of 18.8% from 2023 to 2033.
Traditional forms of authentication such as passwords or PINs can be compromised or stolen. Behavioural biometrics software provides an additional layer of security by analyzing unique behavioural patterns that are difficult to replicate or fake. This technology helps to mitigate the risk of identity theft, fraud, and unauthorized access. This is particularly important in scenarios where users need to be authenticated throughout their interaction such as online banking or accessing sensitive information. Continuous authentication provides a higher level of security compared to one-time authentication methods.
Behavioural biometrics software provides a range of advantages, including enhanced user experience, flexibility, swift and cost-effective deployment, heightened security, and compliance with regulations.
Veridium Ltd., a renowned provider of identity and access management software, made a significant advancement in March 2019 with the launch of InMotion for VeridiumID. This innovative offering represents the company's software-only platform designed to enhance mobile security.
Report Attributes
Details

Behavioural Biometrics Market Size (2023E)

US$ 2.50 Billion

Forecasted Market Value (2033F)

US$ 13.63 Billion

Global Market Growth Rate (2023 to 2033)

18.5% CAGR

United Kingdom Market Value (2033)

US$ 831.30 Million

United States Market Value (2033)

US$ 4.81 Billion

China Market Growth Rate (2023 to 2033)

19.5% CAGR

India Market Growth Rate (2023 to 2033)

17.6% CAGR

Germany Market Growth Rate (2023 to 2033)

19.2% CAGR

Key Companies Profiled

BioCatch Ltd.
Nuance Communications Inc.
MasterCard Incorporated
ThreatMark s.r.o.
Plurilock Security Solutions Inc.
ZIGHRA INC.
Secured Touch
GetSmart Solutions Ltd.
Akiyama
NuData Security
G2 Data Technologies
Nexgen Technologies
Net Com SAS
UnifyID
SecureAuth Corporation
Fair Issac Corporation
BehavioSec Inc.
Don't Need a Global Report?
save 40%! on Country & Region specific reports
Why are Behavioural Biometric Solutions Preferred for Data Protection?
"Behavioural Biometrics Enabling Detection of Suspicious Patterns"
Rise of cybercriminals targeting personal data such as email addresses, physical addresses, phone numbers, and birthdates to carry out fraudulent activities has become a pressing issue.
In recent years, the number of cyberattacks has seen a significant increase with 82,000 cases reported in 2016 and 160,000 cases in 2017 worldwide, according to research by Plurilock Security.
To combat these challenges, behavioural biometric technologies have emerged as a solution employing machine learning to analyze patterns and detect suspicious activities. The urgency to prevent cyberattacks has driven the rapid adoption of behavioural biometric systems.
Proliferation of mobile banking, driven by the increasing number of users with bank accounts and mobile phones, has become a prime target for fraudsters. This factor has significantly contributed to the growth of the global behavioural biometrics market. Furthermore, the demand for advancements in machine learning (ML) and artificial intelligence (AL) to strengthen digital security has further accelerated the adoption of behavioural biometrics.
One beneficial key aspect of the behavioural biometrics technology is its ability to strike a balance between security and user experience. This unique capability is fueling the adoption of behavioural biometrics in sectors such as eHealth and well-being. The continuous evolution and latest advancements in behavioural biometrics are also attracting substantial investments from leading service providers.
"AI's Influence on Behavioural Biometrics Providing Real-time Insights"
Behavioural biometrics software gathers and analyzes a multitude of behavioural patterns and data points, enabling precise and accurate user identification. This comprehensive approach makes it highly unlikely for users to be impersonated.
Integration of artificial intelligence (AI), the Internet of Things (IoT), and cloud computing into behavioural biometrics is a significant driver for market growth. By encoding fundamental incident signals such as typing speed or length of stride, AI-powered behavioural biometrics becomes less susceptible to human interpretation. This advancement delivers real-time results and contributes to the market's momentum. Increasing demand for behaviour-based technologies plays a vital role in the emergence of AI in behavioural biometrics.
Growing number of Internet users has led to concerns about security and privacy during digital interactions. To safeguard sensitive data from cyber intrusions and address these concerns, there is a rising demand for modern security measures such as voice recognition in behavioural biometrics. The need to protect online activities and preserve privacy has become a significant driving force behind the growth of the market for behavioural biometrics.
What is Restraining Some Organizations from Adopting Behavioural Biometric Systems?
"High-level Technological Vulnerabilities Harming Organizations' Important Data"
Despite the integration of advanced security systems such as face recognition, thumb imprints, and retina scanners, biometric devices are not immune to breaches. In some cases, even high-class security measures can be compromised. Behavioural biometric systems offer authenticated access and individual scanning, but they too face potential security breaches through technological vulnerabilities.
The introduction of harmful malware into a biometric system can disrupt its authentication process, triggering false alarms and granting unauthorized access. Such incidents pose significant security concerns for organizations.
More Insights, Lesser Cost (-50% off)
Insights on import/export production,
pricing analysis, and more – Only @ Fact.MR
How are Start-ups Strategizing in the Behavioural Biometric Systems Space?
"Advancements in Biometric Security by Integrating AI & IoT"
Despite the discussed limitations, continuous advancements in biometric security systems are being made, leveraging technologies such as artificial intelligence (AI), IoT devices, and cloud computing. These technological breakthroughs in behavioural biometrics ensure enhanced data security, catering to both government and corporate requirements.
As the technology of biometric systems continues to evolve, there is a growing demand for cutting-edge solutions that strengthen the overall security landscape. The inclusion of firewalls and cloud security measures has led to significant growth in the deployment of biometric devices across critical operations. Thus, these aspects are offering abundant growth opportunities for IT firms, engineers, organizations, and start-ups that specialize in meeting the escalating need for robust security solutions.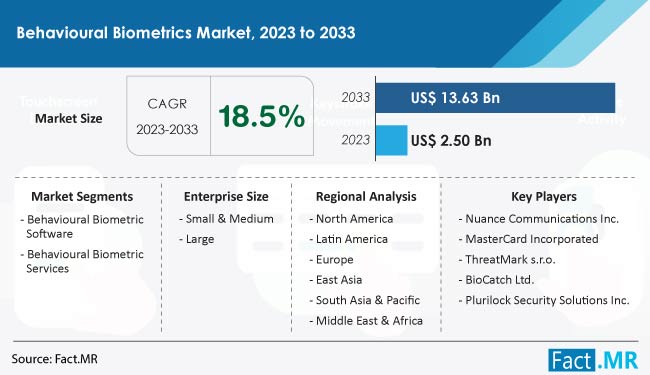 Country-wise Analysis
How is the Government of the United States Empowering its Data Security Landscape?
"Government's Growing Investments in Behavioural Biometric Applications"
Demand for behavioural biometric systems in the United States is predicted to increase at a CAGR of 19% from 2023 to 2033 and reach US$ 4.81 billion by the end of the forecast period.
The presence of top behavioural biometric software and service providers in the United States is a key driver boosting the growth of the market for behavioural biometrics. Major companies in the finance, retail, and IT sectors are increasingly embracing behavioural biometrics to combat fraud. Notably, the United States government has demonstrated a strong interest in implementing behavioural biometrics, investing substantial funds to develop advanced applications in public sector departments.
Rising demand for innovative behavioural biometric techniques such as keystroke dynamics, gait analysis, and signature analysis in the United States is creating promising opportunities for providers in this field. This growing demand is paving the way for the continuous growth and advancement of behavioural biometric technologies in the United States.
Why is India Anticipated to Evolve as a Profitable Market for Suppliers of Behavioural Biometrics?
"Ever-increasing Online Transactions Creating Need for Secure Authentication-based Behavioural Biometrics"
The market for behavioural biometrics in India is projected to reach US$ 1.25 billion by 2033.
India is witnessing a steady stream of technological advancements with organizations actively adopting and implementing solutions such as behavioural biometrics software. The surge in real-time payment and mobile payment platforms within the country has unfortunately brought about an increase in fraud cases. As a result, there is a growing demand for behavioural biometrics to bolster security measures.
Financial solution providers in India are taking proactive steps to offer their customers secure authentication solutions based on advanced behavioural biometrics technologies. This concerted effort aims to combat fraud and safeguard the interests of individuals and businesses.
What is Increasing the Opportunity for Behavioural Biometric Providers in Germany?
"Growing Need for Privacy & Data Protection Boosting Sales of Advanced Behavioural Biometric Solutions"
Demand for behavioural biometrics in Germany is predicted to rise at a CAGR of 19.2% over the forecast period.
Germany has a robust regulatory framework when it comes to data protection and privacy. Companies operating in the German market for behavioural biometrics must comply with stringent regulations such as the General Data Protection Regulation (GDPR) and other relevant national laws to ensure the responsible and secure handling of personal data.
Behavioural biometric companies are also focusing on developing user-friendly solutions that prioritize privacy protection, ensuring individuals' consent and transparent data handling practices.
Know thy Competitors
Competitive landscape highlights only certain players
Complete list available upon request
Category-wise Analysis
Which Enterprise Type Accounts for Higher Usage of Behavioural Biometrics?
"Use of Behavioural Biometrics in Large Enterprises Driving Customer Loyalty and Security Protocols"
Use of behavioural biometric solutions in large enterprises is likely to expand at a CAGR of 18.6% over the coming 10 years.
Large enterprises are recognizing the value of implementing behavioural biometrics in their business applications. By leveraging these advanced technologies, they aim to strengthen customer loyalty through improved security measures and personalized experiences.
Adoption of behavioural biometrics in large enterprises enables them to streamline their infrastructure and reduce costs. By utilizing advanced authentication methods such as adaptive authentication and persistent security, these enterprises optimize their security protocols while minimizing infrastructure expenses.
Rising prevalence of sophisticated data theft and cyberattacks has compelled large enterprises to embrace behavioural biometrics as a robust cybersecurity measure. These solutions provide adaptive authentication and persistent security, effectively safeguarding sensitive data from evolving threats.
Behavioural biometric tools offer large enterprises the means to comply with stringent cybersecurity regulations and standards. By implementing these solutions such as ISO 27001, NIST 800-171, and HIPAA, enterprises ensure industry-specific security requirements.
Competitive Landscape
Utilization of behavioural biometrics enables secure authentication across various sectors such as businesses, government facilities, financial institutions, and retail Point-of-Sale (POS) systems. It also offers a range of verification methods, including keystroke dynamics, mouse usage characteristics, signature analysis, gait analysis, voice identification, and cognitive biometrics.
Prominent vendors in the field of behavioural biometric software and services are consistently prioritizing research and development endeavors to enhance their profitability and market share.
On February 8, 2023, BioCatch, a leading global company specializing in behavioural biometric intelligence and innovative fraud prevention technologies, established its Australian headquarters. This move further solidified the corporation's market leadership in the Asia-Pacific region with headquarters in both Australia and Singapore.
In May 2023, Amsterdam-based ThreatFabric, successfully raised €11.5 million (approximately US$ 12.55 million) in an initial round of fundraising. The company aims to utilize these funds to enhance its capabilities in behavioural biometrics and fraud prevention.
Key Segments of Behavioural Biometrics Industry Research
By Component :

Behavioural Biometric Software
Behavioural Biometric Services

By Deployment Model :

By Type :

Keystroke Dynamics
Gait Analysis
Signature Analysis
Voice Recognition

By Enterprise Size :

By Application :

Identity & Access Management
Risk & Compliance Management
Fraud Detection & Prevention Management
Identity Proofing
Continuous Authentication

By Industry Vertical :

BFSI
Retail & e-Commerce
Healthcare
Government & Defense
IT & Telecom

By Region :

North America
Latin America
Europe
East Asia
South Asia & Oceania
MEA
- FAQs -
The global market for behavioural biometrics is currently valued at US$ 2.50 billion.
The behavioural biometrics market is projected to reach US$ 13.63 billion by 2033.
Demand for behavioural biometrics is predicted to surge at a CAGR of 18.5% from 2023 to 2033.
Sales of behavioural biometrics in Germany are forecasted to reach US$ 1.21 billion by 2033.
Behavioural biometric solutions are most widely used in large enterprises and their sales are predicted to rise at a CAGR of 18.6%.