Soft Ferrite Market
Soft Ferrite Market Analysis By Product Type (Mn-Zn Ferrite, Ni-Zn Ferrite), By Application (Transformers, Motors, Inductors, Generators), By End-use Industry (Aerospace & Defence, Automotive, Consumer Electronics, Power, Telecommunications), & By Region - Global Market Insights 2023 to 2033
Analysis of Soft Ferrite Market Covering 30+ Countries Including Analysis of US, Canada, UK, Germany, France, Nordics, GCC countries, Japan, Korea and many more
Soft Ferrite Market Outlook (2023 to 2033)
The global soft ferrite market is valued at US$ 2.12 billion in 2023 and is projected to reach US$ 3.8 billion by 2033-end. According to this latest Fact.MR study, worldwide demand for soft ferrite products is predicted to rise at a CAGR of 6% from 2023 to 2033.
Soft ferrite, also known as magnetic ferrite or transformer ferrite, is a type of ceramic material that exhibits strong magnetic properties. Unlike hard ferrite, which is used for permanent magnets, soft ferrite is designed to be magnetically soft, meaning it can be easily magnetized and demagnetized. This property makes soft ferrite ideal for various electromagnetic applications, particularly in electronic components and devices.
Soft ferrite materials are typically composed of iron oxide (Fe2O3) and one or more other metal oxides, such as manganese oxide (MnO), zinc oxide (ZnO), or nickel oxide (NiO). The exact composition can vary depending on the specific application and desired magnetic characteristics.
Used in transformers to efficiently transfer electrical energy while minimizing losses, soft ferrite cores play a crucial role. They help in the conversion of voltage levels in power supply circuits. Due to their unique magnetic properties, soft ferrite materials are crucial in many modern electronic and electrical applications, to improve the efficiency and performance of various devices and systems.
Manganese coupled with zinc ferrite (Mn–Zn ferrite) is extensively utilized in the electrical industry, owing to its cost-effectiveness and majorly due to positive externalities, as many industries manufacturing motors and transformers utilize manganese-zinc ferrite. Moreover, on the technical outlook of the product, it has higher saturation levels and permeability as compared to nickel zinc ferrite. Thus, demand for Mn-Zn Ferrite is increasing at a healthy pace.
Mn-Zn ferrite has low core losses, meaning it dissipates very little energy in the form of heat when subjected to alternating magnetic fields. This makes it ideal for high-frequency applications where minimizing energy losses is crucial.
The second-most utilized ferrite is nickel-zinc ferrite. It has limited utilization in electrical equipment, owing to limitations such as utilization over 1 MHz frequency. Moreover, at exceptional technicalities such as at 70 MHz frequency, both manganese-zinc and nickel zinc can be used interchangeably. Demand for nickel zinc ferrite is forecasted to expand at a single-digit CAGR during the next 10 years.
Report Attributes
Details
Soft Ferrite Market Size (2023E)
US$ 2.12 Billion
Forecasted Market Value (2033F)
US$ 3.8 Billion
Global Market Growth Rate (2023 to 2033)
6% CAGR
Leading Regional Market
North America
Key Companies Profiled

Meyer Sintermetall AG
Sintered Specialties, LLC
Steward Advanced Materials LLC
VACUUMSCHMELZE GmbH & Co. KG
TDK Corporation
DMEGC
MAGNETICS
Acme Electronics
Hitachi Metals Ltd.
Ferroxcube International Holding B.V.
HEC Group
Toshiba Materials Co. Ltd.
Samwha Electric
Don't Need a Global Report?
save 40%! on Country & Region specific reports
Why is Soft Ferrite Gaining Popularity among Various End-use Industries?
"Rising Production of Electric Vehicles Necessitating Extensive Use of Soft Ferrite"
The automotive industry is undergoing a profound transformation with the increasing adoption of electric vehicles (EVs), and this transformation is significantly influencing the demand for soft ferrite materials. Soft ferrites play a crucial role in the production of various components within electric vehicles, including electric drivetrains, charging systems, and power electronics. This demand surge is primarily driven by the unique magnetic properties of soft ferrites that are instrumental in achieving power conversion efficiency and enhancing energy efficiency in EVs.
Charging systems for electric vehicles also benefit significantly from soft ferrite materials. These materials are employed in the construction of power converters, inverters, and transformers within charging infrastructure. The soft magnetic properties of ferrites reduce core losses and enhance the efficiency of these systems. As the EV charging infrastructure expands globally to meet the growing demand for electric mobility, the need for soft ferrite materials in charging equipment is predicted to rise.
Power electronics, which are at the heart of electric vehicles, heavily rely on soft ferrite components. Inverters and DC-DC converters, essential for converting and controlling electrical power in EVs, are designed with soft ferrite cores.
"Rapid 5G Technology Deployment Boosting Use of Soft Ferrite in RF Components"
Global deployment of 5G networks represents a major technological leap in the telecommunications industry, offering significantly faster data speeds, lower latency, and improved network capacity. This advancement is not only transforming the way of communication but also influencing the demand for specialized electronic components, particularly in the field of radio frequency (RF) technology. In this context, soft ferrite materials are playing a pivotal role in meeting the surging demand for RF components that are fundamental to high-frequency communication and connectivity in 5G networks.
One of the critical applications driving the demand for soft ferrites in the 5G era is RF filters. RF filters are essential for isolating specific frequency bands and ensuring that signals are transmitted and received with precision. Soft ferrite materials, due to their excellent magnetic properties, are employed in the cores of these filters. Their high permeability enables the efficient concentration of magnetic flux, allowing for the precise tuning of RF filters to operate within the desired frequency range.
Antennas are another key area where soft ferrite materials are in high demand within the 5G landscape. Antennas are critical components for transmitting and receiving wireless signals, and their efficiency is paramount in 5G technology. Soft ferrite materials are also used in antenna cores to enhance their performance.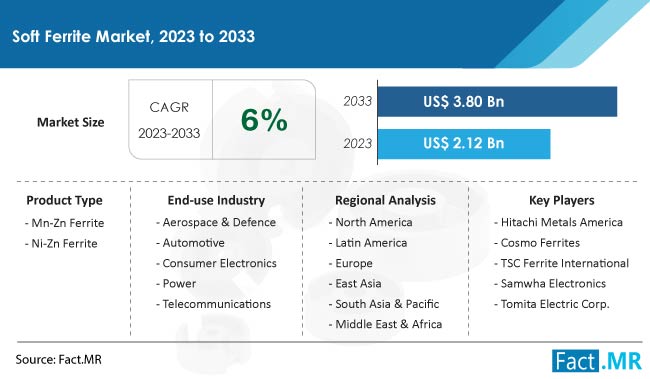 Why is Soft Ferrite Manufacturing a Challenging Process?
"Volatility in Raw Material Prices Hampering Soft Ferrite Production and Sales Cycle"
Fluctuations in the prices of raw materials used in soft ferrite production, particularly iron and rare earth elements, present significant challenges and negative aspects for both manufacturers and the broader industry.
The soft ferrite business heavily relies on consistent access to raw materials such as iron and rare earth elements. However, these materials often experience price volatility due to factors such as geopolitical tensions, supply chain disruptions, or changes in demand. Such fluctuations can result in unpredictable production costs, making it difficult for manufacturers to estimate and manage their expenses effectively.
More Insights, Lesser Cost (-50% off)
Insights on import/export production,
pricing analysis, and more – Only @ Fact.MR
Is Soft Ferrite Manufacturing a Profitable Business for New Companies?
"Focus on Niche Markets and Adaptive Strategies to Expand Market Reach of New Producers"
Newcomers in the soft ferrite market can earn more by strategically differentiating themselves, focusing on niche markets, and leveraging partnerships and collaborations. Commitment to quality, customer-centric approaches, and ongoing innovation can also help newcomers thrive and succeed at a competitive pace.
Identifying and targeting specific niches can be advantageous for new entrants. Rather than trying to compete broadly, start-ups can concentrate on serving a particular segment or application where their expertise and product offerings align well.
Country-wise Analysis
According to the detailed study by Fact.MR, a market research and competitive intelligence provider, the soft ferrite market is exhibiting healthy growth in the United States, Germany, and Japan. This can be attributed to the combination of factors such as the growing popularity of electric vehicles, industrial automation, 5G network deployment, and strong electronics industries. These countries' unique industrial landscapes and technological advancements are contributing to the high sales of soft ferrites in these countries.
Why is Demand for Soft Ferrite Increasing in the United States?
"High Sales of Soft Ferrite Due to Rising Adoption of Electric Vehicles"
The United States is witnessing a major increase in the adoption of electric vehicles. Soft ferrite materials play a vital role in the production of electric vehicle (EV) components such as electric drivetrains, charging systems, and power electronics. The country's growing transition towards electric mobility is generating profitable opportunities for soft ferrite producers.
What is Contributing to High Soft Ferrite Consumption in Germany?
"Growing Use of Soft Ferrite for Development of Advanced Control Systems"
Germany is a global hub for industrial automation and machinery. Soft ferrites are used in various automation and control systems such as servo motors and transformers. The rising development in the automation sector is boosting the demand for soft ferrite components in the country.
Why are Soft Ferrite Suppliers Attracted to Japan?
"Rising Investments in Telecommunications Infrastructure for Extensive 5G Deployment"
Japan has a thriving electronics industry, producing a wide range of consumer appliances and electronics. Soft ferrites are integral to these products for EMI suppression, ensuring high-quality performance and compliance with stringent standards. Japan is also an early adopter of 5G technology. Soft ferrites are indispensable in the production of RF components for 5G networks. The country's investments in telecommunications infrastructure and IoT applications are increasing the demand for soft ferrites.
Know thy Competitors
Competitive landscape highlights only certain players
Complete list available upon request
Category-wise Analysis
The aerospace and defense industries require soft ferrites for effective electromagnetic performance, compact design, reliability in harsh environments, and critical roles in EMI/RFI suppression, radar systems, communication, and power electronics. Fact.MR report reveals detailed information on each end-use industry.
Why is Soft Ferrite Widely Used in Aerospace and Defense Applications?
"Soft Ferrite Materials Aiding in Effective Functioning of Aerospace and Defense Components"
Aerospace and defense product manufacturing deals with complex electronic systems and equipment where electromagnetic interference (EMI) and radiofrequency interference (RFI) are highly detrimental. Soft ferrite materials are employed to create EMI/RFI suppression components such as filters, chokes, and isolators. These components help ensure the proper functioning of sensitive electronic systems in aircraft, satellites, radar systems, and communication equipment by mitigating interference and noise.
In aerospace and defense applications, where space is often limited and weight reduction is critical, the compact and lightweight nature of soft ferrites becomes advantageous.
Competitive Landscape
Leading companies are investing in research and development efforts to develop innovative soft ferrite materials with unique properties. They are also differentiating their products by offering improved performance, enhanced energy efficiency, and custom solutions that cater to specific industry needs.
Key Segments of Soft Ferrite Market Research
By Product Type :

Mn-Zn Ferrite
Ni-Zn Ferrite

By Application :

Transformers
Motors
Inductors
Generators

By End-use Industry :

Aerospace & Defense
Automotive
Consumer Electronics
Power
Telecommunications

By Region :

North America
Latin America
Europe
East Asia
South Asia & Oceania
MEA
- FAQs -
The global soft ferrite market is estimated at US$ 2.12 billion in 2023.
By 2033, the market for soft ferrite is forecasted to reach US$ 3.8 billion.
Soft ferrite sales are projected to rise at a CAGR of 6% from 2023 to 2033.
Leading companies are Acme Electronics, Hitachi Metals Ltd., and Ferroxcube International Holding B.V.
Soft ferrite is a type of ceramic magnet that is made from a mixture of iron oxide and other metal oxides, such as nickel, zinc, and manganese.
Some of the common types are manganese-zinc ferrite (Mn-Zn ferrite) and nickel-zinc ferrite (Ni-Zn ferrite).